LOUIS XIV (1638-1715)
Autograph document signed "Louis" to Jérôme Phélypeaux, comte de Pontchartrain
[Marly, 8th July 1711], 2 pages in-4
"I cannot give pardons for duels"
EUR 9.500,-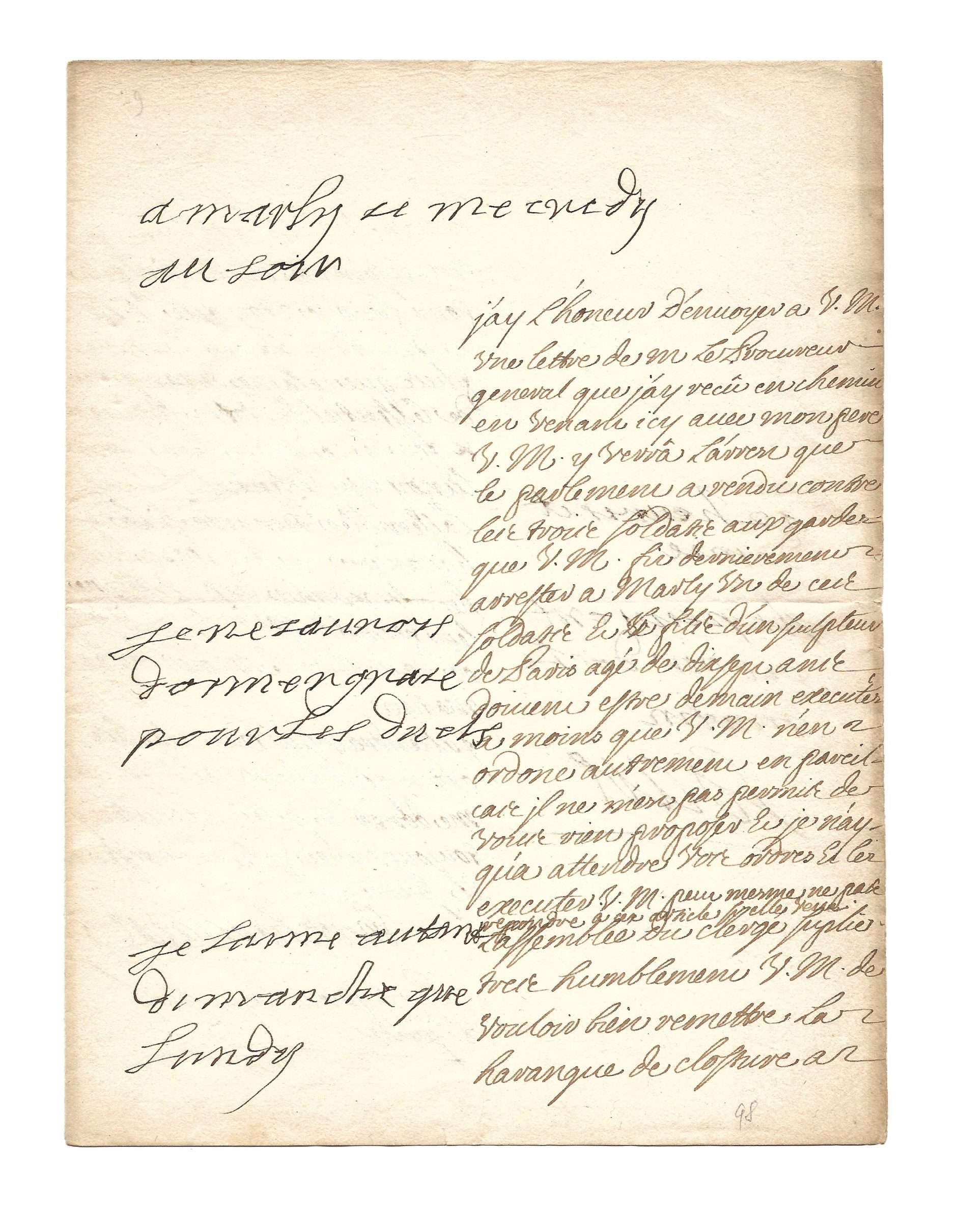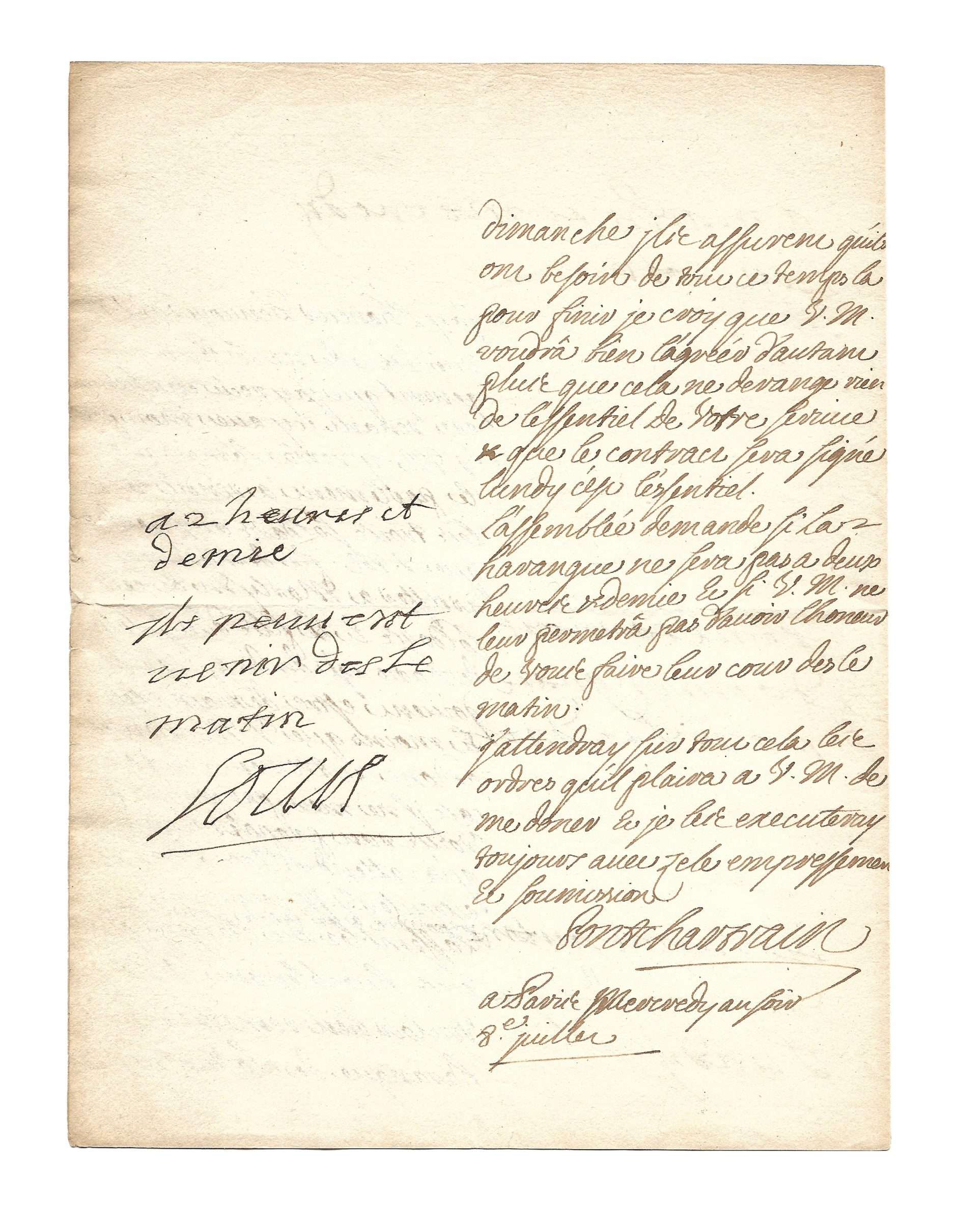 Fact sheet
LOUIS XIV (1638-1715)
Autograph document signed "Louis" to Jérôme Phélypeaux, comte de Pontchartrain
[Marly, 8th July 1711], 2 pages in-4
Autograph piece signed by the Sun King in the last years of his reign, showing himself ruthless in exercising his absolute power by refusing the pardon of three death row inmates
This autograph piece signed by Louis XIV (about thirty words), is in response to a letter to him addressed by Jérôme Phélypeaux, Count of Pontchartrain. Sentences transcribed in capital letters are from the king's hand
---
"A MARLY CE MERCREDI AU SOIR
J'ay l'honneur d'envoyer à V.M. [Votre Majesté] une lettre de M. le procureur général que j'ay reçu en chemin en venant icy avec mon père. V.M y verra l'arrest que le Parlement a rendu contre les trois soldats aux gardes que V.M fit dernièrement arrester à Marly. Un de ces soldats et le fils d'un sculpteur de paris âgé de dix-sept ans doivent estre demain executés à moins que V.M n'en ordone autrement. En pareil cas il ne m'est pas permis de vous rien proposer et je n'ay qu'à attendre vos ordres et les exécuter. V.M peut mesme ne pas me répondre à cet article si elle veut.
JE NE SAUROIS DONNER GRÂCE POUR LES DUELS
L'assemblée du clergé supplie très humblement V.M. de vouloir bien remettre la harangue de closture à dimanche.
Ils assurent qu'ils ont besoin de tout ce temps-là pour finir. Je croy que V.M voudra bien l'agréer d'autant plus que cela ne dérange rien de l'essentiel de votre service et que le contract sera signé lundy. C'est l'essentiel.
JE LAIME AUTANT DIMANCHE QUE LUNDY
L'Assemblée demande si la harangue ne sera pas à deux heures & demie et si V.M. ne leur permetra pas d'avoir l'honeur de Vous faire leur cour dès le matin
A 2 HEURES ET DEMIE
IL PEUVENT VENIR DES LE MATIN.
LOUIS
J'attendrai sur tou cela les ordres qu'il plaira a V.M de me doner et je les executeray toujurs avec zele empressement et soumission.
Pontchatrain
A Paris ce mercredy au soir 8 juillet"
---
The royal power had tried throughout the 18th century to put an end to the practice of duels, which the nobility strongly held as a class privilege. Many prohibitions were enacted (including a royal declaration of 28 October 1711), but it was the intransigence of Louis XIV refusing any grace that proved to be truly effective. The assembly of the clergy held in 1711 resulted, among other things, in the grant of eight million pounds to the royal power, by a contract signed on 13 July in exchange for tax exemptions.
Jérôme Phélypeaux De Pontchartrain (1674-1747) left the image of a man with a difficult character but a great activity in his charges. Son of the Comptroller of Finance, he was an adviser to the Paris parliament (1691) and then secretary of state with the Navy and the King's House in his department.