[MARX] SARTRE, Jean-Paul (1905-1980)
Original typescript with autograph correction by Jean-Paul Sartre
N.p.n.d [c. 1957], 1 p. in-4° on thin paper
« The Marxist method is progressive because it is the result, in Marx, of long analyses…»
EUR 450,-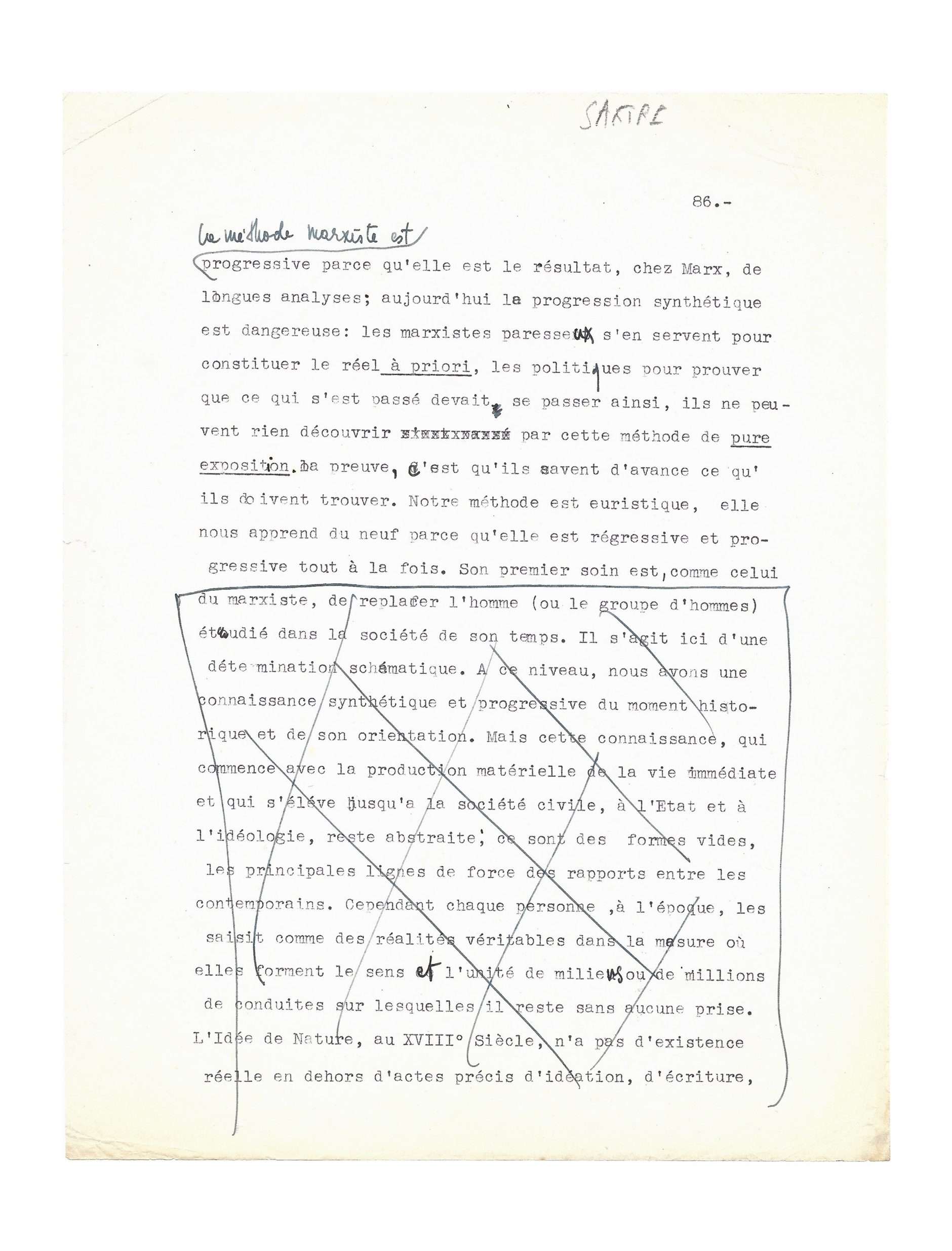 Fact sheet
[MARX] SARTRE, Jean-Paul (1905-1980)
Original typescript with autograph correction by Jean-Paul Sartre
N.p.n.d [c. 1957], 1 p. in-4° on thin paper
Precious proof fragment with autograph corrections for his book Questions de méthode
---
« La méthode marxiste est progressive parce qu'elle est le résultat, chez Marx, de longues analyses ; aujourd'hui la progression synthétique est dangereuse : les marxistes paressent s'en servent [servir] pour constituer le réel à priori, les politiques pour prouver que ce qui s'est passé devait se passer ainsi, ils ne peuvent rien découvrir par cette méthode de pure exposition. La preuve, c'est qu'ils savent d'avance ce qu'ils doivent trouver. Notre méthode est euristique, elle nous apprend du neuf parce qu'elle est régressive et progressive tout à la fois. Son premier soin est, comme celui… » [then Sartre crosses off the rest of the text : see photo]
---
There are a total of seven typographical autograph corrections by Sartre, in addition to the couple of words at the beginning of the text and the long crossed out part.
Questions de méthode is a book by Jean-Paul Sartre originally published in 1957. It was then republished with the Critique de la raison dialectique in 1960.
As Sartre indicates, this text was originally commissioned by a Polish magazine that had asked him in the autumn of 1957 to write an article on the "situation of existentialism in 1957″. This text was then modified to appear the same year in the magazine Les Temps modernes. Thus, the basic text entitled: Existentialism and Marxism became Questions de Méthode.