SAND, George (1804-1876)
Autograph letter signed « George Sand » to Eugène Delacroix
[Nohant], 1st December [18]52, 2 p. in-8
« I understand you well, to absorb yourself in the serious and continuous drunkenness of creation »
EUR 3.800,-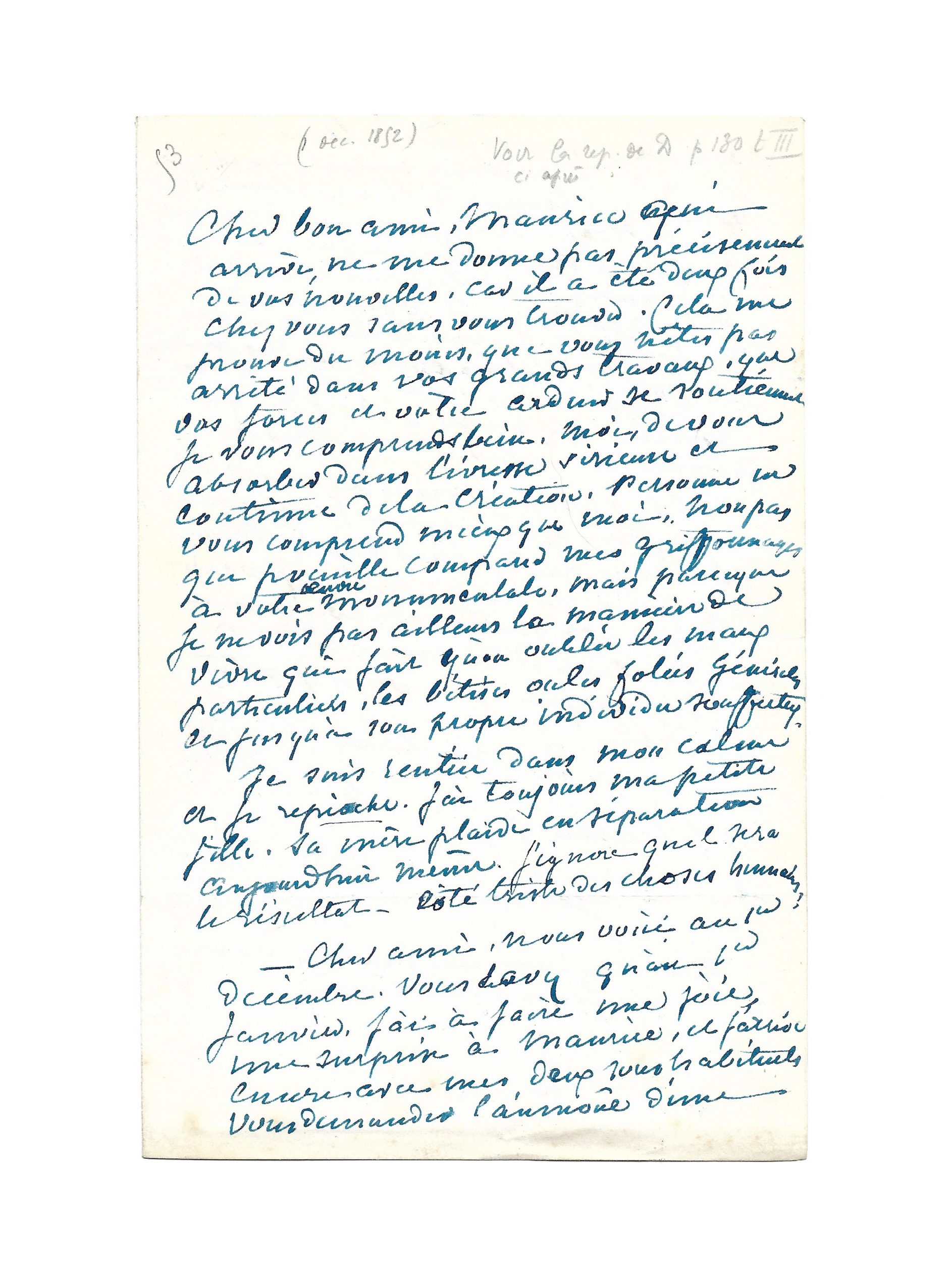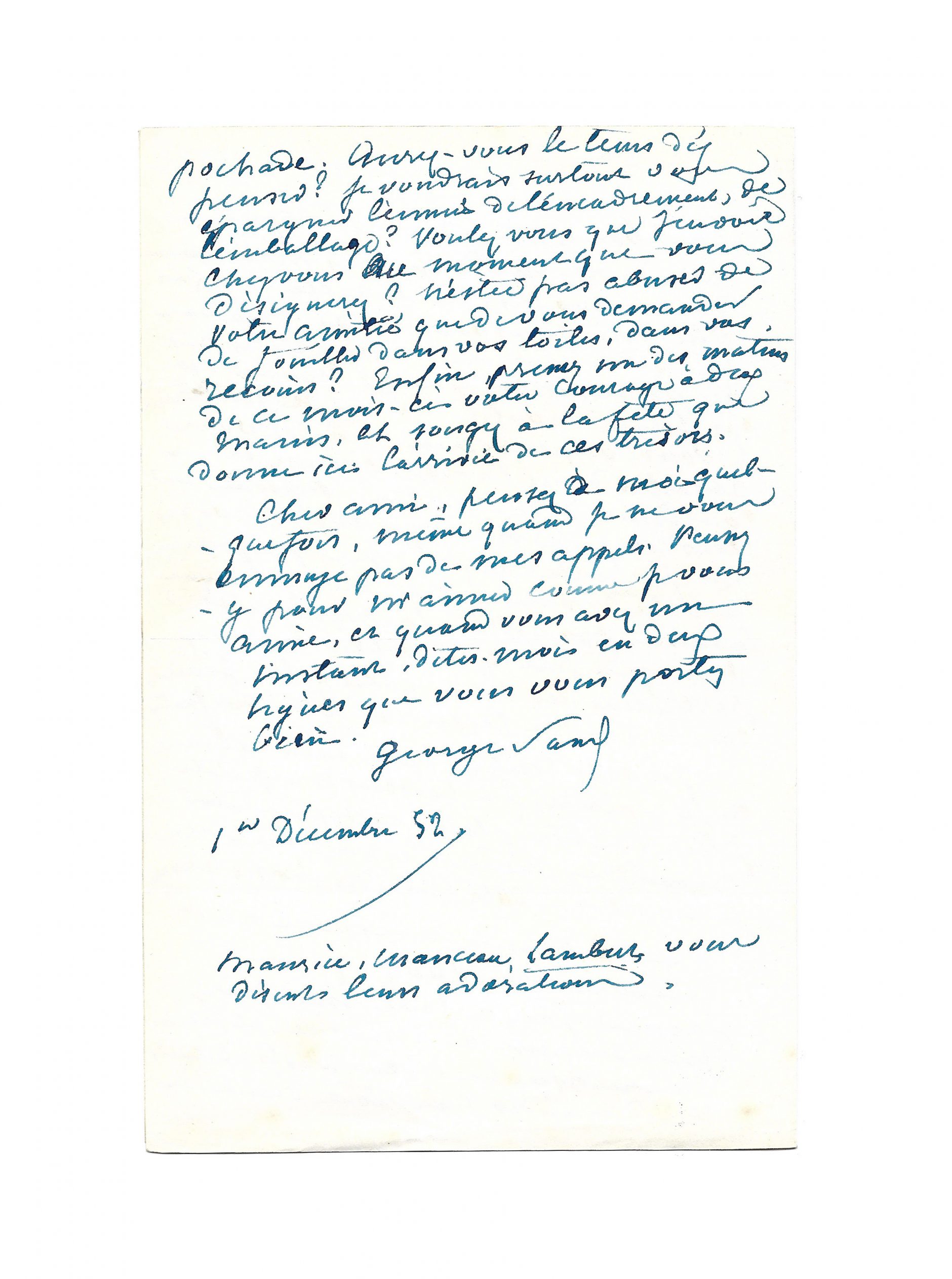 Fact sheet
SAND, George (1804-1876)
Autograph letter signed « George Sand » to Eugène Delacroix
[Nohant], 1st December [18]52, 2 p. in-8
Previous mounting mark on fourth folio
Magnificent letter from George Sand to Eugène Delacroix – the painter was then in the midst of decorating the Salon de la Paix at the Hôtel de Ville in Paris – in which she declared all her admiration for his art and that she would not dare to compare to her work as a writer
The letter ends with the request for a canvas from the master (Lélia) as a gift
---
« Cher bon ami, Maurice [Dudevant-Sand] qui arrive, ne me donne pas précisément de vos nouvelles, car il a été deux fois chez vous sans vous trouver. Cela me prouve du moins, que vous n'êtes pas arrêté dans vos grands travaux, que vos forces et votre ardeur se soutiennent. Je vous comprends bien, moi, de vous absorber dans l'ivresse sérieuse et continue de la création. Personne ne vous comprend mieux que moi ; non pas que je veuille comparer mes griffonnages à votre œuvre monumentale, mais parce que je ne vois pas ailleurs la manière de vivre qui fait qu'on oublie les maux particuliers, les bêtises ou les folies générales et jusqu'à son propre individu souffreteux.
Je suis rentrée dans mon calme et je repioche. J'ai toujours ma petite-fille. Sa mère plaide en séparation aujourd'hui même. J'ignore quel sera le résultat – côté triste des choses humaines !
Cher ami, nous voici au 1er décembre. Vous savez qu'au 1er janvier, j'ai à faire une joie, une surprise à Maurice, et j'arrive encore avec mes deux sous habituels à vous demander l'aumône d'une pochade. Aurez-vous le temps d'y penser ? Je voudrais surtout vous épargner l'ennui de l'encadrement, de l'emballage ? Voulez-vous que j'envoie chez vous au moment que vous désignerez ? N'est-ce pas abuser de votre amitié que de vous demander de fouiller dans vos toiles, dans vos recoins ? Enfin, prenez un des matins de ce mois-ci votre courage à deux mains, et songez à la fête que donne ici l'arrivée de ces trésors.
Cher ami, pensez à moi quelquefois, même quand je ne vous ennuie pas de mes appels. Pensez-y pour m'aimer comme je vous aime, et quand vous avez un instant, dites-moi en deux lignes que vous vous portez bien.
George Sand
1er Décembre 52
Maurice, [Alexandre] Manceau, [Eugène] Lambert vous disent leurs adorations. »
---
George Sand returned from Paris on 27 October, while her son Maurice returned a month later, on 29 November. Having been unable to meet his master at his studio (he was then in the middle of wall decoration of the Salon de la Paix at the Hôtel de Ville in Paris), Maurice told his mother. It is therefore on December 1st that the novelist decides to take the pen to address all her love to the art of her dear friend.
Delacroix replied a week later:
« Oui, chère, je vous enverrai quelque chose, et c'est une chose qui vous a déjà plu et que vous aviez vu[e] commencée. C'est une petite surprise que je voulais faire à Maurice et à vous. Vous me permettrez donc d'envoyer des étrennes à cet enfant-là que j'aime autant que je vous aime. Le sujet est le même que vous avez déjà en pastel ou en aquarelle : Lélia dans la caverne etc. […] La vue d'une lettre de vous est un rayon de bonheur et il en a toujours été ainsi : jamais la plus petite amertume n'a gâté ce pur sentiment : vous me prenez avec des petites manies qui sont l'effet de ma petite santé et de mes petits nerfs, et vous démêlez à travers cela le sentiment profond qui m'attache à vous… »
In addition, Delacroix's remark – "the subject is the same as you already have in pastel or watercolor: Lélia dans la caverne" – reminds us that George Sand already owns two works by Delacroix dealing with the same subject.
Unlike Cleopatra, paid two hundred francs by George Sand the previous year, Lélia is a gift from Delacroix, and humbly dedicated "à Maurice et à vous ".
It is a small oil on canvas (24×18 cm). The scene, inspired by the second version of George Sand's novel (1839), depicts "Lélia in the monk's cave in front of her lover's body".
Included in the A. Lauth-Sand donation in 1923, the pastel is in the Musée de la Vie Romantique in Paris (J. 1995, n°18 – inventory number D89.73)
On December 30, George Sand wrote:
"This beautiful and beloved thing happened tonight. I had it opened in a room with mystery, because I hold on to the day of surprise, according to old customs. So I enjoyed it alone…"
Sand also refers to family matters: on 31 August 1852, the judgment of legal separation of the Spouses Cléinger (Solange Clésinger-Sand, daughter of George Sand, and Auguste Clésinger) was pronounced before the Court of First Instance of the Seine. At first, Jeanne-Gabrielle, known as Nini, their child, is entrusted to George Sand. Solange arrived in Nohant on 5 January 1853 and stayed there until 12 February. This is probably the application for separation of property. On 28 January Clésinger appealed against the judgment of 31 August 1852.
George Sand was very attached to Nini, but the child died shortly after the separation of his parents, in Paris on January 14, 1855 of a badly cared for fever.
This letter testifies to the unwavering friendship between the novelist and the painter. Begun in 1834, it ended with delacroix's death in 1863. From it was born one of the most beautiful correspondences of the nineteenth century.
References:
George Sand – Correspondance, Lubin, t. XI, p. 486-487, lettre n°5729
Sand Delacroix – Correspondance, éd. Françoise Alexandre, p. 195
Provenance:
Achille Piron (Delacroix's universal legatee)
Marc Loliée