AFFAIRE DREYFUS
Large set concerning the Dreyfus Affair
1895 – 1930, 35 documents (Books, letters, noted, photoraphs etc)
"The truth is on the march and nothing will stop it"
EUR 20.000,-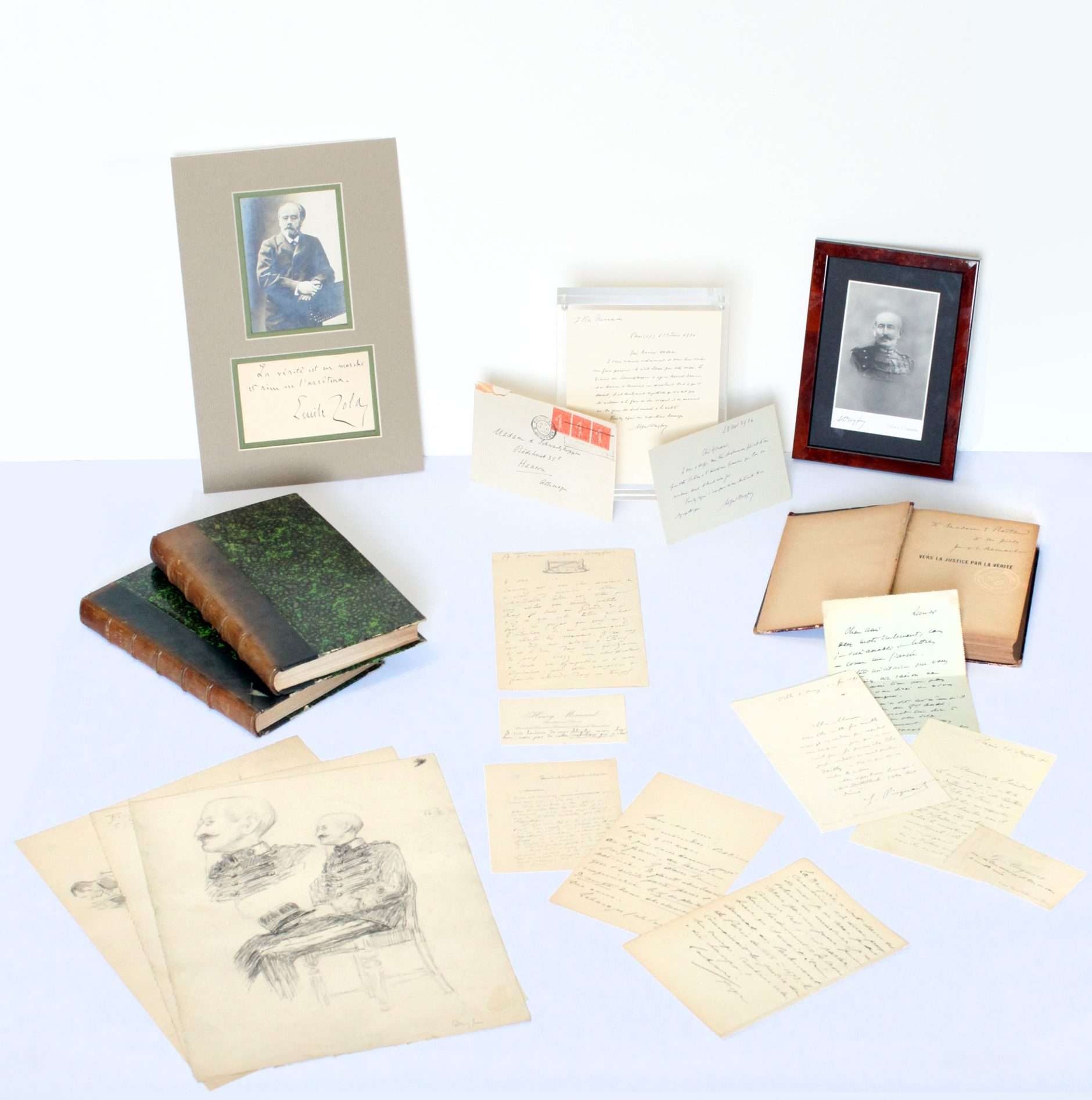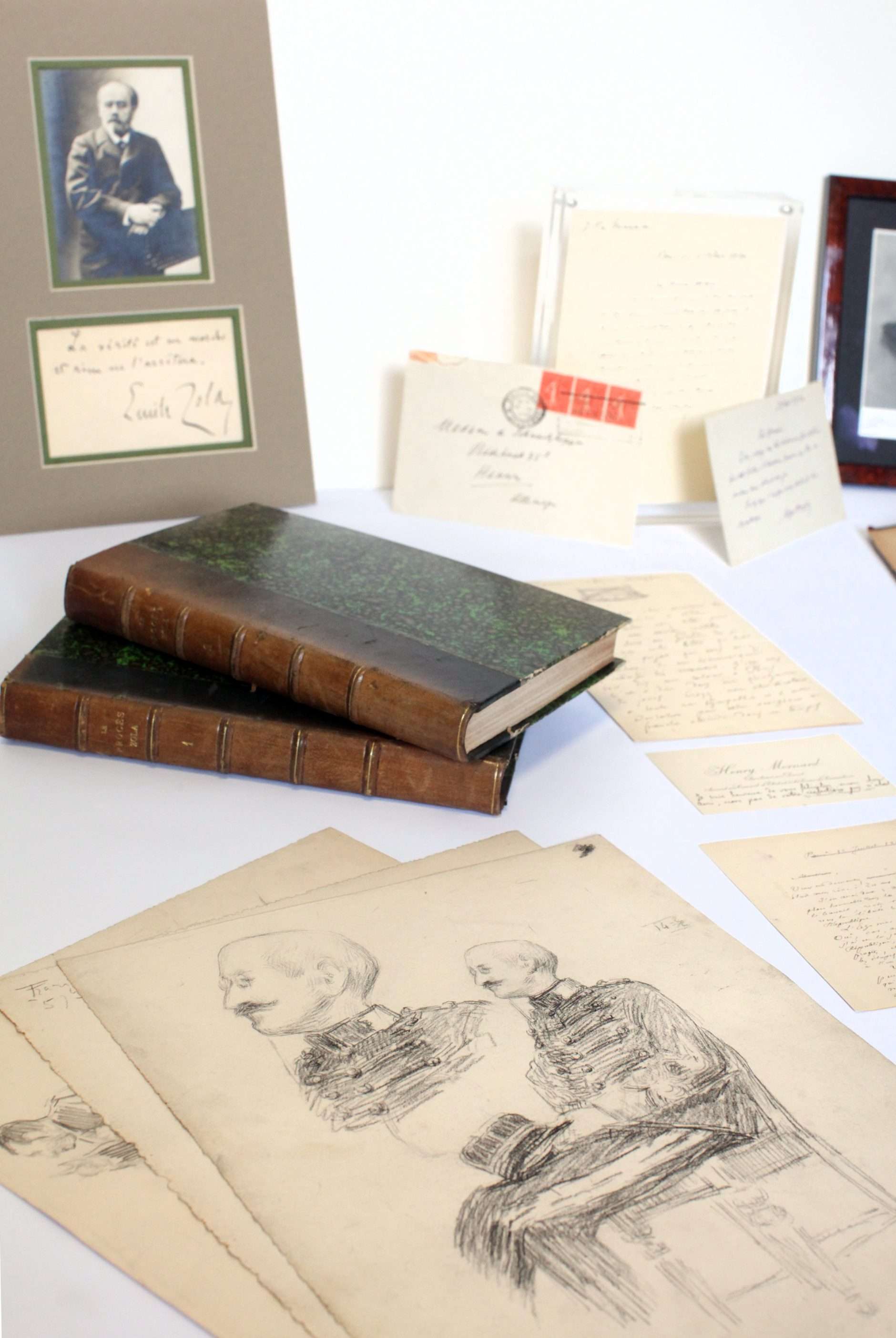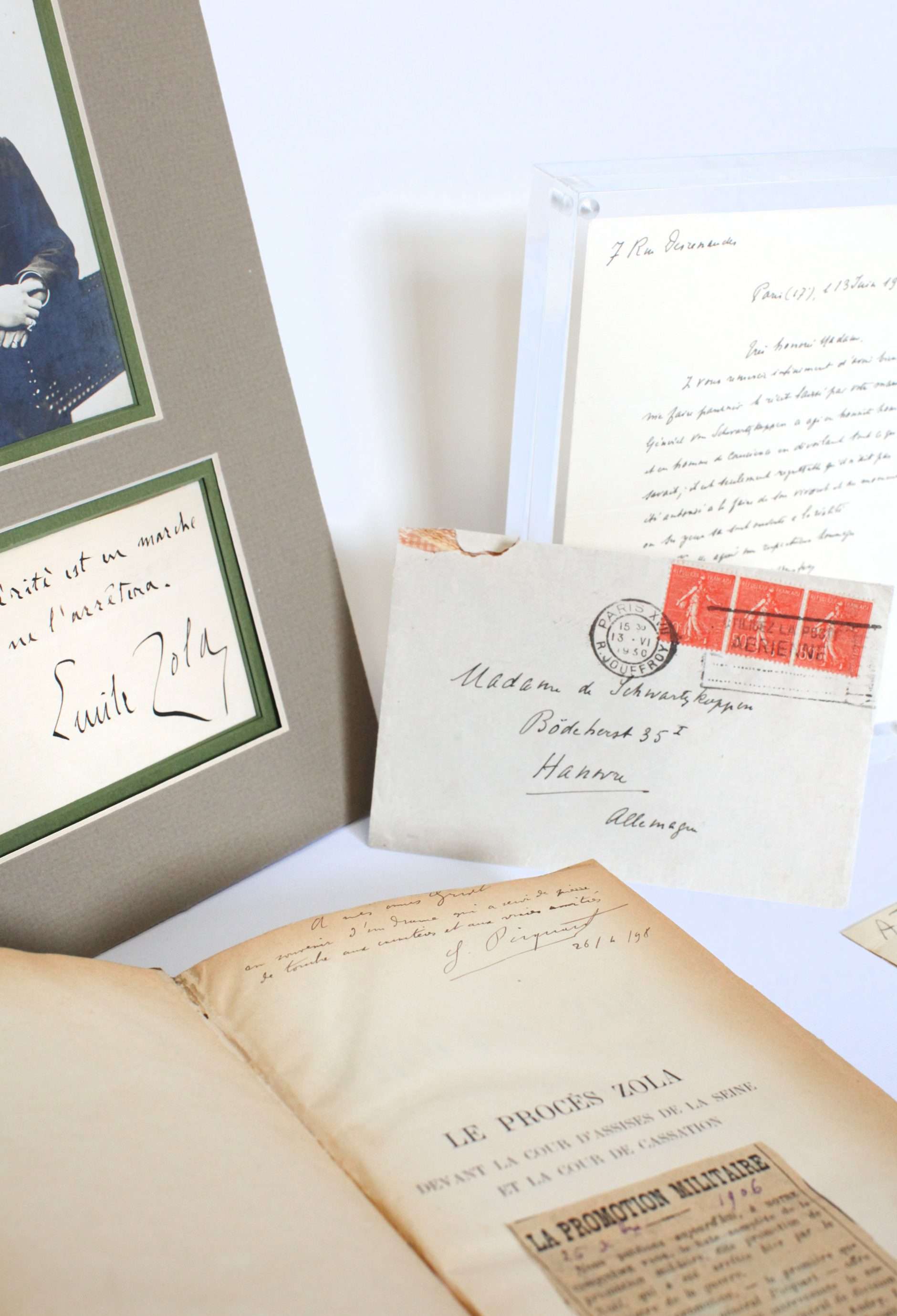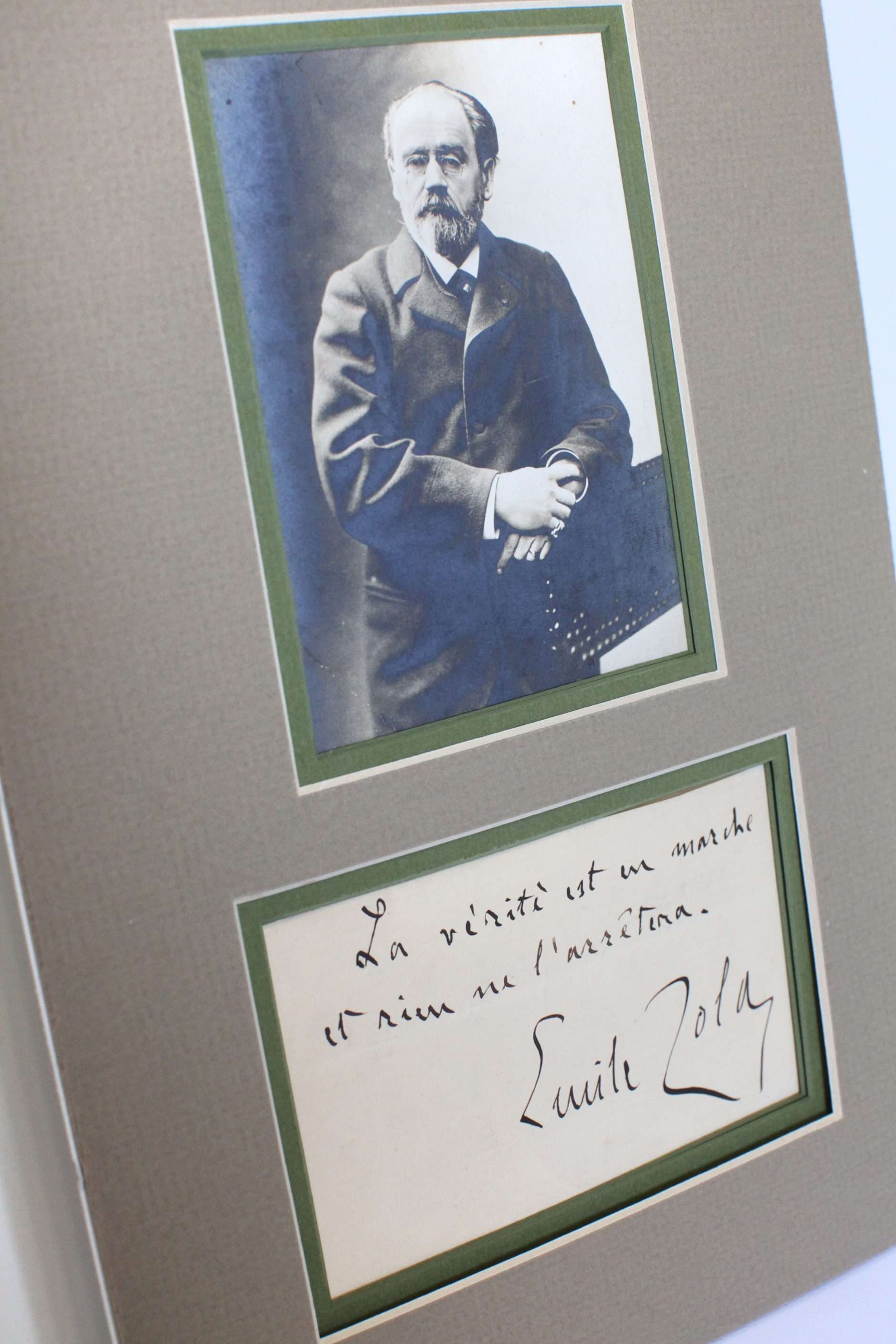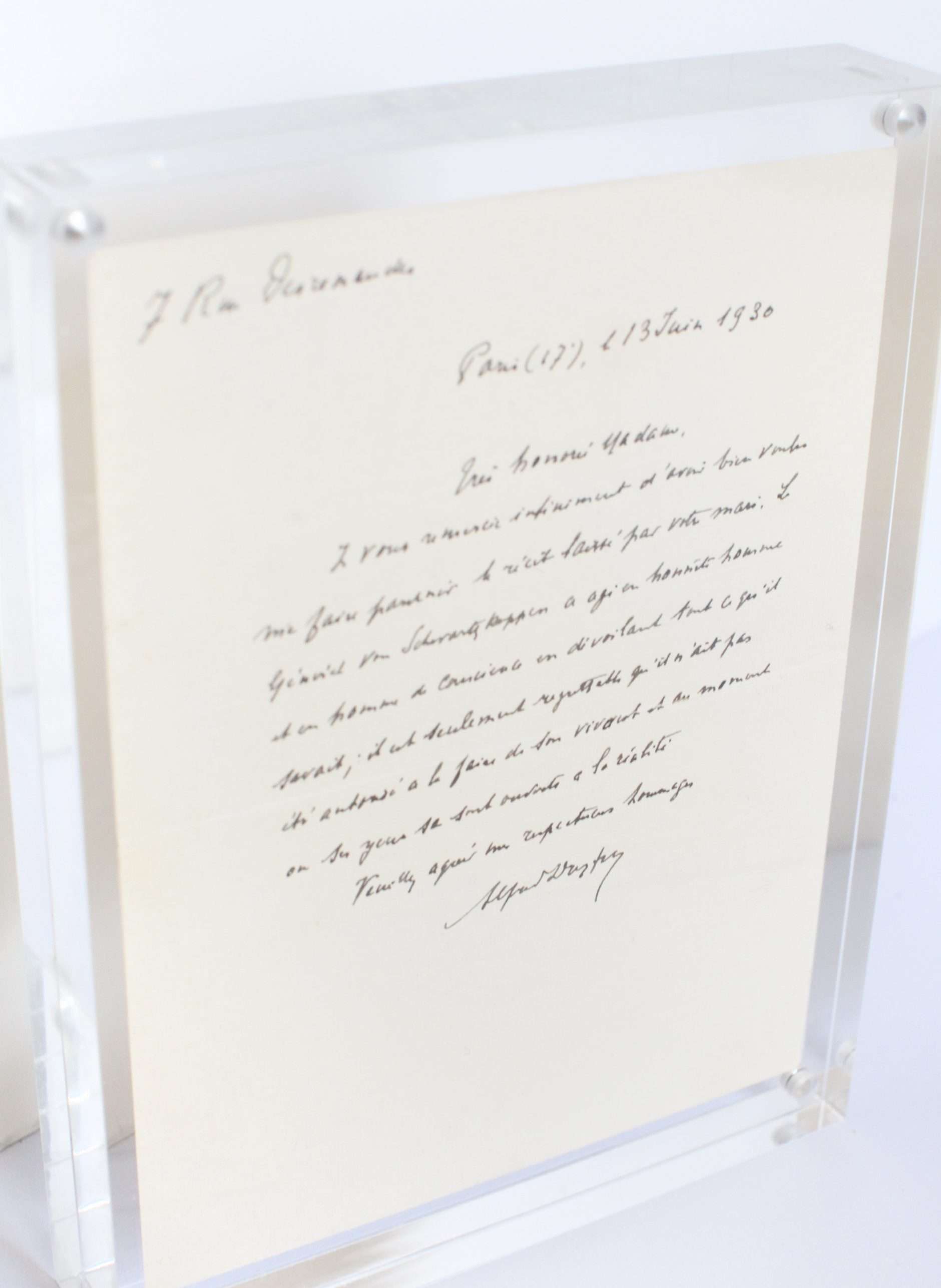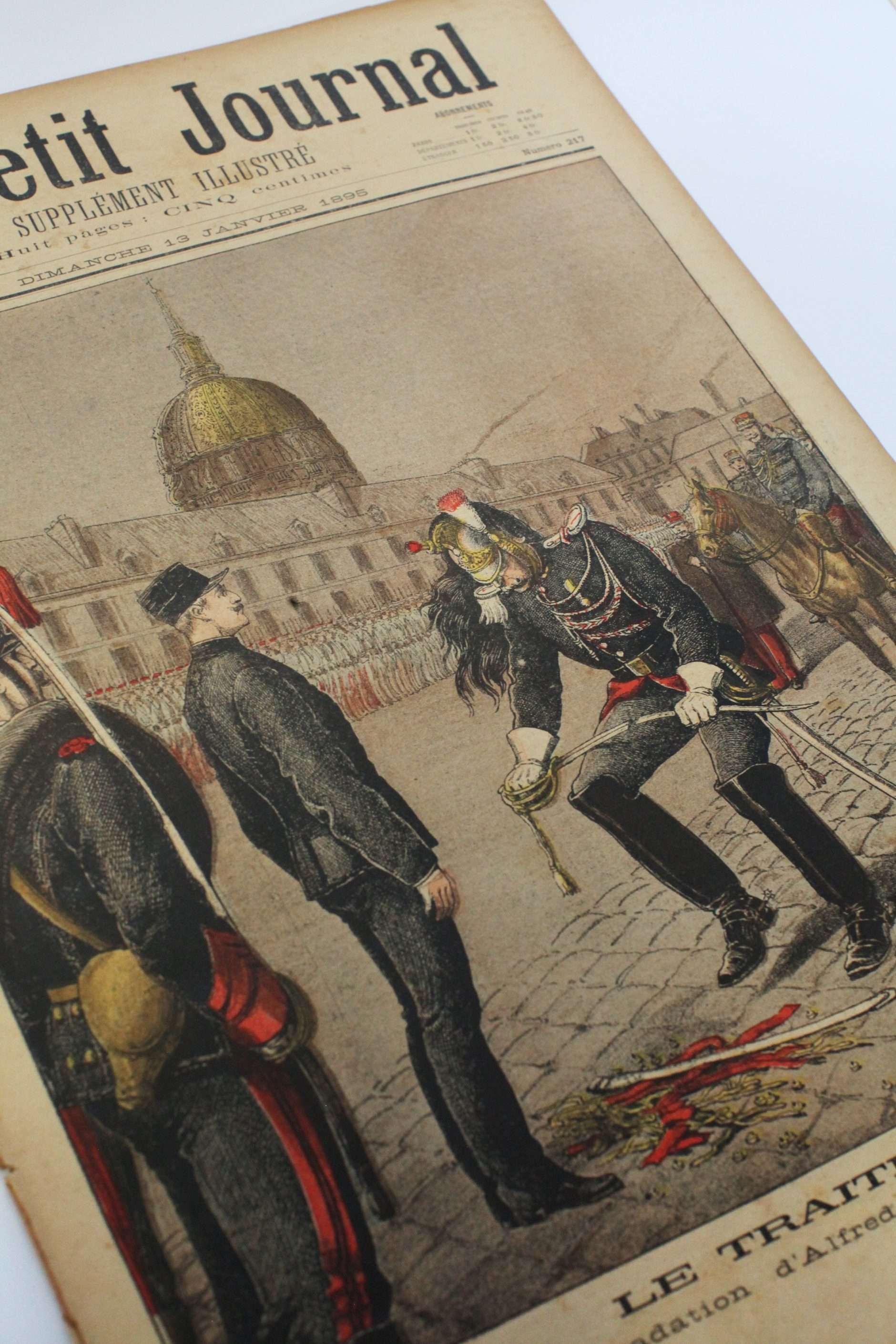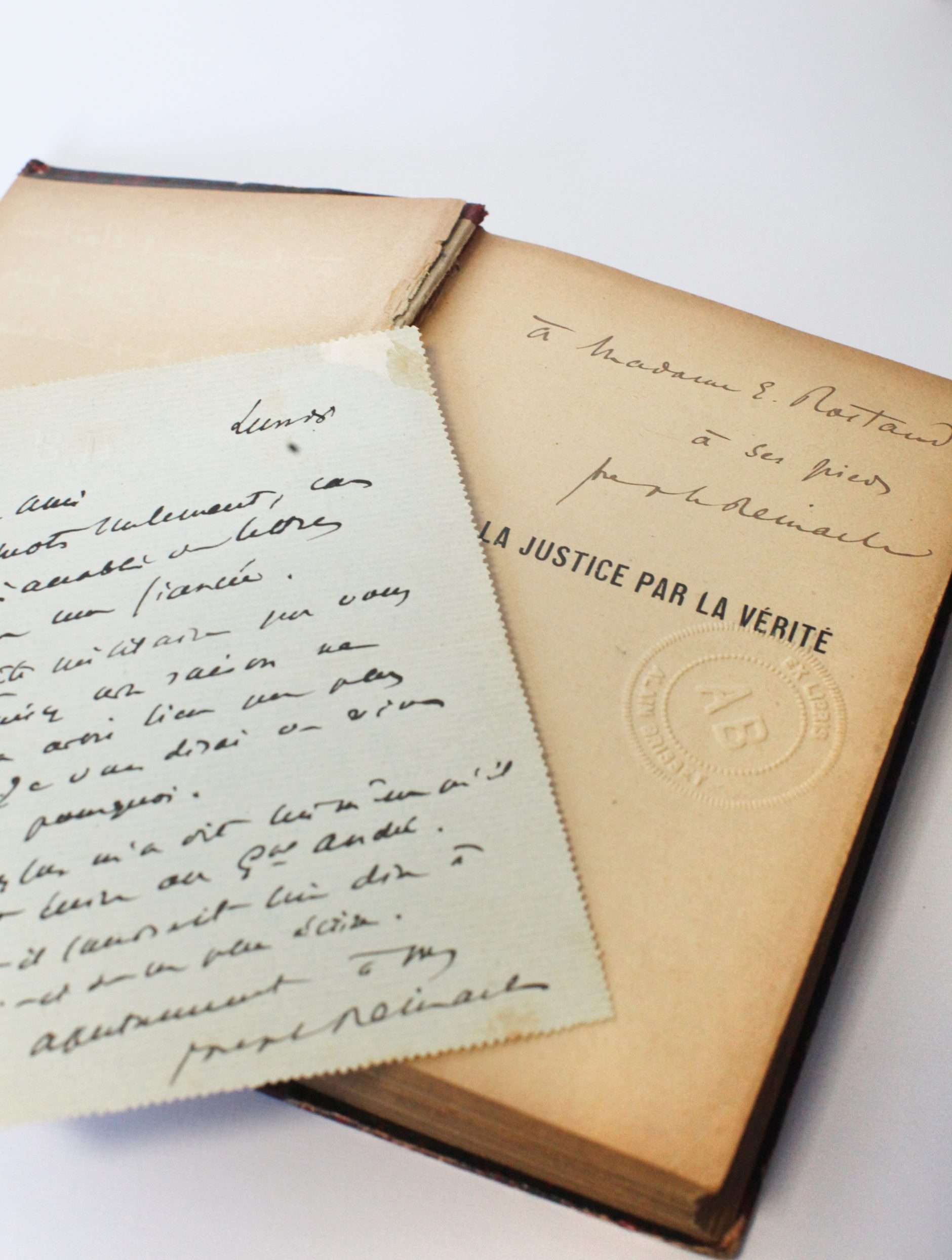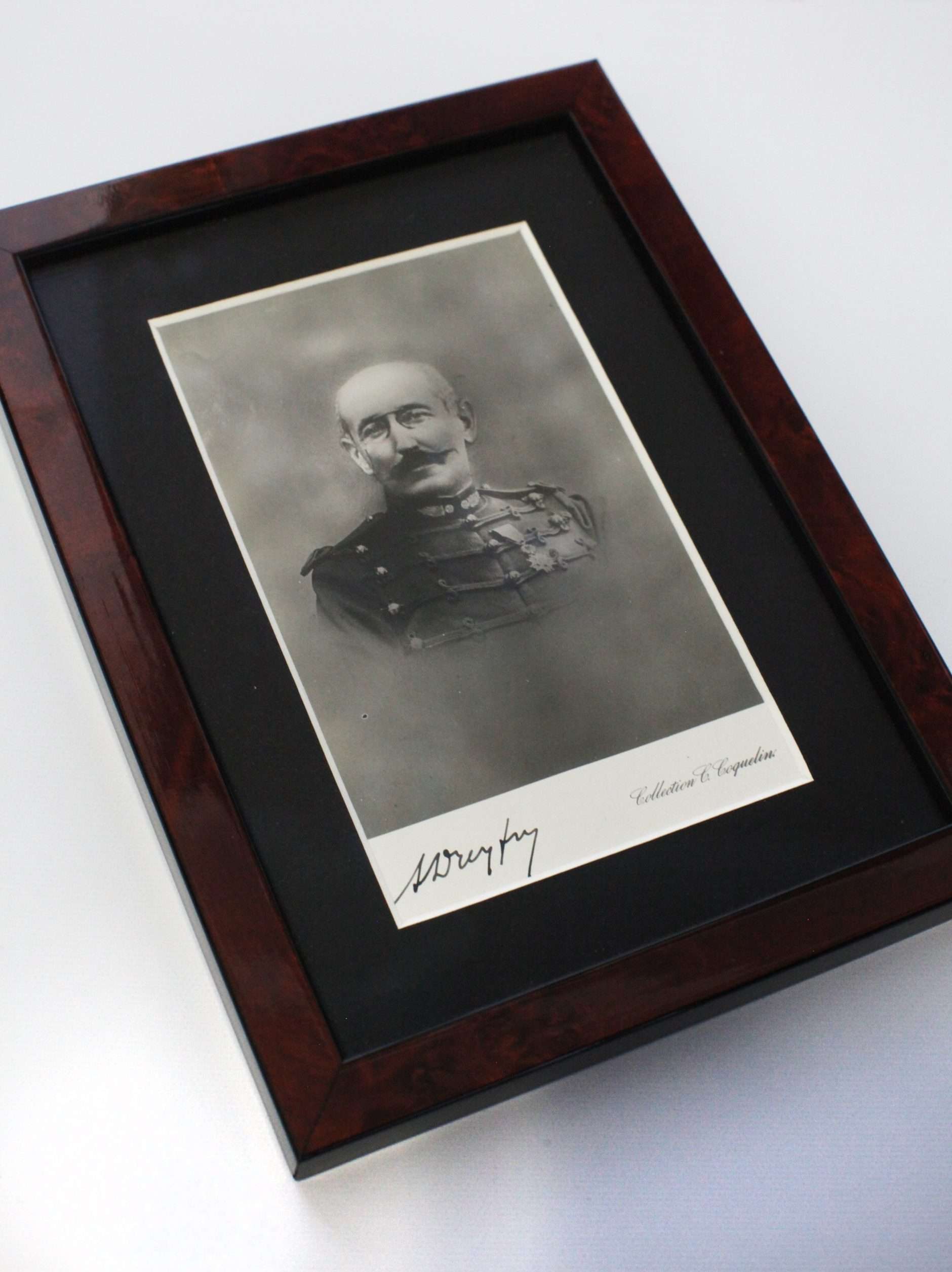 Fact sheet
AFFAIRE DREYFUS
Exceptionnal set concering the Dreyfus Affair
1895 – 1930, 35 documents (Books, letters, noted, photoraphs etc)
Exceptional set of documents concerning the Dreyfus Affair

---
DREFUS, Alfred (1859-1935)
Photographic portrait on postcard, signed "ADreyfus"
13.7 x 8.8 cm, « Collection C. Coquelin »
Mounting marks on verso. Frames
Famous portrait of Captain Alfred Dreyfus, after his rehabilitation to his rank in the French army on July 12, 1906

---
LE PETIT JOURNAL
Famous historical issue, in original edition, of January 13, 1895, depicting the degradation of Captain Dreyfus in a courtyard of the Military School on January 5. Complete copy of its 8 pages in-folio. Good condition, some small tears on the left margin.
On December 22, 1894, 15 days earlier, Alfred Dreyfus was unanimously sentenced by the judges to degradation and deportation for life in Guyana for high treason. Illegally, a secret file had been transmitted the day before by the commander of the Paty de Clam to the Court, without the knowledge of the defence and the accused.
---
DREFUS, Alfred (1859-1935)
Autograph letter signed "Alfred Dreyfus" to Mme de Schwartzkoppen
Paris, 7 rue des Renaudes, 1 page in-8 with autograph envelope
Important letter from Captain Dreyfus returning, at the publication of the Posthumous Memoirs of General Von Schwartzkoppen, on the role and actions of the latter during the Affair
« General Von Schwartzkoppen acted as an honest man and a man of consciousness »
« Très honorée Madame, Je vous remercie infiniment d'avoir bien voulu me faire parvenir le récit laissé par votre mari. Le Général Von Schwartzkoppen a agi en honnête homme et en homme de conscience en dévoilant tout ce qu'il savait ; il est seulement regrettable qu'il n'ait pas été autorisé à le faire de son vivant et au moment où ses yeux se sont ouverts à la réalité. Veuillez agréer mes respectueux hommages. Alfred Dreyfus. »
Maximilian Von Schwartzkoppen (1850.1917) was military attaché in Paris from December 1891 to November 1897. On October 15, 1894, Captain Alfred Dreyfus was arrested. The latter allegedly provided information to Maximilian Von Schwartzkoppen. The only evidence: a very uncertain resemblance between the captain's writing and that of a slip stolen by the Statistics Section, the French counter-espionage. Dreyfus was immediately sentenced.
Les carnets de Schwartzkoppen. La vérité sur Dreyfus. Bernhard Schwertfeger was authorized by Schwartzkoppen's widow to edit and publish his memoirs on the Dreyfus Affair, almost fifteen years after the general's death. Schwartzkoppen's Memoirs were written in August 1903, even before alfred Dreyfus's rehabilitation. Thus, thirty-six years after the opening of the Affair, in 1930, the testimony of one of the central figures of this file is finally delivered to the public. Schwartzkoppen set out his relations with Esterhazy and definitively exonerated Captain Dreyfus, while endeavouring to absolve himself of responsibility for the conviction of the French officer.
---
DREFUS, Alfred (1859-1935)
Autograph letter signed « Alfred Dreyfus » to Georges Lecomte
S.l, 28th November 1924, 1 p. in-12 oblong
Letter of congratulations from Alfred Dreyfus to Georges Lecompte – convinced Dreyfusist – the day after the latter's election to the Académie Française.
« Cher Monsieur, je vous adresse mes très chaleureuses félicitations pour votre élection à l'Académie française que tous vos nombreux amis saluent avec joie.
Veuillez agréer l'expression de mes sentiments bien sympathiques. Alfred Dreyfus. »
---
ZOLA, Emile (1840-1902)
Autograph aphorism signed « Emile Zola »
N.p.n.d, 1 p. in-8 oblong, enhanced with a film photograph on postcard
Extraordinary and famous aphorism of Zola, representing alone the Dreyfus Affair

At the end of 1897, Zola, revolted by the injustice of the nationalist press, decided to write several articles in Le Figaro in favor of the Dreyfusard movement. The first, entitled "M. Scheurer-Kestner" appeared on November 25, 1897. In conclusion of this text, is chanted for the first time this prophetic phrase, standard of the Dreyfusards: "The truth is on the march and nothing will stop it"
On January 13, 1898, Zola gave a new dimension to the Dreyfus affair. Outraged by Esterhazy's acquittal three days earlier, the author decided to strike a blow and published on the front page of L'Aurore an article on six columns on the front page, in the form of an open letter to President Félix Faure: "J'accuse…".
---
PICQUART, Marie-Georges (1854-1914)
Le Procès Zola, Verbatim report and related documents.
Exceptional copy with autographs by Georges Clemenceau and Marie-Georges Picquart
Original edition, two volumes
Half green basane, back to nerves, golden title.
Back uniformly passed, a snag on the first plate, tear on the first page on the second volume.
Marie-Georges Picquart writes: « In memory of a drama that served as a touchstone for characters and true friendships. G. Picquart, 26/4/98 »
---
PICQUART, Marie-Georges (1854-1914)
Autograph letter signed « G. Picquart » to M. Dittelbach
Ville d'Avray, le 23 juin 1899, 1 p. in-8
Picquart settles an appointment 10 days after his release from prison, after having obtained a dismissal of the case in connection with the Dreyfus Affair
« Cher Monsieur,
Vous êtres mille fois aimable, mais je ne voudrais pas cependant vous imposer un jour que ne vous irait pas. Je pourrai être libre jeudi, vendredi ou mardi prochain.
Veuillez me dire ce qui vous conviendrait le mieux.
Mes respectueux hommages à Mme Dittelbach, votre tout dévoué
G. Picquart »
Accused of fabricating the evidence against Ferdinand Walsin Esterhazy, Picquart was imprisoned for nearly a year. The dreyfusards made him a hero, like Octave Mirbeau who wrote in the preface to Hommage des artistes à Picquart (February 1899): "As Dreyfus had been condemned, guilty of being innocent, he knew that Picquart would be condemned, doubly guilty of a double innocence: that of Dreyfus and his own"
---
PICQUART, Marie-Georges (1854-1914)
Autograph letter siggned « G. Picquart » to M. Le Président
Paris, 31st October 1900, 3 p. in-8
Some tape marks left on third sheet without affecting the text
Picquart looks back at the lawsuit he brought alongside Joseph Reinach against Edmond Lepelletier, following a defamatory article published in the Echo de Paris
« Monsieur le Président,
Le procès que j'ai intenté, pour diffamation à M. Lepelletier et à l'Echo de Paris, doit venir aujourd'hui en opposition devant la 9eme chambre, mais il ne pourra être retenu.
Les défenseurs ont, en effet, décliné la compétence du tribunal correctionnel, ils ont contre eux un jugement de ce tribunal qui se déclare compétent, mais ils en ont appelé, et la question est actuellement pendante devant la Cour.
Toutefois comme M. le Président de la Chambre des appels correctionnels s'est engagé il y a 15 jours à faire plaider l'affaire le 22 novembre, quoi qu'il puisse arriver, je viens vous prier très instamment de vouloir bien fixer les débats devant la 9e chambre à une date aussi rapprochée que possible du 22 novembre, le 28 par exemple, sir les convenances du tribunal ne s'y opposent pas.
Je vous adresse cette demande parce qu'il est, je crois, de l'intérêt de tous, qu'il puisse être statué promptement sur ces affaires de diffamation.
Je n'ai pas cru devoir me présenter aujourd'hui devant le tribunal, puisque mon affaire ne peut venir inutilement, mais mon avocat aura l'honneur de vous exposer verbalement la requête que je vous présente, de mon côté, par écrit.
Veuillez agréer, Monsieur le Président, l'assurance de ma respectueuse considération.
G. Picquart »
---
PICQUART, Marie-Georges (1854-1914)
Autograph note on name card
S.l.n.d, 1 p. in-24
Some tiny spots
Name card with autograph note
« Avec ses bons souvenirs et tous ses vœux de nouvelle année »
---
FRANCE, Anatole (1844-1924)
Autograph letter signed « Anatole France » to Auguste Delpech
Domaine de Caillavet (Gironde), 8th October [1900], 1 p. 1/4 in-8
Reinforced central fold, glue marks on verso, autograph envelope mounted on 4th page
Anatole France expresses its support to Senator Auguste Delpech
« Excusez-moi, mon cher sénateur, de n'avoir pas répondu à votre intéressante lettre assez vite pour vous éviter une course inutile. Mais je suis en Gironde et je n'y ai reçu votre lettre qu'hier soir. Le projet que vous aviez l'intention de me communiquer m'intéresse très vivment. J'irai vous voir dès mon retour à Paris, c'est-à-dire dans une quinzaine de jours. Croyez, cher sénateur, à toute ma sympathie et à mon admiration pour votre énergique et franche attitude dans un temps de mensonge et de lâcheté.
Anatole France »
Auguste Delpech had denounced General Mercier [Minister of War] during the Dreyfus trial. On 7 October, convinced that he would hold the culprit solely on the basis of an approximate graphological expertise by Alphonse Bertillon, Mercier decided on the guilt of Alfred Dreyfus. In this letter, Anatole France offered to meet Delpech as soon as he returned from Paris and encouraged him for his resolute Dreyfusiste attitude.
 This letter is written from Mme de Caillavet's domain, socialite and mistress of Anatole France. Her salon played an important role at the time of the Dreyfus Affair.
---
REINACH, Joseph (1856-1921)
Autograph letter signed « Joseph Reinach » to Alphonse Duvernoy
[Paris], probably on July 16th, 1906, 1 p. in-12 with header of the Chamber of Deputies
Slight missing piece on lower margin, without affecting the text
Reinach writes about the military festival hoped for by the Dreyfusard camp, less than a week before alfred Dreyfus's rehabilitation at the Military School
« Cher ami,
Deux mots seulement, car je suis accablé de lettres – comme une fiancée.
La fête militaire que vous préconisez avec raison ne pourra avoir lieu que plus tard. Je vous dirai de vive voix pourquoi.
Dreyfus m'a dit lui-même qu'il allait écrire au Général [Louis] André.
Et il faudrait lui dire à celui-ci de ne plus écrire.
Affectueusement à vous
Joseph Reinach »
On 16 July, Dreyfus's friends rejoice and hope for a military celebration – the army is still ravaged by the Affair and the revelations of related embezzlement, but also by the Fiches scandal. General André made possible the official innocence of Dreyfus but the reason for the delay of this feast is probably related to the presence of General André himself. In the end he was not invited to the rehabilitation ceremony of Dreyfus at the Military School on July 22, 1906
---
REINACH, Joseph (1856-1921)
Vers la justice par la vérité
Original edition with autograph dedication to Rosemonde Gérard (wife of Edmond Rostand)
Red half basane, rubbing, marginal tears of the first two pages
Joseph Reinach writes : « A Madame E. Rostand, à ses pieds. Joseph Reinach »
Ex-Libris : Alain Brisset
---
MORNARD, Henry (1859-1928)
Autograph namecard signed « H.M » to Fernand Labori
S.l [1911], 1 p. in-16
Remarkable testimony of friendship between the two main defenders of Alfred Dreyfus. Mornard warmly thanks Labori for his election as President of the Paris Bar. 
 « Je suis heureux de vous féliciter mon cher ami, non pas de votre réélection qui n'était pas douteuse, mais de la belle manifestation de sympathie qu'elle a constituée à votre égard.
Je ne suis pas votre électeur… mais je vote tout de même de tout cœur pour le bâtonnier Labori.
H.M »
Henry Mornard was first the lawyer of Lucie Dreyfus and then that of Alfred Dreyfus during the review of his trial in Rennes in September 1899. Fighting tirelessly, he obtained in 1906 the rehabilitation of Alfred Dreyfus. Fernand Labori (1860-1917) was the lawyer of Lucie Dreyfus, Emile Zola, Colonel Picquart and Senator Trarieux. He defended Alfred Dreyfus jointly with Henry Mornard during the retrial of Rennes.
---
LABORI, Fernand (1860-1917)
Autograph piece signed « Labori » on the verso an original pencil drawing (of another hand)
S.l, September 1912, 1 p. in-8
Remarkable thought of the great lawyer of the Dreyfusist cause quoting La Bruyère
« La Bruyère a écrit dans ses 'caractères' : « Je dirai presque de moi : Je ne serai pas voleur ou meurtrier ; je ne serai pas un jour puni comme tel, c'est parler bien hardiment ». Je crois bien qu'il avait été avocat au Parlement de Paris de 1665 à 1673 : Il connaissait la justice de son temps. Combien cela a dû changer !
Labori »
---
LABORI, Fernand (1860-1917)
Autograph letter signed « Labori »
S.l, 21st January 1897, 1 p. 1/2 in-8
Labori prepares the publication of an article   
« Mon cher ami,
C'est entendu. Publions l'article le 1er mars.
Je puis vous donner jusqu'au 14 février, au besoin jusqu'au 15 dans la matinée. Il faut absolument que l'article parte pour l'imprimerie le 15 au plus tard : Je compte donc absolument sur vous.
Confidentiellement bien entendu. Je [me] tiens à votre disposition si vous avez besoin de quelques renseignements.
Cordialement
Labori »
---
MANAU, Jean-Pierre (1822-1908)
Autograph letter signed « JP Manau Procureur Général près la Cour de Cassation », probably to a journalist
Paris, 12th July 1898, 3 p. in-12
Some parts have been crossed out for printing
Interesting thought of the prosecutor general less than a week before the final conviction of Emile Zola at the Court in Versailles (following the publication of J'Accuse… 13 January of the same year
« Monsieur
Vous me demandez quel était mon rêve à 20 ans ?
J'en avais deux : Me faire une place honorable dans la société par le travail, voir mes aspirations vers la liberté réalisées par la République.
L'âge mûr me les a-t-il réalisés ? Oui, car après une éclipse de 18 ans [Le Second Empire], j'ai eu la joie de voir renaître la république, condition et source de tout progrès, et c'est elle qui, après toutes les étapes de la carrière, m'a élevé à l'un des premiers postes de la magistrature.
Vous me demandez aussi une pensée inédite. Je ne sais si celle qui me vient à l'ésprit a ce caractère, mais comme je l'ai vécue, je vous la livre :
« Le vrai bonheur sur la terre consiste dans la conscience du devoir accompli et dans les affections du foyer domestique »
Recevez, Monsieur, l'assurance de mes meilleurs sentiments.
Manau
Procureur général près la Cour de Cassation »
---
BOUCHOR, Joseph-Félix (1853-1937)
Set of 12 original pencil drawings, anoted by the artist
[Rennes, August – September 1899], 11 p. in-folio & 1 p. in-4
Four of them are signed
Some stains otherwise good condition
Exceptional first-hand set of drawings, major iconographic source on the trial of Alfred Dreyfus before the Council of War in Rennes in August and September 1899
These drawings were offered to the wife of the journalist Bernard Lazare contacted in 1895 by Mathieu Dreyfus. He was one of the first to defend the captain alongside his family and to speak out against the prevailing anti-Semitism. He published a series of 5 articles in the newspaper Voltaire in 1896 to call on the Jews to raise their heads in the face of the calumnies and violence of which they were victims and never ceased to defend Dreyfus. In November 1896, he also published "Une erreur judiciaire, la vérité sur l'Affaire Dreyfus", which revived the controversy.
These portraits were made from nature during the revision procedure before the Council of War of Rennes which opened on August 8, 1899. Alfred Dreyfus was again found guilty, but with extenuating circumstances.
---
DREYFUS, Nearly 100 photos of actors and scenes from the disgrace
Original edition, in english.
N.d, 32 p. in-4
Fascinating issue retracing in pictures the revision of the trial of Rennes
We attach:
-[Alfred Dreyfus] Original coloured pastel portrait by Frederic Branka
-[Alfred Dreyfus] A cabinet-sized photograph illustrating Captain Dreyfus' physical decline before and after his 5 years in prison (based on drawings)
-[Affaire Dreyfus] Vanity Fair cover featuring Alfred Dreyfus (1897)
-Maximilian Von Schwartzkoppen : Lsigned typescript (as major general and commander), in German – " At the compliant request of January 24, 1903, the corps commando responded obediently that the participation rates and class size did not allow the transfer of their son Hans to Potsdam only for the first year  […]".
-[Colonel Auguste Bougon] : Scarce photograph of Auguste Bougon, one of the judges who tried Eszterhazy  (16,5 x 12 cm). Handwritten annotation on the back by his grandson
-Ludovic Trarieux (Instigator of the retrial of Captain Alfred Dreyfus, he was the founder and first president of the Human Rights League.) : Autograph letter signed to President Félix Faure concerning the report of Ministry of Justice.