CAMUS, Albert (1913-1960)
Autograph letter signed « Albert Camus » to Jean-Louis Barrault
N.p, [Paris] Tuesday 6th October 1953
« You see, I'm excited… And not only excited, but also moved, and vaguely proud »

SOLD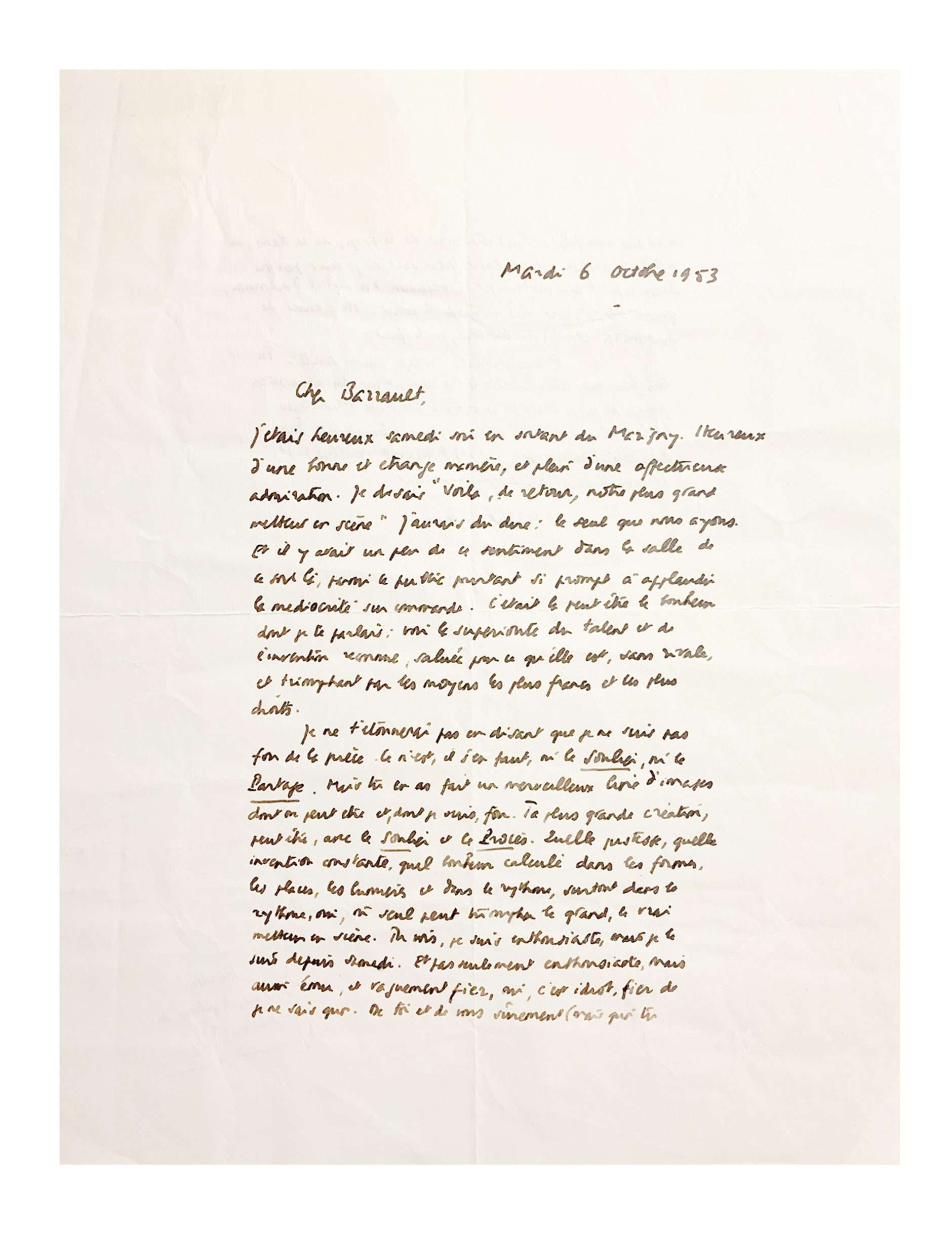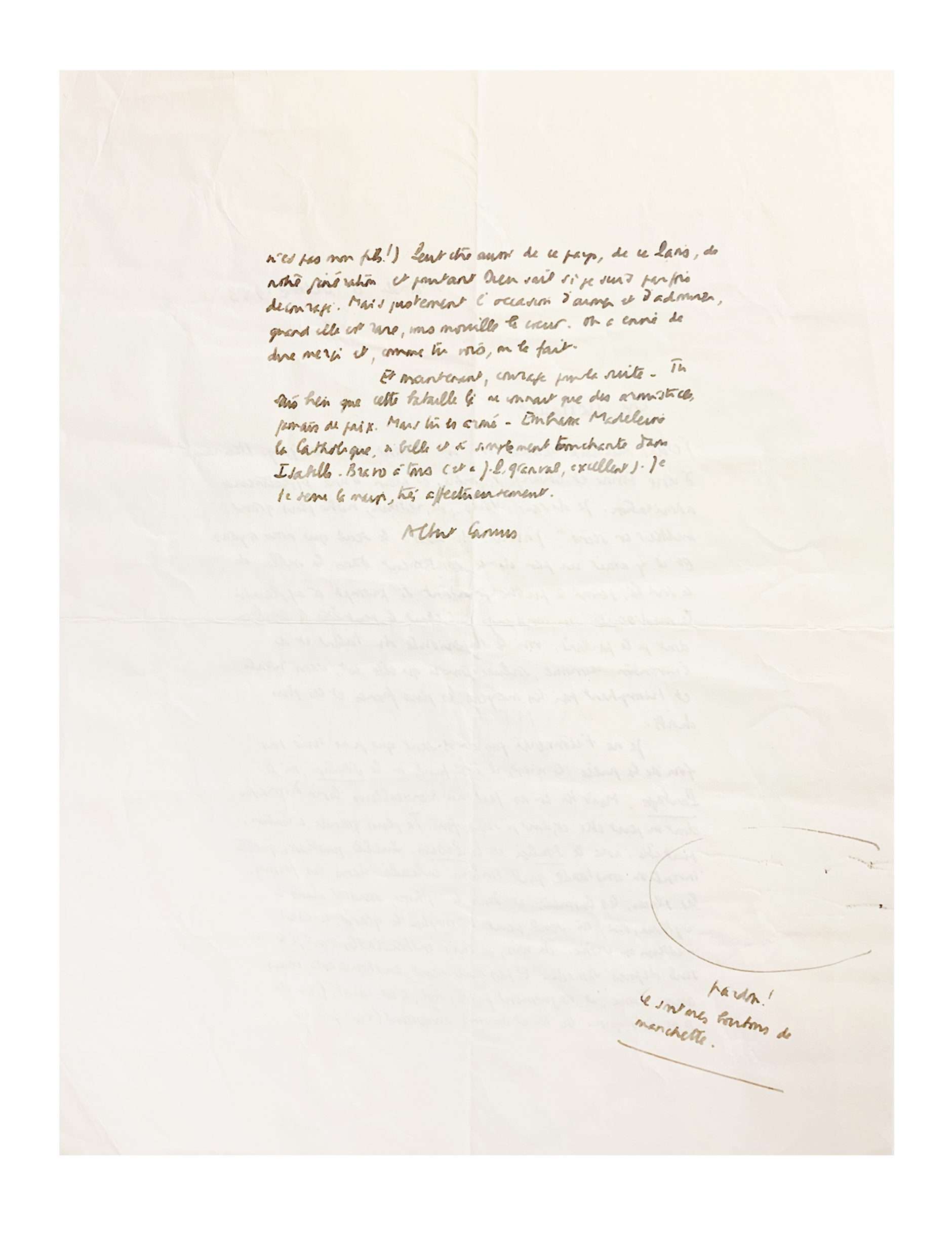 Fact sheet
CAMUS, Albert (1913-1960)
Autograph letter signed « Albert Camus » to Jean-Louis Barrault
N.p, [Paris] Tuesday 6th October 1953
Period fold marks
Moving letter written to his friend and actor Jean-Louis Barrault after the revival of Paul Claudel's Livre de Christophe Colomb, at the Théâtre Marigny
---
« Cher Barrault,
J'étais heureux, samedi soir en sortant du Marigny. Heureux d'une bonne et étrange manière, et plein d'une affectueuse admiration. Je disais : "Voilà, de retour, notre plus grand metteur en scène." J'aurais dû dire : le seul que nous ayons. Et il y avait un peu de ce sentiment dans la salle de ce soir-là, parmi le public pourtant si prompt à applaudir la médiocrité sur commande. C'était là peut-être le bonheur dont je parlais : Voir la supériorité du talent et de l'invention reconnue, saluée pour ce qu'elle est, sans rivale, et triomphant par les moyens les plus francs et les plus droits.
Je ne t'étonnerai pas en disant que je ne suis pas fou de la pièce. Ce n'est, il s'en faut, ni le Soulier(1), ni le Partage(2). Mais tu en as fait un merveilleux livre d'images dont on peut être et, dont je suis, fou. Ta plus grande création, peut-être, avec Le Soulier et le Procès(3). Quelle prestesse, quelle invention constante, quel bonheur calculé dans les formes, les places, les lumières et dans le rythme, surtout dans le rythme, oui, où seul peut triompher le grand, le vrai metteur en scène. Tu vois, je suis enthousiaste… Et pas seulement enthousiaste, mais aussi ému, et vaguement fier, oui, c'est idiot, fier de je ne sais quoi. De toi et de vous sûrement (aussi vrai que tu n'es pas mon fils). Peut-être aussi de ce pays, de ce Paris, de notre génération, et pourtant Dieu sait si je suis parfois découragé. Mais justement l'occasion d'aimer et d'admirer, quand elle est rare, vous mouille le cœur. On a envie de dire merci et, comme tu vois, on le fait.
Et maintenant, courage pour la suite. Tu sais bien que cette bataille-ci ne connaît que des armistices, jamais de paix. Mais tu es armé. Embrasse Madeleine [Renaud] la Catholique, si belle et si simplement touchante dans Isabelle. Bravo à tous… Je te serre la main, très affectueusement.
Albert Camus
[Camus adds in the bottom right of the second page]
Pardon !
Ce sont mes boutons de manchette. »
---
1- Le Soulier de satin is a play by Paul Claudel and directed by Jean-Louis Barrault on November 27, 1943 and whose complete performance lasts about eleven hours.
2- Partage de midi is a drama in three acts by Paul Claudel, written for three and then four characters in 1905, created in a modified version on December 16, 1948 at the Théâtre Marigny by the Renaud-Barrault company.
3- Le Procès is a posthumous novel by Franz Kafka, published in 1925 and adapted for the stage by André Gide in 1947. Jean-Louis Barrault played the role of Joseph K.
Beyond his sometimes enthusiastic, sometimes touching words, this letter enlightens us on one of Camus' great passions: the theater, a field in which he multiplied his experiences. He began first as a troupe animator in Algiers of the Travail de l'Équipe, popular theater mounted under the aegis of the Communist party from 1936 to 1937, then itinerant and occasional actor, playwright, adaptor …
The theatrical collaboration between the two friends, however, was limited to Barrault's staging of L'État de siege, premiered on 27 Oct. 1948 at the Théâtre Marigny.