CHAR, René (1907-1988)
Autograph poem signed « René Char »
N.p.n.d, 1 p. in-4°
« Dans le berceau conciliant / Ou tu rougis petite aurore »
EUR 950,-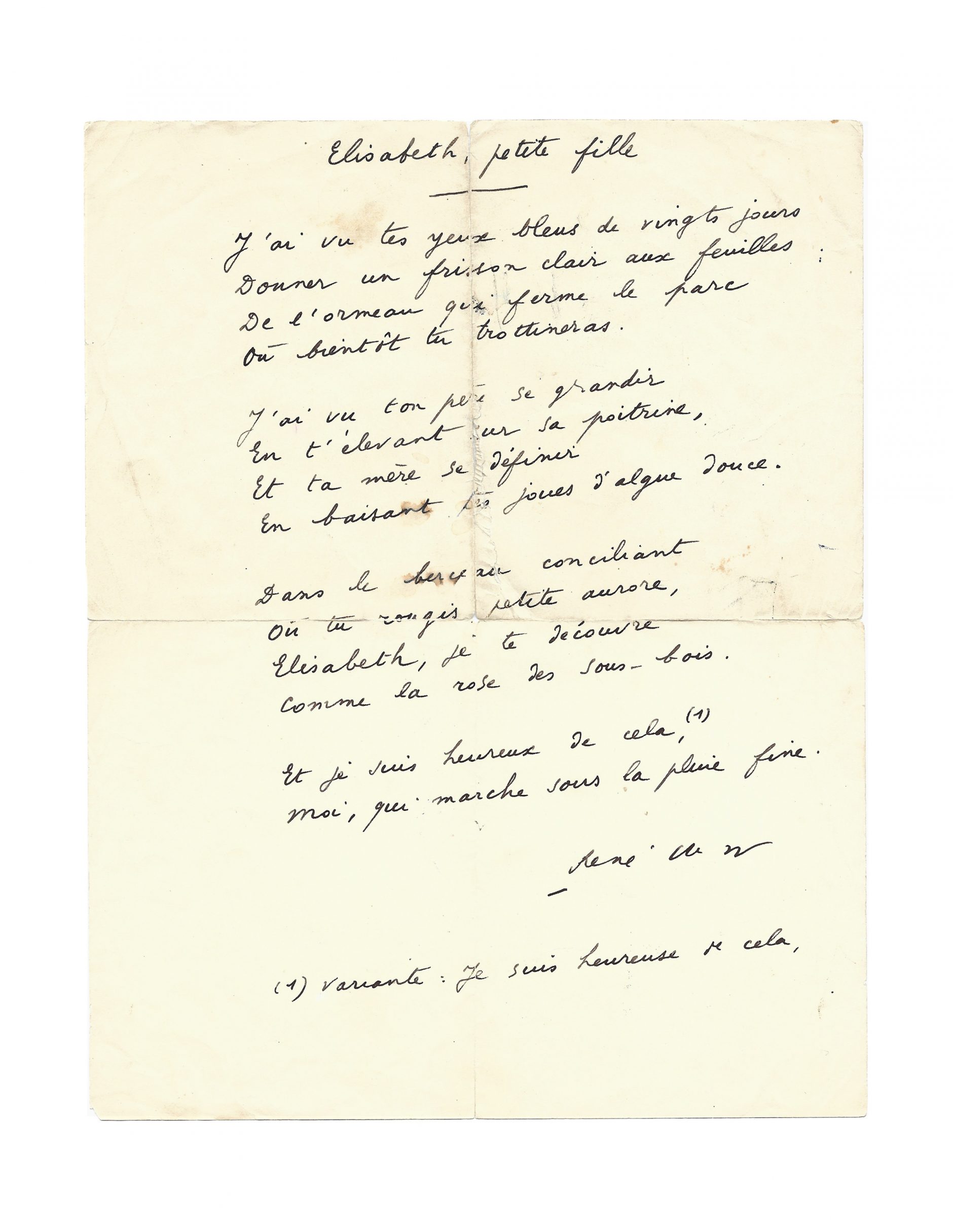 Fact sheet
CHAR, René (1907-1988)
Autograph poem signed « René Char »
N.p.n.d, 1 p. in-4°
Tears on fold marks, tear on central margin, spots, taped on verso
Famous and affectionate poem by Char with the eponymous title of his book Élisabeth, petite fille, published in 1958
---
« J'ai vu tes yeux bleus de vingts [sic] jours
Donner un frisson clair aux feuilles
De l'ormeau qui ferme le parc
Où bientôt tu trottineras.
J'ai vu ton père se grandir
En t'élevant sur sa poitrine,
Et ta mère se définir
En baisant tes joues d'algue douce.
Dans le berceau conciliant
Où tu rougis petite aurore,
Élisabeth, je te découvre
Comme la rose des sous-bois.
Et je suis heureux de cela,(1)
Moi, qui marche sous la pluie fine.
_René char
(1) variante : Je suis heureux de cela »
---
Elisabeth must be the daughter of the writer and essayist Jacques Dupin. René Char had met him in 1947. His daughter Elisabeth was born in 1954 when this poem was written. Thus, these two quatrains followed by a distich inspire tenderness and renewal.
References:
– Alès, P.A.B., janvier 1958
– L'Herne, René Char, n° 247.