FLAUBERT, Gustave (1821-1880)
Autograph letter signed « Gve Flaubert » to Jules Sandeau
[Paris, December 1863-early January 1864], 1 p. in-8° on bi-folio
« My little mom claims me »

SOLD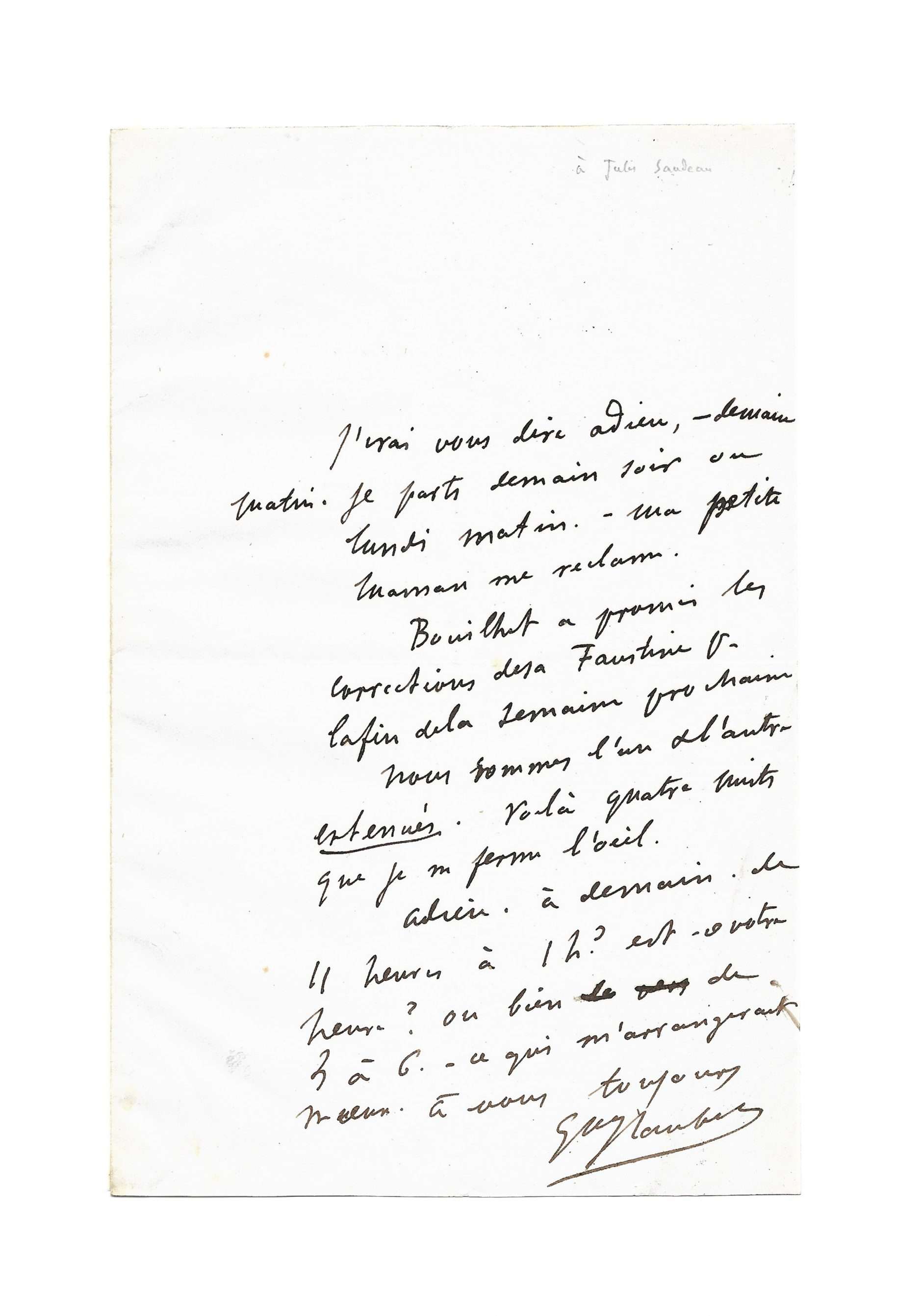 Fact sheet
FLAUBERT, Gustave (1821-1880)
Autograph letter signed « Gve Flaubert » to Jules Sandeau
[Paris, December 1863-early January 1864], 1 p. in-8° on bi-folio
Previous mounting mark on 4th page
Flaubert prepares to visit his "little mother" after helping his friend Bouilhet with his drama Faustine
---
« J'irai vous dire adieu, – demain matin. Je parts [sic] demain soir ou lundi matin. – Ma petite maman me réclame.
Bouilhet a promis les corrections de sa Faustine pr. [pour] la fin de la semaine prochaine. Nous sommes l'un & l'autre exténués. Voilà quatre nuits que je ne ferme l'œil.
Adieu. à demain. de 11 heures à 1h ? est-ce votre heure ? ou bien de vers de 3 à 6 . – ce quo m'arrangerait mieux. à vous toujours.
Gve Flaubert »
---
Flaubert, eternal bachelor who never wanted to marry, lived all his life with his mother in their house in Croisset, until the death of the latter in 1872. It is known, moreover, that he had a very tender affection for her.
Faustine is a drama in five acts by Louis Hyacinthe Bouilhet (1822–1869), published in 1864 by Michel Lévy Frères in Paris. A conscientious writer, but lacking originality, his name would be forgotten if Flaubert's correspondence did not constantly remind him. He whispered to Flauvert the idea of "Madame Bovary".
References:
Gustave Flaubert – Correspondance, éd. Jean Bruneau, Pléiade, t. III, p. 308
Œuvres complètes de Gustave Flaubert – Correspondance, éd. Louis Conard, t. 5, p. 125, letter 775
Letter published by André Doderet in Revue de Paris, 1st August 1919, p. 456-457.
Provenance:
Alidor Delzant