LONDON, Jack (1876-1916)
Autograph letter to Charmian Kittredge
Aboard the S.S. Siberia, 13th January 1904, 4 p. in-8, in english
"What wild dreams I had! And you were in all of them"

SOLD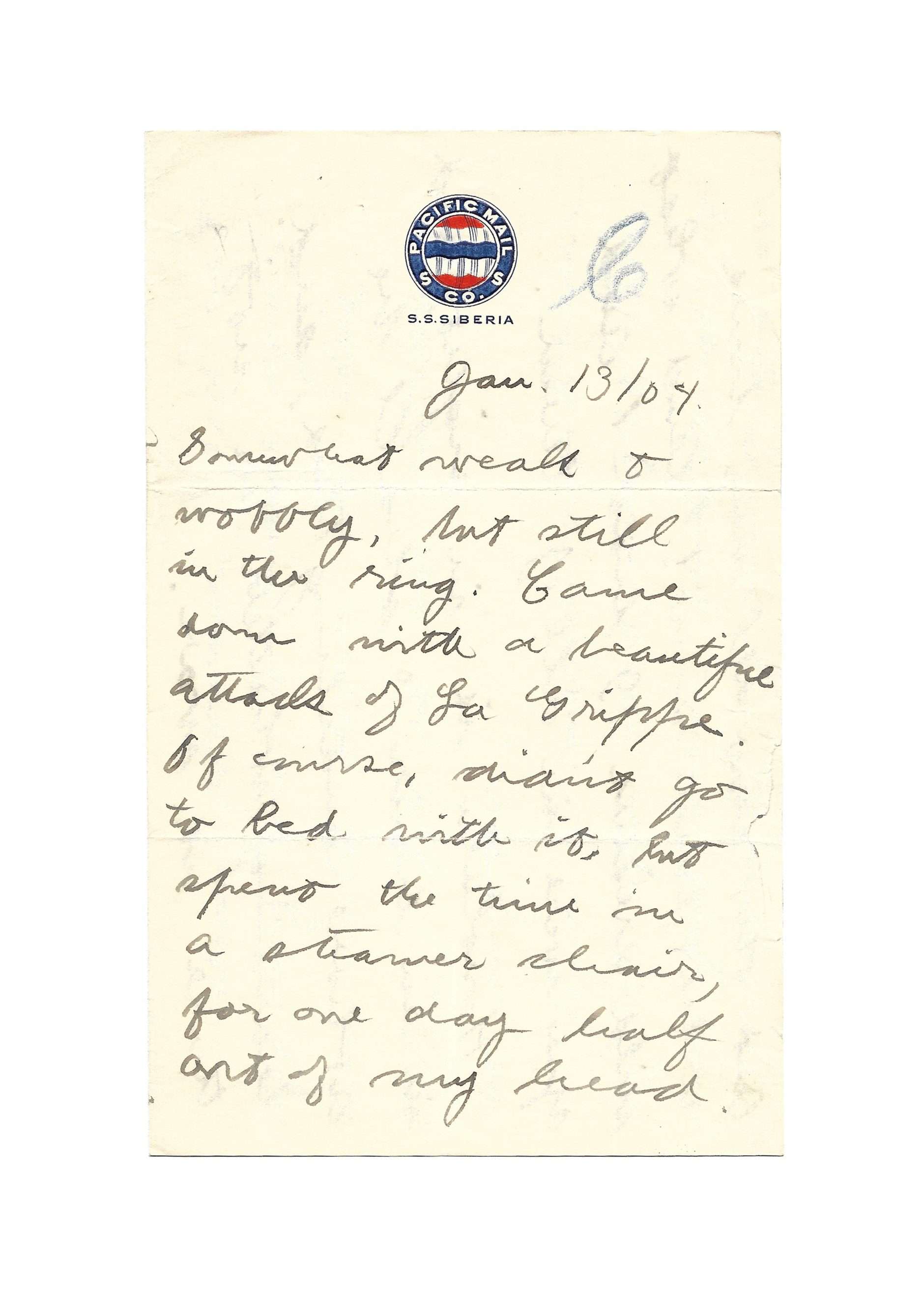 Fact sheet
LONDON, Jack (1876-1916)
Autograph letter to Charmian Kittredge
Onboard the S.S. Siberia, 13th January 1904, 4 p. in-8, in english
Small tear on first page's right margin affecting two letters
Tender and scarce letter – partially unpublished – to his mistress aboard the S.S. Siberia, in the middle of the Pacific Ocean
---
"Somewhat weak and wobbly, but still in the ring. Came down with a beautiful attack of La Grippe. Of course, didn't go to bed with it, but spent the time in a steamer chair, for one day half out of my head. And oh, how all my bones ache, even now! And what wild dreams I had! And you were in all of them.
Honolulu is in sight, and in an hour, I shall be ashore mailing this, and learning whether or not there is war.
Dear woman, I'd cut off my toes to have you here with me on this trip. It is so wrong, so unfair.
Had a ridiculous dream about you last night, we had just been married, and you wrote your age on a card and handed it to me – "41" it read. Now will you be good?
Am, Grippe excepted, having a nice trip. The weather is perfect. So is the steamer. Sit at the Captain's table, and all the rest. You know. But I wish you were with me. Dear heart, until Yokohama. Wholly and utterly your own"
---
In early 1904, Jack London agreed to cover the Russo-Japanese War for the San Francisco Examiner newspaper. His coverage, from February to May 1904, was marked by racist prejudices about Koreans. However, he expressed his astonishment at the rise of the unprecedented use of industry in the context of a war. He was arrested by the Japanese army for having rossed the valet of an officer and then released, on the intervention of Theodore Roosevelt. He was eventually expelled from Korea.
It was in the summer of 1903 that Jack London fell in love with Charmian Kittredge, whom he had met in January 1900. She is the niece of the wife of the editor of the Oakland newspaper. At the end of July, he separated from his wife Bessie, also leaving his daughters behind. Jack London married his mistress in Chicago on November 19, 1905.
The letter is unsigned, Jack and Charmian were keeping their affair secret at the time.
Jack wrote Charmian 33 letters between Jan 8, 1904 and June 30, 1904.
The Sea-Wolf is published from January to November 1904, one year after his wold-acclaimed novel The Call of the Wild.
The Letters of Jack London: Vol. 1 – 1896-1905 – ‎ Stanford University Press, p. 406 (partially transcribed)