LOUIS XVI (1754-1793)
Document signed « Louis »  and counter signed by Laporte
Paris [Palais des Tuileries], 15 December 1791, 1/2 page in folio on laid paper
SOLD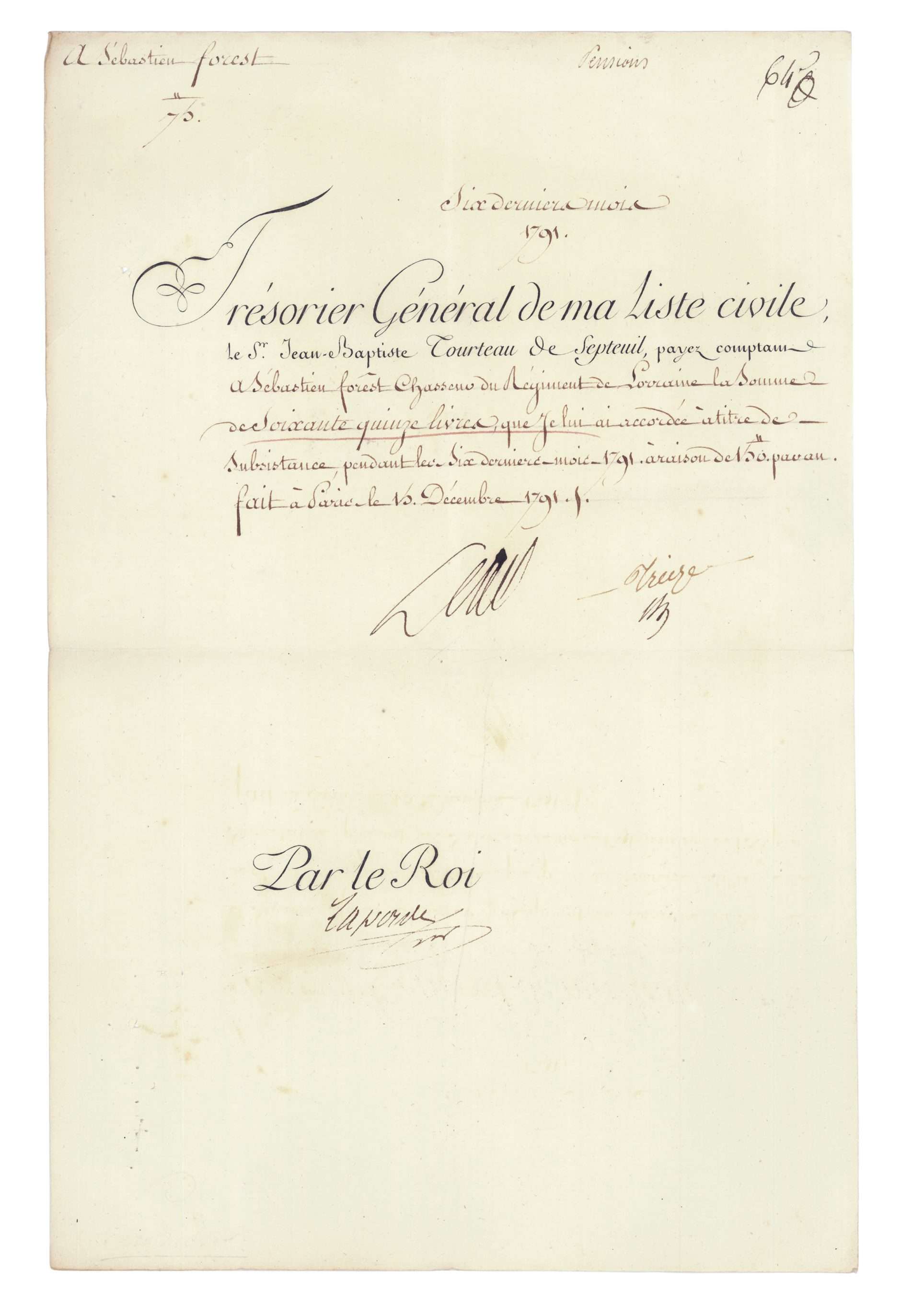 Fact sheet
LOUIS XVI (1754-1793)
Document signed "Louis" and counter-signed by Laporte
Paris [Palais des Tuileries], December 15, 1791, 1/2 page in folio on laid paper
Central fold mark, needle holes, slightly frayed on margins
Rare document signed by Louis XVI from the Tuileries
---
" Trésorier Général de ma Liste civile, m Sr. Jean-Baptiste Tourteau de Septeuil, payez comptant à Sébastien Forest chasseur du Régiment de Lorraine la somme de soixante quinze livres que je lui ai accordée à titre de subsistance, pendant les six derniers mois de 1791. À raison de 140 livres par an.
Fait à Paris le 15 Décembre 1791.
Louis
Par le roi
Laporte"
---
Arnaud de La Porte (1737-1792) was Minister of the Navy in 1789, intendant of the Civil List, minister of the house of King Louis XVI. For having been the distributor of funds intended to finance the king's failed escape, he was arrested after the day of 10 August 1792 and accused of having destroyed compromising documents. He was tried by the criminal court on 17 August and guillotined on 23 August 1972. Louis XVI was guillotined five months later on January 21, 1793, just over a year after the signing of this document.
Documents signed by Louis XVI from the Tuileries are rare.