LOUIS XVIII (1755-1824) & CHARLES X (1757-1836)
Letter signed "Louis Stanislas Xavier" and "Charles Philippe"
[in Wesphalie, near Dortmund], 1st of January 1793, 1 page in-4
Nice signature gathering of the future Louis XVIII and Charles X
SOLD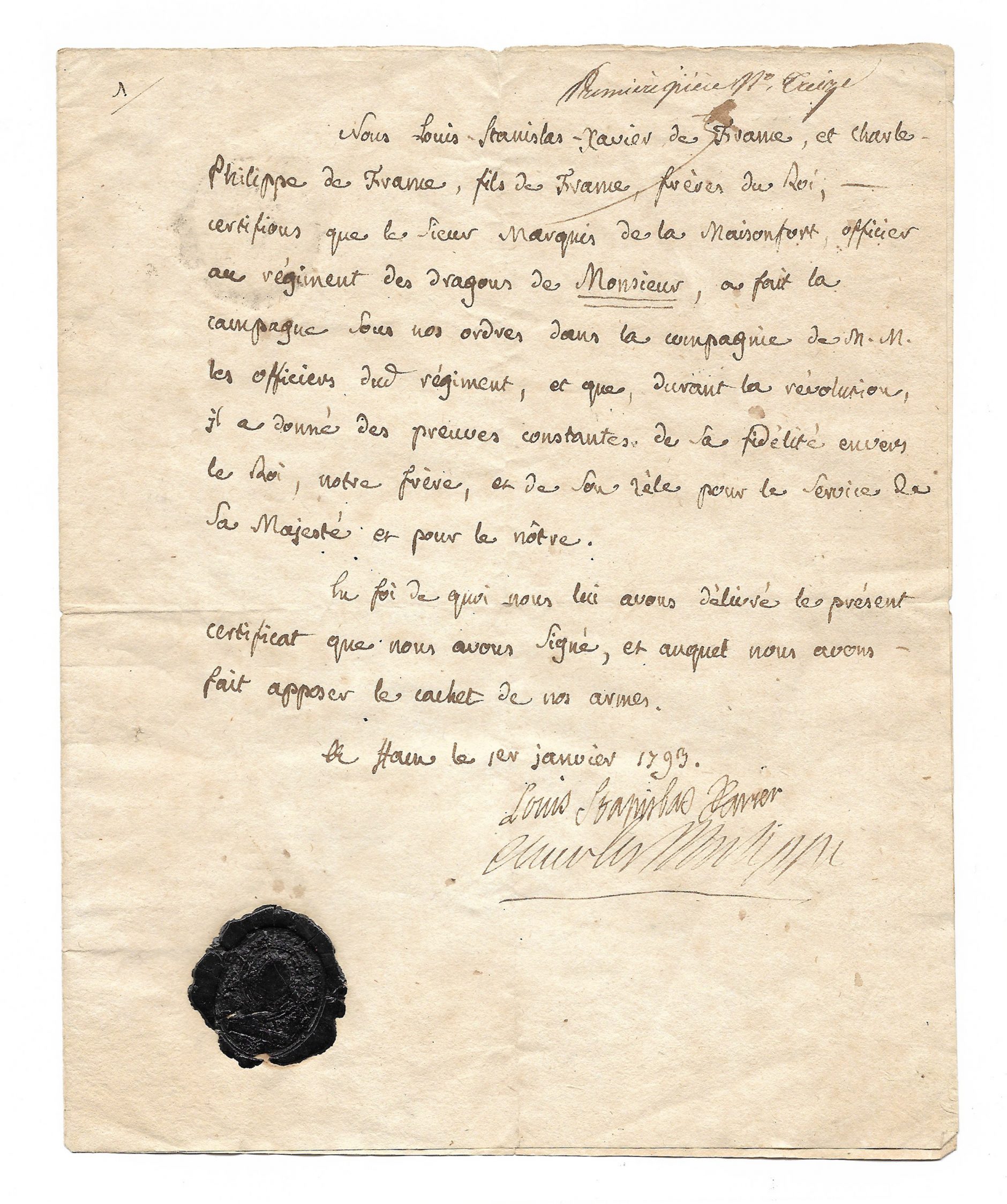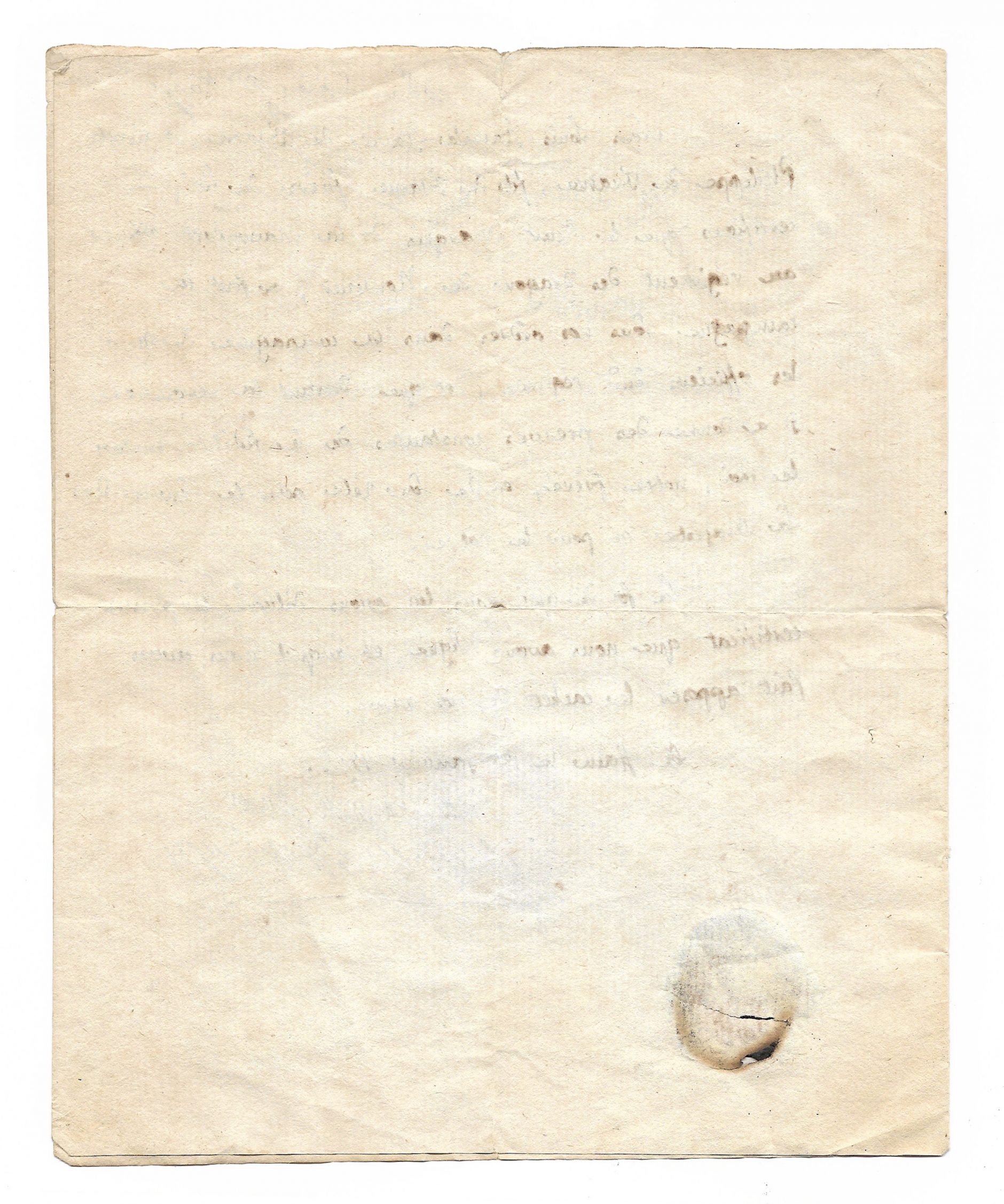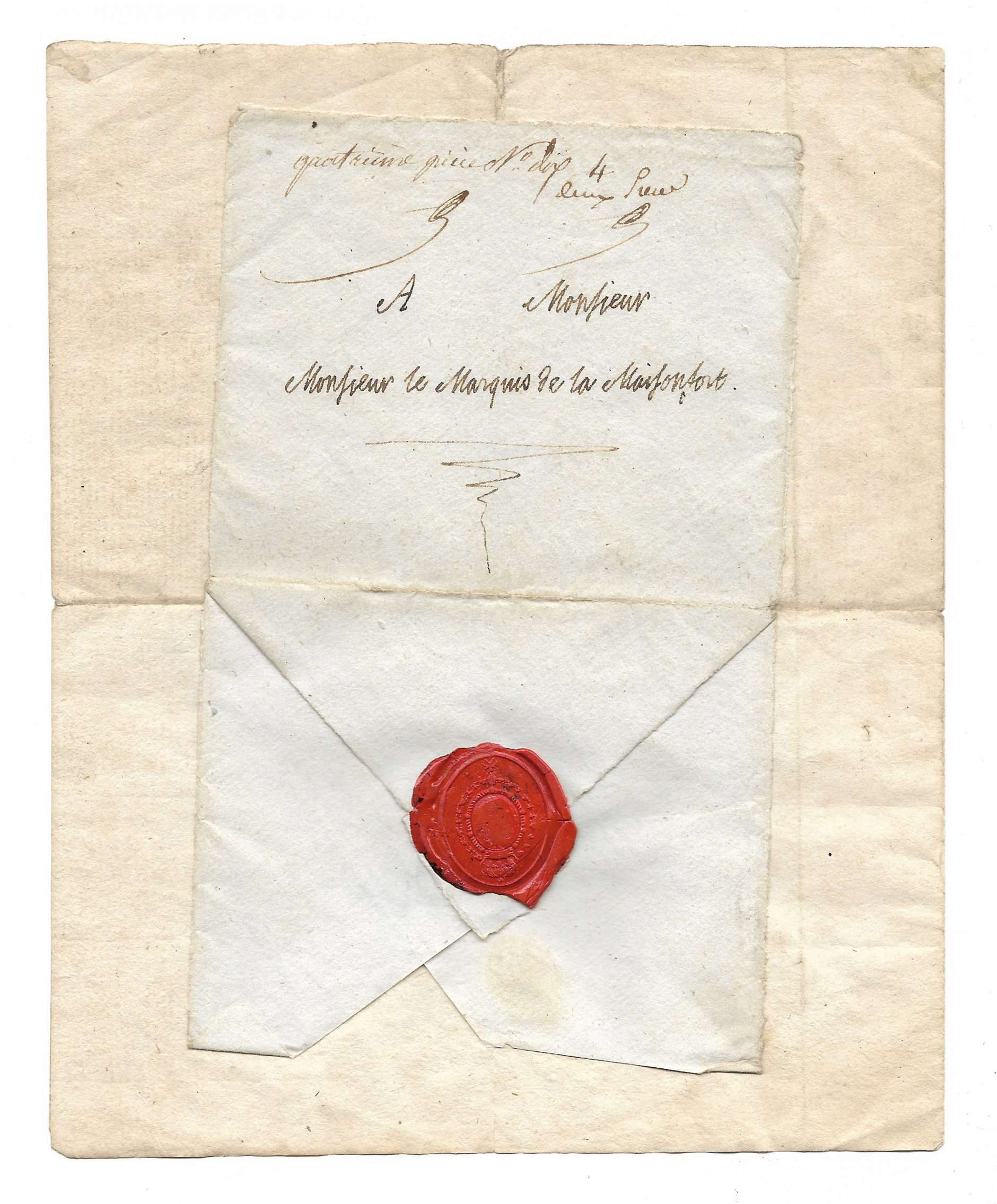 Fact sheet
LOUIS XVIII (1755-1824) & CHARLES X (1757-1836)
Letter signed "Louis Stanislas Xavier" and "Charles Philippe"
[in Wesphalie, near Dortmund], 1st of January 1793, 1 page in-4 on double-sheet
Envelope attached to the back, Royal wax seal in black.
Tiny spots, slight wrinkles.
---
"Nous Louis-Stanislas-Xavier de France, et Charles-Philippe de France, fils de France, frères du roi, – certifions que le Sieur Marquis de la Maisonfort, officier au régiment des dragons de Monsieur, a fait la campagne sous nos ordres dans la compagnie de M.M. les officiers du régiment, et que, durant la révolution, il a donné des preuves constantes de sa fidélité envers le Roi, notre frère, et de son zèle pour le service de sa majesté et pour le nôtre.
En foi de quoi nous lui avons délivré le présent certificat que nous avons signé, et auquel nous avons fait apposer le cachet de nos armes.
De Ham le 1er janvier 1793.
Louis Stanislas Xavier
Charles Philippe"
[Autograph note of Louis XVIII on the envelope (also Royal wax sealed) : "A Monsieur le Marquis de la Maisonfort"
---
This certificate, dated January 1, 1793, was signed by the two future kings Louis XVIII and Charles X only 20 days before the tragic execution of their elder brother Louis XVI.
The document is given by the king's brothers to the Marquis de la Maisonfort (1763-1827), an officer in the regiment of the dragons of Monsieur, who campaigned under their command and who before the revolution gave constant proofs of fidelity.
Nice and rare royal signature gathering during the French Revolution.