NÉMIROVSKY, Irène (1903-1942)
Autograph card signed « Irène Némirovsky » to Robert Chauvelot
Paris, 30th May 1933, 2 p. small in-8°
« Would you like to give me the great pleasure of coming to my house on Saturday […] have a cup of tea, in privacy, in the Russian way? »
SOLD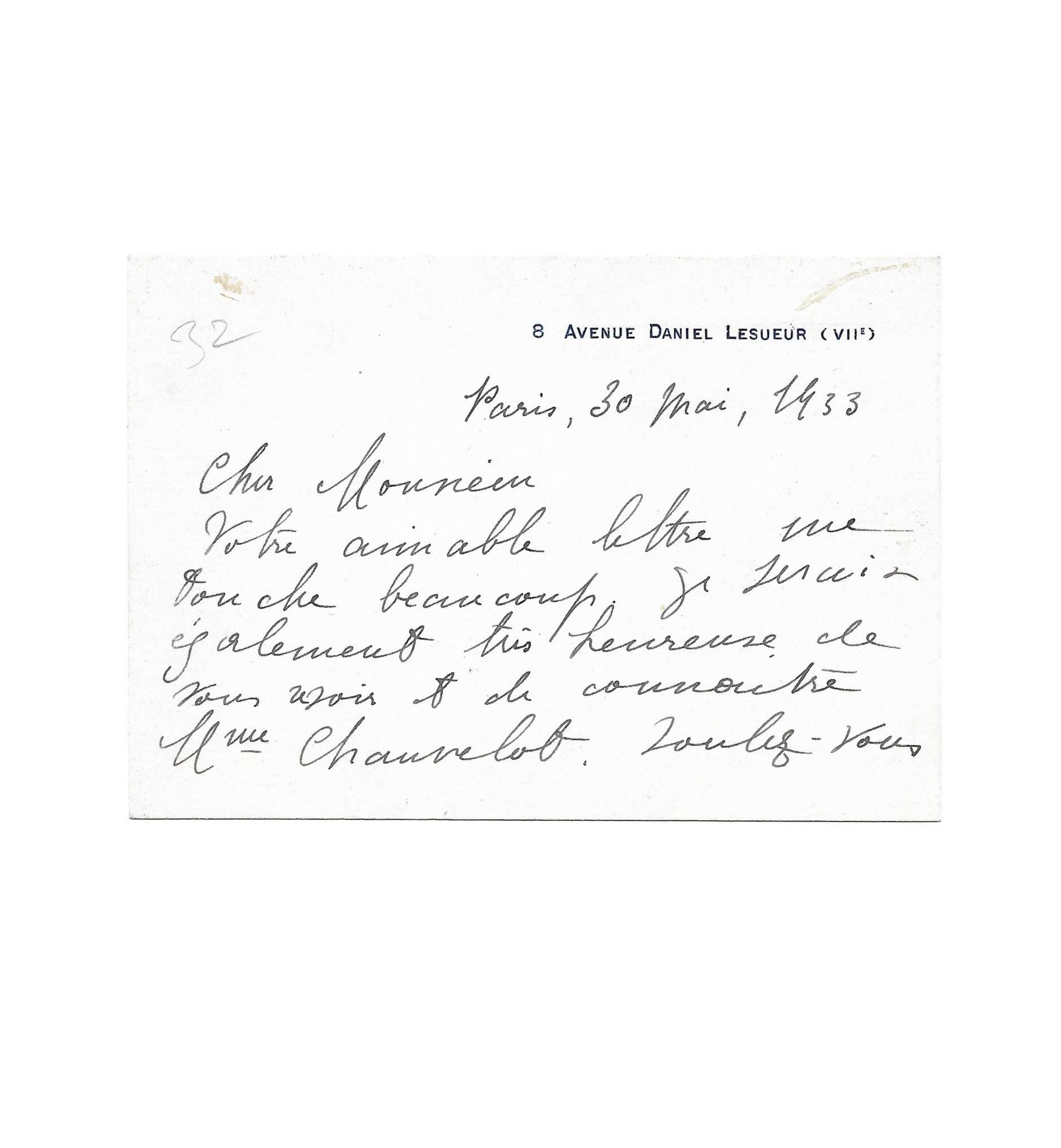 Fact sheet
NÉMIROVSKY, Irène (1903-1942)
Autograph card signed « Irène Némirovsky » to Robert Chauvelot
Paris, 30th May 1933, 2 p. small in-8°
Some small stains
Rare and tender unpublished invitation from the novelist
---
« Cher Monsieur,
Votre aimable lettre me touche beaucoup, je serais également très heureuse de vous avoir et de connaître Mme Chauvelot. Voulez-vous me faire le grand plaisir de venir chez moi samedi, (le 3 juin) prendre une tasse de thé, dans l'intimité, à la manière russe ? [she adds in Russian] По русскому обычаю ?
Croyez-moi, Monsieur, très sincèrement votre
Irène Némirovsky »
---
French-speaking Russian author Irène Némirovsky was born in Kiev in 1903 and died in 1942 in Auschwitz. She was a major success in France in the 1930s but was forgotten after the Second World War, she was the only writer to whom the Renaudot Prize was awarded posthumously, in 2004, for her unfinished novel Suite française.
Robert Chauvelot (1879-1937) was a lawyer, journalist, explorer and member of the Superior Council of the Colonies. In 1913 he became the husband of Edmée Daudet, daughter of Alphonse Daudet.
Unpublished letter

Only one other letter from Inène Némirovsky to Robert Chauvelot is known, published in the correspondence: Lettres d'une vie, éd. Denoël [182], p. 203.