SAINT-SAENS, Camille (1835-1921)
Autograph letter signed « C. Saint S » [to Louis Gallet]
S.l, 5 February, 2 p. in-4°
« This piece did not amuse me to do »
EUR 1.600,-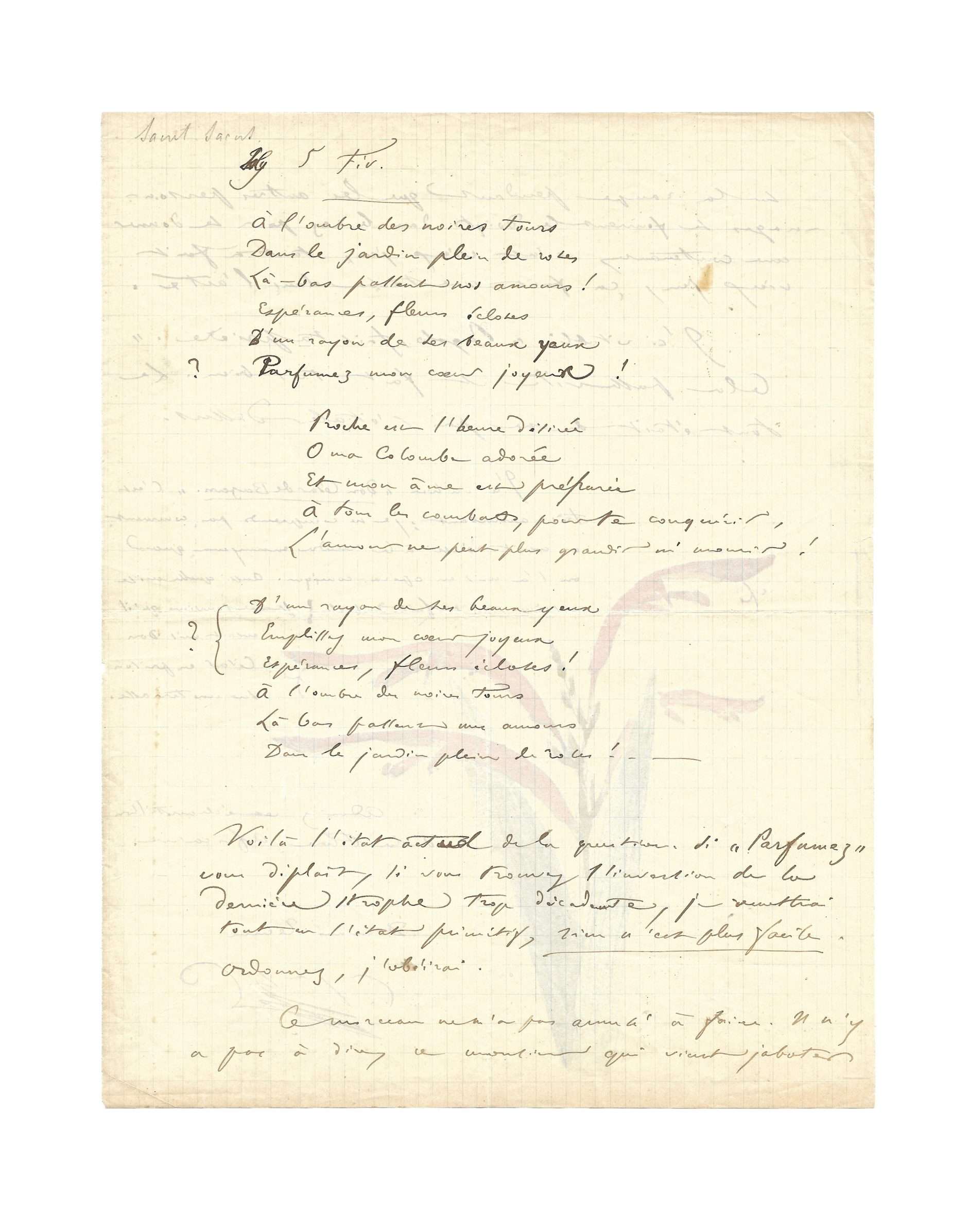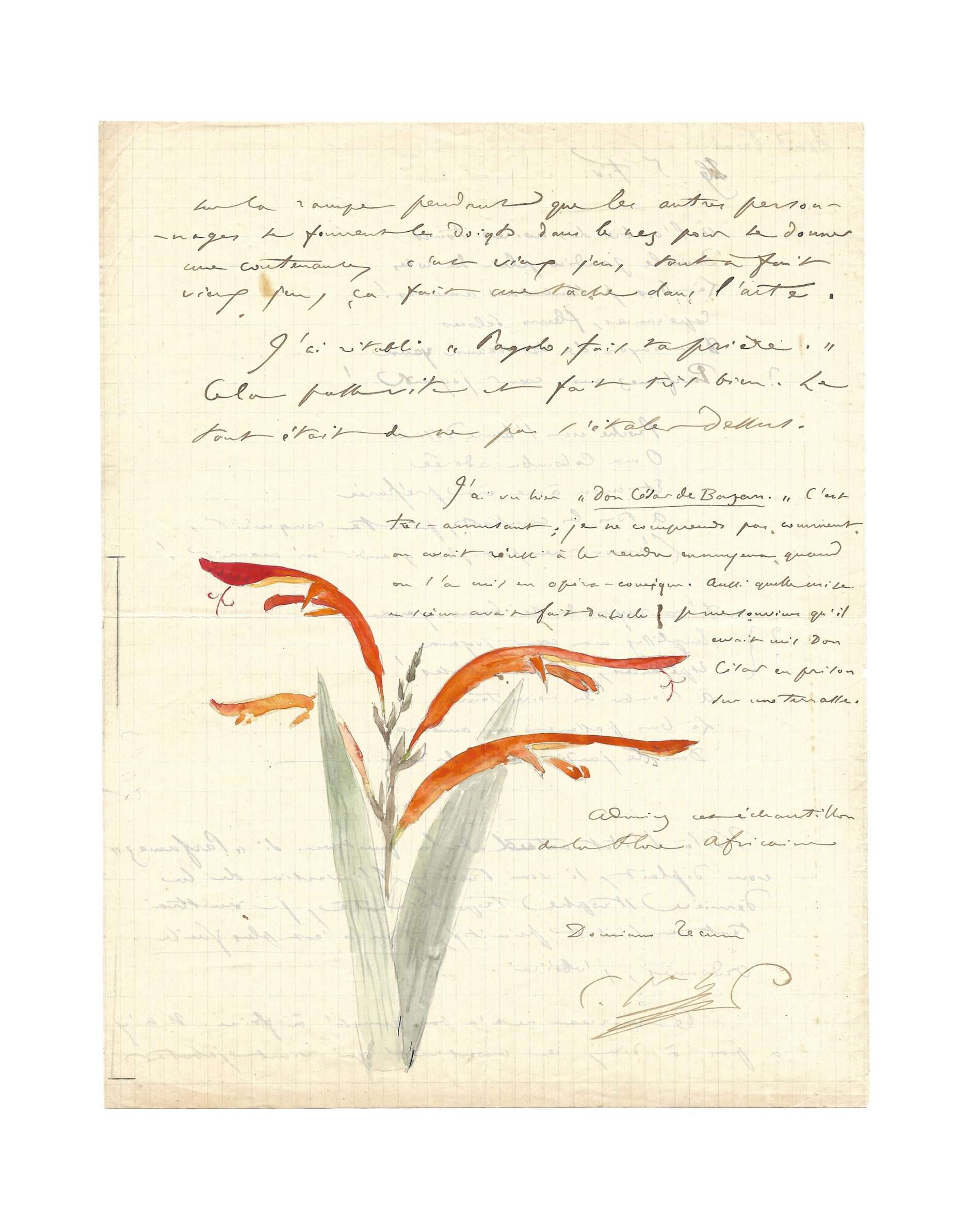 Fact sheet
SAINT-SAENS, Camille (1835-1921)
Autograph letter signed « C. Saint S » [to Louis Gallet]
S.l, 5 February, 2 p. in-4°
Fold marks, small stain
Very graphic letter from Saint-Saëns about the writing of his opera Ascanio and enriched with a poem from which it is taken – The composer ends his letter by evoking Don César de Bazan by Jules Massenet and adorns it with an original color drawing representing a flower from Africa
---
« À l'ombre des noires tours
Dans le jardin plein de roses
Là-bas passent nos amours !
Espérances, fleurs écloses
D'un rayon de ses beaux yeux
Parfumez mon cœur joyeux !
Proche est l'heure désirée
O ma Colombe adorée
Et mon âme est préparée
À tous les combats pour te conquérir,
L'amour ne peut plus grandir ni mourir !
D'un rayon de ses beaux yeux
Emplissez mon cœur joyeux
Espérance, fleurs écloses !
À l'ombre des noires tours
Là-bas passent nos amours
Dans le jardin plein de roses !…
Voilà l'état actuel de la question, si « Parfumez » vous déplaît, si vous trouvez l'inversion de la dernière strophe trop décadente, je remettrai tout à l'état primitif, rien n'est plus facile.
Ordonnez, j'obéirai.
Ce morceau ne m'a pas amusé à faire. Il n'y a pas à dire ce monsieur qui vient jaboter sur la rampe pendant que les autres personnages se fourrent les doigts dans le nez pour se donner une contenance c'est vieux jeu, tout à fait vieux jeu, ça fait une tache dans l'acte.
J'ai rétabli « Pagolo, fais ta prière ».
Cela passe vite et fait très bien. Le tout était de ne pas s'étaler dessus.
J'ai vu hier « Don César de Bazan ». C'est très amusant : je ne comprends pas comment on avait réussi à le rendre ennuyeux quand on l'a mis en opéra-comique […]
Admirez cet échantillon de la flore africaine.
C. Saint S »
---
Composed in fourteen months, from September 1887 to November 1888, Ascanio comprises five acts and seven paintings. The libretto is due to Louis Gallet (this letter is most certainly addressed to him) who had already collaborated with the musician for three of his stage works (La Princesse jaune, Etienne Marcel and Proserpine); it is based on a drama by Paul Meurice dating from 1852, Benvenuto Cellini, himself inspired by Ascanio, a novel by Alexandre Dumas père composed in 1843, which had as its source the Memoirs of Benvenuto Cellini, first published in French in 1822.
The poem in question here is taken from Act II, Table III, Scene I.