LAWRENCE, David Herbert (1885-1930)
Autograph letter signed "DH Lawrence" to George Conway
Hôtel Beau Rivage, Bandol, 29th December 1928, 2 p. in-8vo, with envelope
« We have lived too long to be shocked by words any more »

EUR 7.500,-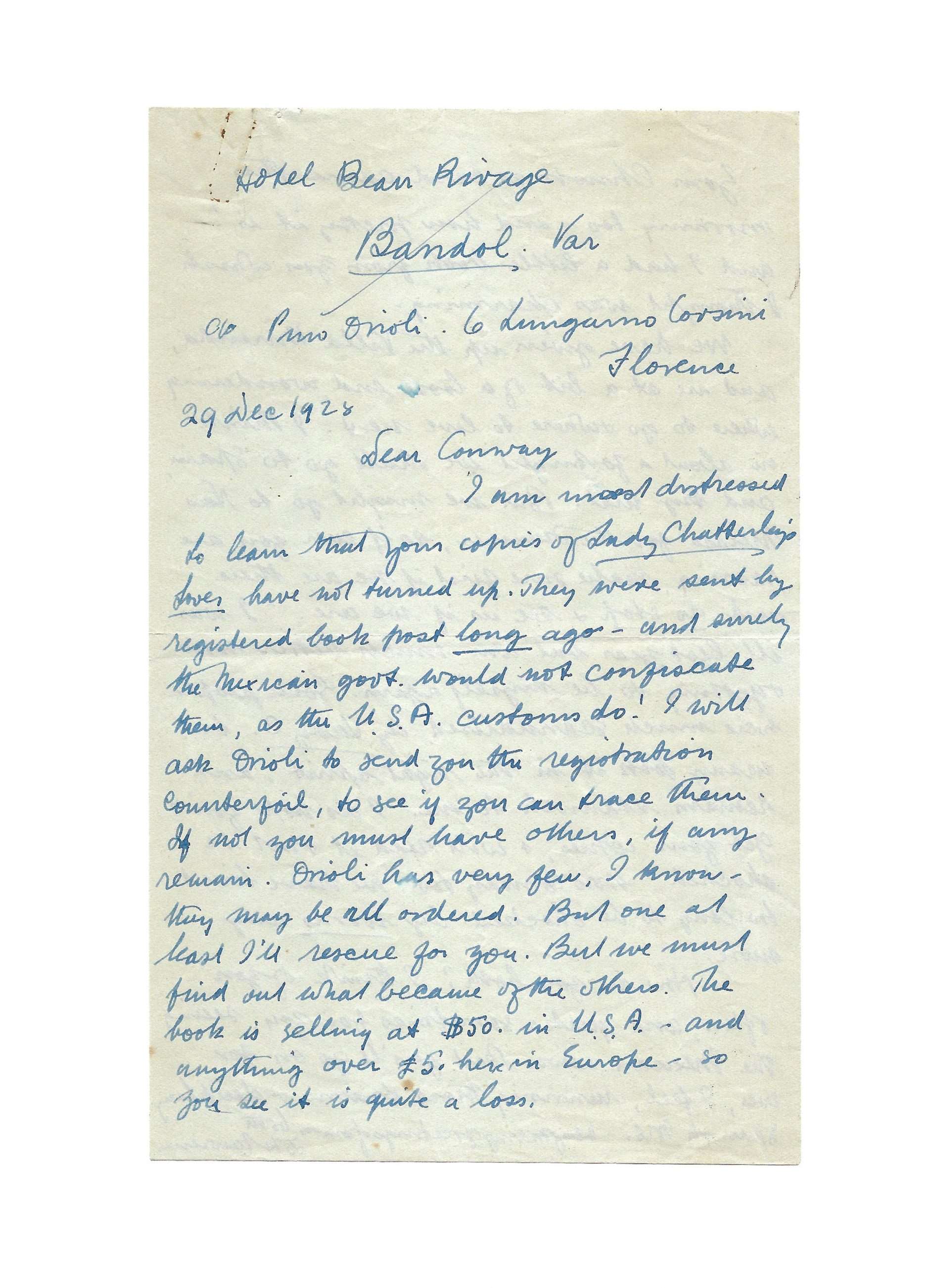 Fact sheet
LAWRENCE, David Herbert (1885-1930)
Autograph letter signed "DH Lawrence" to George Conway
Hôtel Beau Rivage, Bandol, 29th December 1928, 2 p. in-8vo, with envelope
Some tiny ink stains, old paperclip mark on top left margin
Great letter from DH Lawrence about his scandalous book Lady Chatterley's Lover. The novelist is concerned that his correspondent has not yet received his copies and ends his letter with a brief analysis of the critical reception of the novel.
---
"Dear Conway,
I am most distressed to learn that your copies of Lady Chatterley's Lover have not turned up. They were sent by registered book post long ago – and surely the Mexican govt. would not confiscate them, as the U.S.A. customs do! I will ask Orioli to send you the registration counterfoil, to see if you can trace them. If not you must have others, if any remain. Orioli has very few, I know – they may be all ordered. But one at least I'll rescue for you. But we must find out what became of the others. The book is selling at $50. in USA- and anything over £5. here in Europe – so you see it is quite a loss.
Your Christmas card came this morning too – and how pretty it is! – and I had a little book from you which I thought was charming.
We have given up the Villa Mirenda, and are at a bit of loose end, wondering where to go and where to live next. I think in about a fortnight we shall go to Spain, and try that. But we might go to New Mexico for the summer, so if ever you are passing, make sure first if we are there and do stop and see us if we are. – I was ill last year but I am much better now and getting to be myself again. Some people were much scandalized by Lady C. but many took it in the right spirit, and remain staunch to me. I do hope you'll get your copies, and will read it and not be shocked – Mrs Conway too. We have lived too long to be shocked by words any more.
How are you both? I think of you often, and quake sometimes for you, seeing the Mexican news. But you'll go on forever, I feel, running those trams and deciphering Spanish MS.
Very many greetings from us both
D.H. Lawrence"
---
Scandalous novel in many ways, Lady Chatterley's Lover was published in Florence, Italy, in 1928. It was not until 1960, long after the author's death (1930), that the book was released in the United Kingdom.
The publication of the book caused a scandal because of the explicit scenes of sexual intercourse, its vocabulary considered rude and the fact that the lovers in question were a working-class man with an aristocrat lady.
The Letters of D.H. Lawrence, Keith Sagar & James T. Boulton, vol. VII p. 108