ARTAUD, Antonin (1896-1948)
Autograph letter signed "Antonin Artaud" to his sister Marie-Ange Malausséna
Espalion, 11th April 1946, 4 pages in-8
"High-dose heroin does not cause addiction when it is of good quality"
EUR 4.500,-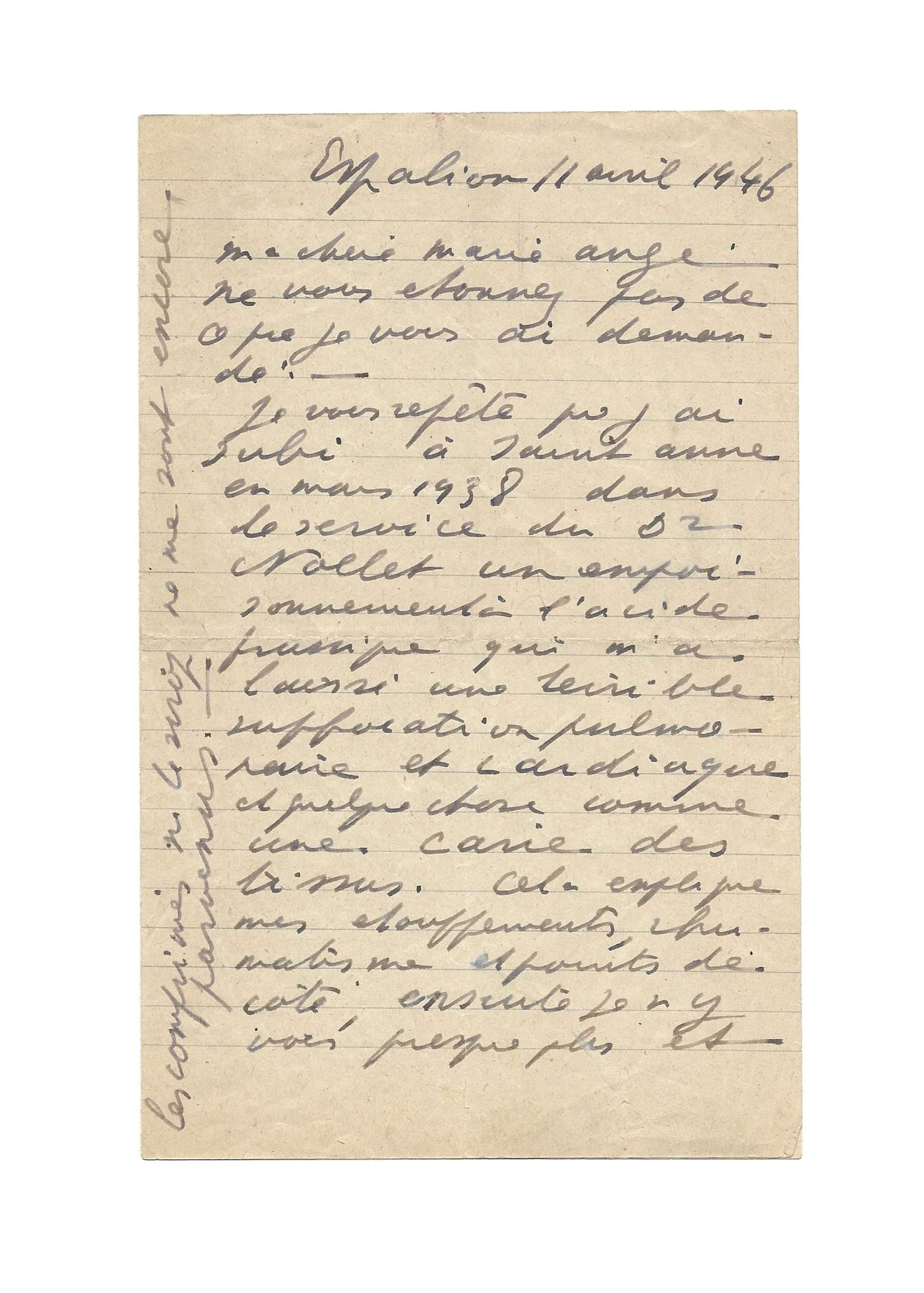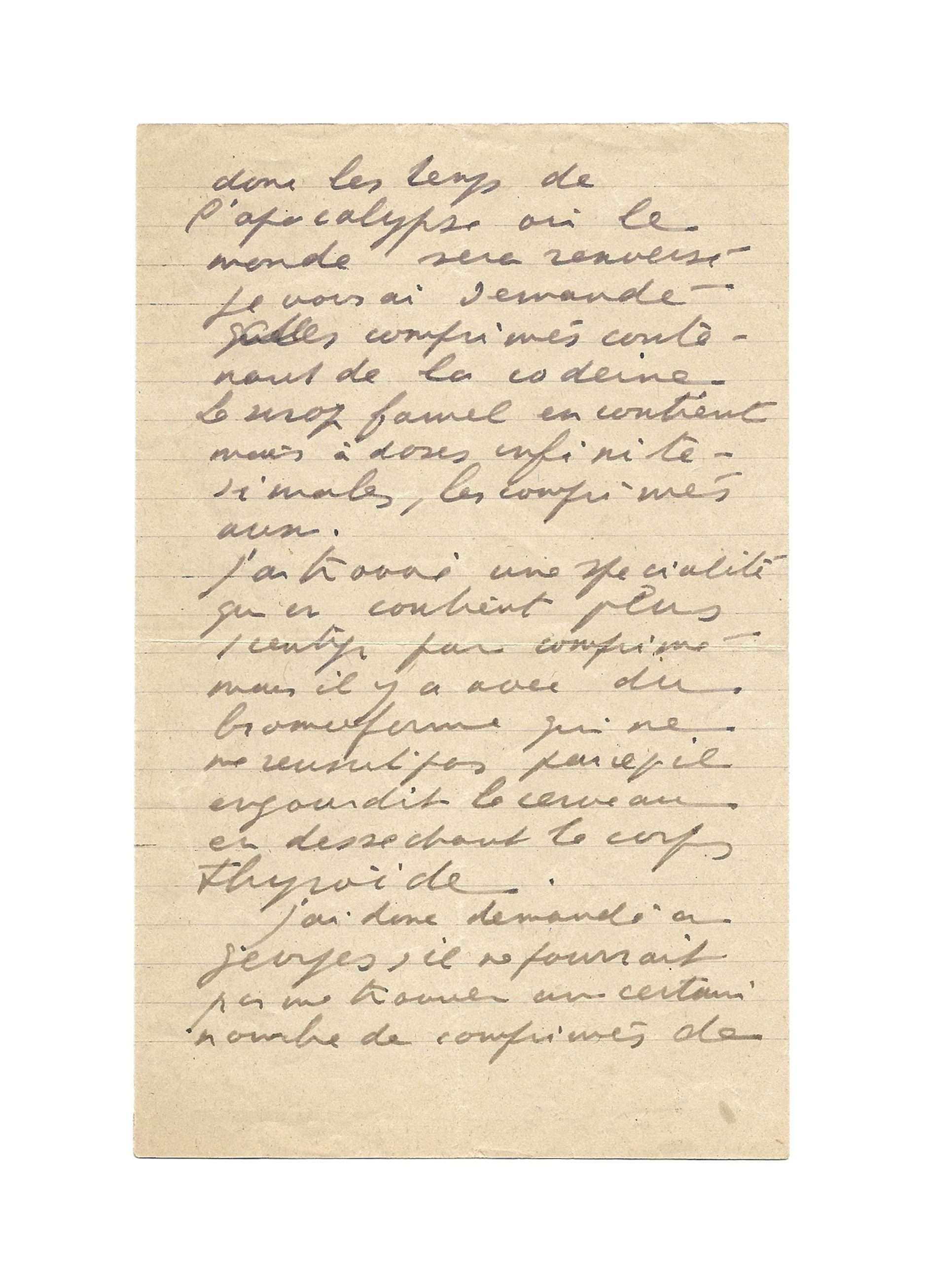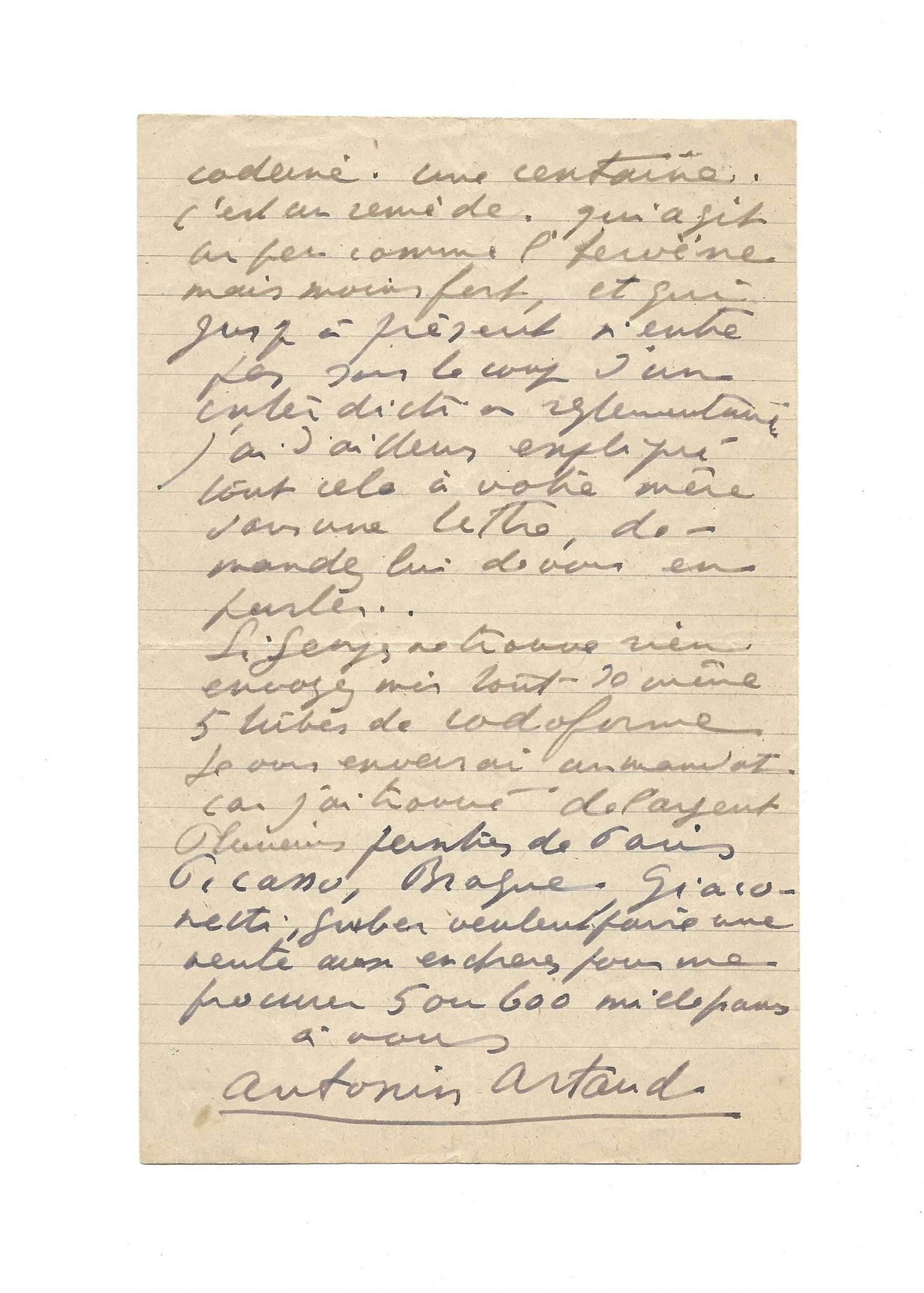 Fact sheet
ARTAUD, Antonin (1896-1948)
Autograph letter signed "Antonin Artaud" to his sister Marie-Ange Malausséna
Espalion, 11th April 1946, 4 pages in-8
Usual fold marks, some tiny spots
Poignant letter from Artaud reflecting his deep addiction to drugs
The poet ends his letter by evoking his support by the greatest artists of the time, including Picasso, Braque and Giacometti

---
"Ma chère Marie Ange, ne vous étonnez pas de ce que je vous ai demandé : Je vous répète que j'ai subi à Saint[e] Anne en mars 1938 dans le service du docteur Nollet un empoisonnement à l'acide prussique qui m'a laissé une terrible suffocation pulmonaire et cardiaque et quelque chose comme une carie des tissus. Cela explique mes étouffements, rhumatismes et points de côté, ensuite je n'y vois presque plus et j'ai été obligé de me faire lire votre dernière lettre par quelqu'un. 
Le remède eut été de l'héroïne à hautes doses. L'héroïne à hautes doses ne provoque pas de toxicomanies quand elle est de bonne qualité. J'ai étudié tout cela et je sais sur toutes ces choses par expérience des choses que les médecins moisis dans leur conformisme ne savent pas. Mais c'est un remède qu'on ne peut avoir sans violer les lois. En attendant donc les temps de l'apocalypse où le monde sera renversé je vous ai demandé ces comprimés contenant de la codéine. Le sirop Famel en contient mais en doses infinitésimales, les comprimés aussi. 
J'ai trouvé une spécialité qui en contient plus, 1 centigr[amme] par comprimé mais il y a avec du bromoforme qui ne me réussit pas parce qu'il engourdit le cerveau en desséchant le corps typhoïde.
J'ai donc demandé à George s'il ne pourrait pas me trouver un certain nombre de comprimés de codéine. Une centaine c'est un remède qui agit un peu comme l'héroïne mais moins fort, et qui jusqu'à présent n'entre pas sous le coup d'une interdiction réglementaire. J'ai d'ailleurs expliqué tout cela à votre mère dans une lettre, demandez-lui de vous en parler…
Si George ne trouve rien envoyez-moi tout de même 5 tubes de Codoforme je vous enverrai un mandat. Car j'ai trouvé de l'argent, plusieurs peintres de Paris, Picasso, Braque, Giacometti, Gruber, veulent faire une vente aux enchères pour me procurer 5 ou 600 mille francs.
A vous, Antonin Artaud.
[He adds]
Les comprimés ni le sirop ne me sont encore parvenus"
---
Antonin Artaud arrived in Rodez in 1943 under the supervision of Dr. Ferdière, chief medical officer of the Parraire psychiatric hospital, then known as the departmental asylum for the insane. Borrowed from delusions and hallucinations, Artaud was interned there for several years and will continue to undergo electroshocks despite his many refusals to this devastating therapy. Under the constant influence of drugs and, when he did not have access to them, high-dose medicine, he would not cease to ask his sister and brother-in-law George to obtain them.
Artaud writes April 11. However, since the letter had been sent from Espalion, he must have made a mistake in registering the calendar and it had to be written on 10 April. Indeed, as administrative difficulties had been raised regarding his final release on 10 April, at the end of the afternoon, Dr. Ferdière sent the car from the psychiatric hospital to Espalion with two nurses who were responsible for immediately bringing Antonin Artaud back to Rodez. He reports his brusted return to Colette Thomas in a letter dated April 10, which was inserted in Suppôts et Supplications…
He refers at the beginning of the letter to Dr. Nodet of the Sainte-Anne psychiatric hospital. Dr Nodet will write about Artaud in 1938 the following:
"Syncretic megalomania: goes to Ireland with Confucius cane and St Patrick's cane. Sometimes rebellious memory. Drug addiction for 5 years (heroin, cocaine, laudanum). Literary pretensions may be justified within the limits where delirium can serve as inspiration. To be maintained."
Thanks to the mobilization of his friends, and especially Of Martha Robert and Arthur Adamov, Antonin Artaud manages to leave Rodez and settles down at the Ivry health home run by Dr. Achille Delmas where he enjoys all his freedom.
An auction was indeed organized for his benefit during the year 46 thanks to the "Friends of Antonin Artaud's Support Committee" chaired by Jean Paulhan, of which Jean Dubuffet is secretary. This committee includes Arthur Adamov, Balthus, Jean-Louis Barrault, André Gide, Pierre Loeb, Pablo Picasso and Henri Thomas.
Bibliography:
Œuvres complètes, Tome XI, Gallimard, p. 245
Provenance:
Marie-Ange Artaud