BILLAUD-VARENNE, Jacques-Nicolas (1756-1819)
Autograph letter signed « Billaud-Varenne » to his colleagues
Sainte-Ménehould, 16th September 1792, 3 p. 1/2 in-4°
« Keep that calm and energy that got you victory in front of the Bastille and the Château des Tuileries »
SOLD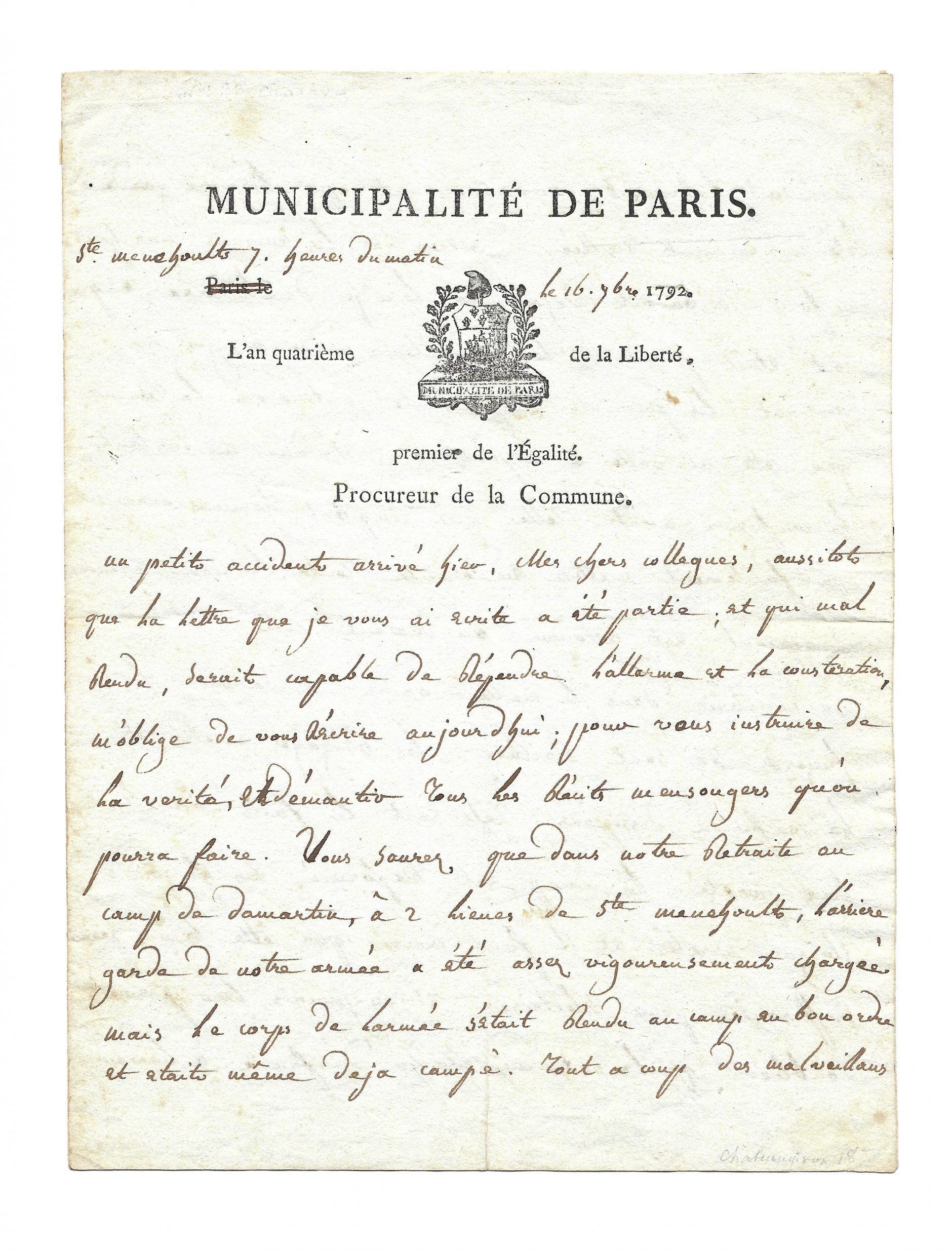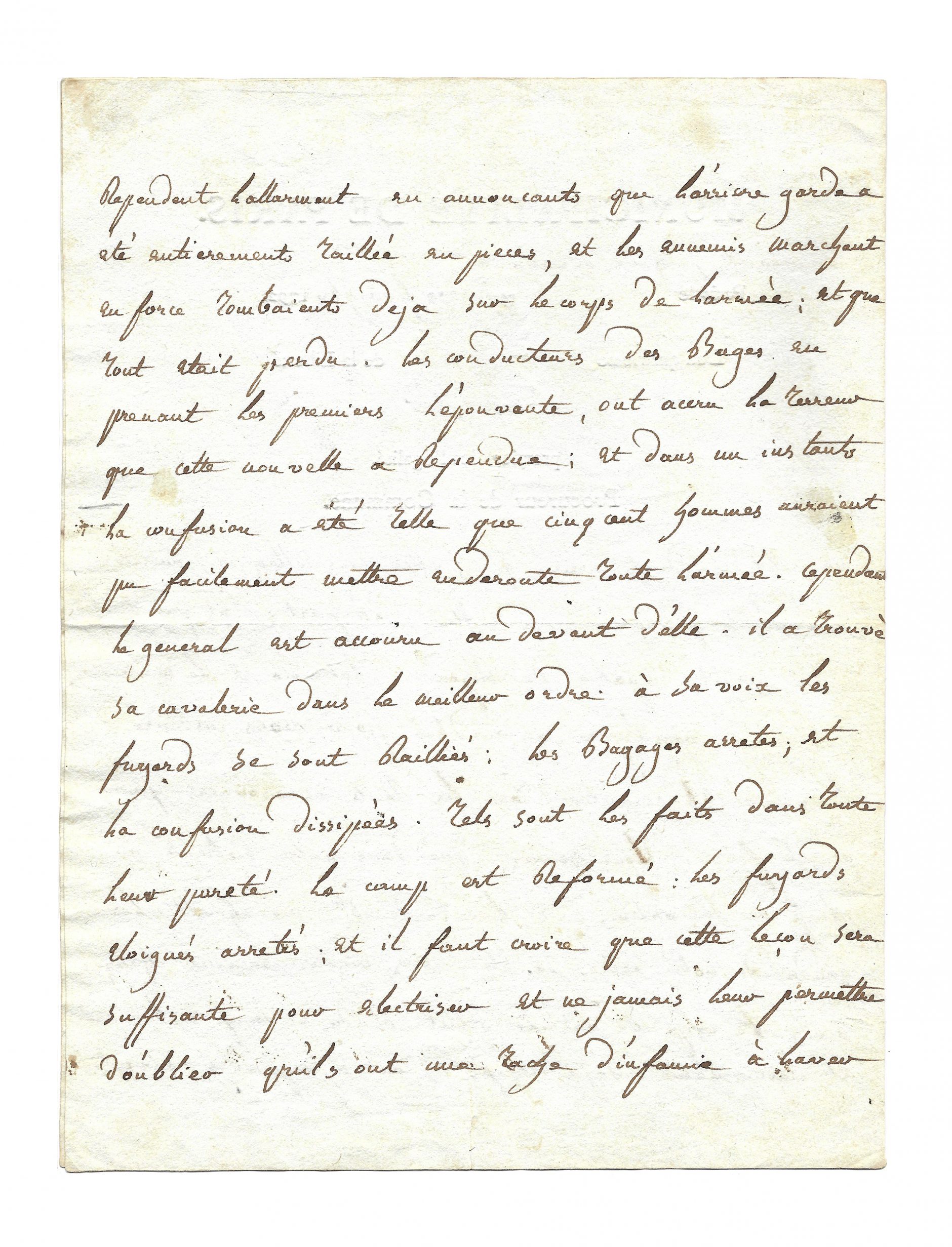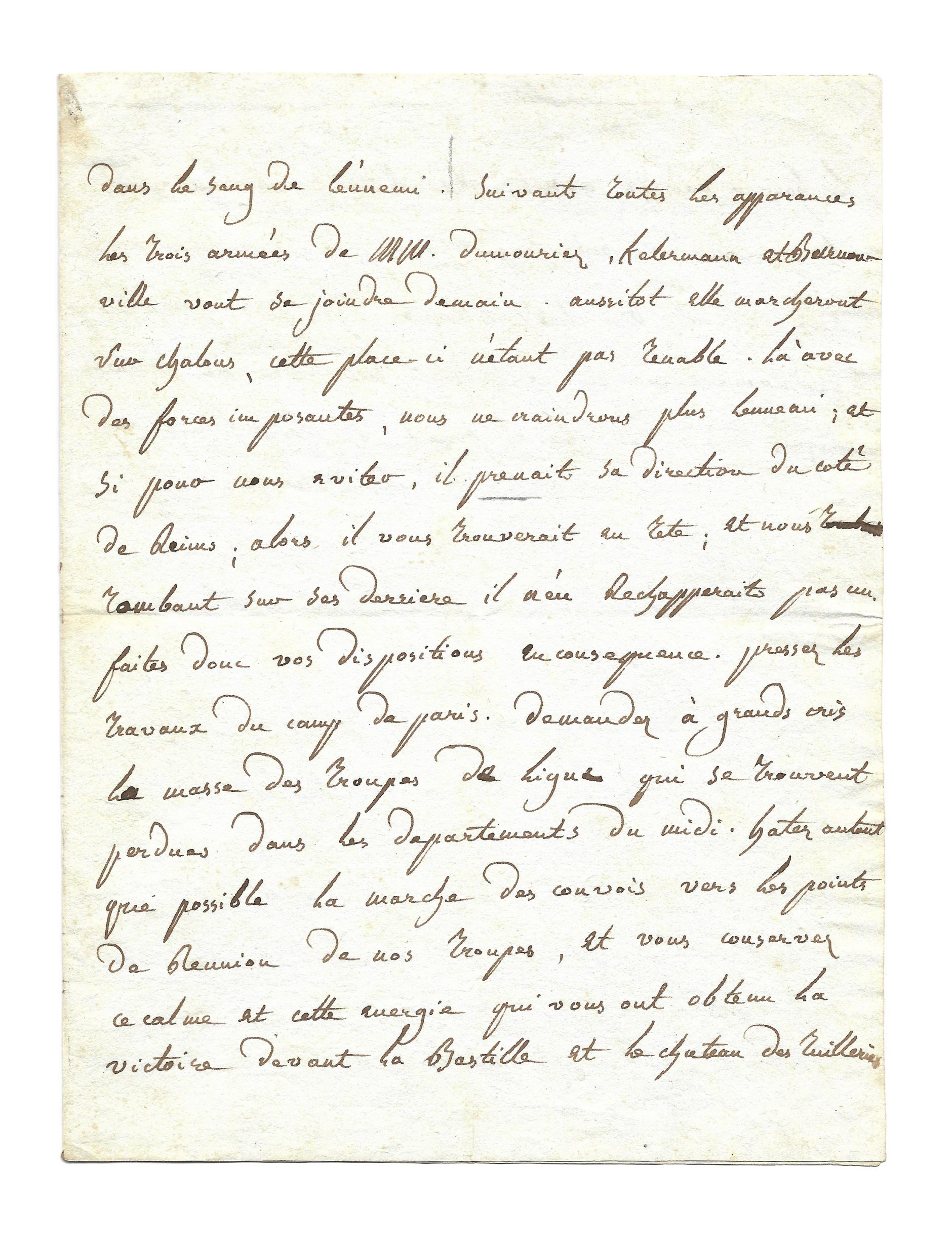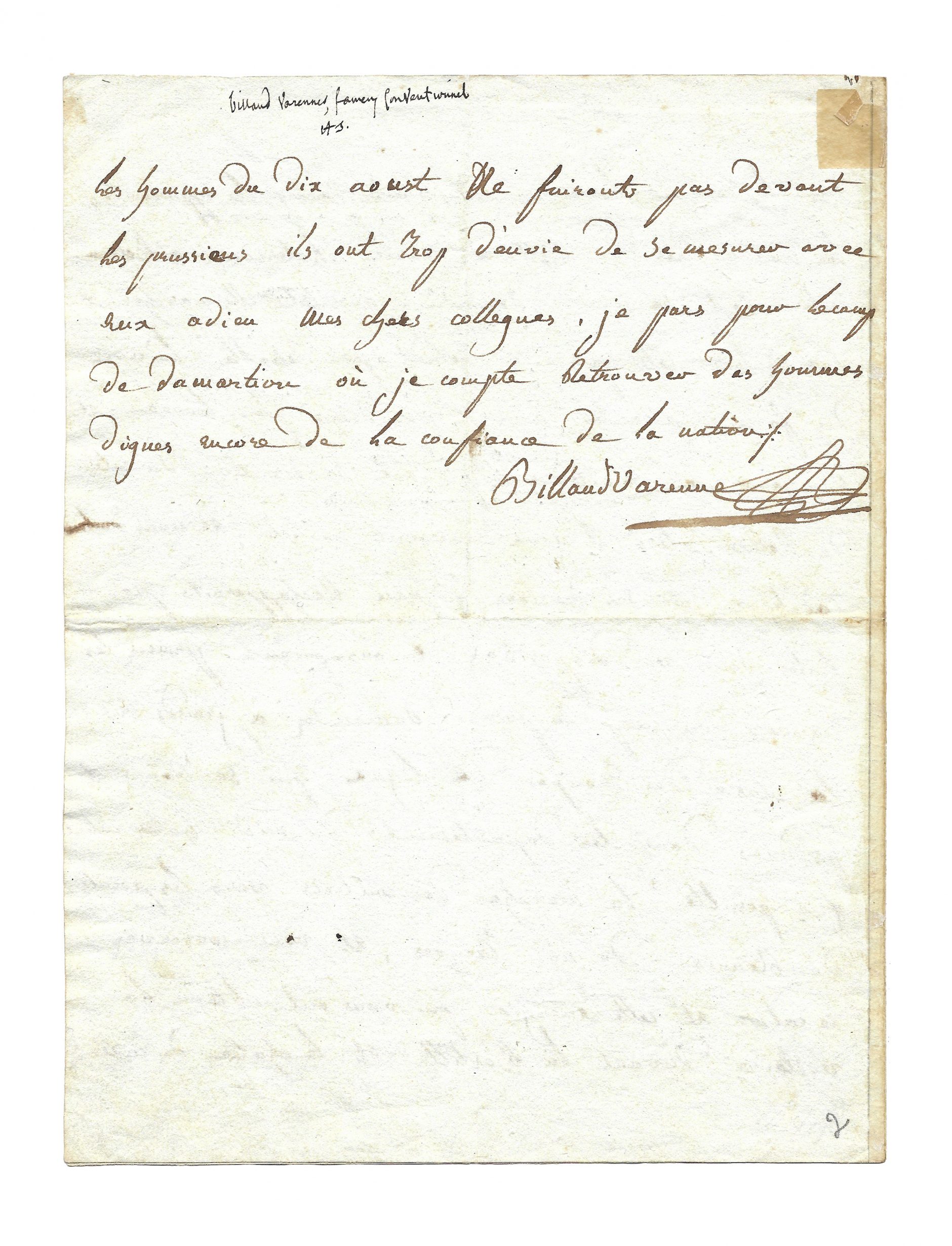 Fact sheet
BILLAUD-VARENNE, Jacques-Nicolas (1756-1819)
Autograph letter signed « Billaud-Varenne » to his colleagues
Sainte-Ménehould, 16th September 1792, 3 p. 1/2 in-4°
Fold marks, some spots, old tape repair on last folio
A historic letter by Billaud-Varenne about the march of the republican armies against the Prussians, two days before the crucial battle of Valmy, which resulted in the abolition of Monarchy
---
« Un petit accident arrivé hier, mes chers collègues, aussitôt que la lettre que je vous ai écrite a été partie, et que mal rendy, serait capable de répandre l'alarme et la consternation, m'oblige de vous écrire aujourd'hui ; pour vous instruire de la vérité et démentir tous les récits mensonger qu'on pourra faire. Vous saurez que dans notre retraite au camp de damartin, à 2 heures de Ste Menehoult, l'arrière garde de notre armée a été assez vigoureusement chargée mais le corps de l'armée s'était rendu au camps en bon ordre et était même déjà campé. Tout à coup des malveillants répandant l'allarme ont en annoncant que l'arrière garde a été entièrement raillée en pièces, et les ennemis marchant en force tombaient déjà sur le corps de l'armée ; et que tout était perdu. Les conducteurs des Barges en prenant les premiers l'épouvante, ont accru la terreur que cette nouvelle a répandue ; et dans un instant la confusion a été telle que cinq cent hommes auraient pu facilement mettre en déroute toute l'armée. Cependant le général est accouru au devant d'elle. Il a trouvé sa cavalerie dans le meilleur ordre, à savoir les fuyards se sont ralliés : Les bagages arrêtés, et la confusion dissipées. Tel sont les faits dans toute leur pureté. Le camps est réformé : Les fuyards éloignés arrêtés ; et il faut croire que cette leçon sera suffisante pour electriser et ne jamais leur permettre d'oublier qu'ils ont une tache d'infamie à laver dans le sang de l'ennemi. Suivant toutes les apparences les trois armées de MM. Dumouriez, Kelermann et Beurnonville vont se joindre demain. Aussitôt elle marcheront sur Châlons, cette place-ci n'étant pas tenable. Là avec des forces imposantes, nous ne craindrons plus l'ennemi ; et si pour nous éviter, il prenait la direction du côté de Reims ; alors il vous trouverait en tête ; et nous tombant sur ses derriere il n'en réchapperait pas un.
Faites donc vos dispositions en conséquence. Pressez les travaux du camps de Paris. Demandez à grands cris la masse des troupes de ligne qui se trouvent perdues dans les départements du midi. Hâtez autant que possible la marche des convois vers les points de réunion de nos troupes, et vous conserverez ce calme et cette énergie qui vous ont obtenu la victoire devant la Bastille et le château des Tuileries. Les hommes du dix aoust ne fuiront pas devant les prussiens ils ont trop envie de se mesurer avec eux. Adieu mes chers collegues, je pars pour le camp de Damartin où je compte retrouver des hommes dignes encore de la confiance de la nation.
Billaud Varenne »
---
Four days before this letter, the army of Brunswick (74,000 men) crossed the parades of Argonne. Billaud-Varenne begins by evoking the retreat of Châlons and the confusion thrown by melveillants who almost routed the army. The soldiers therefore have "a stain of infamy to wash away in the blood of the enemy". He then evokes the armies of Dumouriez, Kelermann and Beurnonville, the first two of which will be decisive for the Battle of Valmy, two days later. With great defiance of the enemy, the conventional man shouts for the rallying of all the republican troops up to those who were "lost in the departments of the south".
The Battle of Valmy was won by the French troops of Dumouriez and Kellerman (44,000 men) over the Prussian armies of Brunswick. Volunteers from the National Guard participated in the fight alongside professional soldiers from the Royal Army. Caught in reverse, Brunswick's army retreated and returned to its starting positions on 23 October.
The next day, a first meeting of the National Convention proclaimed the abolition of royalty and the Executive Council constituted after August 10 (fall of the monarchy after the capture of the Tuileries) was maintained.
After August 10, 1792, Billaud-Varenne was a member of the Paris Commune. Appointed deputy prosecutor Pierre Louis Manuel, he witnessed the massacres of September 1792, during which he seemed to encourage the killers. Shortly afterwards he went to Châlons with the title of commissioner of the Paris Commune to monitor suspicious generals.