CAILLEBOTTE, Gustave (1848-1894)
Autograph letter signed "G Caillebotte" to Claude Monet
[Paris], Jeudi [between 1883 et 1885] 1 p. in-12
"I intend to go and see you in Etretat"
SOLD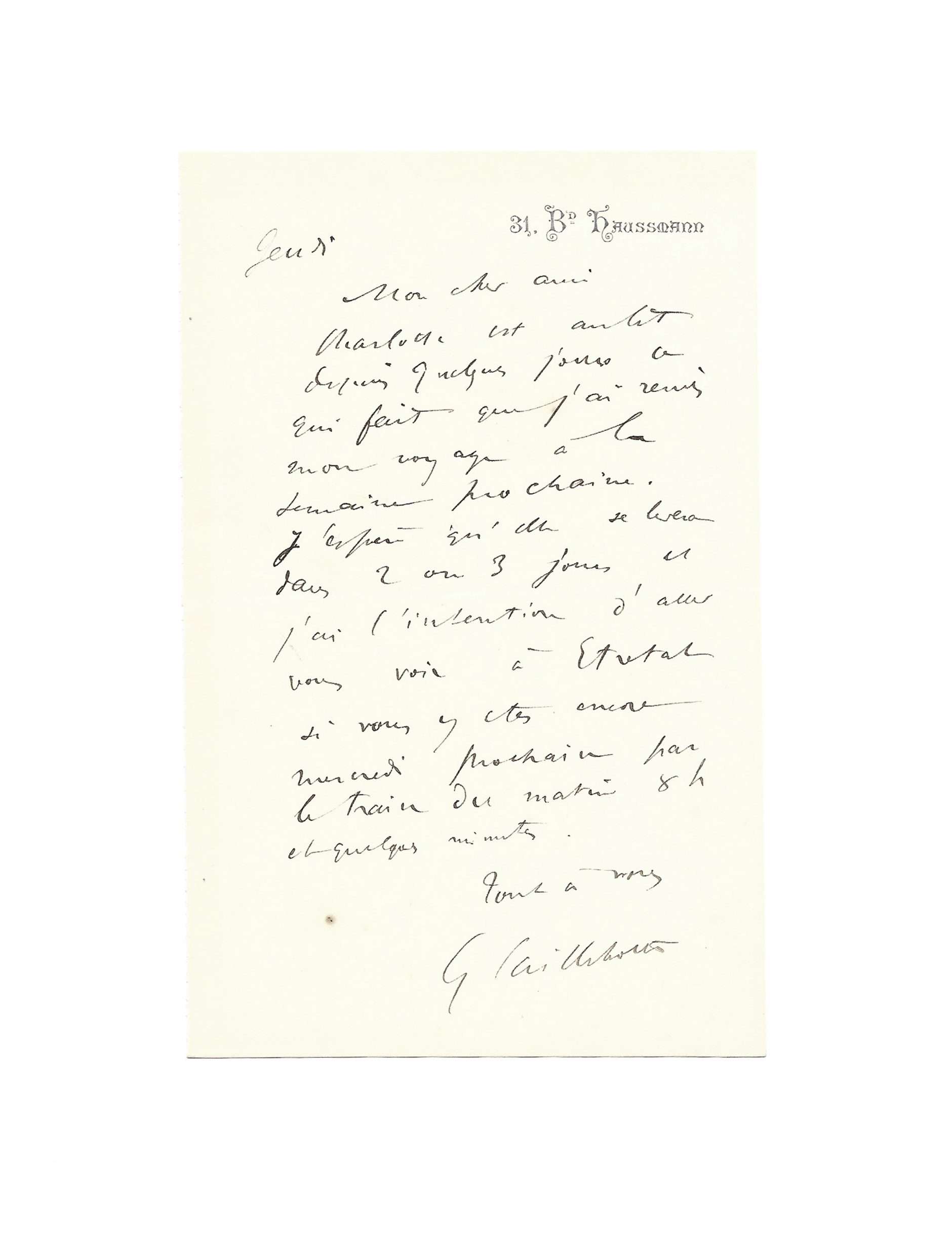 Fact sheet
CAILLEBOTTE, Gustave (1848-1894)
Autograph letter signed "G Caillebotte" to Claude Monet
[Paris], Jeudi [between 1883 et 1885] 1 p. in-12 on his letterhead: 31, bd Haussmann
Small spot on lower margin

Caillebotte plans to join his friend Monet in Étretat
---
"Mon cher ami
Charlotte [Berthier] est au lit depuis quelques jours ce qui fait que j'ai remis mon voyage à la semaine prochaine. J'espère qu'elle se lèvera dans 2 ou 3 jours et j'ai l'intention d'aller vous voir à Etretat si vous y êtes encore mercredi prochain par le train du matin 8h et quelques minutes.
Tout à vous
G. Caillebotte"
---
A popular holiday resort for Monet between 1883 and 1886, Étretat inspired at least fifteen paintings by the painter, who depicted the famous cliffs.
Among the portraits of Monet by Caillebotte, there is one that remains famous and dated 1884, Monet à Étretat. It is kept in the Museum of the Petit Palais in Geneva.
Little is known about Gustave Caillebotte's private life. Officially single, he lived with his brother, Martial, for a long time until the latter married. We know that Caillebotte got into a relationship with a mistress, 15 years younger, and with whom he lived discreetly in his property of Petit Gennevilliers. Known as Mademoiselle Charlotte Berthier, her real name is Anne-Marie Hagen, born Pagne.