GIACOMETTI, Alberto (1901-1966)
Autograph letter signed « Alberto Giacometti » to David Thompson
Paris, 2th August 1956, 3 p. in-8°
« Because of sculpture I am forced to neglect painting »
EUR 9.000,-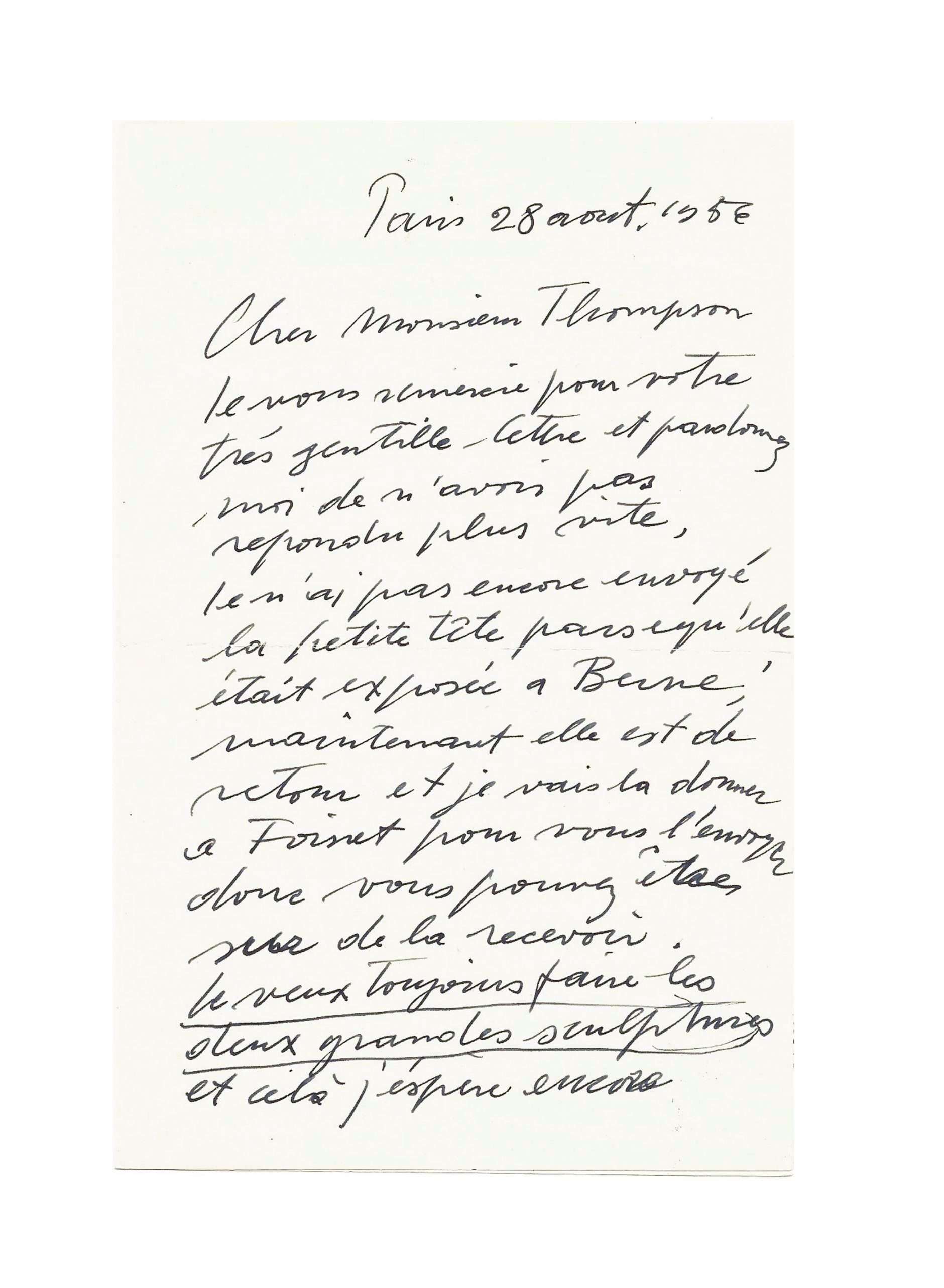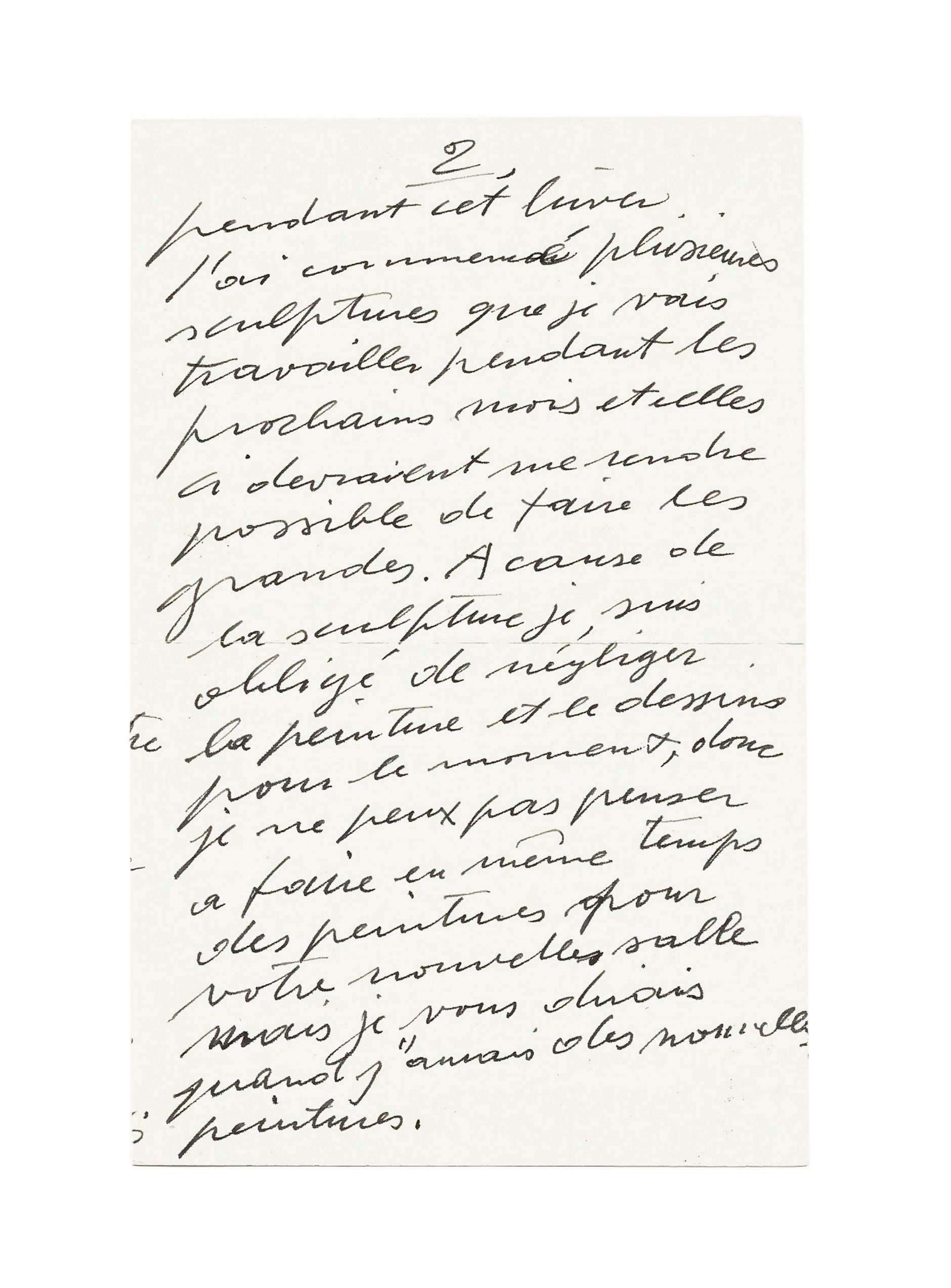 Fact sheet
GIACOMETTI, Alberto (1901-1966)
Autograph letter signed « Alberto Giacometti » to David Thompson
Paris, 2th August 1956, 3 p. in-8°
Fascinating and immersive letter of the master, at the heart of the creation of his masterpieces
---
« Cher Monsieur Thompson
Je vous remercie votre très gentille lettre et pardonnez-moi de n'avoir pas répondu plus vite, je n'ai pas encore envoyé la petite tête parce qu'elle était exposée à Berne, maintenant elle est de retour et je vais la donner à Foisset pour vous l'envoyer donc vous pouvez être sûr de la recevoir.
Je veux toujours faire les deux grandes sculptures et cela j'espère encore pendant cet hiver.
J'ai commencé plusieurs sculptures que je vais travailler pendant les prochains mois et celles-ci devraient me rendre possible de faire les grandes. A cause de la sculpture je suis obligé de négliger la peinture et le dessin pour le moment, donc je ne veux pas penser à faire en même temps des peintures pour votre nouvelle salle mais je vous dirai quand j'aurai des nouvelles peintures.
Pour le moment la seule chose qui compte pour moi c'est d'arriver à faire les sculptures que j'ai commencées.
C'est plus difficile que jamais et le temps passe trop vite et je ne suis pas encore prêt pour le voyage de Pittsburgh mais peut-être que cela sera-t-il possible un jour. Je vous écrirai dès que j'aurai quelque chose de nouveau.
J'envoie à madame Thompson et à vous même aussi de la part d'Annette toutes mes affectueuses salutations
Alberto Giacometti »
---
If the year 1956 was exhausting work for Giacometti, this letter makes it possible to take the full measure. Many projects marked the season, such as the Venice Biennale (of which Giacometti was the representative for the France), or the Kunsthalle Bern during which he exhibited, among others, Grande figure [high base]. On the sidelines of this one and still in 1956, the artist is also solicited by the Chase Manhattan Bank for a monument project. He also met Isaku Yanaihara, who served as a model for both painting and sculpture, to the point of obsession.
That year, Giacometti modeled Figure féminine debout, which he molded in clay in various versions. Ten of them, made between January and May, were exhibited in the French pavilion at the 1956 Venice Biennale, entitled Les Femmes de Venise, although some were shown for the first time in Bern the same year, nine of which were later cast in bronze (now at the Fondation Beyeler).
David Thompson (1899-1965), American engineer, made his fortune in finance during the Great Depression. An avid admirer and very good client of Giacometti, his collection of modern art also included works by Paul Klee, Jean Dubuffet, Joan Miró and Henry Moore.