KEROUAC, Jack (1922-1969)
Typed letter signed twice « Jack » and « Jack Kerouac » to Granville H. Jones
[Northport, New York, 22 November 1960] 2 p. in-4°, with envelope
« It is the only thing too that has made me happy in three years, since the publication of On the Road and the subsequent sickeningness of 'being famous' »
EUR 25.000,-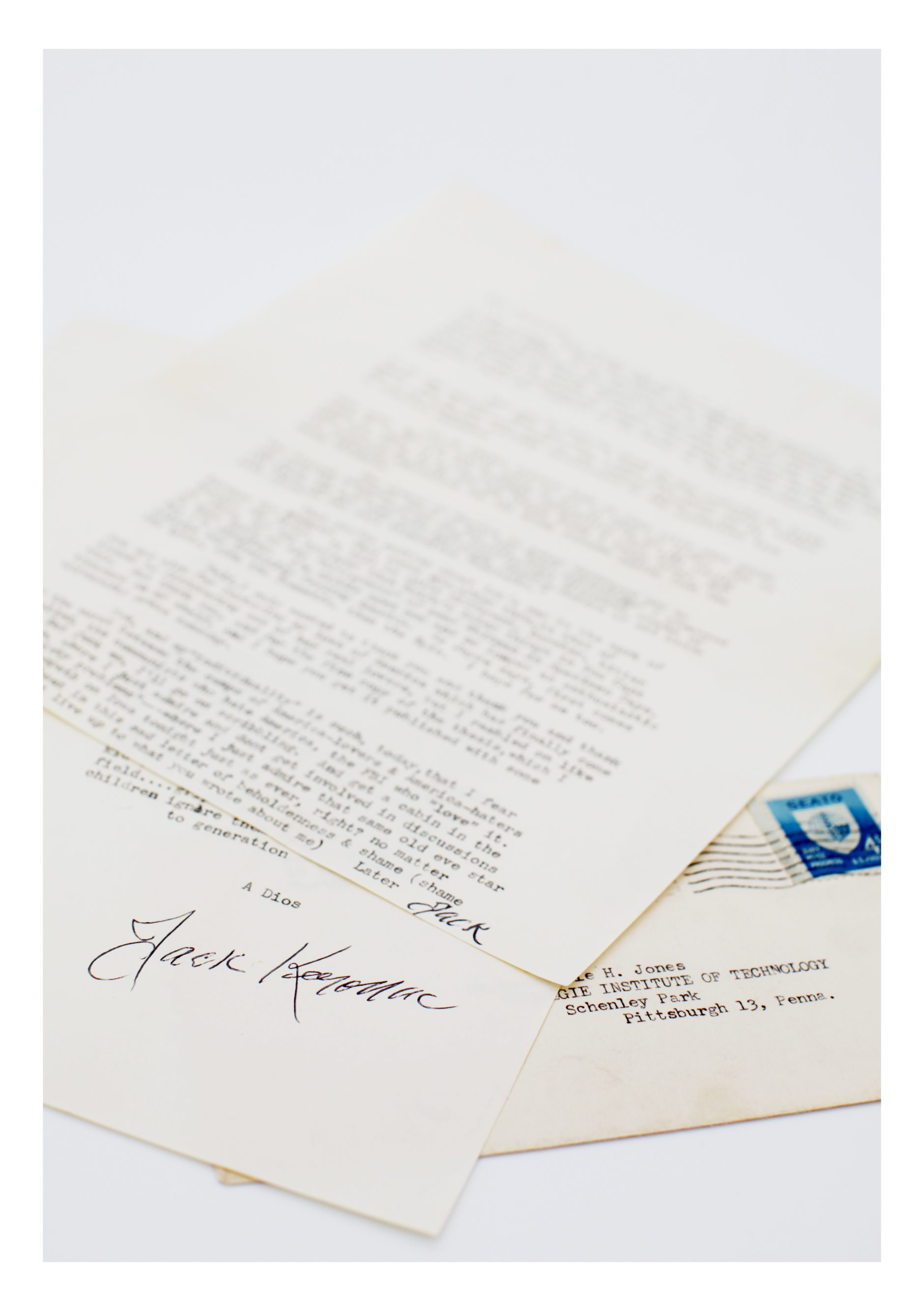 Fact sheet
KEROUAC, Jack (1922-1969)
Typed letter signed twice « Jack » and « Jack Kerouac » to Granville H. Jones
[Northport, New York, 22 November 1960] 2 p. in-4°, with envelope
Fold marks, small sport on lower margin of page 2
A fine letter – partly unpublished – in which kerouac speaks of his legendary novel On the Road and the criticism he has been the subject of, his faith in writing, his disgust with celebrity and more broadly his vision of the evolution of American society
---
"Dear Granville,
Your thesis was given to me by Jas. Benenson. It is such a neat volume, I mean the typing, the exhaustive bibliographies, the whole works. It is the only thing too that has made me happy in three years, since the publication of On the Road and the subsequent sickeningness of 'being famous' (being used by everybody and his uncle) and of course the nausea of phoney criticisms based on the wrong reasons (as for instance those who 'admire' for being so 'wild & irresponsible' etc.)
What you've written about me has restored my faith in my own writing. What you say, I knew (not being vain), always knew. But no one ever said it out loud, or cared to say it. And I was becoming terribly discouraged by the scandalous lack of critical fairness.
All my fellow writers look at your title page green withe envy […] it's the Academic recognition that will really take care of me in my old age (beans money & beans love), NOT the temporary admiration for the wrong reasons coming from the wrong thinkers.
The vision of America is being destroyed now by the beatnik movement which is not the 'beat generation' I proposed any more, but a big move-in from intellectual dissident wrecks of all kinds and now even anti-American, America-haters of all kinds with placards who call themselves "beatniks".
What you've written about let's say is the work of Kerouac the Younger. What comes now, after this, is that of Kerouac the Elder. It will be quite different, harsher, bitterer at times […] But I'm changing. I'm middle aged now and no longer an enthusiastic college boy lyrically feeling America. As Joyce says, first comes the Lyric, then the Dramatic, then the Epic. I hope for me too.
Well I only wanted to thank you and thank you and thank you and also for restoring my love of America which has finally come around for discovering one of her real lovers, but I rambled on like this. But thank you, and for the fine copy of the thesis, which I treasure on my shelf, and I hope you get it published with some university press someday.
Yes, and my "individuality" is such, today, that I fear for the worst between the camps of America-lovers & America-haters so called, the communists who hate America, the FBI who "love" it. Ouch. But fuck em, I'll go on scribbling. And get a cabin in the woods too, where I just admire the same old eve star… which droopeth on Iowa tonight just as ever, right? no matter what I talk about on this sad letter of beholdenness & shame (shame that I might not live up to what you wrote about me)
Later
Jack […]"
---
Published in September 1957, On the road brought as much virulent criticism as laudatory praise that permanently affected its author. Kerouac becomes the spearhead of a generation called "Beat Generation".
As the symbolic father of the American counterculture, he exerted a considerable artistic influence on many creators.
This letter gives the measure of what Kerouac is revealing in an almost absolute solitude, the example of which can only be found in the United States in Edgar Poe and Herman Melville before him: The presentiment of the completion of American culture and the closure of space, a renewal of literature conceived as a secret and angelic action.
When we talk about Kerouac's typed pages, they have more than for anyone else autograph a truly special value, as his typewriter (with which he wrote On the Road) remains inseparable from his character. It was with its complicity that he expressed the best of his reflections through his most accomplished letters, including this one.
Grandville H. Jones, the recipient of this letter, was then a young student at the Carnegie Institute in Pittsburgh and had just devoted his thesis to the writer (the first ever written) under the title Walt Whitman, Thomas Wolfe and Jack Kerouac: Common origins and common aims.
Reference:
Jack Kerouac, Selected Letters 1957-1969, ed. Ann Charters, p. 313-314 (only the first page of the letter is published. Page 2 is entirely unpublished)
We attach:
Granville H. Jones's personal copy of the thesis in its original binding.
(Kerouac's copy is today at the New York Public Library under reference b.34 f.2)