LOUIS XVI (1754-1793)
Autograph letter signed "Louis" to a Monsieur
N.d.n.p (1781 before May), 1 page small in-8 on double sheet
"I could give the last orders on Sunday to Mr. Amelot and Mr. Necker, for I wish that the thing would not drag on for too long"

SOLD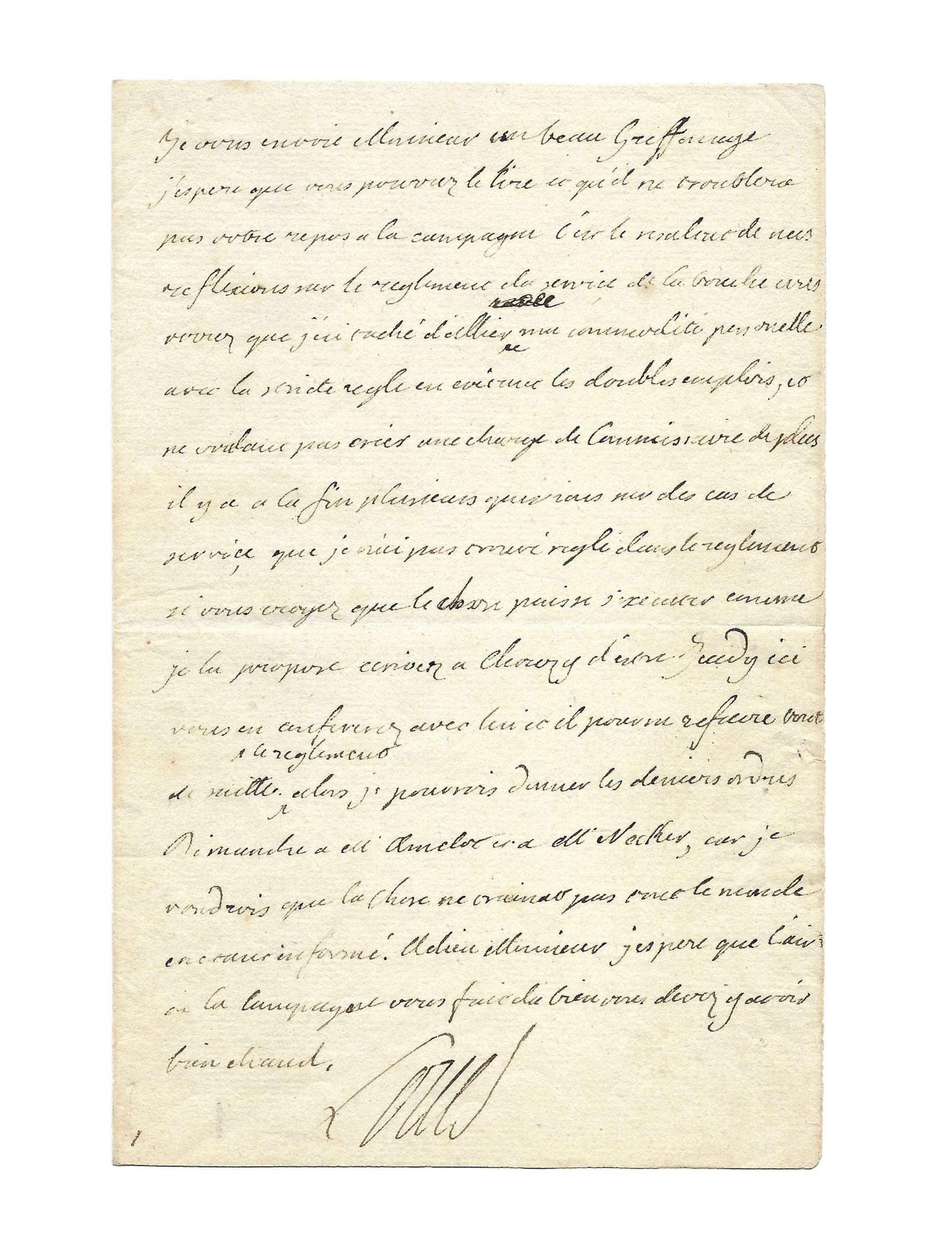 Fact sheet
LOUIS XVI (1754-1793)
Autograph letter signed "Louis" to an unknown recipient
N.d.n.p (1781 before May), 1 page small in-8 on double sheet
Very tiny trace of wear on right margin that does not affect the text, usual fold
Beautiful letter from Louis XVI showing his personal desire to reduce the Court's expenses and to comply with the injunctions of his Minister Necker
---
« Je vous envoie Monsieur un beau Griffonnage. J'espère que vous pourrez le lire et qu'il ne troublera pas votre repos à la campagne. C'est le résultat de mes réflexions sur le règlement du service de la bouche et vous verrez que j'ai taché d'allier une commodité personnelle avec la stricte règle en évitant les doubles emplois, et ne voulant pas créer une charge de Commissaire de plus. Il y a à la fin plusieurs questions sur des cas de service que je n'ai pas trouvé réglé (sic) dans le règlement. Si vous croyez que la chose puisse s'exercer comme je la propose, écrivez à Chouzy d'estre Jeudy ici. Vous en conférerez avec lui et il pourra refaire tout de suite le règlement ; alors je pourrais donner les derniers ordres dimanche à M. Amelot et à M. Necker car je voudrais que la chose ne trainât pas, tout le monde en étant informé. Adieu Monsieur j'espère que l'air de la campagne vous fait du bien vous devez y avoir bien chaud. Louis. »
---
Ardently advocating for cost reduction policy,  Jacques Necker (Minister and Finance Director of the King's House) immediately targeted the privileges of the Court: the pensions paid by the king, the expenses of the King's House etc… He thus streamlined the department of the King's House, creating in 1780 the General Office of Expenditure of the King's House. This letter was written in 1781, before May, the only year in which Amelot, Necker and Chouzy collaborated on the highest offices of the new King's House in the newly established "General Office of Expenditure of the King's House" (which appeared in the Royal Almanac in 1781).
Minister of Finance since 1776, Necker did not hold the office of Finance Director of the King's House until 1781, shortly before his first resignation. To this series of "Republican" reforms and the unfortunate experimentation of provincial assemblies will be added a political error of Necker that will be fatal to his mandate.
In February 1781, certainly shortly after this letter was sent, he sent the king an Account of the State of Finance to be published. It revealed for the first time to the general public the detailed use of public expenditure and reveals, in the interests of transparency, all the advantages enjoyed by the privileged of the court. They disavowed the minister and in turn denounced, with the support of financial experts, the Minister's trompe l'oeil record of his actions, masking the 46 million pound debt left by war spending, and instead pointing out a surplus of 10 million pounds.
"The war that had been so successful against Turgot began again under his successor" explains Victor Duruy.
"I only regret the good that I had to do and that I would have done if I had been given time"
It was on this virtuous regret that Necker, Director General of Finance, took leave of Louis XVI on 19 May 1781.