MAUPASSANT (de), Guy (1850-1893)
Autograph card-letter signed « Maupassant » [to Jacques Normand?]
24 rue Boccador, [Paris, 24th February 1891], 2 p. in-12°
« My head is sick »
SOLD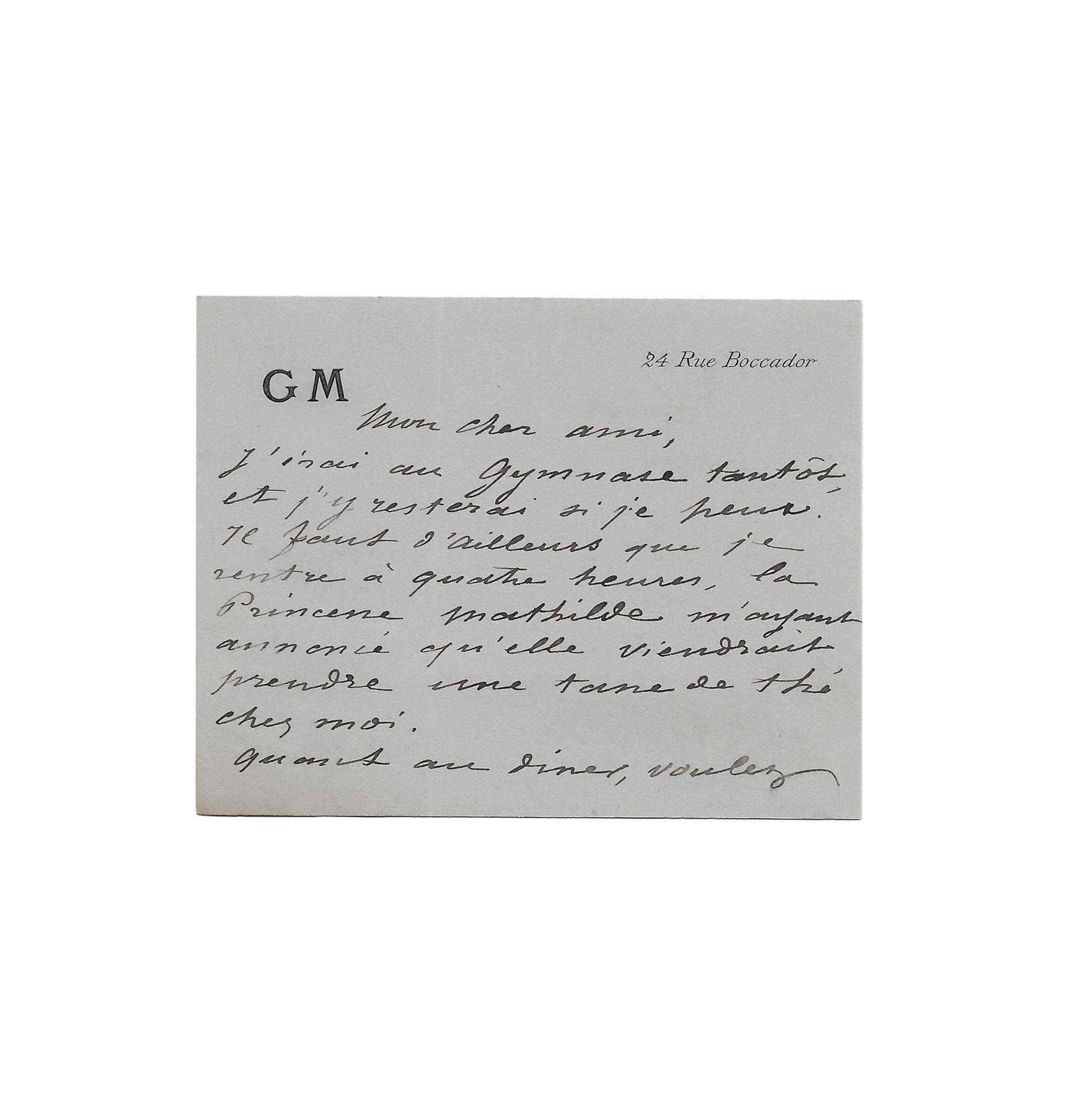 Fact sheet
MAUPASSANT (de), Guy (1850-1893)
Autograph card-letter signed « Maupassant » [to Jacques Normand?]
24 rue Boccador, [Paris, 24th February 1891], 2 p. in-12°
Date added (probably by recipient) on verso, small stain on lower right corner of second page without affecting the text
Unpublished testimony of Maupassant, revealing the ever more violent symptoms of syphilis, contracted during his early years
---
« Mon cher ami,
J'irai au [Théâtre du] Gymnase tantôt, et j'y resterai si je peux.
Il faut d'ailleurs que je rendre à quatre heures, la Princesse Mathilde m'ayant annoncé qu'elle viendrait prendre une tasse de thé chez moi.
Quant au dîner, voulez-vous me permettre de ne vous répondre que selon l'état ou je me sentirai tantôt. Mais je ne crois pas que ce soit possible, tant j'ai la tête malade. Je vous en prie ne me faites jamais écrire même un billet […].
Je vous serre cordialement la main.
Maupassant »
---
As evidenced by the abundant correspondence addressed to his various doctors at the beginning of 1891, Maupassant was plagued by new and increasingly aggravating symptoms of syphilis. The writer is irascible and can no longer work. During his last years, he developed an exaggerated desire for solitude, a sickly instinct for self-preservation, a constant fear of death and a certain paranoia. Guy de Maupassant began in 1890 L'Âme étrangère, which he never finished.
The same year, he wrote: "This impossibility of using my eyes… makes me a martyr… I suffer excruciatingly… Some howling dogs express my condition very well… I can't write, I can't see it anymore. This is the disaster of my life »
Maupassant announces here that he will be attending rehearsals for Musotte, a play written in collaboration with Jacques Normand, at the Théâtre du Gymnase. The premiere took place a few days later, on March 4, and was a success.