MERMOZ, Jean (1901-1936)
Autograph poem
S.l.n.d, 1 p. in-4°
« I was slowly following the path of My Life / Far from the World lost and drowned in Envy »
EUR 3.900,-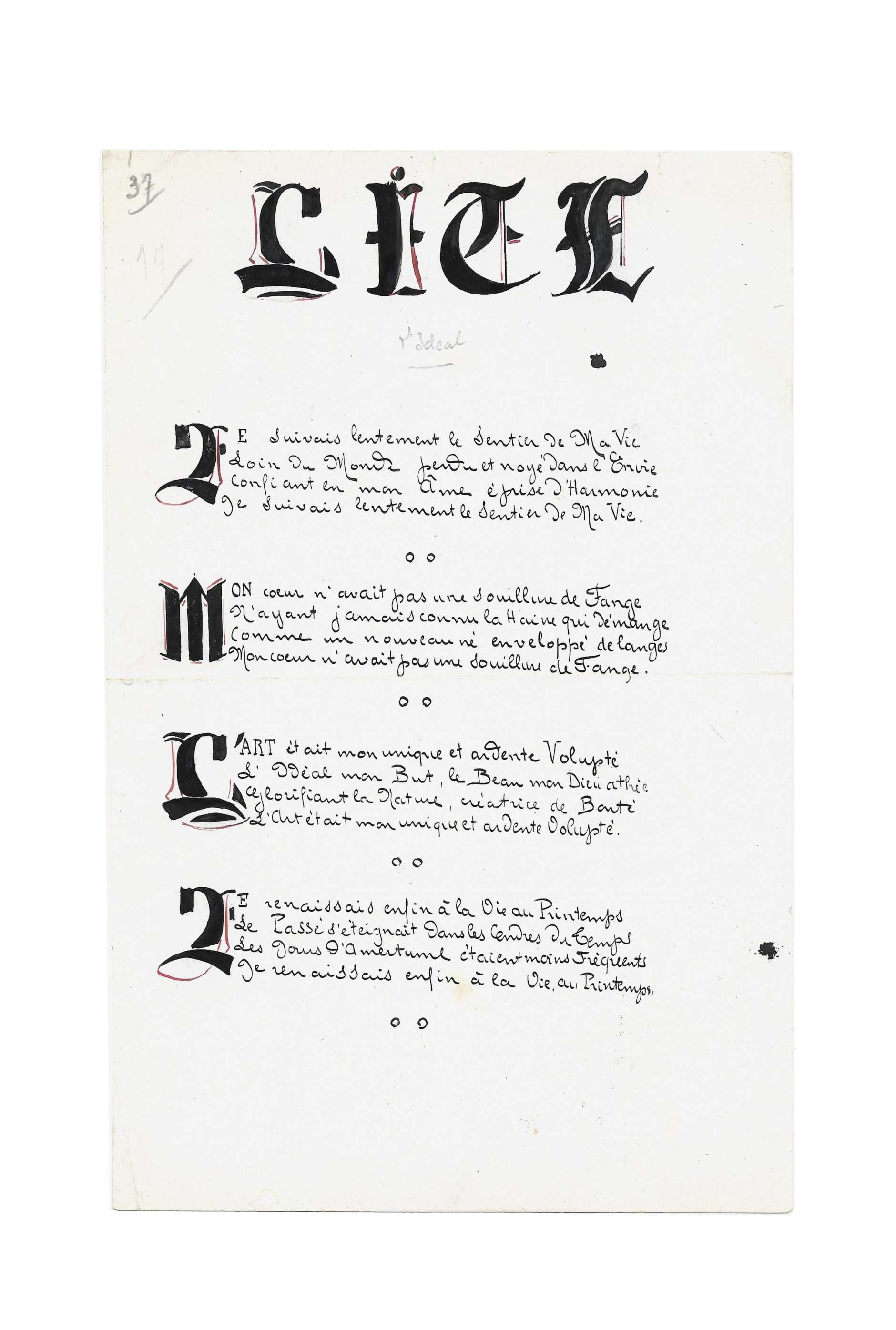 Fact sheet
MERMOZ, Jean (1901-1936)
Autograph poem
S.l.n.d, 1 p. in-4°
Tear on fold mark, small repairs
Superb poem by young Jean Mermoz, whose only title already anticipates the destiny of the author
---
« Je suivais lentement le sentier de Ma Vie
Loin du Monde perdu et noyé dans l'Envie
Confiant en mon âme éprise d'Harmonie
Je suivais lentement le sentier de Ma Vie
Mon cœur n'avait pas une souillure de Fange
N'ayant jamais connu la Haine qui démange
Comme un nouveau-né enveloppé de langes
Mon cœur n'avait pas une souillure de Fange
L'Art était mon unique et ardente Volupté
L'Idéal mon But, le Beau mon Dieu athée
Glorifiant la Nature, créatrice Bonté
L'Art était mon unique et ardente Volupté
Je renaissais enfin à la Vie au Printemps
Le Passé s'éteignait dans les cendres du Temps
Les jours d'amertume étaient moins fréquents
Je renaissais enfin à la Vie au Printemps. »
---
This document, a poem of the aviator's youth, is primarily of visual interest: the title and the first letter of each stanza are elegantly calligraphed in Gothic drop caps.
The poem recounts a path towards the rebirth of the poetic voice through art. If the first stanza takes on Rimbaldian allures, the tension between the spleen – "lost and drowned", "The Past was extinguished in the ashes of time" and the ideal – two last stanzas – is reminiscent of the one who, according to Rimbaud, is none other than "the king of poets, a true God".
Finally, although this poem follows the main lines of prosody – quatrains written in rhymed alexandrins – we notice distance from tradition: non-alternation between feminine and masculine rhymes, a obsolete "e" as forgotten in the count of syllables in the verses "Art was my unique and ardent voluptuousness" and "Glorifying the Creative Nature of Beauty". This attests to the influence of poetic modernity, one of the leaders of which is Apollinaire.
Provenance:
Artcurial 11 oct. 2008