MERMOZ, Jean (1901-1936)
Collection of 9 autograph poems
N.p [c. 1918-1919], 17 p. in-4to
Remarkable set of nine autograph poems from his youth
SOLD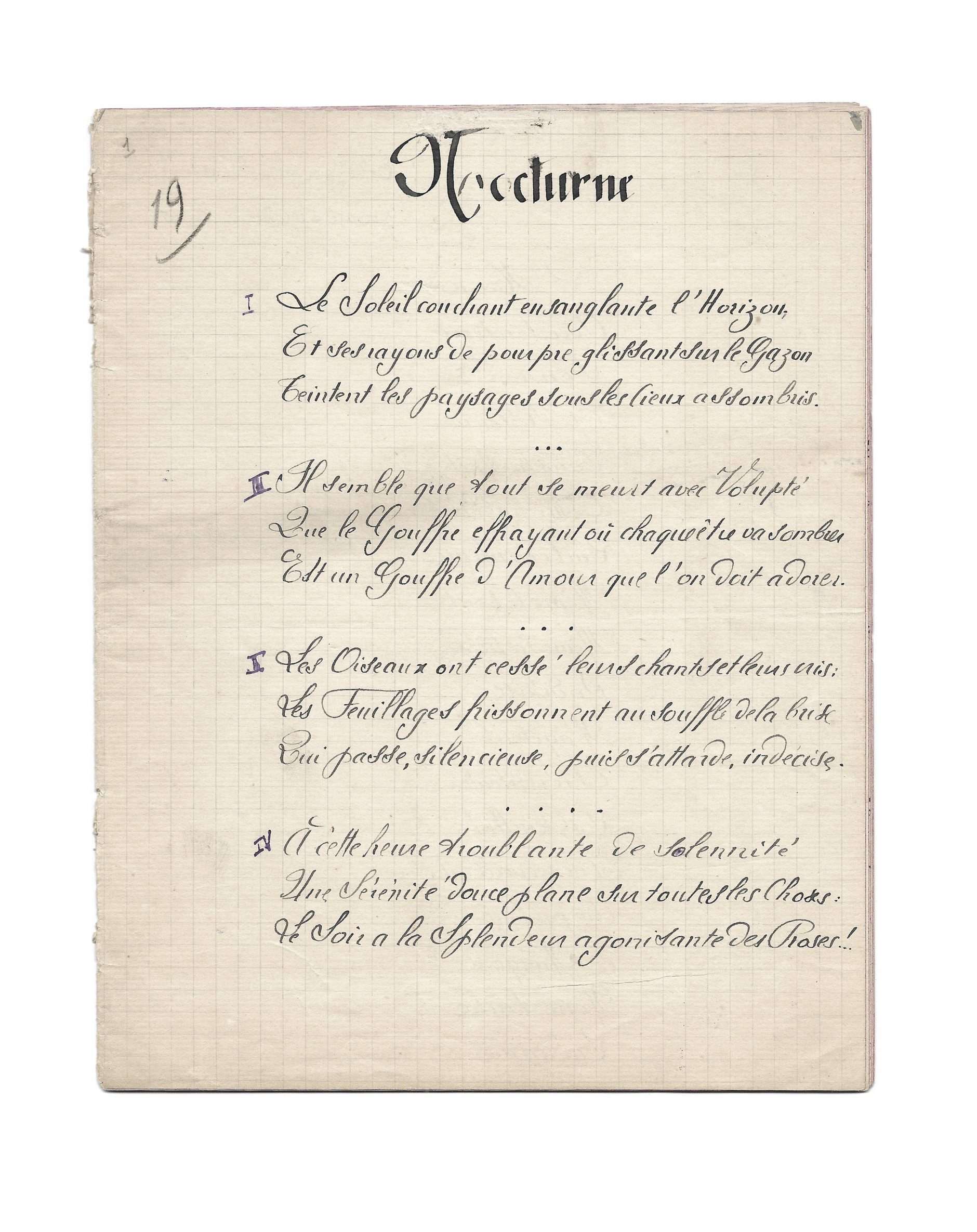 Fact sheet
MERMOZ, Jean (1901-1936)
Collection of 9 autograph poems
N.p [c. 1918-1919], 17 p. in-4to
Fold marks, central folio detached without affecting the text, some tiny stains
Remarkable set of nine autograph poems from his youth
---
Nocturne (4 tercets in alexandrins followed by 54 verses) :
« Le soleil couchant ensanglante l'horizon, / Et ses rayons de pourpre glissant sur le gazon / Teintent les paysages sous les cieux assombris. //
Il semble que tout se meurt avec volupté / Que le gouffre effrayant où chaque être va sombrer / Est un gouffre d'amour que l'on doit adorer. […] » ;
L'Épave (4 tercets) :
« Sur la côte déchiquetée, pareille à un squelette /
À demi dévoré par un fauve sanguinaire, / Un grand bateau de pêche dresse sa noire silhouette. […] » ;
Paysage (32 verses) :
«Les beaux soleils couchants / Qui meurent sur la grève, / Et donnent au flot d'argent / Une langueur de rêve. […] » ;
Le Glas (7 quatrains) :
« Quelqu'un est mort au village ? /… Est-ce un enfant ou un homme d'âge ? / Qu'importe ! Une âme n'est plus ici-bas / Écoutez sonner le sombre glas ! […] » ;
Banlieue (12 verses) :
« Un immonde tramway monte la rue en grinçant / Entre deux haies d'arbre de massifs poussiéreux… […] » ;
Pâques (4 quatrains) :
« Quand j'entrai dans mon village / Un gai carillon m'accueillit. Les cloches chantaient avec rage / En haut du clocher du pays. […] » ;
L'Ange de la Douleur (4 huitains) :
« Quand l'Ange de la Mort / Pâle messager du Dieu / Qui commande notre sort / Emporte vers les Cieux /
L'âme de l'être cher / De l'éternelle demeure / Descend l'Ange du Père / L'Ange de la Douleur. […] » ;
La Chauve-Souris (4 quatrains followed by 12 verses) :
« Quand le jour naissant brusquement apparu / Surprend la chauvesouris dans son vol nocturne /
L'animal eff rayé s'enfuit éperdu / Ne pouvant supporter que la clarté de la Lune. […] » ;
La Mort du Chien (32 verses) :
« Blotti dans l'excavation sombre d'une carrière / Le poile tout gluant de sueur et de poussière / La gueule saignante et dégoûtante de bave […] ».
---
During his childhood, the "Great", as Saint-Exupéry nicknamed him, was a shy young boy, in love with poetry and sculpture. This poetic collection, which takes place between 1918 and 1919, reveals the remarkable precocity of the young Mermoz and the influence that the readings of Baudelaire and Verlaine had on him. It was only later and on the advice of an operetta singer, Max Delby, that he opted for aviation. After obtaining his pilot's license, he went on a mission to Syria in 1922, and literally fell in love with his job and the Middle East despite some adventures in the desert. Mermoz, however, continued to compose poems during his various travels.