NICOLAS II, Nikolaï Aleksandrovitch Romanov (1868-1918)
Original photograph by Vezenberg – Co. in S. Petersburg
Period albumen print (1896). Business card format
Moving portrait of the Romanov family in 1896
EUR 1.200,-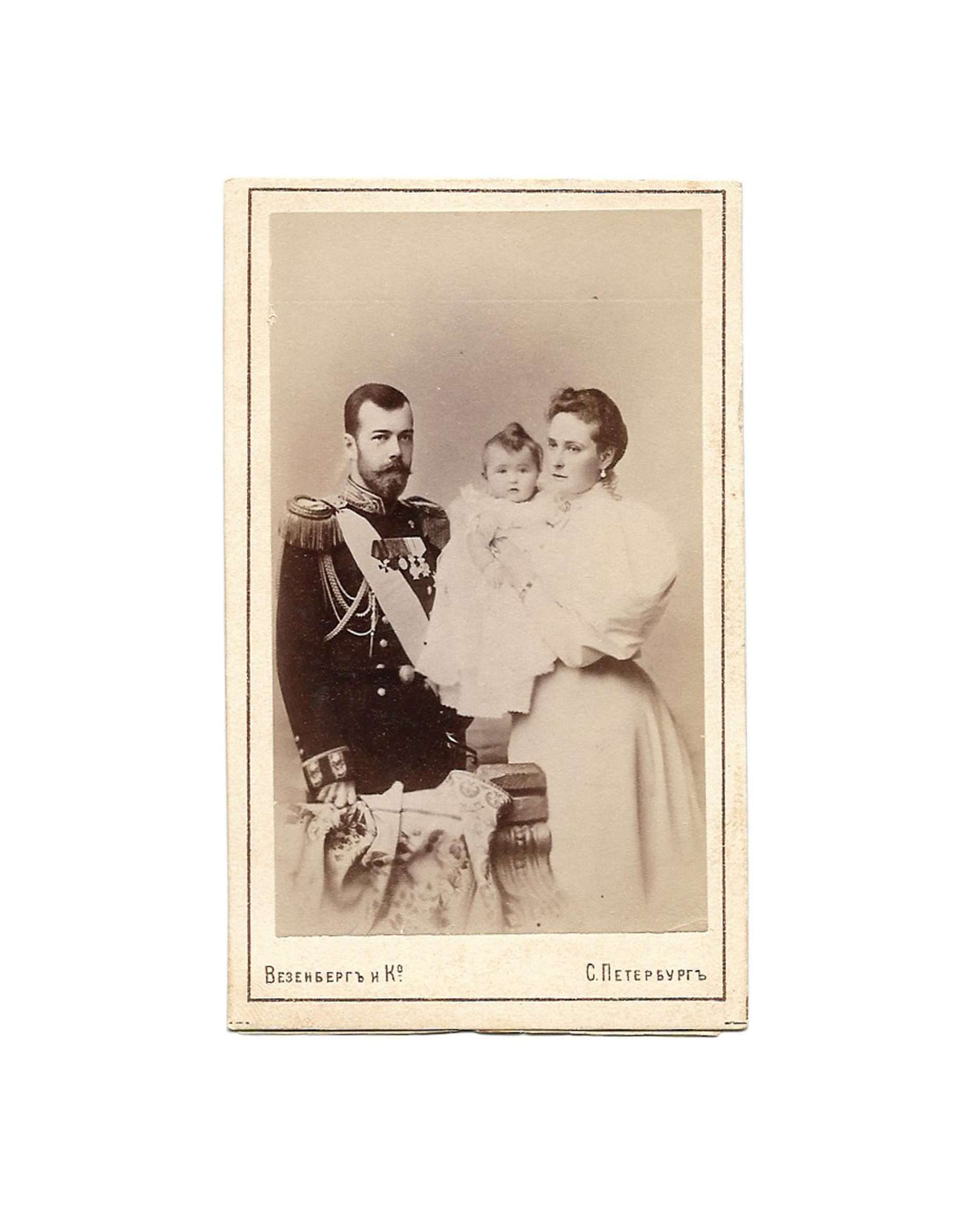 Fact sheet
NICOLAS II, Nikolaï Aleksandrovitch Romanov (1868-1918)
Original photograph by Vezenberg – Co. in S. Petersburg
Period albumen print (1896). Name card format (8.7 x 5.2 cm)
Mounted on thin card in the photographer's name (10,4 x 6,4 cm).
Brown surrounding line. Advertising paper from I. Boulatov's stationery on verso.
Tiny tear in the upper left side of the photograph
Outstanding state of preservation
Remarkable and moving portrait of the Romanov family at the beginning of 1896. Tsar Nicholas II appears serene, his wife Tsarina Alexandra carries their first child Olga Nikolaevna in her arms

---
Nikolai Aleksandrovich Romanov, known as tsar Nicholas II, is a Russian emperor of the Romanov dynasty. He is the tsar of all Russias. He ruled from 1894 until his abdication in 1917. While his empire is experiencing rapid economic and demographic growth, he is unable to effectively manage the cultural and socio-economic changes and the political demands as a result. Russia's disastrous involvement in World War I culminated in the February Revolution in 1917, which ended the imperial regime.
Princess Alix of Hesse-Darmstadt (1872-1918), Tsarina Alexandra Feodorovna Romanova, is the wife of Tsar Nicholas II, the last Empress of Russia. Her reputation for encouraging her husband to refuse to abandon autocracy and the blind trust she placed in Grigori Rasputin seriously damaged her popularity and that of the monarchy in the last years of the regime.
Olga Nikolaevna Romanova (1895-1918), Grand Duchess Olga Nikolaevna of Russia, is the eldest daughter of the imperial couple. She was passionate about reading, even telling her mother that she herself had to check whether the books she owned were good for her.
During the Russian Civil War, Nicholas II, his wife, his son, his four daughters, the family doctor, his personal servant, the maid and the cook were murdered by Bolsheviks on the night of 16-17 July 1918.
---
Original photographs of Tsar Nicholas II with his family are scarce