STENDHAL, Henri Beyle, dit (1783-1842)
Autograph document, entirely filled in by the novelist and signed « De Beyle »
Paris, 7th April 1814, 1 page small in-4

SOLD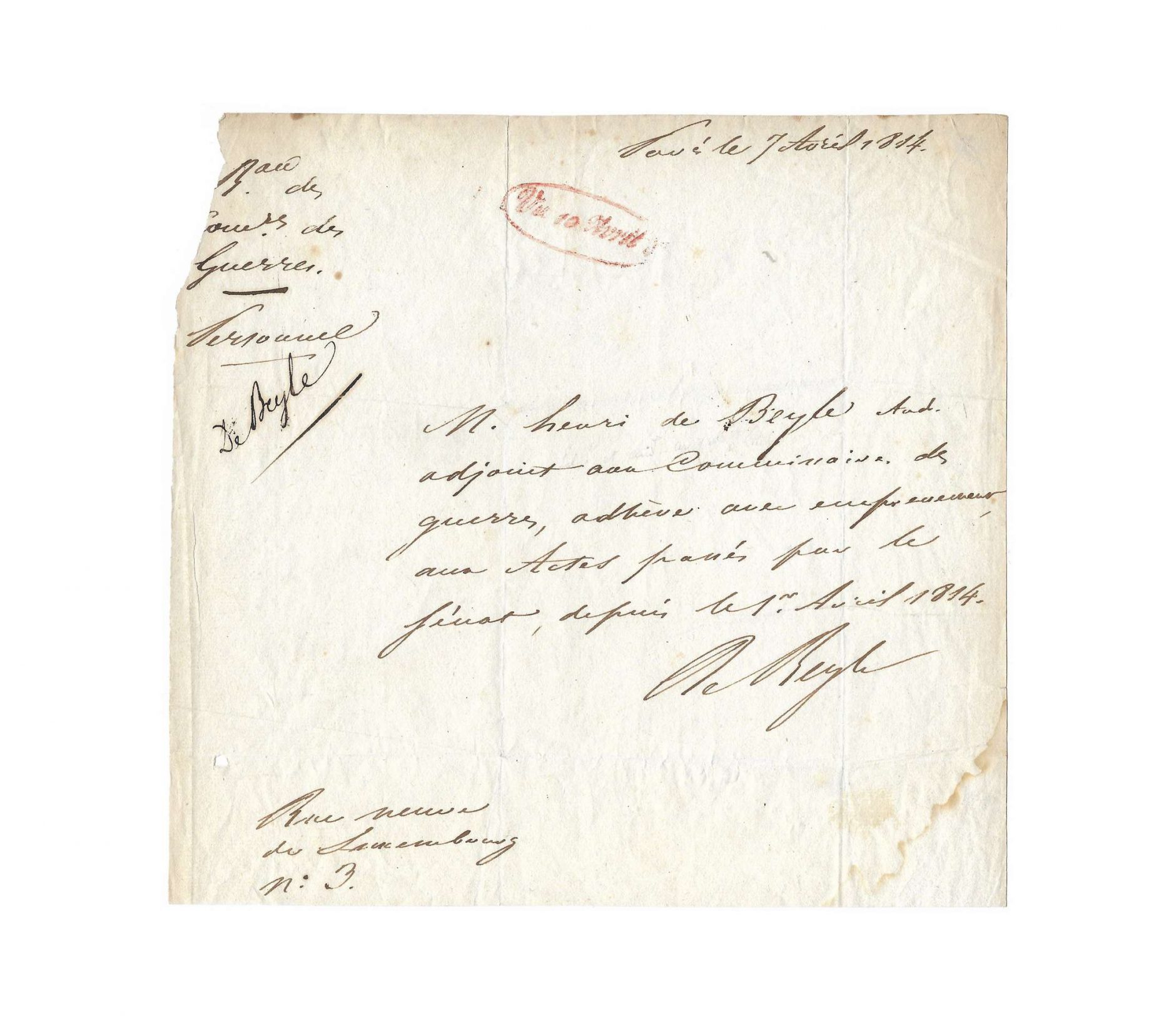 Fact sheet
STENDHAL, Henri Beyle, dit (1783-1842)
Autograph document, entirely filled in by the novelist and signed twice « De Beyle »
Paris, 7th April 1814, 1 page small in-4
Small missing part on the top right corner, old trace of wetting on the bottom right corner
Stampted « vu 10 avril (1814) »
Historic document in which Stendhal joins the Conservative Senat, which declared Napoleon's 1st fall on April 2nd, 1814.
---
"M. Henri de Beyle Aud[iteur] adjoint aux Commissaires des guerres, adhère avec empressement, aux Actes passés par le Sénat, depuis le 1er Avril 1814 .
Il note son adresse : « Rue neuve de Luxembourg n° 3 » [actuelle rue Cambon à Paris]
DeBeyle"
---
March 1814, Napoleon is defeated; France is invaded; Allied armies are in Paris. The Empire is collapsing. Talleyrand, a vice-elector, illegally summons the Senate. On April 1, 1814, the sixty-four senators present appointed a five-member interim government led by Talleyrand, who had Chateaubriand say: "He placed partners of his whist".
Three days later, on Wednesday, April 6, 1814, the Senate-Conservative adopted a draft constitution in which, in Article 2, the French people freely called for the throne of France Louis-Stanislas-Xavier de France, future Louis XVIII and brother of the last King…. The Restoration, however, ended Stendhal's military career that same year.
Note: Correspondance générale, t. I, p. 521 (n° 980)