VERLAINE, Paul (1844-1896)
Original photograph of Paul Verlaine by Paul Marsan, known as Dornac
[Paris, 28 May 1892], 135 x 180 mm
Timeless portrait of Verlaine, sitting on a bench at café François 1er, in front of a large glass of absinthe
EUR 3.500,-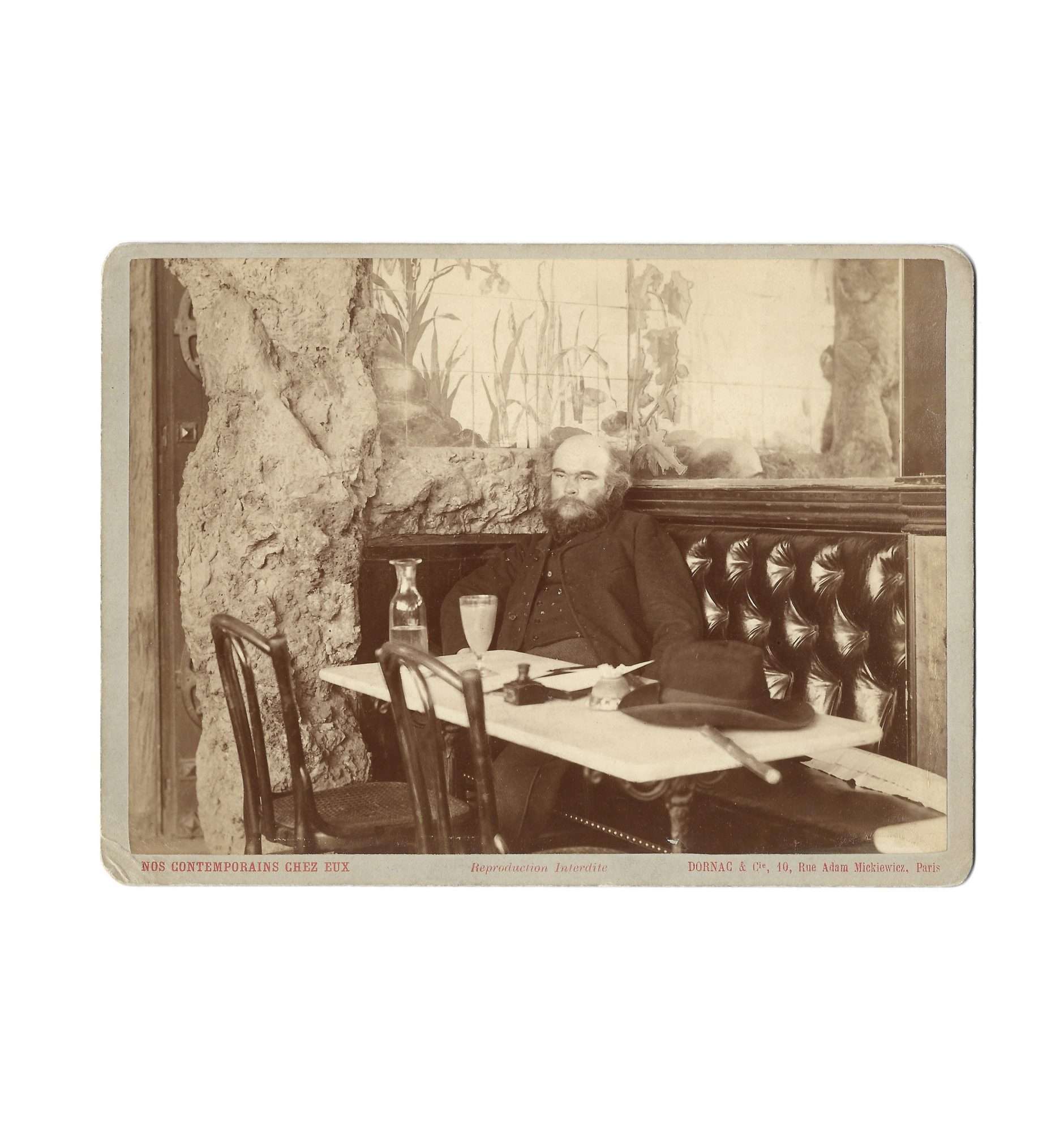 Fact sheet
VERLAINE, Paul (1844-1896)
Original photograph of Paul Verlaine by Paul Marsan, known as Dornac
Period albumen print, mounted on thick cardboard (140 x 190 mm) legended "Nos Contemporains chez eux" in the photographer's credit "Dornac & Cie, 10 rue Adam Mickiewicz"
[Café François 1er, boulevard St Michel, Paris, 28th May 1892], 135 x 180 mm
Slight fold on lower left margin of the cardboard, tiny chip on lower margin of the photograph, otherwise very good original condition
Timeless portrait of Verlaine, sitting on a bench at café François 1er, in front of a large glass of absinthe
---
The poet's eyes are a little murky; on the table, next to the glass lie a few sheets of paper, an inkwell, his cane and his hat.
This photograph immortalizes Verlaine in one of the cafés boulevard Saint-Michel where he had his habits and received writers, friends…
By the late 1880s, Dornac had undertaken a series of portraits of the celebrities of his time entitled Nos contemporains chez eux.
Verlaine's photography portrait at the Café François 1er took place on May 28, 1892. The photographer made three of the poet seated in the same establishment. This photograph is akin to the one depicting the poet at another place in the bench, with a glass of wine in front of him instead of a glass of absinthe.
Iconography:
Ruchon, LXXXVI
Noël, « Profils méconnus de Paul Verlaine », in Histoires littéraires, juillet-décembre 2014, vol. XV, n° 59-60, p. 203-211.
Chr. Galantaris. Verlaine, Rimbaud, Mallarmé, catalogue raisonné d'une collection, 2000, p. 360-361