VERLAINE, Paul (1844-1896)
Autograph letter signed « P. Verlaine », attached with an autograph poem signed, to Émile Bally
Paris, 31st January 1894, 3 p. in-12°
« I am sending you a little poem that you will kindly give to Mr London »
SOLD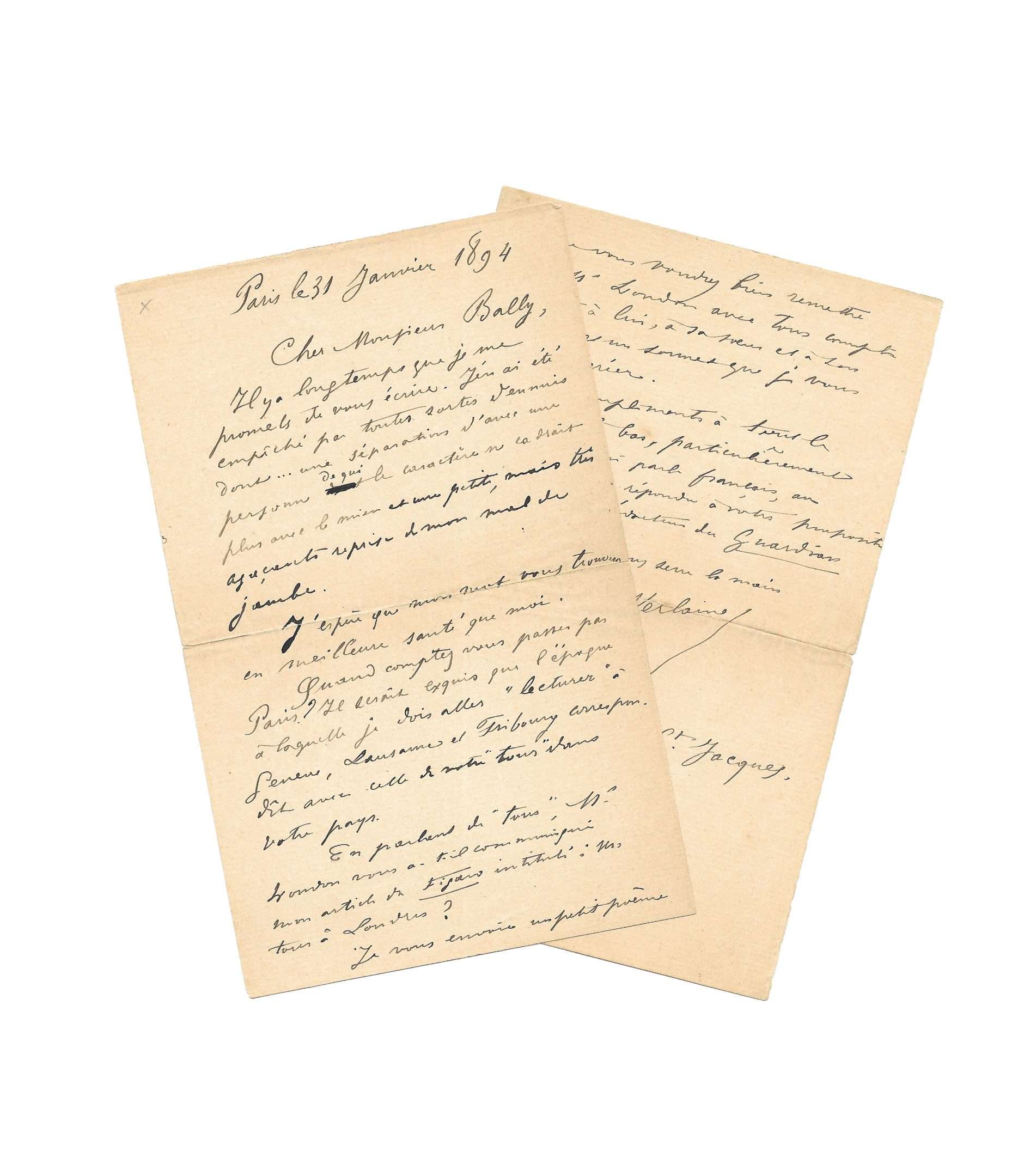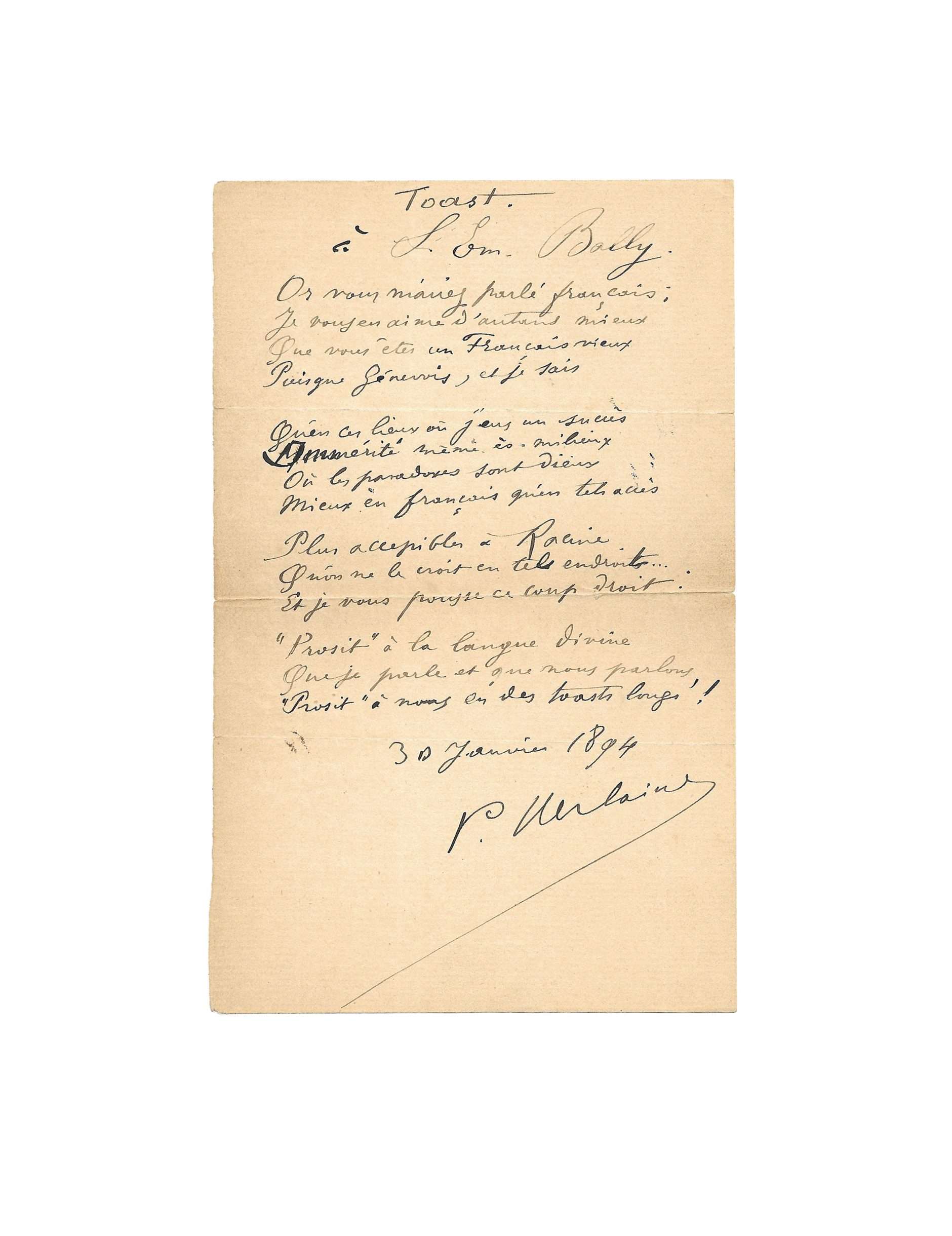 Fact sheet
VERLAINE, Paul (1844-1896)
Autograph letter signed « P. Verlaine », attached with an autograph poem signed, to Émile Bally
Paris, 31st January 1894, 3 p. in-12
Tears on folds
Recently returned from his last lecture tour in England, Verlaine announces his break up with his mistress Philomène Boudin, known as Esther, and attaches the sonnet "Toast" to his mail
---
« Cher Monsieur Bally,
Il y a longtemps que je me promets de vous écrire. J'en ai été empêché par toutes sortes d'ennuis dont… une séparation d'avec une personne de qui le caractère ne cadrait plus avec le mien [Philomène Boudin] et une petite, mais très agaçante reprise de mon mal de jambe.
J'espère que nous saurons vous trouver en meilleure santé que moi.
Quand comptez-vous passer par Paris ? Il serait exquis pour l'époque à laquelle je dois aller « lecturer » :
Genève, Lausanne et Fribourg correspondît avec celle de votre « tour » dans votre pays.
En parlant de « tour », Mr [Théodore] London vous a-t-il communiqué mon article du Figaro intitulé : Un tour à Londres ?
Je vous envoie un petit poème que vous voudrez bien remettre à Mr London avec tous [mes] compliments à lui, à sa sœur et à son frère – et un sonnet que je vous prie d'agréer.
[…] Je vous serre la main.
P. Verlaine
187 rue St Jacques »
[Sur un feuillet séparé, Verlaine dédit son poème Toast à son correspondant]
« Toast.
à S. Em. Bally
Or vous m'aviez parlé français.
Je vous en aime d'autant mieux
Que vous êtes un Français vieux
Puisque Genevois, et je sais
Qu'en ces lieux où j'eus un succès
Immérité même es milieux
Où les paradoxes sont dieux
Mieux en français qu'en tels accès
Plus accessibles Racine
Qu'on ne le croit en tel endroit…
Et je vous pousse ce coup droit : 
« Prosit » à la langue divine
Que je parle et que nous parlons
« Prosit » à nous en des toasts longs ! 
30 Janvier 1894
Verlaine »
---
Eugénie Krantz, Verlaine's other mistress, enlightened him on Philomène Boudin's affairs with other men during 1893. He was seriously considering marrying her. Their break up will take effect in December 1893. The poet then moved with Eugénie to 187, rue Saint-Jacques, in a modest room on the fifth floor.
Émile Bally, a Geneva professor, served as Verlaine's interpreter during his lecture tour of England. He is part of the group of artists and young poets who welcomed Verlaine, alongside Theodore London, a young pastor, among others.
The poem "Toast" appears in Poèmes divers. There is a variant with the published sonnet, at the beginning of the first tercet: "Plus accessibles à Racine" becomes "Inaccessibles à Racine"
References:
Verlaine, Œuvres poétiques complètes, éd. Le Dantec, Pléiade, p. 1013
Paul Verlaine, Critique et conférences – Œuvres posthumes III, éd. A. Messein : Ma visite à Londres