VILMORIN, Louise de (1902-1969)
Autograph manuscript signed "Louise de Vilmorin" 
N.p, [Hôpital Américain, Neuilly-sur-Seine], 14th June 1952, 2 p. 1/2 in-4
"The sad and wonderful stories of Gérard de Nerval are the work of an explorer of sorrow"
EUR 2.500,-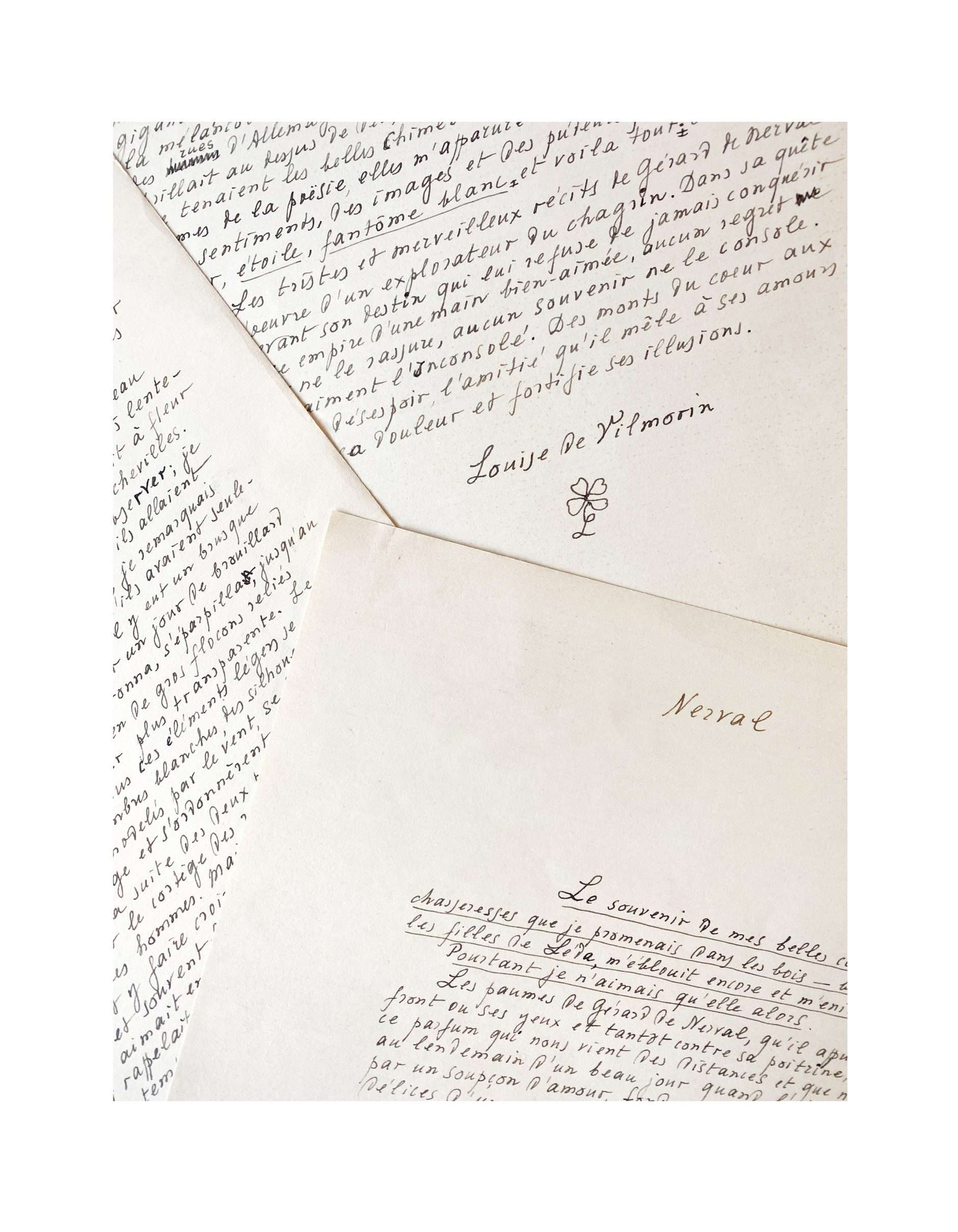 Fact sheet
VILMORIN, Louise de (1902-1969)
Autograph manuscript signed "Louise de Vilmorin" addressed to the publisher Mazenod
N.p, [Hôpital Américain, Neuilly-sur-Seine], 14th June 1952, 2 p. 1/2 in-4
Some fold marks on margins, some spots
Exceptional manuscript by Louise de Vilmorin on Gérard de Nerval, probably the last stage version of a major text in the work of the writer. To our knowledge, this text has not been published by Mazenod.
---
Fragments of the manuscript:
"Le souvenir de mes belles cousines, ces intrépides chasseresses que je promenais dans les bois – belles toutes deux comme les filles de Léda, m'éblouit encore et m'enivre. Pourtant je n'aimais qu'elle alors. Les paumes de Gérard de Nerval, qu'il appuie tantôt sur son front ou ses yeux et tantôt contre sa poitrine sont imprégné de ce parfum qui nous vient des distances et que nous respirons parfois au lendemain d'un beau jour quand l'imagination, envahie par un soupçon d'amour, fonde un temps sans limite sur les délices d'un moment. […] Je traversais un soir les bosquets de Clarens, perdu au nord de Paris dans les brumes, lorsque j'aperçu un homme debout, immobile et penché au milieu d'une eau mouvante et légèrement surélevée […] Des formes, des ombres blanches, des silhouettes, des paysages et même des moments, modelés par le vent, se dégagèrent peu à peu de ce remue-ménage et s'ordonnèrent en un cortège qui défila devant moi à la suite des deux promeneurs que je ne voyais plus. C'était le cortège des regrets et des obsessions fidèles au plus fidèle des hommes […] Bruyères et digitales pourprées, colonnades et clair feuillage, Aurélie en amazone avec ses cheveux blonds flottants, se promenait dans un bois de peupliers, d'acacias et de pins qui bougeaient avec elle[…] Les tristes et merveilleux récits de Gérard de Nerval sont l'œuvre d'un explorateur du chagrin[…]
Louise de Vilmorin"
---
This manuscript was intended for an Anthology of Writers prepared by Mazenod editions. This sensitive text expresses Louise de Vilmorin's attachment to Gérard de Nerval, the author of Pandora. The beginning of the text repeats a few sentences of this work. This praise of Gérard de Nerval is also a dream story, as is sometimes found in the intimate or poetic texts of Louise de Vilmorin. The dreamlike spirit that emerges from Nerval's work resonates with Louise's beautiful poem Entitled Le Voyageur en noir.
The text: There is an almost identical version of this text that the heirs of the author have deposited at the Doucet library where it is listed under the title "The memory of my beautiful cousins" under reference MsMs28893. The Doucet Library version is dated June 16, 1952. Two days after this manuscript dated June 14, it is dedicated to Raymond Queneau and bears the mention at the top of the page "American Hospital". It was during one of her hospitalizations, in May and December 1952, where she was treated following hip operations that Louise developed this text.
Notice written by Geneviève Haroche-Bouzinac
See Louise de Vilmorin , Une vie de bohème by Geneviève Haroche-Bouzinac, Flammarion, 2019, [p. 153, 244, 278, 279, 422]