ZOLA, Alexandrine (1839-1925)
Autograph letter signed « Alexandrine Zola » to Gabriel Thyébaut
[Paris], 7 8bre [octobre] 1906, 8 pp. in-8° à l'encre violette sur papier de deuil
« I always think I die at every step, when I go up to this study in which life has also gone, and whose inscription on the hood of the fireplace remains : « 'Nulla dies sine linea' »
EUR 1.500,-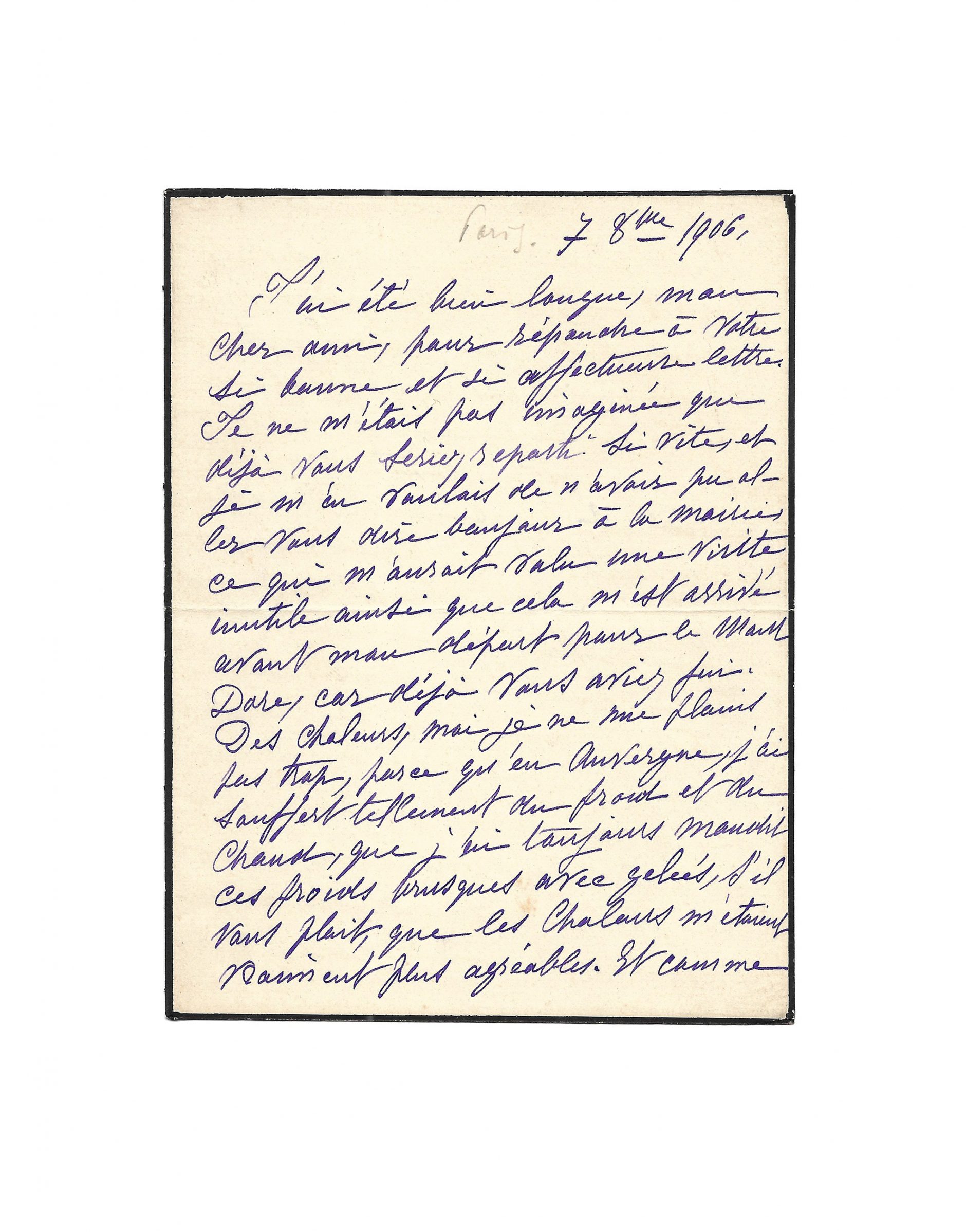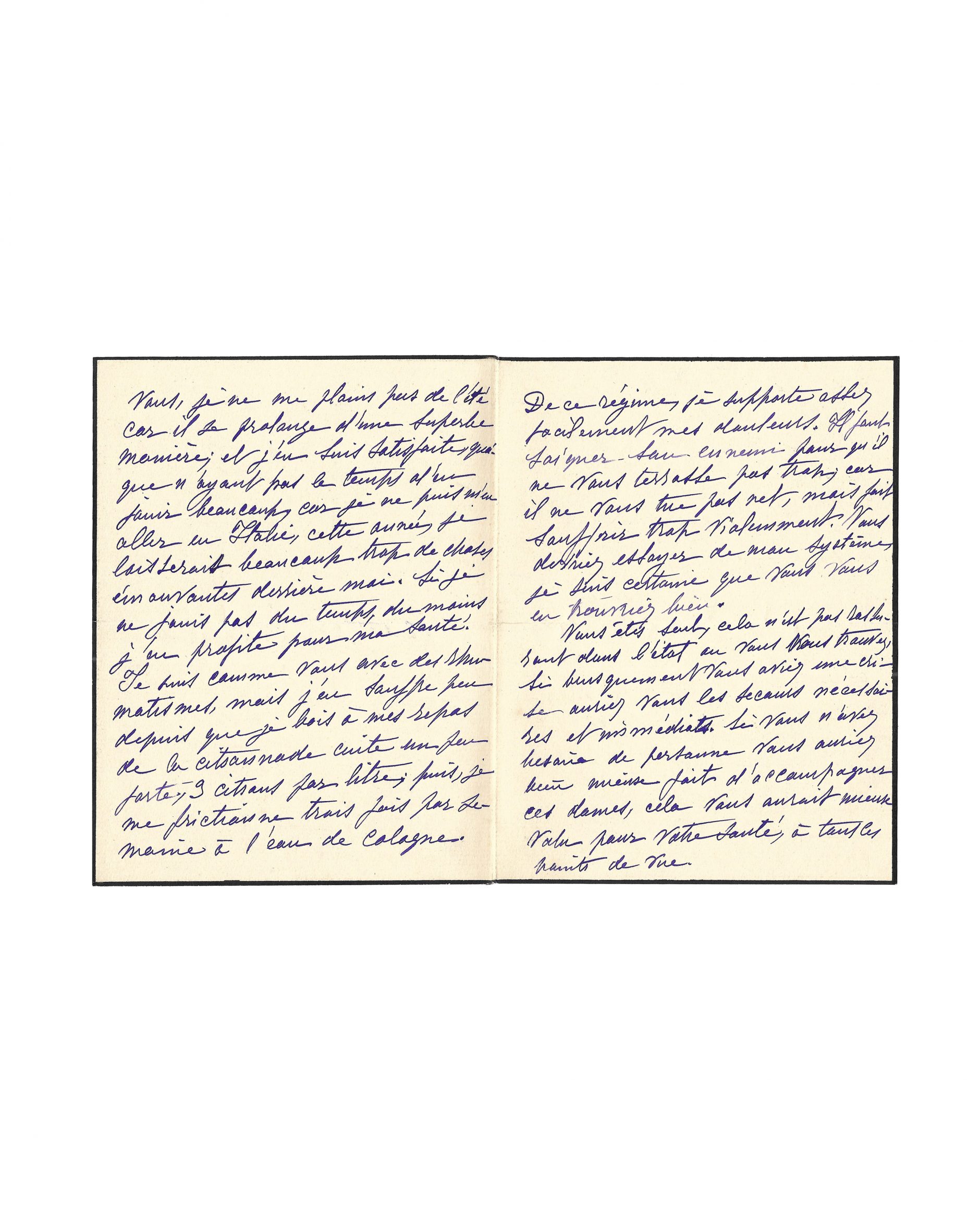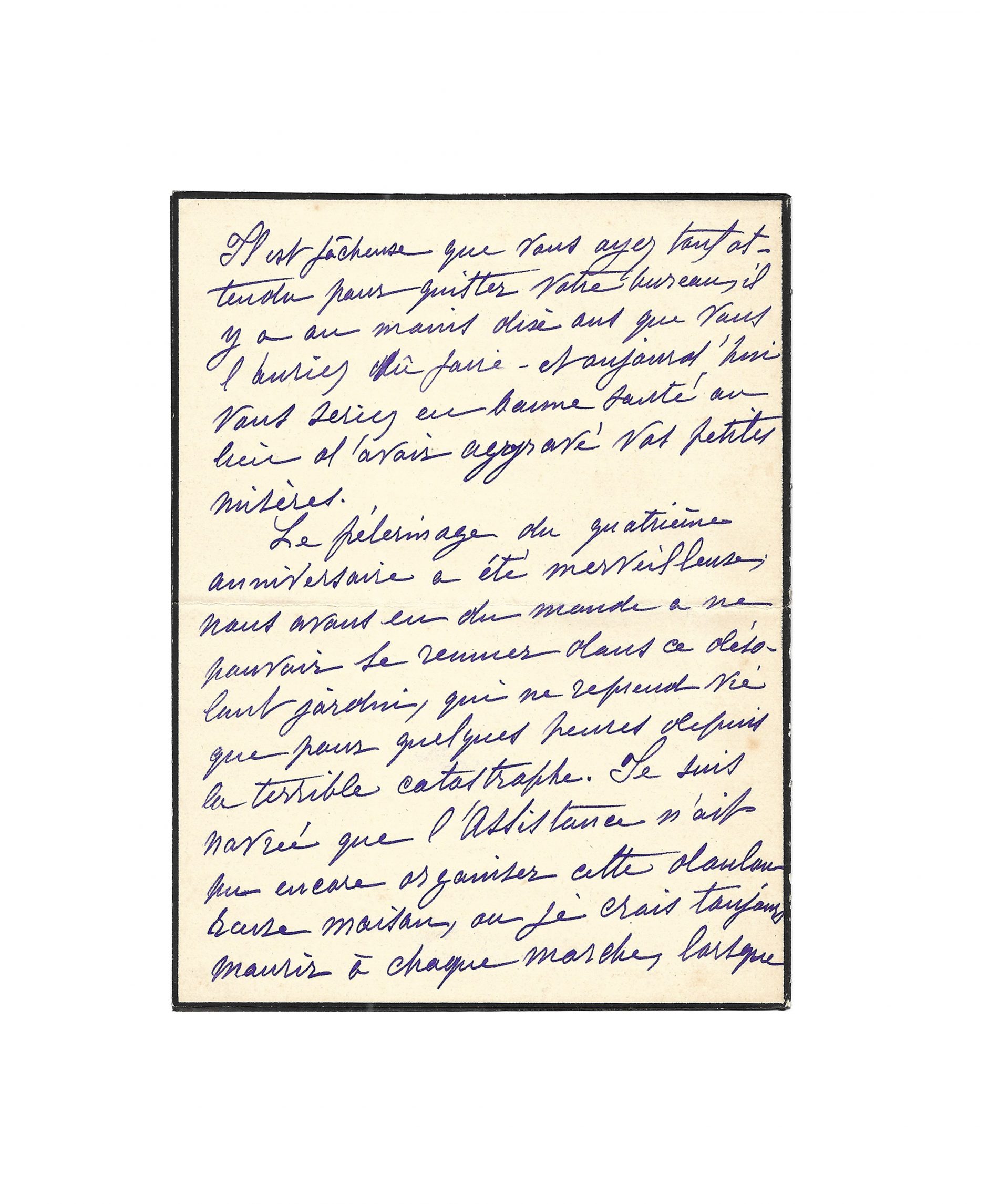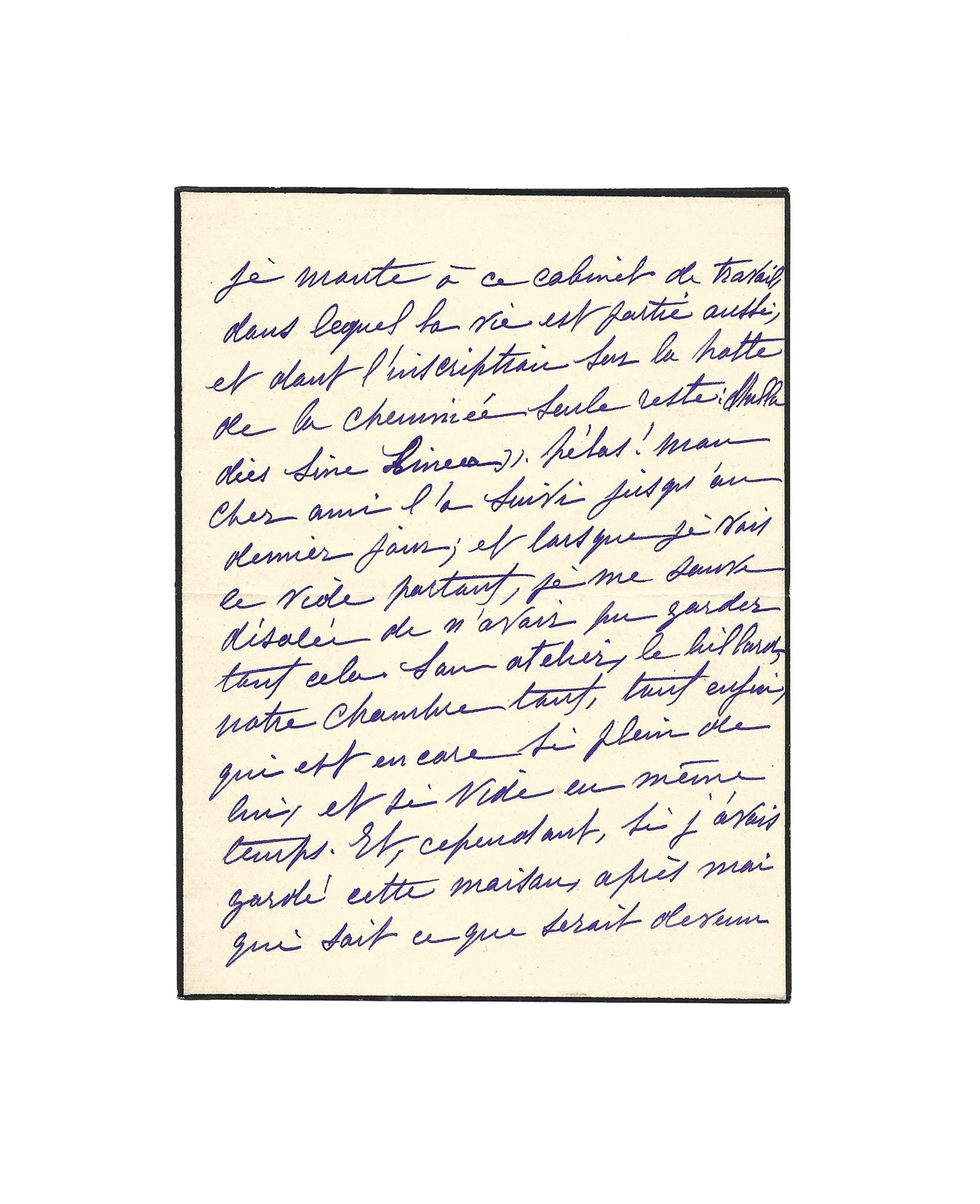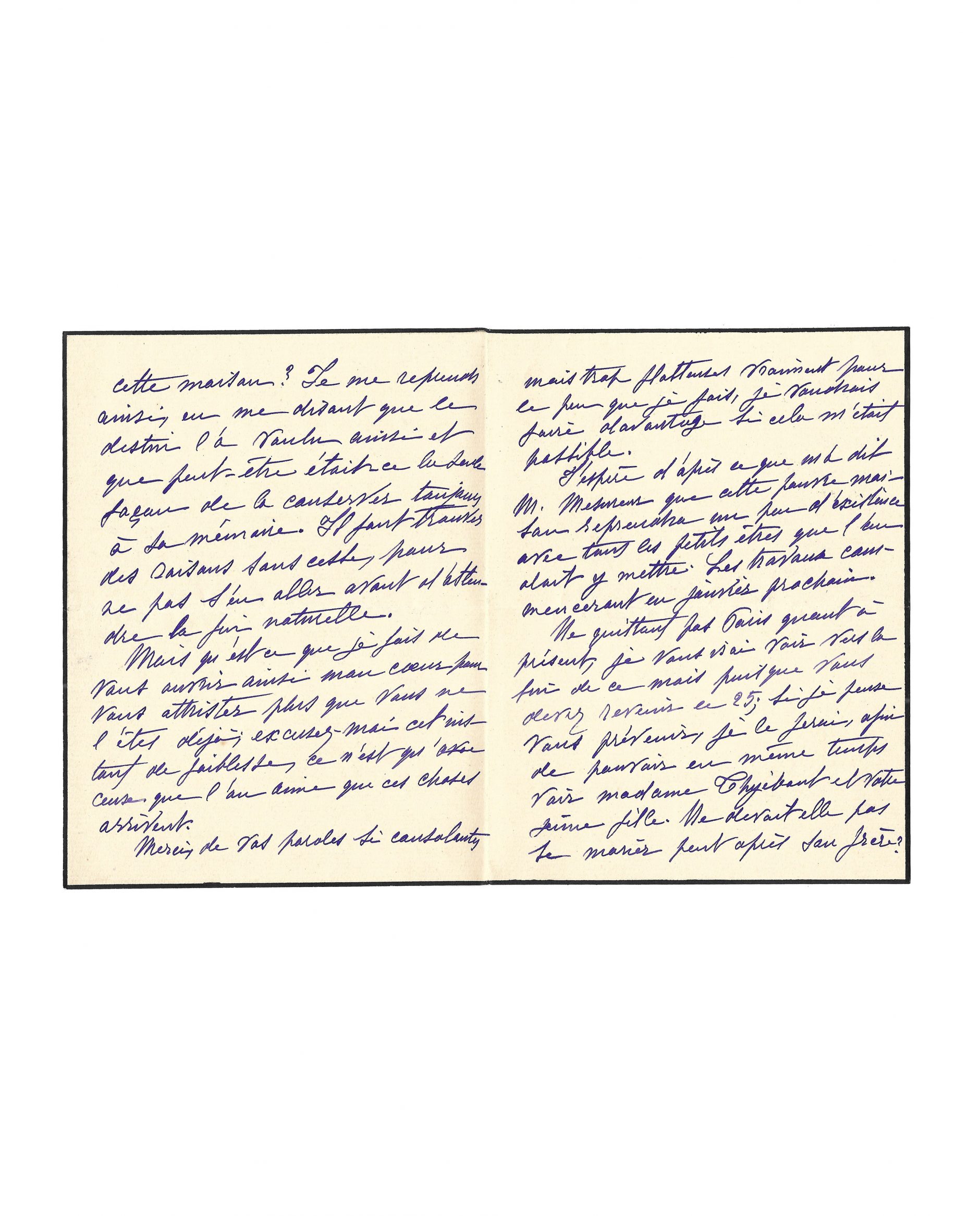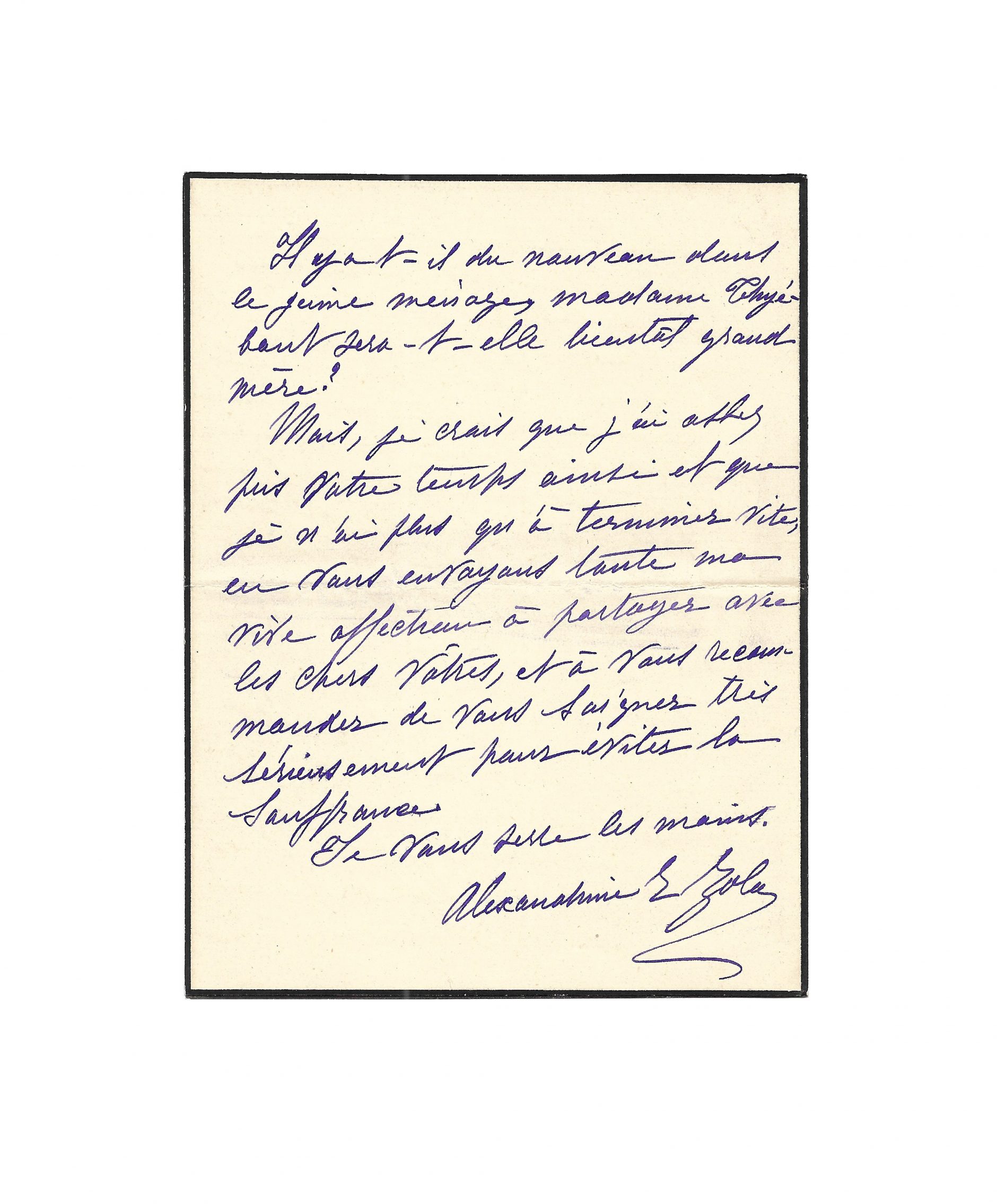 Fact sheet
ZOLA, Alexandrine (1839-1925)
Autograph letter signed « Alexandrine Zola » to Gabriel Thyébaut
[Paris], 7 8bre [octobre] 1906, 8 pp. in-8° à l'encre violette sur papier de deuil
Long and moving testimony of Alexandrine Zola, inconsolable widow after the death of her husband Émile, her "dear friend", whose soul permeates more than ever the walls of their old house in Médan
---
« J'ai été bien longue, mon cher ami, pour répondre à votre si bonne et si affectueuse lettre. Je ne m'étais pas imaginée que déjà vous seriez reparti si vite, et je m'en voulais de n'avoir pu aller vous dire bonjour à la mairie […].
Et comme vous, je ne me plains pas de l'été car il se prolonge d'une superbe manière ; et j'en suis satisfaite, quoi que n'ayant pas eu le temps d'en jouir beaucoup, car je ne puis m'en aller en Italie, cette année, je laisserai beaucoup trop de choses émouvantes derrière moi. […].
Le pèlerinage du quatrième anniversaire a été merveilleux, nous avons eu du monde à ne pouvoir se remuer dans ce désolant jardin, qui ne reprend vie que pour quelques heures depuis la terrible catastrophe. Je suis navrée que l'assistance n'ait pas su encore organiser cette douloureuse maison, où je crois toujours mourir à chaque marche, lorsque je monte à ce cabinet de travail dans lequel la vie est partie aussi, et dont l'inscription sur la hotte de la cheminée reste : « Nulla dies sine linea ». Hélas ! mon cher ami l'a suivi jusqu'au dernier jour ; et lorsque je vois le vide partout, je me sauve désolée de n'avoir pu garder tout cela. Son atelier, le billard, notre chambre tout, tout enfin, qui est encore si plein de lui, et si vide en même temps. Et, cependant, si j'avais gardé cette maison, après moi qui sait ce que serait devenu cette maison ? Je me reprends ainsi, en me disant que le destin l'a vendu ainsi et que peut-être était-ce la seule façon de la conserver toujours à sa mémoire. Il faut trouver des raisons sans cesse, pour ne pas s'en aller avant d'attendre la fin naturelle.
Mais qu'est-ce que je fais de tant ouvrir ainsi mon cœur pour vous attrister plus que vous ne l'êtes déjà ; excusez-moi cet instant de faiblesse, ce n'est qu'avec ceux que l'on aime que ces choses arrivent.
Merci de vos paroles si consolantes mais trop flatteuses pour le peu que je fais, je voudrais faire davantage si cela m'était possible.
J'espère d'après ce que m'a dit M. Mesureur [directeur de l'Assistance publique] que cette pauvre maison reprendra un peu d'existence avec tous les petits être que l'on allait y mettre. Les travaux commenceront en janvier prochain […]
Je vous serre les mains
Alexandrine E Zola »
---
Émile Zola bought the famous house in 1878 thanks to the earnings of his novel L'Assommoir. The house was enlarged to his idea with the construction of the Germinal and Nana towers. Although the couple moved to 21b rue de Bruxelles in Paris in 1889, they kept Médan's house until 1902. Zola seems to greatly appreciate the place and wrote eight of his novels including Germinal, Nana, The Beast Within and The Ladies Paradise.
It is also here that the legendary Group of Médan is formed, bringing together Émile Zola, Guy de Maupassant, Joris-Karl Huysmans, Henry Céard, Léon Hennique and Paul Alexis.
Since 1903, a year after the death of the writer, a pilgrimage has been held there in his honor, here evoked by Alexandrine.
In 1905, she donated the property to the Assistance Publique in order to build a convalescent hospital.
Gabriel Thyébaut, intimate of the Zola couple:
Thyébaut met the Zola couple in the course of 1881, the writer was then in the middle of writing his novel Pot-Bouille. Thyébaut then became, in Zola's own words, "the great jurisconsult and legal counsel of rougon-Macquart."
Having become intimate with the Zolas, he knew The House of Medan very well and was be invited there countless times for dinners in small groups.