ZOLA, Emile (1840-1902)
Autograph letter signed « Emile Zola » to a colleague
Paris, 12th November [18]93, 1 p. 1/2 in-8
"When I have finished a book and given it to the public, it no longer exists for me. All my passion collapses"

EUR 6.500,-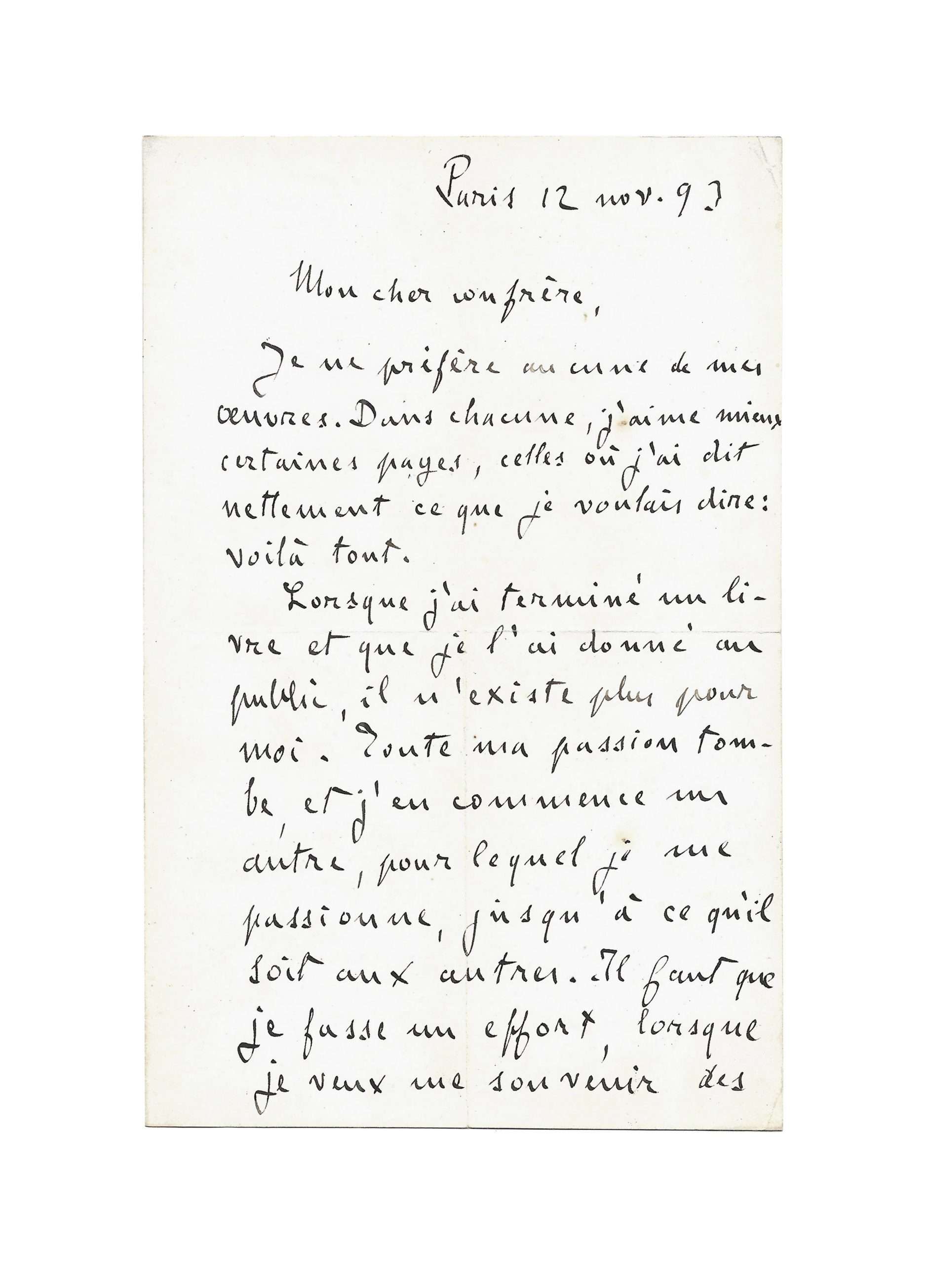 Fact sheet
ZOLA, Emile (1840-1902)
Autograph letter signed « Emile Zola » to a colleague
Paris, 12th November [18]93, 1 p. 1/2 in-8
Usual fold marks, some tiny spots
Magnificent letter, partially unpublished, written at the end of the Rougon-Macquart saga. Zola explains with relevance and sensitivity that he no longer owns his works once published and evokes with a touching metaphor what they represent to him years later

---
« Mon cher confrère,
Je ne préfère aucune de mes œuvres. Dans chacune, j'aime mieux certaines pages, celles où j'ai dit nettement ce que je voulais dire : voilà tout.
Lorsque j'ai terminé un livre et que je l'ai donné au public, il n'existe plus pour moi. Toute ma passion tombe, et j'en commence un autre, pour lequel je me passionne, jusqu'à ce qu'il soit aux autres. Il faut que je fasse un effort, lorsque je veux me souvenir des romans, hélas ! trop nombreux que j'ai écrits. Ce sont comme des tombes de parents et d'amis, autrefois bien chers, sur lesquelles il me serait trop triste d'aller m'attendrir.
Cordialement à vous.
Emile Zola »
---
The Rougon-Macquart saga came to an end with the publication, by Charpentier, of Docteur Pascal in the spring of 1893. Among the most famous of the saga are Germinal, Nana and L'Assommoir. A total of twenty novels were written and published between 1870 and 1893.
Zola is probably responding here to a fellow journalist wishing to make an article on the whole saga and what it represents in the eyes of the novelist.
A summary of the letter and the quotation of a sentence are published in Volume VIII of the correspondence, from an extract from the catalogue:
"They are like graves of relatives and friends […]" – This comparison illustrates the sadness that emanates from the moving statement and what Zola's works represent for Zola himself. Personification of books or metonymy designating the characters to whom the author gave life, the "tombs" of course refer to death.
References:
Extr., cat. libr. Charavay, n° 6599
Corr. t. VIII – Presses de l'Université de Montréal / Editions du CNRS, 1991, n°28, p. 82 / 83