ZOLA, Emile (1840-1902)
Autograph letter signed « Emile Zola » to the journal L'Avenir national
Paris, 12th June 1865, 2 p. 1/2  in-8, Librairie Hachette & Cie letterhead
« You have kindly promised me your support, and I commend myself to you »

EUR 1.300,-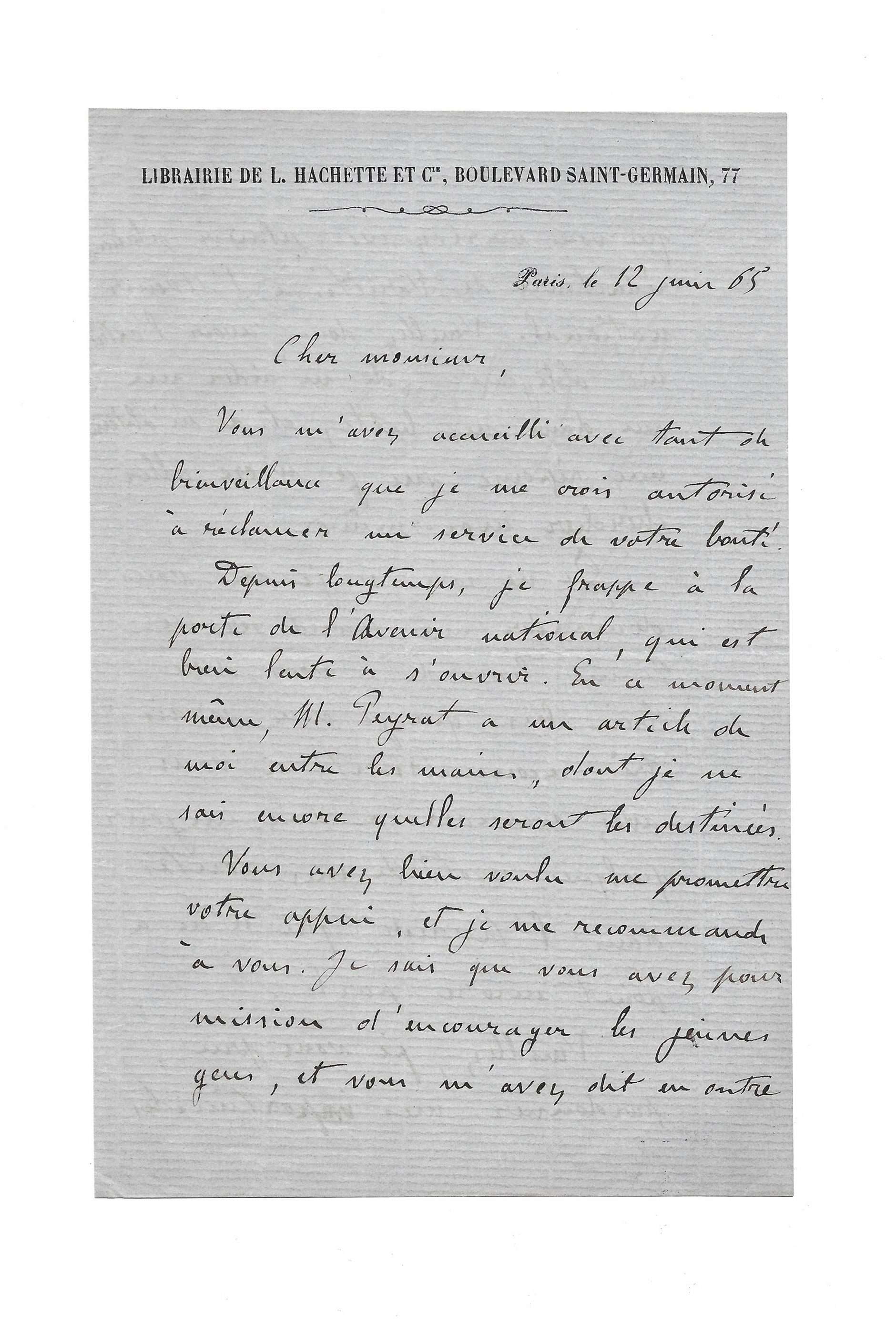 Fact sheet
ZOLA, Emile (1840-1902)
Autograph letter signed « Emile Zola » to the journal L'Avenir national
Paris, 12th June 1865, 2 p. 1/2  in-8, Librairie Hachette & Cie letterhead
Beautiful unpublished letter from the young Zola in the form of a petition and in order to have his articles and Contes à Ninon published in the journal
---
« Cher monsieur,
Vous m'avez accueilli avec tant de bienveillance que je me crois autorisé à réclamer un service de votre bonté.
Depuis longtemps, je frappe à la porte de l'Avenir national, qui est bien lente à s'ouvrir. En ce moment même, M. Peyrat a un article de moi entre les mains, dont je ne sais encore quelles seront les destinées.
Vous avez bien voulu me promettre votre appui, et je me recommande à vous. Je sais que vous avez pour mission d'encourager les jeunes gens et que vous m'avez dit en outre […]. Veuillez donc avoir l'extrême obligeance de m'aider un peu dans ma lutte, et de m'obtenir une réponse que je n'ose aller chercher moi-même.
Je ne sais si je dois vous demander un second service. Je me hasarde à vous dire bien bas que je vous serais très reconnaissant si vous aviez l'occasion de dire un jour quelques mots de mes Contes [à Ninon] dans l'Avenir qui m'en a point encore parlé.
Veuillez, je vous prie, pardonner mes importunités et me croire votre tout dévoué et votre tout reconnaissant
Emile Zola »
---
It would seem that the present letter is addressed to Henry Fouquier with whom Zola is then in contact. Fouquier is indeed part of the team of L'Avenir national of which A. Peyrat is the director and editor-in-chief. Zola did not publish articles in this journal until much later, in 1873.
Émile Zola's literary itinerary is initially marked by hesitation and research that reflects a self-taught career following a difficult schooling. He was noticed at Hachette after delivering a poem, then hired by the house as a clerk where he finally held a job equivalent to that of modern press officers.
His first published work was a collection of tales, Les Contes à Ninon, the substance of which originated in texts written as early as 1859. He was in pain when he wrote this book. The twenty-year-old Zola expresses himself, already with talent, in a form that is easy to publish in the press and which the imperial administration is fond of.