VERLAINE, Paul (1844-1896)
Corrected proofs for Bonheur by Paul Verlaine, accompanied with an autograph letter signed about the poem collection
[Léon VANIER] Paris, Léon Vanier, 1891, in-12°
"Jester! my books are selling well, and how nice it would be if they finally gave me a small rent while making your phortune to you"

SOLD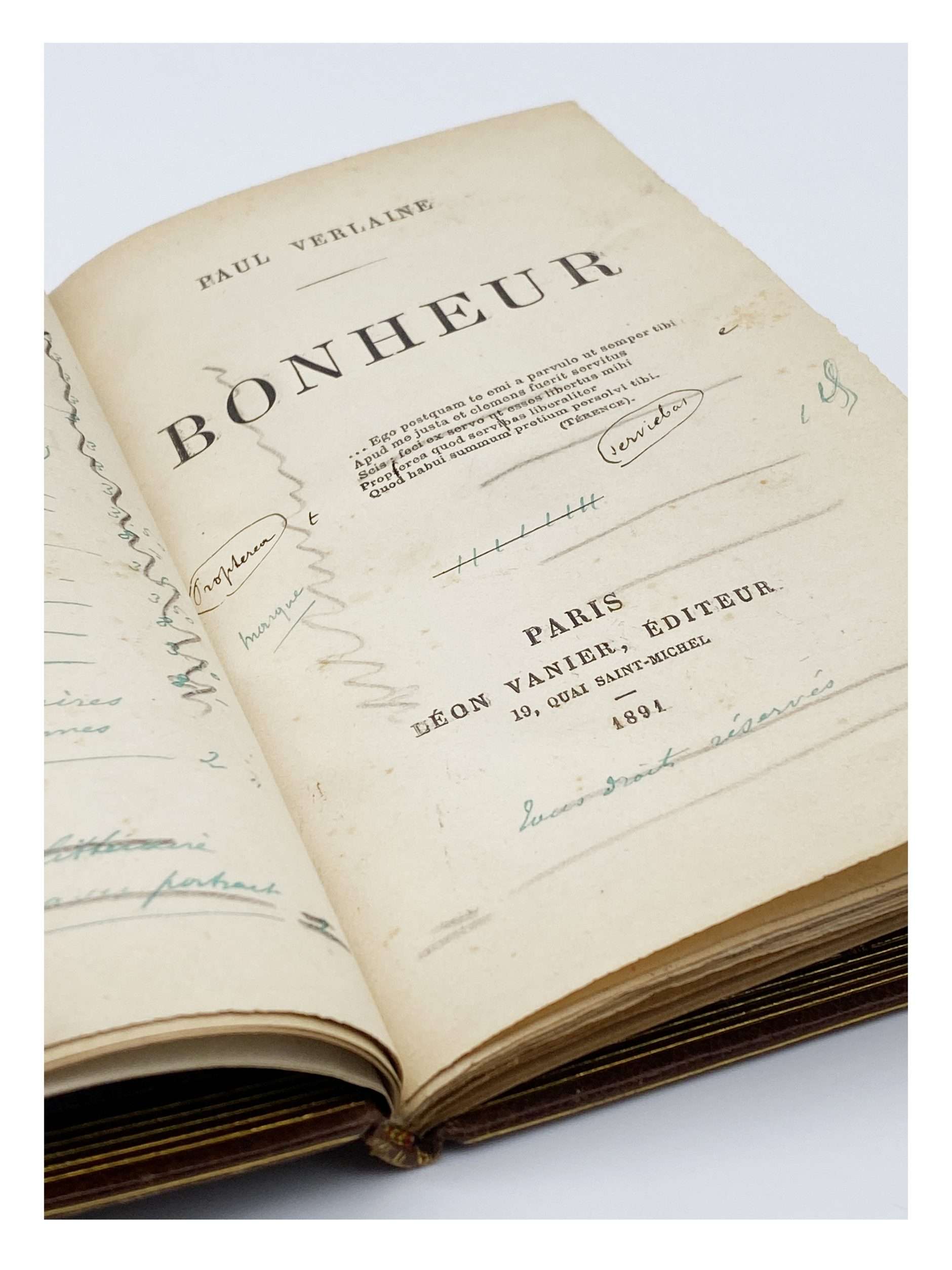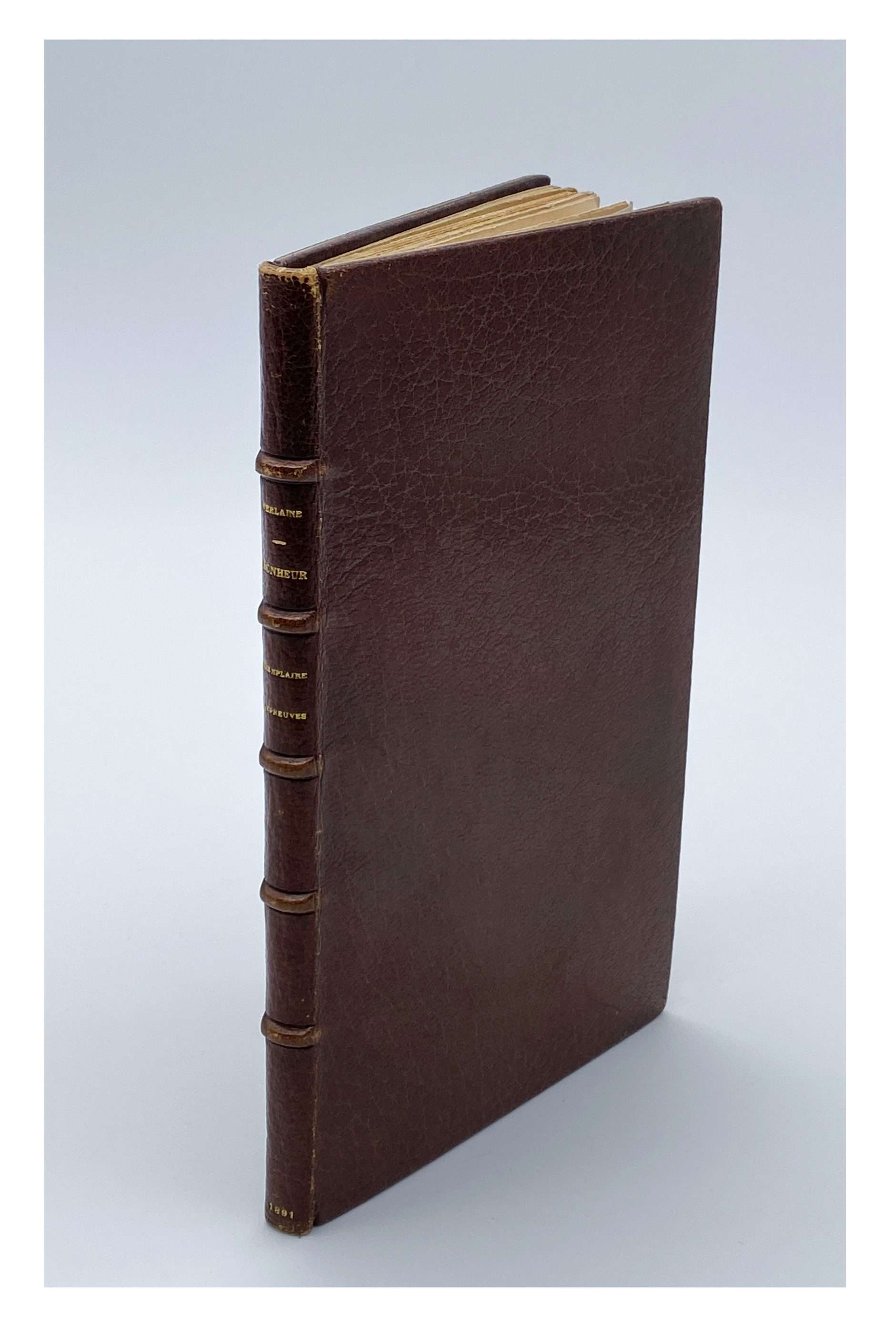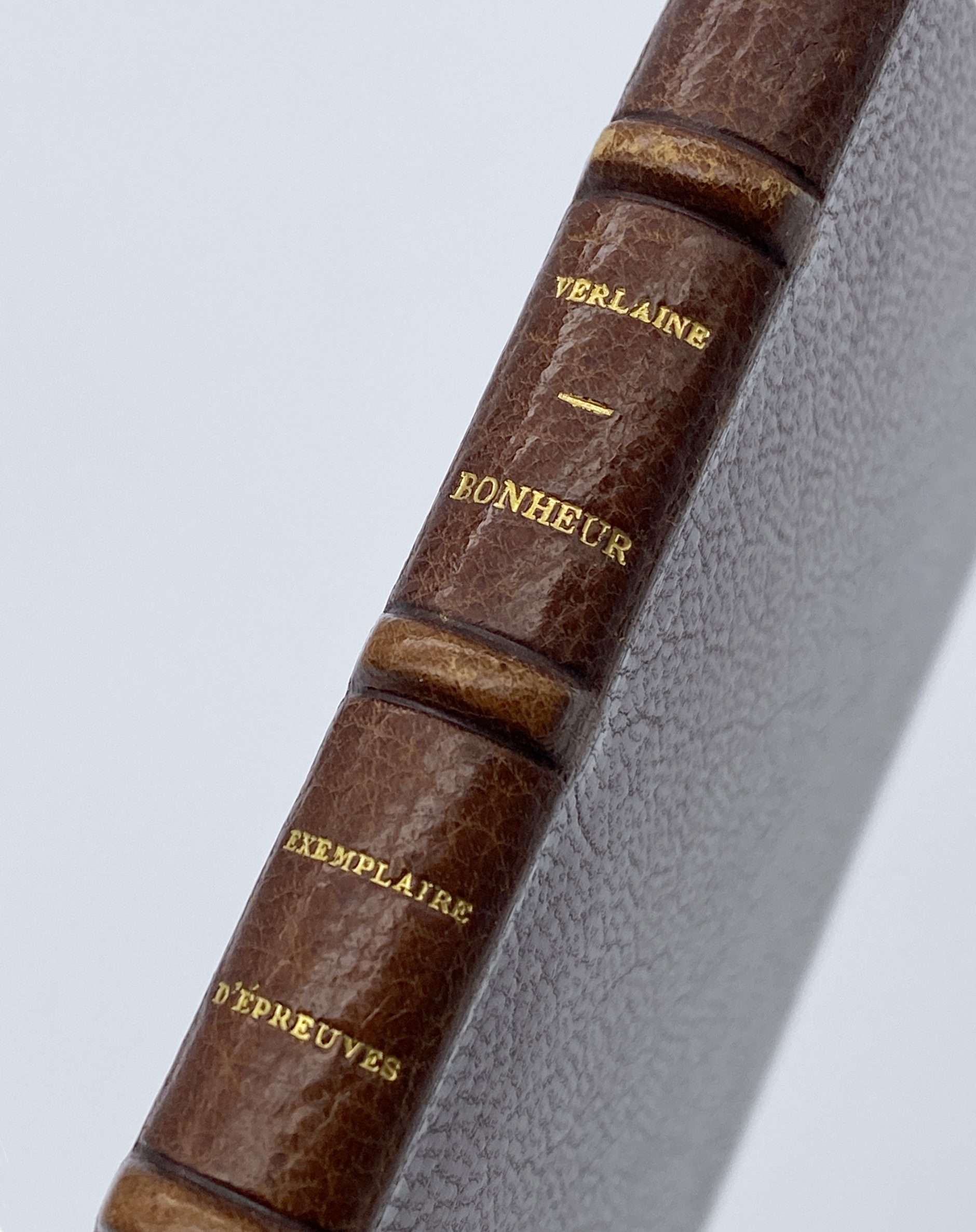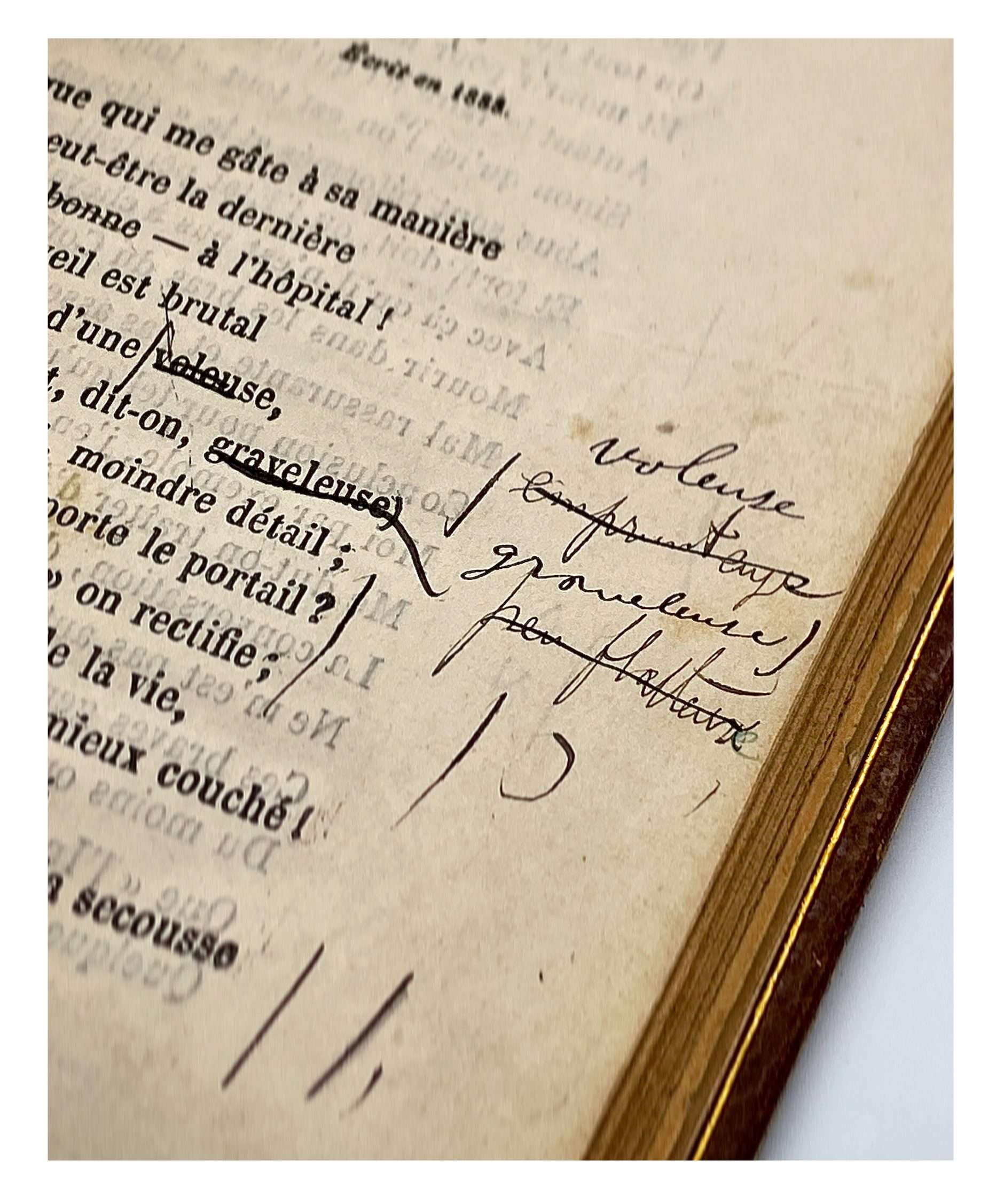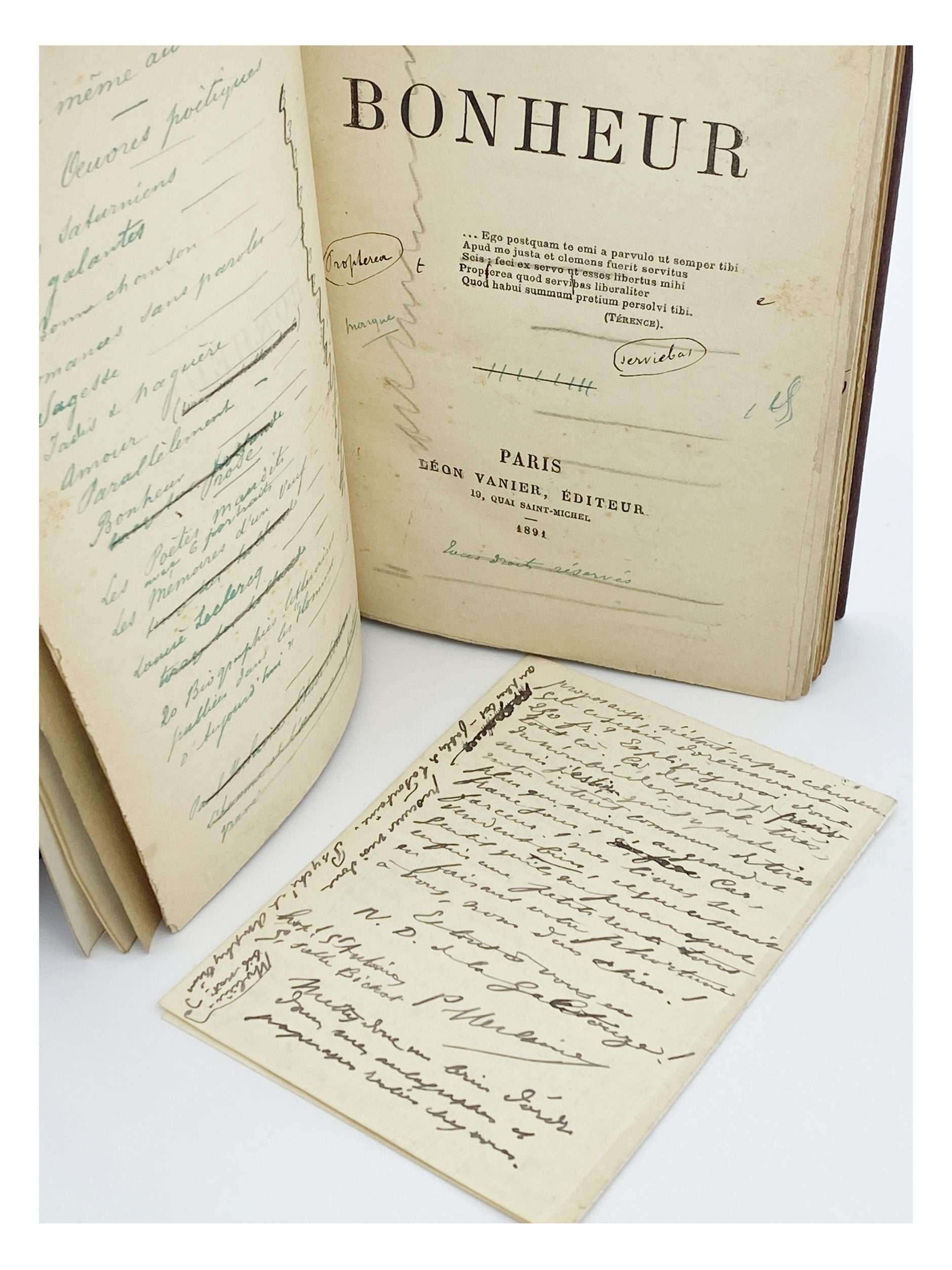 Fact sheet
VERLAINE, Paul (1844-1896)
Corrected proofs for Bonheur by Paul Verlaine, accompanied with an autograph letter signed about the poem collection
[Léon VANIER] Paris, Léon Vanier, 1891, in-12°
The cover is titled in watercolor and bears the mentions of the print
A list of Verlaine's poetic works in green ink can be found next to the title page.
Abundant autograph corrections and indications for the printer of Verlaine's hand.
Corrected proofs by Verlaine for his poem collection Bonheur, accompanied with a long autograph letter signed by the latter
---
The genesis of Bonheur is known to us. The idea far precedes the execution, in fact, the notice of  Les Hommes d'aujourd'hui written on November 20, 1885 and to himself consecrated, Verlaine already announced the collection and his intention to give thus a Catholic "tryptic" of which Sagesse and Amour form the first two parts.
On 23 May 1887 Verlaine sent five first poems to his publisher Vanier: L'incroyable, l'unique horreur…, La vie est…, Après la chose faite…, Et, déjà très…. (qui deviendra la pièce VI : Puis, déjà très anciens), L'adultère, celui du moins…
Consisting of a total of thirty-two poems, the very title of the future collection, in 1890, is not decided. Between Bonheur and Espoir the poet still hesitates; there can be no doubt, however, that he was at Bonheur, and that it was under this title that the work first appeared to him, as evidenced by the last lines of Pauvre Lélian, in the Poètes Maudits of 1888: "He writes and goes or wants, which is the same thing, to live Beatitubo".
The manuscript was brought to the printer Capiomont at the end of January 1891. This is followed by the corrected proofs that we present here, still addressed to Capiomont and received by the latter on 27 and 28 February 1891. The collection probably appeared in late April or early May of the same year.
We attach a long autograph letter signed by Paul Verlaine to his publisher Léon Vanier of January 23, 1891 about the publication of Bonheur:
« Mon cher Vanier,
J'écris, en même temps qu'à vous, à [Albert] Savine.
Je lui dis, parmi les choses toutes particulières entre lui et moi (je retranscrits)
« Quant à Bonheur, parlons peu et parlons bien – et surtout franc.
« Voilà longtemps que complet,
« Ce livre aussi volumineux que Sagesse, Maintenant, Vanier
« m'en offre 500 francs, tel qu'il est
« et vous voudriez le voir grossir,
« grossir sans cesse, oubliant que la
« quantité n'a
« jamais rien prouvé, surtout dans
« un volume de vers sérieux, des
« vers avec quoi on peut se permettre
« aussi bien, parlant généralement,
« des artifices typographiques, etc.
« et d'ailleurs, je le répète, Sagesse
« qui compte demeure [un]
« livre important dans mes
« œuvres en contient pas plus de
« 'matière' que Bonheur tel
« que vous l'avez, 1400 et des
« veuillez, je vous en supplie
« m'écrire à propos de ce
« Bonheur là ? Que je sache sur
« quel pied véritablement
« danser…
C'est catégorique. Si pas de réponse, voici mon plan. D'abord consulter légistes. Envoyer manuscrit où il y a deux seules choses que je n'ais pas, pas les meilleurs, mais j'y viendrai ?
Puis publier avec un autre titre : Espoir […]
Je compte actuellement 640 vers à ajouter à vos 690, ce qui nous fait 1330 vers, plus deux choses en train presque finies, ce qui dépassera 1400.
J'ai tout recopié à votre usage, sauf une pièce facile à retrouver dans le n° de noël 1889 du Chat Noir, commençant par « La neige à travers la brume » […]
Je vais donc attendre la réponse de Savine et dès reçue, [vous] aurez mot mien. S'il tarde trop, [je] vous ferai signe et [nous] agirons de concert.
Voilà, je crois, bien parler. […]
Je n'ai rien reçu que 10 exemplaires de Sagesse et de Parallèlement […]
Quoi encore ? Ah, quand imprimons-nous Jadis et Naguère ou la Bonne Chanse [chanson] ? – à propos aussi, n'était-ce pas convenu que ce serait dorénavant 250 frs ? Expliquez-moi donc tout ça. Ça dépend, je pense du nombre d'exemplaires tirés, mais j'estime qu'il y va de notre intérêt commun de tirer plus que moins, au grand et franc jour ! Car, farceur ! mes livres se vendent bien, et que ce serait gentil qu'ils me procurent enfin une petite rente tout en faisant votre phortune à vous, non d'un chien !
Et tout à vous en N.D de la galtouze !
Verlaine
hop ! [hôpital] St Antoine
51 salle Bichot
Mettez donc un peu d'ordre dans mes autographes et paperasses reliées chez vous.
Procurez-moi donc au plus tôt – fables de La Fontaine. Psyché et Amphitryon. »
References:
Paul Verlaine, Oeuvres poétiques complètes, éd. Pléiade, p. 643-703