ARAGON, Louis (1897-1982)
Autograph letter signed "Louis" to André Rousseaux
N.p, 24th July [1943], 1 page in-8
"You will certainly see the author of "Poésie et Vérité" during your trip"
EUR 650,-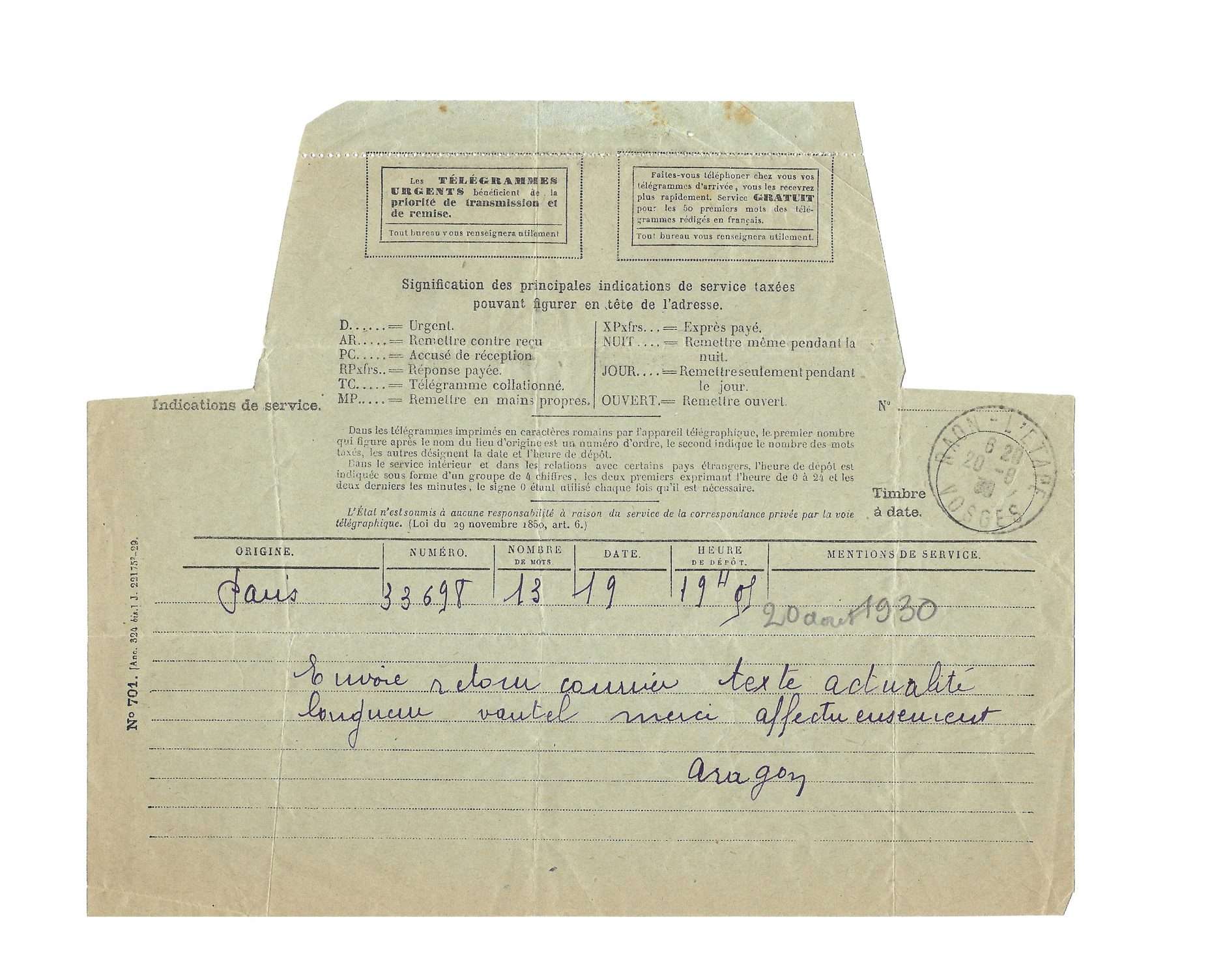 Fact sheet
ARAGON, Louis (1897-1982)
Autograph letter signed "Louis" to André Rousseaux
N.p, 24th July [1943], 1 page in-8
Rich letter by Louis Aragon for a literary article project, evoking his wife Elsa Triolet, Roger Martin du Gard and the timeless collection of Paul Eluard's Poésie et Vérité
---
"Cher ami, j'ai été très heureux d'avoir de vos nouvelles directes. Et aussi que vous ayez accepté la proposition de ma femme [Elsa Triolet]. Au fait depuis qu'elle vous a vu, le père des Thibault [Roger Martin du Gard] a accepté aussi d'être des nôtres. Dites-le à mon vieil ami Paul [Eluard], puisque vous verrez certainement l'auteur de "Poésie et Vérité" pendant votre voyage, il en sera sûrement très content. Il vous expliquera mieux que moi ce que je devais vous demander si vous ne partiez pas (on m'en avait prié juste au retour de ma femme). Il s'agit d'écrire un éloge de notre grand maître de l'université (neuf pages environs) : personne ne la ferait mieux que vous certainement, surtout si [vous] l'écrivez tout à votre aise, sans considération autre que votre sentiment. C'est pour un keepsake de portraits de nos meilleurs écrivains, de M. des Lourdines à Bardamu. Il faudrait que cela soit fait pour le 30 juillet. Mais comme de toute façon vous n'entreprendrez rien avant votre départ, allez tout de suite voir Paul en arrivant, il vous parlera de cela. Faites-lui mes amitiés.
Mes respectueux hommages à Mme Rousseaux et comme toujours faites ma cour à Catherine.
Amicalement à vous
Louis"
---
During the war, engaged in the Resistance, Paul Eluard participated in the great movement that led to French poetry, and the poem Liberté opened the collection Poésie et Vérité published in 1942. The year in which, like Aragon, he joined the Communist Party, inseparable from the fight against fascism.
The texts that make up this collection are all poems of struggle. They must enter into the memory of the combatants and support the hope of victory: as was done for weapons and ammunition, the poem Liberty was, at the time, parachuted into the scrub.
Monsieur des Lourdines is a novel by Alphonse de Châteaubriant published in 1911 by Grasset. He was awarded the Goncourt Prize in the same year.
Ferdinand Bardamu is a character imagined by Louis-Ferdinand Céline, hero of his two best-known books, Journey to the End of the Night and Death on Credit, as well as Guignol's Band, The London Bridge and The Church.
We attach : A telegram by Louis Aragon to Georges Sadoul