[BAUDELAIRE] CARJAT, Étienne (1828-1906)
Period albumen print
[Paris, between late 1861 and early 1862]. Wet stamp « Et. Carjat »
Étienne Carjat's masterpiece, the only known period print
EUR 90.000,-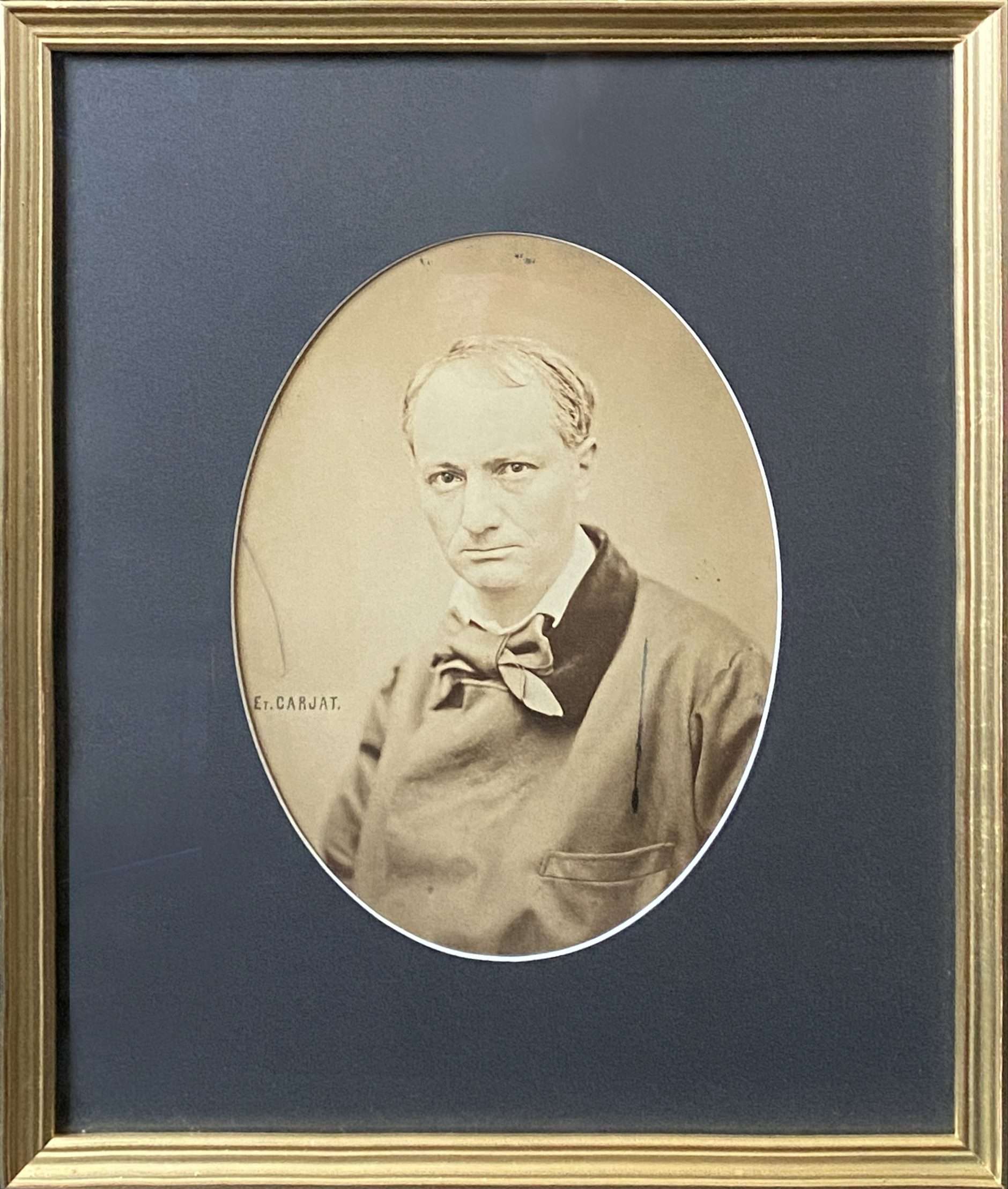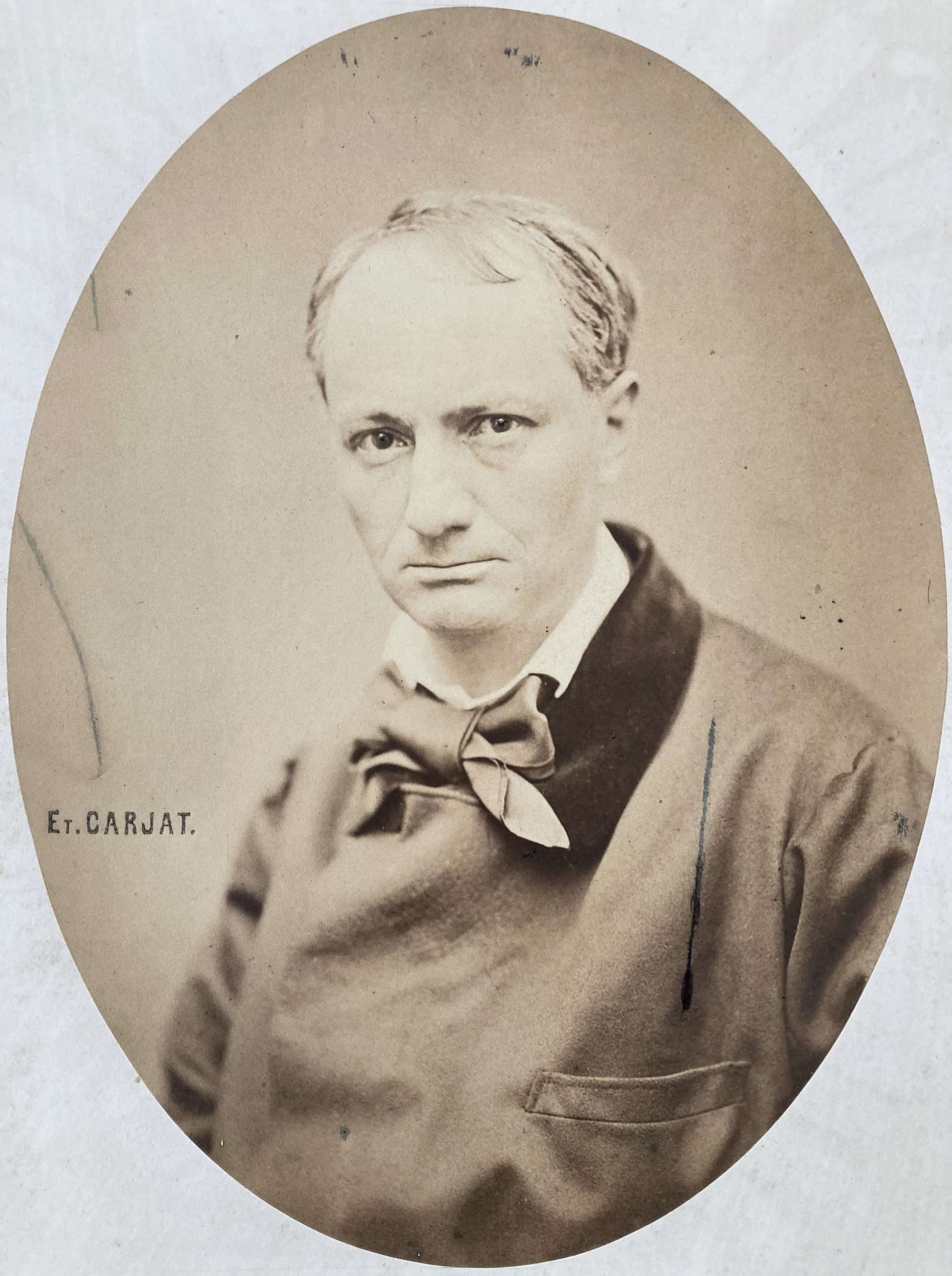 Fact sheet
[BAUDELAIRE] CARJAT, Étienne (1828-1906)
Period albumen print
[Paris, between late 1861 and early 1862]. Wet stamp « Et. Carjat »
Mounted on thick cardboard with embossed photographer's credit
Cropped corners, some stains, eyes post processed by the photographer, some pen annotations on verso
Étienne Carjat's masterpiece, the only known period print
---
Friend of the poet, the photographer is also a caricaturist and editor of periodicals. He hosts texts from Baudelaire in his weekly Le Boulevard. Above all, he left magnificent photographic portraits of him, taken during three sessions, at the end of 1861 or the beginning of 1862, in 1863 and in 1866. During the first session, Étienne Carjat takes three different shots, where Charles Baudelaire appears in three successive poses: standing, sitting, and, as here, in bust — the most intense with his dramatic close framing. These portraits were the subject of an advertisement for sale published in Le Boulevard on January 12, 1862.
This period print is not to be confused with the Woodburytype published later in the Galerie contemporaine series, this period print (during Baudelaire's lifetime), infinitely rarer, is probably the only one still preserved.
The stamp at the address of rue Laffitte makes it possible to situate this print between the moment when the photograph was taken and the time when Étienne Carjat moved to rue Pigalle, in 1866. He set up his first studio at No. 56, rue Laffitte, in Paris, in 1861, but, facing money problems and disputes with his partners Georges-Mathurin Legé and Sosthène Bergeron-Danguy, he was forced to sell them in 1866 his workshop and his fund. Legé and Bergeron then used a dry stamp keeping the name of Carjat but with theirs added.
This portrait became the most famous of the poet
"It is a great portrait that has nothing to envy to nadar's portraits, neither the extraordinary seating of the figure, nor the dramatic chiaroscuro that digs the lines, giving the eye an almost unbearable intensity as it is painful" (Cat. Nadar, 1994, p. 84)
Baudelaire may strongly disapprove of photography, but his notebooks report frequent visits to Carjat. Baudelaire says: "This is not perfect, because this perfection is impossible, but I have rarely seen something so good" (quoted from cat. Carjat, 1983, p. 22)
The precious example of Charles Baudelaire's mother
Caroline Dufaÿs then Baudelaire then Aupick (1794-1871), with whom the poet maintained relations often stormy but passionate and in any case close.
Provenance:
Félicité Baudelaire, born Ducessois (1812-1902), widow of Charles Baudelaire's half-brother, Alphonse (1805-1862). Charles Baudelaire, who criticized her, pretended to seduce her in her early years to annoy Alphonse, and then showed her sympathy for a long time. She received part of Caroline Aupick's property in 1871, and the Baudelairian memories there then passed into the hands of the children of her brother Félix Ducessois (1826-1897) — Félicité having had no children. Then Henri and Louise Ducessois (nephews of Félicité), then Geneviève and Raffael Ducessois.