BAUDELAIRE, Charles (1821-1867)
[Second notice on] Pierre Dupont – Corrected proof
[Paris] 6th June 1861 [stamped], 11 p. in-8vo bradel
"The public was so tired of Victor Hugo's tireless faculties, his indestructible beauties"
EUR 17.500,-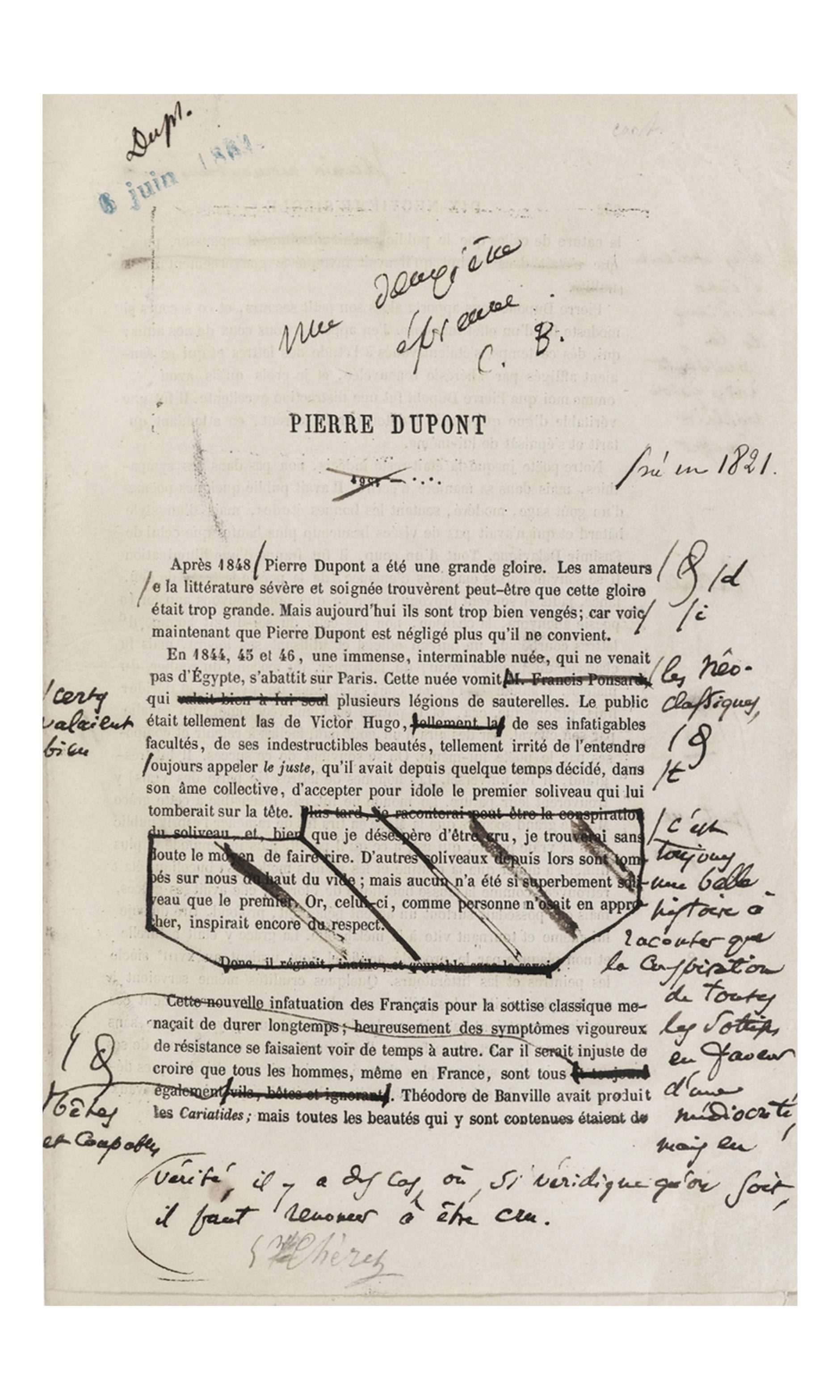 Fact sheet
BAUDELAIRE, Charles (1821-1867)
[Second notice on] Pierre Dupont – Corrected proof
[Paris] 6th June 1861 [stamped], 11 p. in-8vo bradel
3 ff. in-8vo paginated [201]-206, + 5 p. on 3 ff. paginated 132-136 for Dupont's three songs that bear purely typographical corrections in ink, presumably intended for a printer's assistant
Edge of binding slightly worn out
Famous and precious proof dedicated to Pierre Dupont, abundantly corrected and signed by Baudelaire
---
[First] proof corrected, more than a year earlier, for Eugène Crépet's anthology: Les Poètes français / Recueil des chefs d'œuvre de la Poésie française // Les Contemporains. P., Hachette (end of July) 1862, vol. IV pp. [609] – 615 followed by three songs pp. 616-620.
Crépet had authorized, for a fee, the early publication in the Revue fantaisiste de Mendès of 15 Aug. 1861, published under the collective title since then retained: "Reflections on some of my contemporaries"
There is no doubt that our proof of June 6, 1861 precedes the Revue fantaisiste, for which there is also a proof with small corrections, all related to typography. Would Baudelaire have communicated to Poupart-Davyl, the printer of the Revue fantaisiste, a set of this second test? He asked the printer of the anthology [J. Claye] for a second proof to confirm his "retouching" and cuts.
Our first proof shows similarities with the Revue fantaisiste of 1861, for example: "[…] this glory was too great. But today they are too well avenged; because" (identical proof and Review) that we find in this form at Crépet in 1862: "[…] great, but […] avenged, for." We can then wonder if Mendes was aware of the reluctance that displeases the poet.
The charge against Ponsard was removed from this first proof, as well as in the Revue, two months later: "This cloud vomited Mr. Francis Ponsard [crossed out, interline added:] the neo-classics, who was worth well on its own [crossed out, interline added:] certainly worth several legions of grasshoppers".
Likewise certain nuanced fervor: "For it would be unfair to believe that all men, even in France, are all and always [crossed out] equally vile, stupid and ignorant [crossed out, interlined:] beasts and culprits.
Theodore de Banville had produced the Caryatids; (…) ["Already Théodore de Banville had, but vainly, produced" (in Revue fantaisiste), oversight by Pichois].
The solid friendship between Pierre Dupont and Charles Baudelaire is beyond doubt, as evidenced by themselves in writing, but also by the members of their entourage. Born in the same year – 1821 – one in Lyon, the other in Paris, nothing seems to predispose them to bind themselves in this way: backgrounds of origin, talents and different temperaments. From 1842 to 1854 perhaps, they do not seem to share so much a common struggle as a series of privileged moments made of encounters and adventures lived with intensity, involvement or nonchalance at will according to the moments and desires of each other.
Particularly rewarding, Baudelaire's text is benevolent towards the chansonnier: "I know that the works of Pierre Dupont are not of a finished and perfect taste […] To finish in a few words, it belongs to this natural aristocracy spirits that owe infinitely more to nature than to art, and who, like two other great poets A[uguste] Barbier and Madame Desbordes-Valmore, finds only by the spontaneity of the soul the expression, the song, the cry, destined to be engraved eternally in all memories"
The years 1848 consecrated Dupont: "Love is stronger than war!" Baudelaire offers him a collective memory, almost among the greatest. (See the first notice of 1851, n°64)
Provenance:
Collection Alexandrine de Rothschild
Bibliothèque du Colonel Daniel Sickles
Bibliothèque Albert et Monique Kies
References:
Pléiade, Œuvres complètes II, p. 169-175
We rely in part on the research done by P. de Sadeleer (Sotheby's 19 juin 2013)