BAUDELAIRE, Charles (1821-1867)
Autograph letter signed « Charles » to his mother, Madame Aupick
[Paris], 1st July 1853, 3 p. in-8°
« What is quite certain is that I no longer want to give anything to chance in my life, and that I claim that the will occupies the full extent of it »
EUR 14.000,-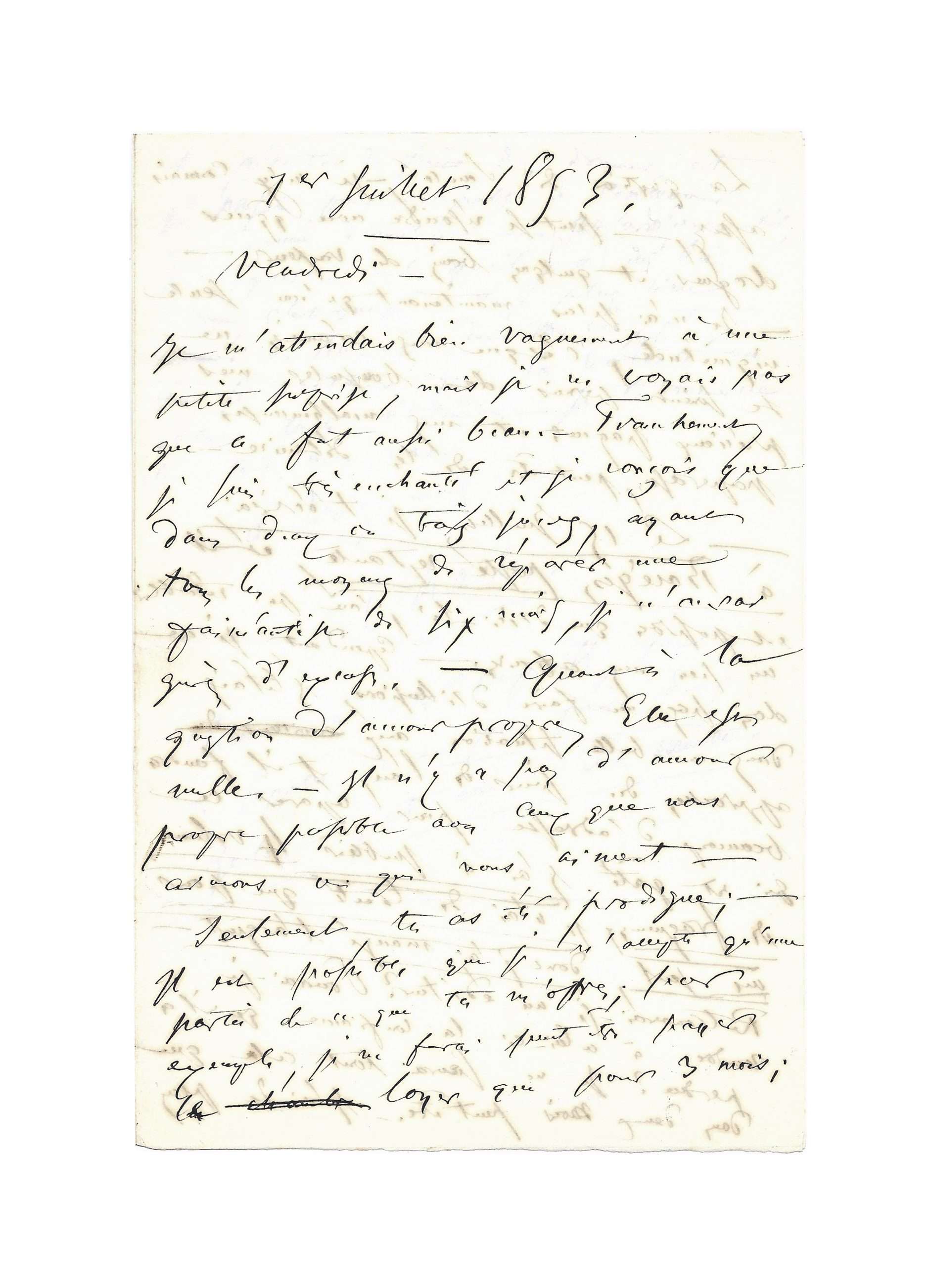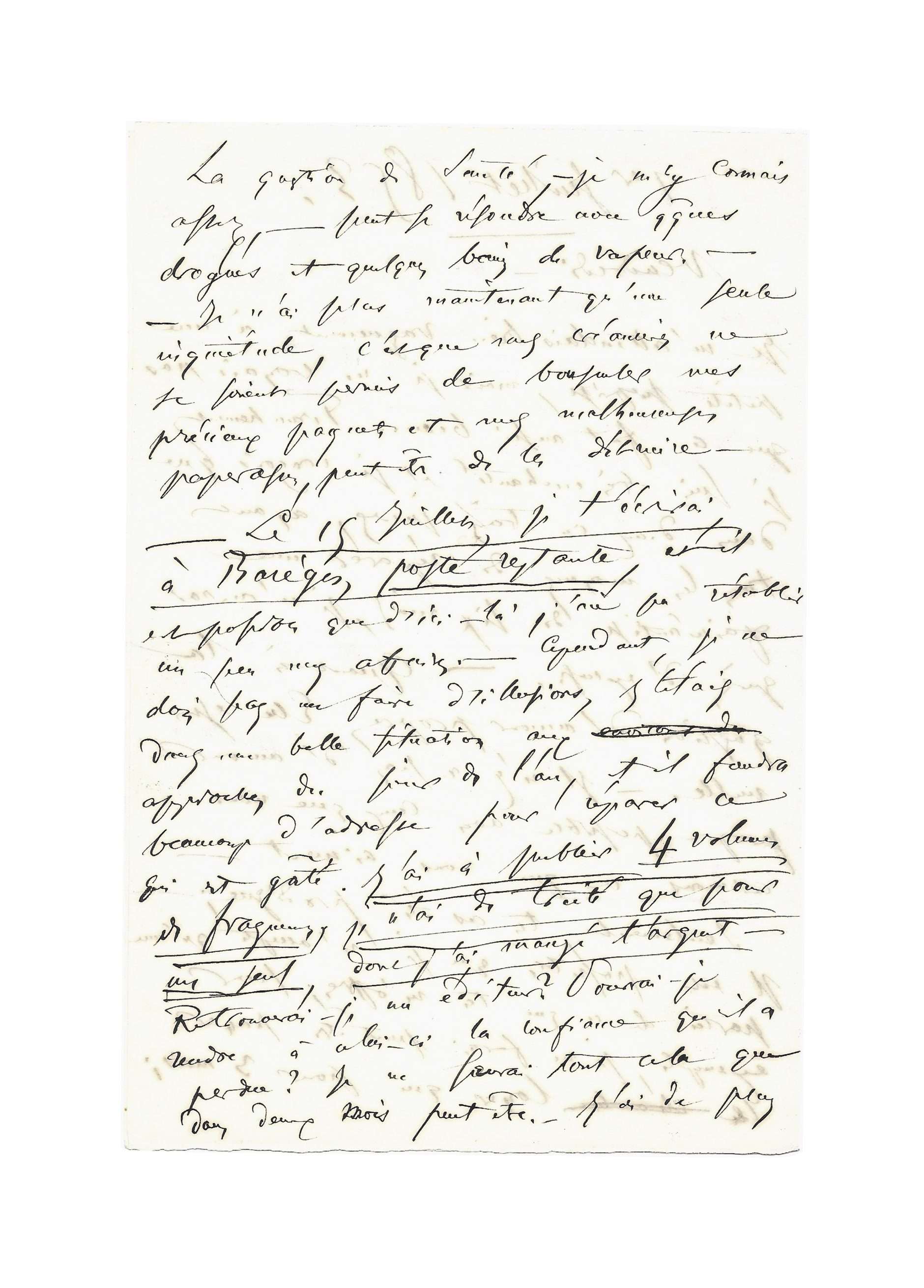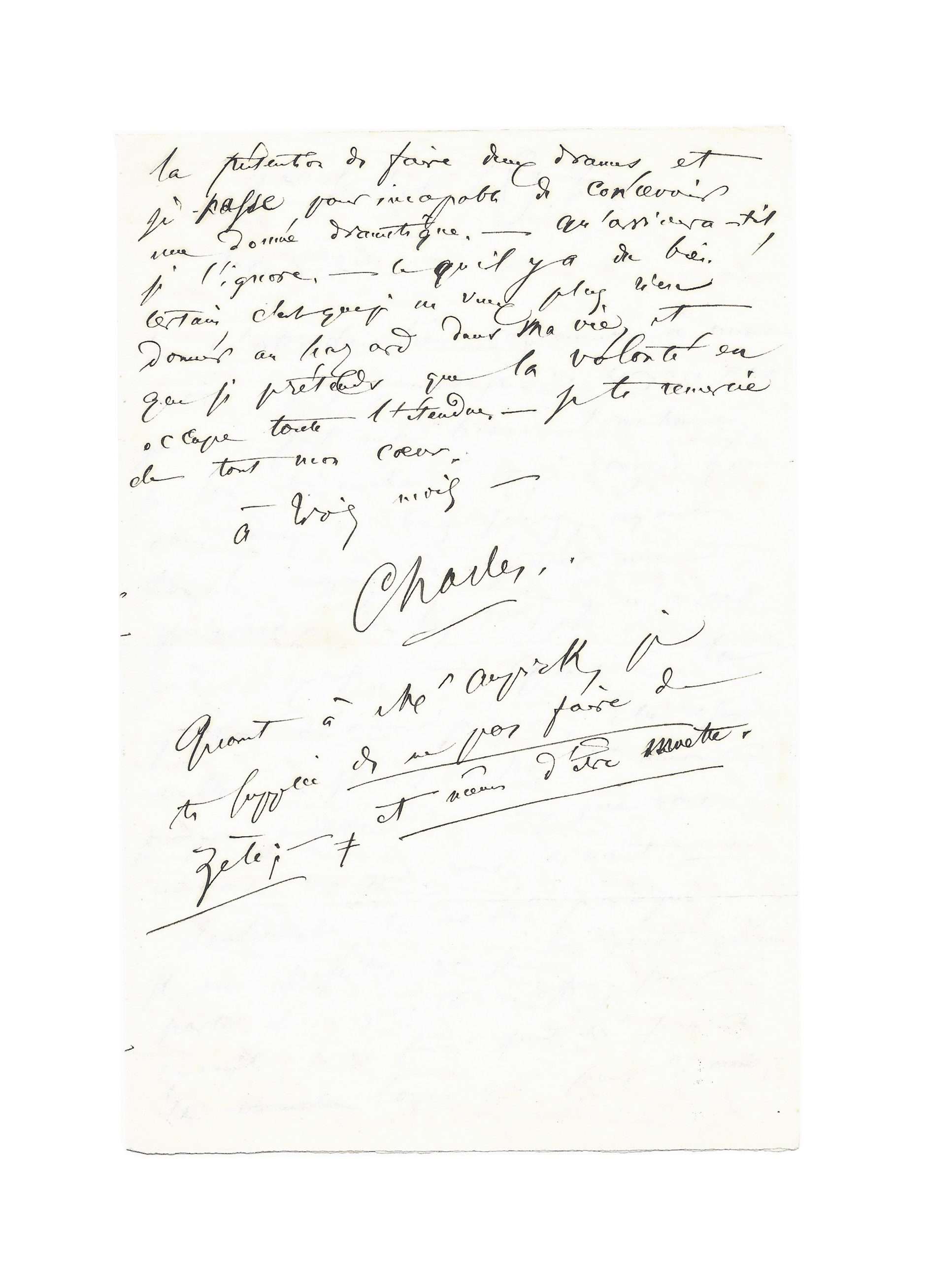 Fact sheet
BAUDELAIRE, Charles (1821-1867)
Autograph letter signed « Charles » to his mother, Madame Aupick
[Paris], 1st July 1853, 3 p. in-8°
Small tape repair on broken wax seal, without affecting the text
Remarkable introspective letter to his mother in which he develops on will, cornerstone of the Baudelairian creation
---
« Vendredi –
Je m'attendais bien vaguement à une petite surprise, mais je ne croyais pas que ce fût aussi beau. – Franchement, je suis très enchanté, et je conçois que dans deux ou trois jours, ayant tous les moyens de réparer une fainéantise de six mois, je n'aurai guère d'excuses.
– Quant à la question d'amour-propre, elle est nulle. – Il n'y a pas d'amour-propre possible avec ceux que nous aimons et qui nous aiment. –
Seulement, tu as été prodigue ; – il est possible que je n'accepte qu'une partie de ce que tu m'offres ;par exemple, je ne ferai peut-être payer la chambre le loyer que pour trois mois ; la question de santé, – je m'y connais assez, – peut se résoudre avec quelques drogues et quelques bains de vapeurs.
– Je n'ai maintenant plus qu'une seule inquiétude, c'est que mes créanciers ne se soient permis de bousculer mes précieux paquets et mes malheureuses paperasses, peut-être de les détruire. –
– Le 15 juillet, je t'écrirai à Barèges, poste restante, [ville d'eau et lieu de villégiature du couple Aupick] et il est possible que d'ici là j'aie pu rétablir un peu mes affaires. – Cependant, je ne dois pas me faire d'illusions, j'étais dans une belle situation aux approches du jour de l'an, et il faudra beaucoup d'adresse pour réparer ce qui est gâté.
J'ai à publier quatre volumes de fragments, je n'ai de traité que pour un seul, dont j'ai mangé l'argent. – Retrouverai-je un éditeur ? Pourrai-je rendre à celui-ci la confiance qu'il a perdue ? Je ne saurai tout cela que dans deux moi peut-être. – J'ai de plus la prétention de faire deux drames [La Fin de Don Juan et L'Ivrogne], et je passe pour incapable de concevoir une donnée dramatique. – Qu'arrivera-t-il, je l'ignore. – Ce qu'il y a de bien certain, c'est que je ne veux plus rien donner au hasard dans ma vie, et que je prétends que la volonté en occupe toute l'étendue. – Je te remercie de tout mon cœur.
À trois mois.
Charles
Quant à Monsieur Aupick, je te supplie de ne pas faire de zèle, – et même d'être muette. »
---
We know in what financial situation Baudelaire spent much of his life. Thus he solicited his mother on numerous occasions, with whom he had a fusional relationship. This letter follows a more generous sending than usual to help him, which is not customary.
By evoking the publication of "four volumes of fragments", Baudelaire has clear editorial ambitions: He wishes to bring together critics in different newspapers and magazines that he has previously published to make books. It is not excluded that he also thinks of The Flowers of Evil.
He then refers to projects for the theater; indeed, he did not dream exclusively of himself as a poet, as he recalls in My Heart laid bare:
"As a child, I wanted to either be pope, but a military pope, or an actor.
The pleasure I derived from these two hallucinations."
However, Baudelaire had little illusion about his talent: "I pass for incapable of conceiving a dramatic piece". It thus detaches itself from a certain bovarysm. The fact remains that if poetry is not theater, we can detect some theatricality in his work, as Roland Barthes explains in his introduction to the "Théâtre de Baudelaire" (1964): "This powerful theatricality is only in trace state in Baudelaire's projects, while it largely runs the rest of the Baudelairian work. It is as if Baudelaire had put his theater everywhere, except precisely in his theater projects. »
Finally, the poet, far from attributing this difficulty to chance, seeks to escape it. The whole is thus based on the "will", the keystone of his conception of creation. "Paysage", in The Flowers of Evil (second edition, 1861), the first poem in the "Tableaux parisiens" section, praises it, by a quasi-sacralization of the creative will. Witness the incipit: "I want" and the lines "For I will be immersed in this voluptuousness, / To evoke Spring with my will", which lead the entire poem. Baudelaire makes creation a divine mission.
In postscript, Baudelaire also alludes to what allows us to hypothesize a perspective of appeasement of his relations with his father-in-law.
Bibliography:
Revue de Paris, 1er septembre 1917
Baudelaire, Correspondance, éd. Pichois, Pléiade, t. I, p. 228-229
Provenance:
Armand Godoy collection, catalogue n°45