[BAUDELAIRE] VERLAINE, Paul (1844-1896)
Autograph letter signed twice « Paul Verlaine » to Léon Deschamps
Paris, 23rd August 1892, 3 p. in-12° on bi-folio
« Baudelaire was my dearest fanaticism and is, that is to say, will remain one of my greatest admiration »

EUR 3.900,-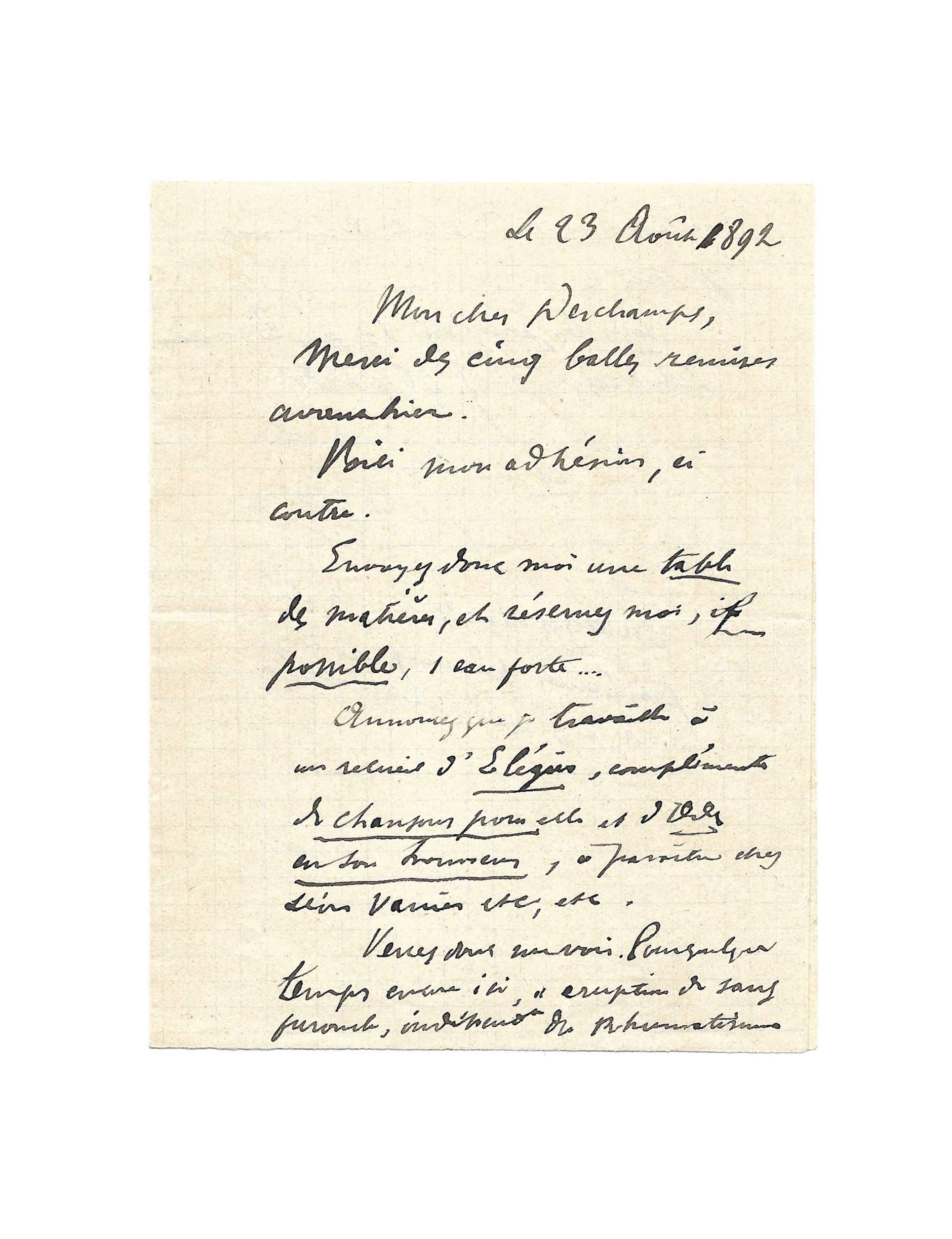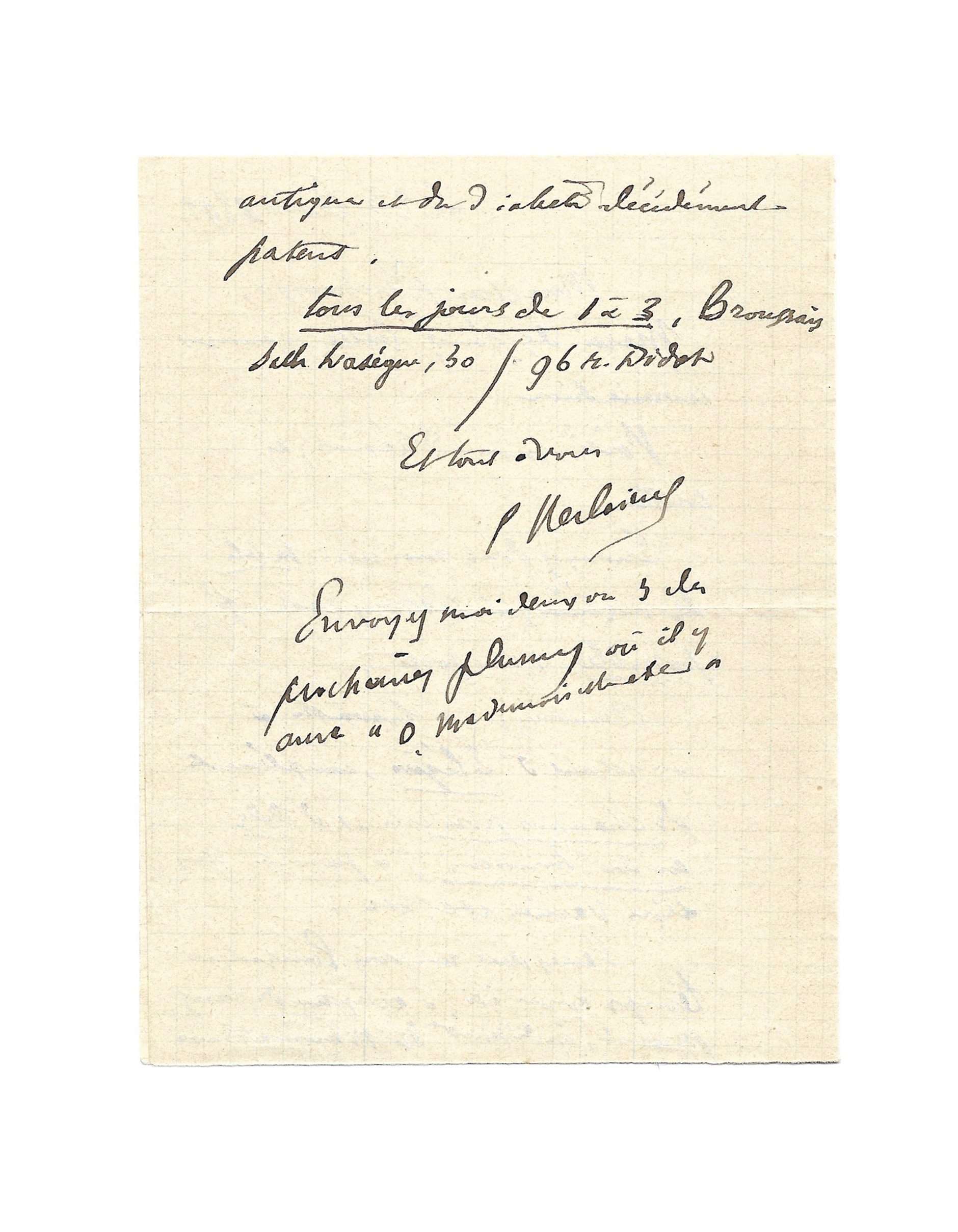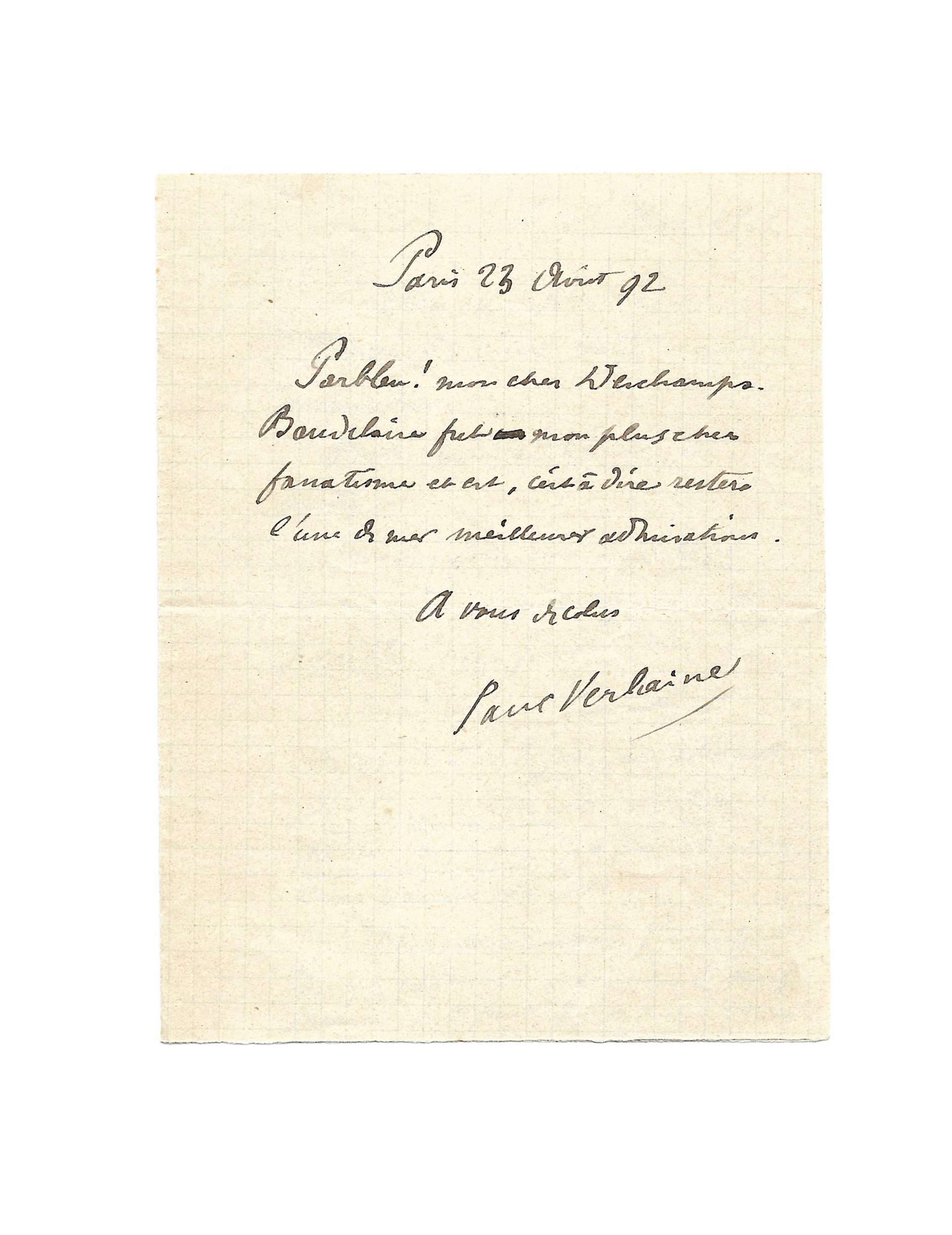 Fact sheet
[BAUDELAIRE] VERLAINE, Paul (1844-1896)
Autograph letter signed twice « Paul Verlaine » to Léon Deschamps
Paris, 23rd August 1892, 3 p. in-12° on bi-folio
Perfect condition
"Double letter" in which the poet subscribes to a monument in tribute to Baudelaire
---
« Mon cher Deschamps, merci des cinq balles remises avant-hier.
Voici mon adhésion, ci-contre.
Envoyez donc moi une table des matières, et réservez-moi, if possible, 1 eau forte…
Annoncez que je travaille à un recueil d'Élégies, compléments de Chansons pour elle et d'Odes en son honneur, à paraître chez Léon Vanier etc, etc.
Venez donc me voir. Pour quelque temps encore ici, éruption de sang, furoncle, indépendant du rhumatisme antique et du diabète décidément patent.
Tous les jours de 1 à 3, Broussais salle Lasègue, 30 / 96 rue Didot.
Et tout à vous
P. Verlaine
Envoyez-moi deux ou 3 des prochaines plumes où il y aura « O mademoiselle etc. »
« Paris 23 avril 92
Parbleu ! mon cher Deschamps. Baudelaire fut mon plus cher fanatisme et est, c'est-à-dire restera l'une de mes meilleures admirations.
A vous de cœur
Paul Verlaine »
---
On August 1, 1892, Léon Deschamps (1863-1899), editor-in-chief of La Plume, launched a subscription for a monument to Baudelaire. Rodin agreed to execute the work, as a medallion or bust.
Verlaine agreed to participate in the subscription, despite his eternal financial worries. He adds in the letter to be working on his new poem collection Élégies (1893), a supplement to Chansons pour Elle (1891) and Odes en son honneur (1893), all collections inspired by his stormy and passionate relationships with his mistresses Philomène Boudin and Eugénie Krantz.
However, as early as September, Ferdinand Brunetière (1849-1906), defender of rationalist classicism of the seventeenth century and ardent opponent of the literary schools of his time, castigated the project in the Revue des deux mondes. The controversy lasted several months, finally causing the project to fail.
« Baudelaire was my dearest fanaticism »
We know Verlaine's unwavering admiration for Baudelaire. Although he never met his idol, the very young poet, 23 years old at the time, was- part of the famous funeral procession of September 2, 1867.
He wrote two articles about the event: one published the day after the funeral; the other, in the form of an "op-ed," for La Plume for 19 Oct. 1890.
Reference:
Le Figaro Littéraire – 7 avril 1923, by Armand Lods (not published in-extenso)