BERLIOZ, Hector (1803-1869)
Autograph letter signed "Hector Berlioz" to his brother in law Camille Pal
N.p, 13th July 1860, 2 p. 1/2 in-8
"If God lends us a few more months of life, we will launch this great ship"
SOLD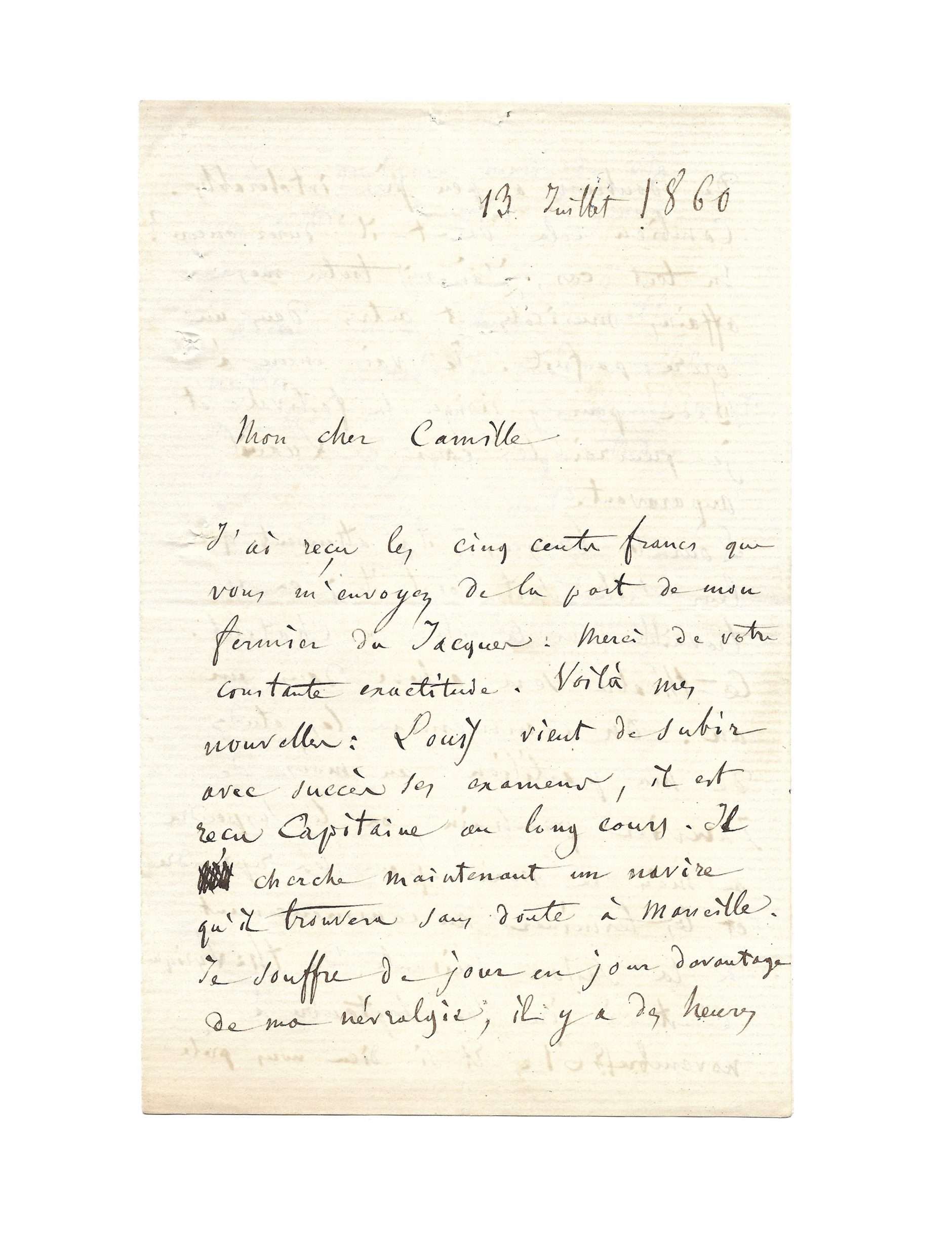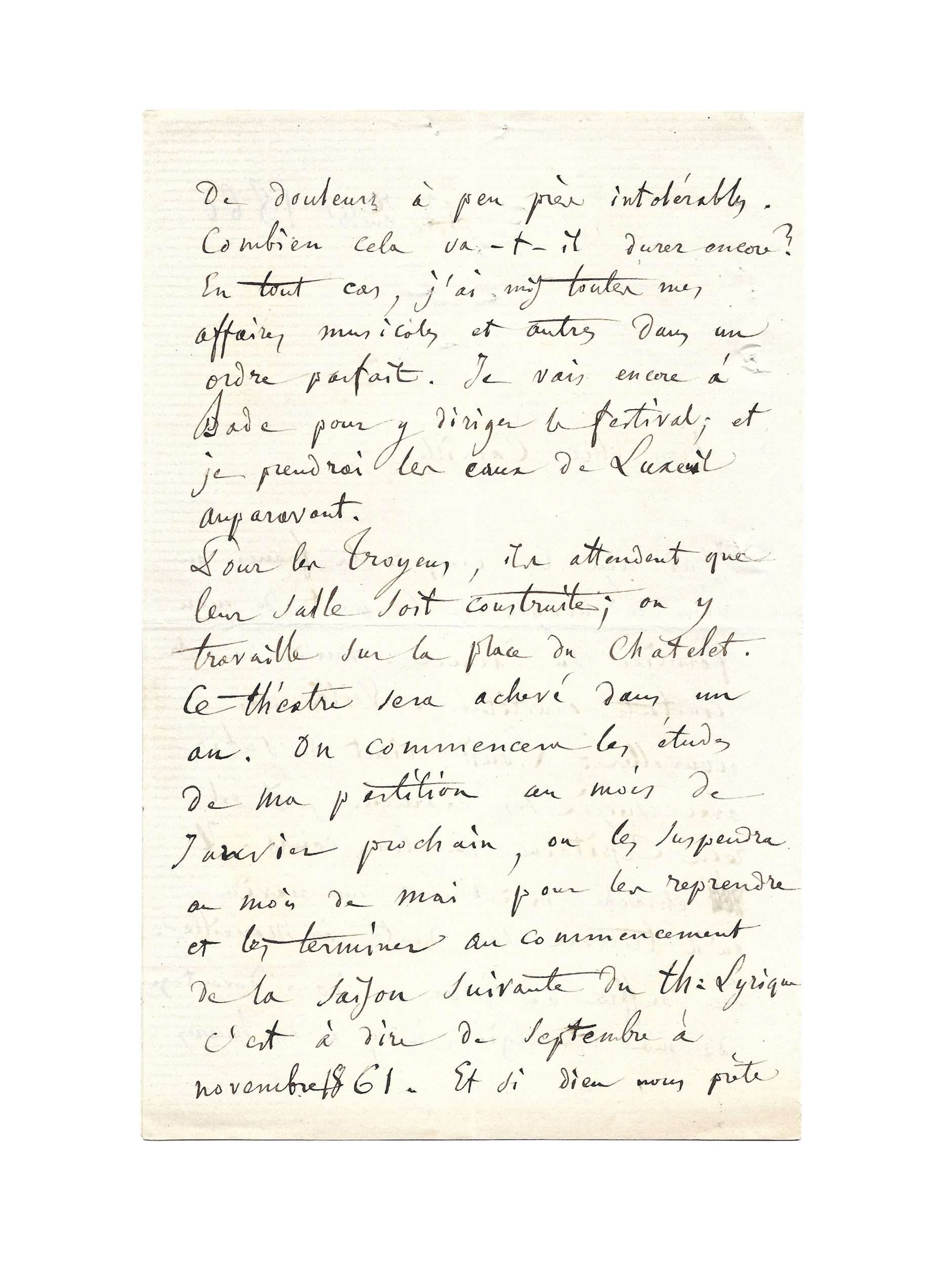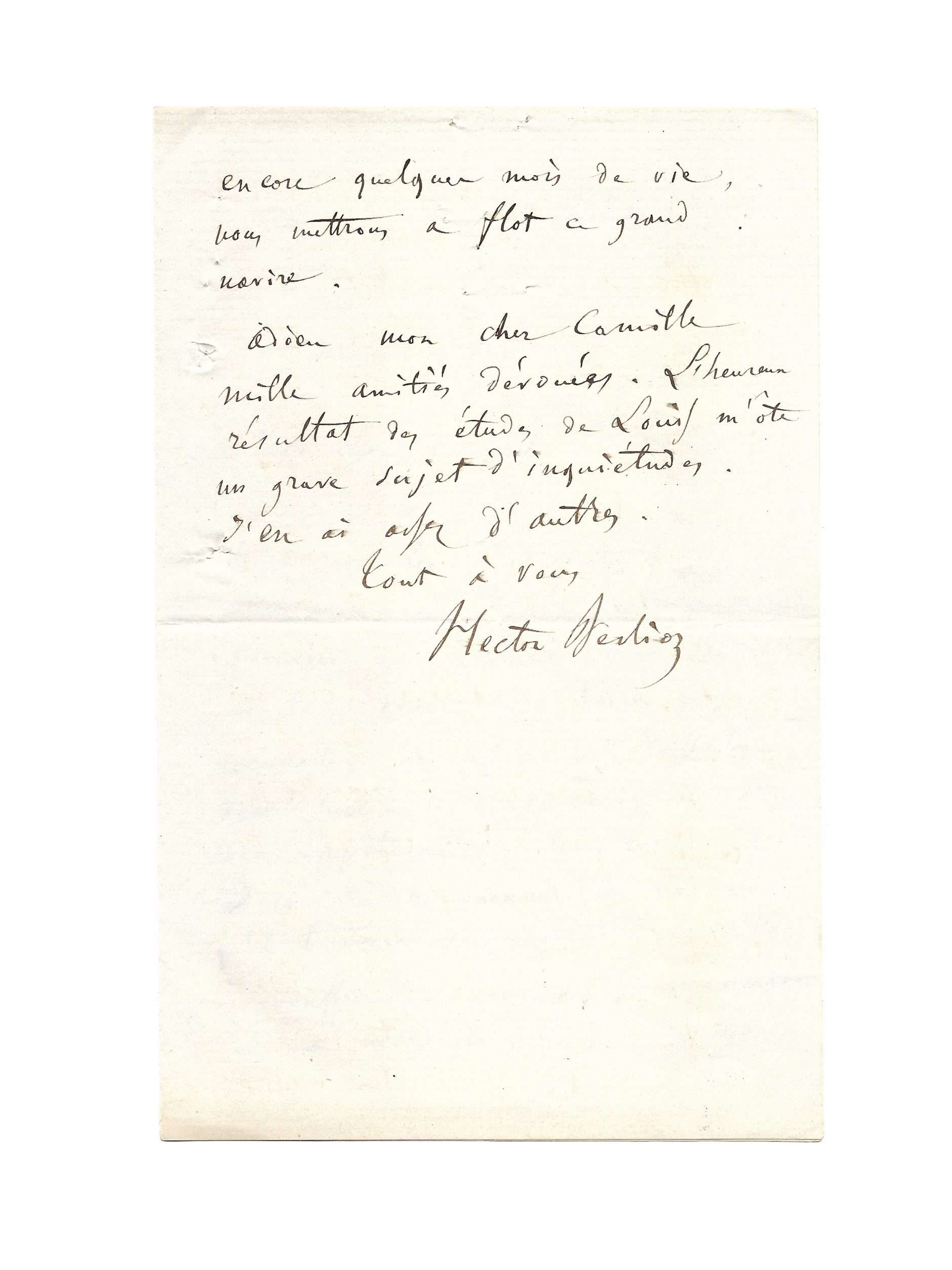 Fact sheet
BERLIOZ, Hector (1803-1869)
Autograph letter signed "Hector Berlioz" to his brother in law Camille Pal
N.p, 13th July 1860, 2 p. 1/2 in-8
Few pinholes without affecting the text, usual period fold marks
Beautiful letter from Berlioz on the preparations of Les Troyens
---
"Mon cher Camille
J'ai reçu les cinq cents francs que vous m'envoyez de la part de mon fermier du Jacques. Merci de votre constante exactitude. Voilà mes nouvelles : Louis vient de subir avec succès ses examens, il est reçu Capitaine au long cours. Il cherche maintenant un navire qu'il trouvera sans doute à Marseille.
Je souffre de jour en jour davantage de ma névralgie, il y a des heures de douleurs à peu près intolérables. Combien cela va-t-il durer encore ? En tout cas, j'ai mis toutes mes affaires musicales et autres dans un ordre parfait. Je vais encore à Bade pour y diriger le festival ; et je prendrai les eaux de Luxeuil auparavant.
Pour les Troyens, ils attendent que leur salle soit construite ; on y travaille sur la place du Chatelet. Ce théâtre sera achevé dans un an. On commencera les études de ma partition au mois de Janvier prochain, on les suspendra au mois de mai pour les reprendre et les terminer au commencement de la saison suivante du Th. Lyrique c'est-à-dire de septembre à novembre 1861. Et si dieu nous prête encore quelques mois de vie, nous mettrons à flot ce grand navire.
Adieu mon cher Camille
Mille amitiés dévouées. L'heureux résultat des études de Louis m'ôte un grave sujet d'inquiétudes.
J'en ai assez d'autres.
Tout à vous
Hector Berlioz"
---
Pinnacle of the operatic repertoire, the five-act opera Les Troyens is the largest and most ambitious of all Hector Berlioz's creations. The culmination of his creative abilities and the convergence of all the major influences, literary as well as musical, that formed his artistic personality. Of all his great works he was also the one which took the longest time to mature.
Inspired by Virgil's Aeneid, Les Troyens was given for the first time, mutilated in many ways — the first two acts deleted, various pieces also cut, all being presented under the title Les Troyens à Carthage — on November 4, 1863 at the Théâtre lyrique in Paris (now Théâtre de la Ville Place du Châtelet). The first complete of Les Troyens in a single evening was not given until February 6, 1920, at the Théâtre des Arts in Rouen.
Born in 1834, Louis Berlioz made a career as a sailor: a novice at sixteen on a three-masted ship, he moved to the National Navy, then to the Maritime Messengers and the Transatlantic General Company. By the time he was thirty, he had become a great captain. His untimely death in Havana in 1867 from yellow fever interrupted a career that had become brilliant; Being the son of a great composer like Hector Berlioz was not easy. Louis suffered from the separation of his parents, the absence of his father and the harshness of his career.