CASANOVA DE SEINGALT, Giacomo (1725-1798)
Autograph letter signed « Casanova » to Eusebio della Lena
Duchcov Castle in Bohemia, 11th June 1796, 3 pp. in-4° in italian
"What surprises me and seems difficult to believe is that this Buonaparte is a 26-year-old and Corsican, like Salicetti. Two prostitutes would have conquered all of Italy"

SOLD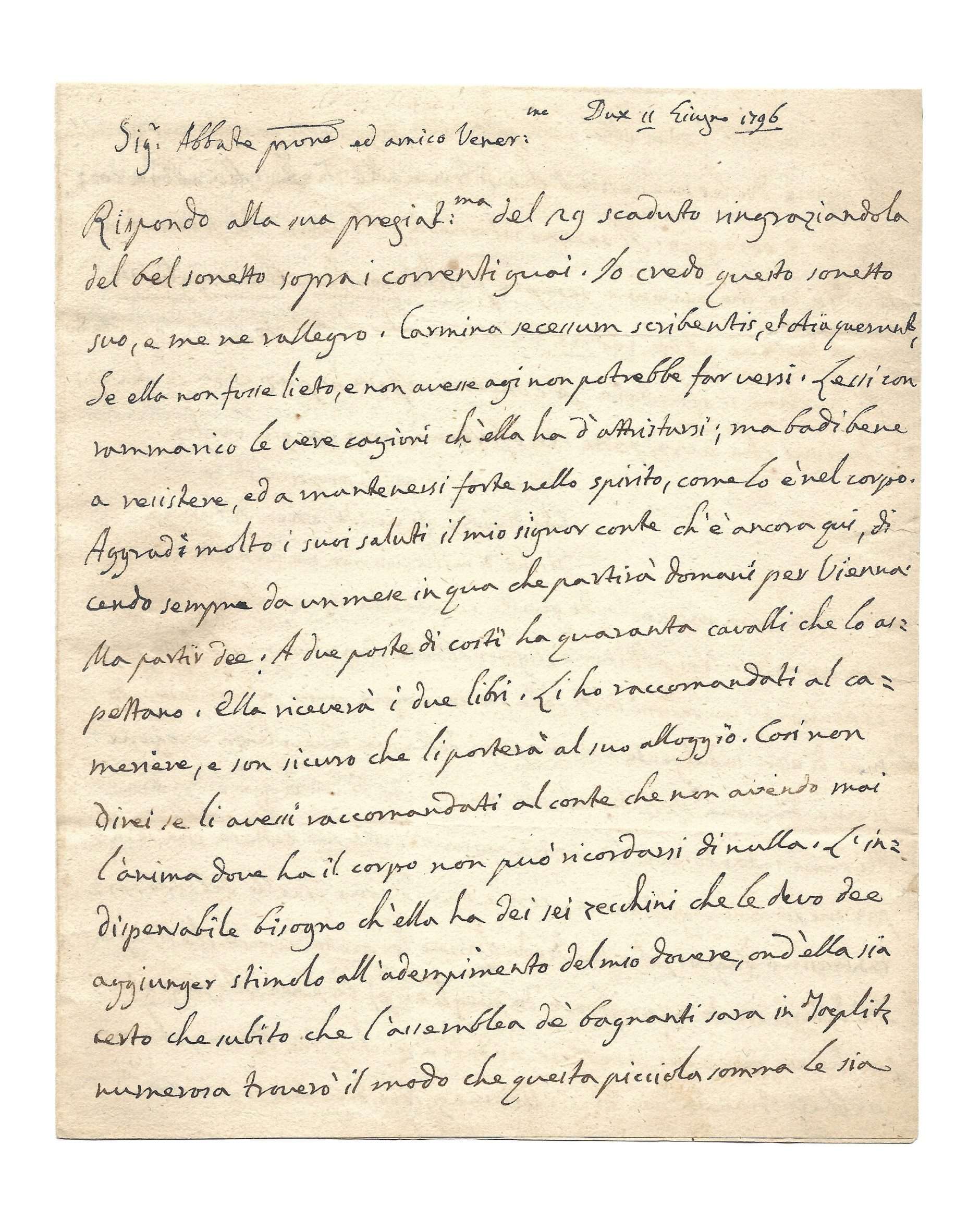 Fact sheet
CASANOVA DE SEINGALT, Giacomo (1725-1798)
Autograph letter signed « Casanova » to his friend l'abbé Eusebio della Lena
Duchcov Castle in Bohemia, 11th June 1796, 3 pp. in-4° in italien, black wax seal and autograph address on 4th folio
Period fold marks
Remarkable letter which remained unpublished
In addition to the literary interests it reveals about the Venetian adventurer, the latter engages in resolutely anti-French comments, and more particularly on the presence of the young Napoleon Bonaparte, then in the middle of the Italian campaign of the French Revolutionary Wars, compared to a "prostitute" invader of the peninsula
---
[Original text in italian]
Aggradi oltro i suoi saluti il mio signor conte ch'e ancora qui, dicendo sempre da un mese in qua che partira domani per Vienna. Ma partir de[v]e: A due poste di corti ha quaranta cavalli che lo aspettano. Ella ricevera i due libri, Li ho raccomandati al cameriere, e son sicuro che li portera al suo alloggio. Cosi non direi se li avessi raccomandati al conte che non avendo mai l'anima dove ha il corpo non puo ricordarsi di nulla […] Non lice che il giglio in quel terreno abbia radice […] Roma christiana non fu mai tanto maltratta da At[t]ila, e da altri barbari come lo fu da cristiani, ma ora questi atei avrebbero gettato a terra Christo in sacramento per forgli un tabernacolo d'argento. Avvrebbero portato via non solo statue, ma tutti i musei: avrebbero spogliato gli altari come fecevo in Anversa, ed avvrebbero forse condotto il papa in trionfo a Parigi, o lo avvrebbero Dio sa in che guisa obbrobrisamente disonorato […] Cio che mi sorprende e che non mi sembre vero, a che quel Buonaparte e un giovine di 26 anni, come il Salicetti ambi Corsi. Due bardasse avranno conquistata tutta l'Italia […] Casanova
[Translation]
Accept greetings from my master, the Count [de Waldstein], who is still here while saying every day for a month that he will leave tomorrow for Vienna. But he will have to leave: two stints from here he has forty riders waiting for him. You will receive two books. I have entrusted them to the valet de chambre and am assured that he will bring them to your home. So I did not have to recommend them to the Count who never has the soul where he has the body and who can not remember anything […]We do not allow the lily to take root in any land […]Christian Rome was never as mistreated by Attila and other barbarians as it was by Christians; but today these atheists would have thrown Christ on the ground in sacrament to seize a tabernacle of money. They would have taken away not only the statues but all the museums; they would have stripped the altars as they did in Antwerp and perhaps have led the pope in triumph to Paris or would have, God knows in what way, ignominiously dishonored. […]What surprises me and seems difficult to believe is that this Buonaparte is a 26-year-old and Corsican, like Salicetti. Two prostitutes would have conquered all of Italy […] Casanova
---
The friendship between the two men dates back at least to the year 1783, in Venice, where della Lena, himself a bibliophile, also shared with Casanova the passion for the gamble.
Three letters from Casanova addressed to della Lena (besides this one) were published in Pompeo Molmenti's Carteggi, published in 1916.
At the time this letter was written, the Italian Campaign was only in its infancy (it began on 24 March 1796). The offensive was no less striking: the battles of Montenotte, Millesimo, Dego, Mondovi and the bridge of Lodi, among others, were all won by the armies of the young general.
Christophe Salicetti (1757–1809) was a French politician. In January 1796, he was appointed commissary of the Army of Italy, where he played a role with Napoleon Bonaparte. 
In October 1797, he contributed to the reconquest of Corsica and the reorganization of the two departments that divided the island.
Napoleon will say of him : « Saliceti, on days of danger, was worth a hundred thousand men! »
Casanova's letters are of great rarity. This one, in which the adventurer indulges without restraint on his anti-Bonapartist sentiment, is all the more precious