CASSATT, Mary (1844-1926)
Autograph letter signed « Mary Cassatt » to Achille Segard
Villa Angeletto – Grasse, 14th April [1913], 6 p. in-8° on mourning paper
« And then I wanted to be such a great painter, Titian or Rembrandt, just that… »
EUR 18.000,-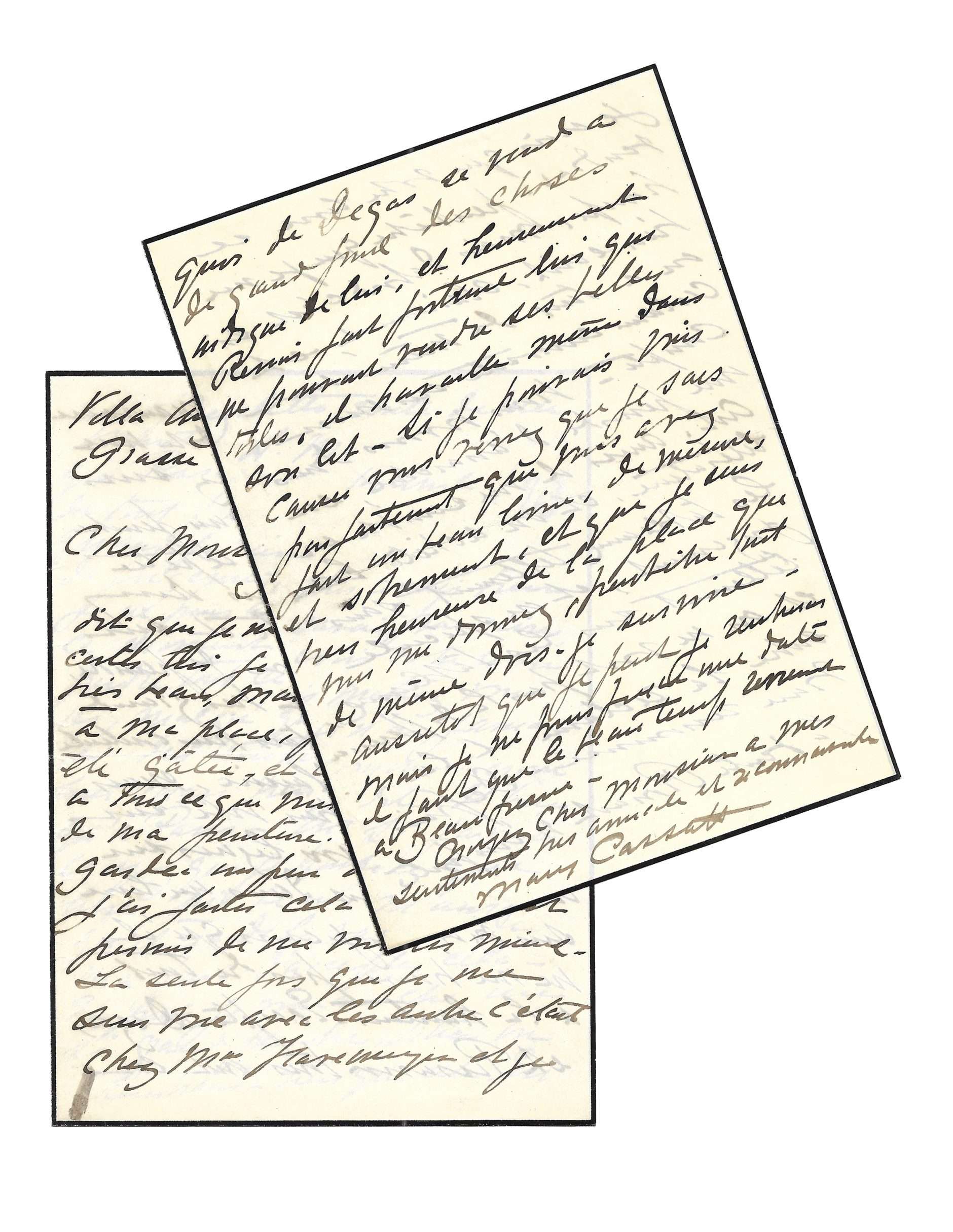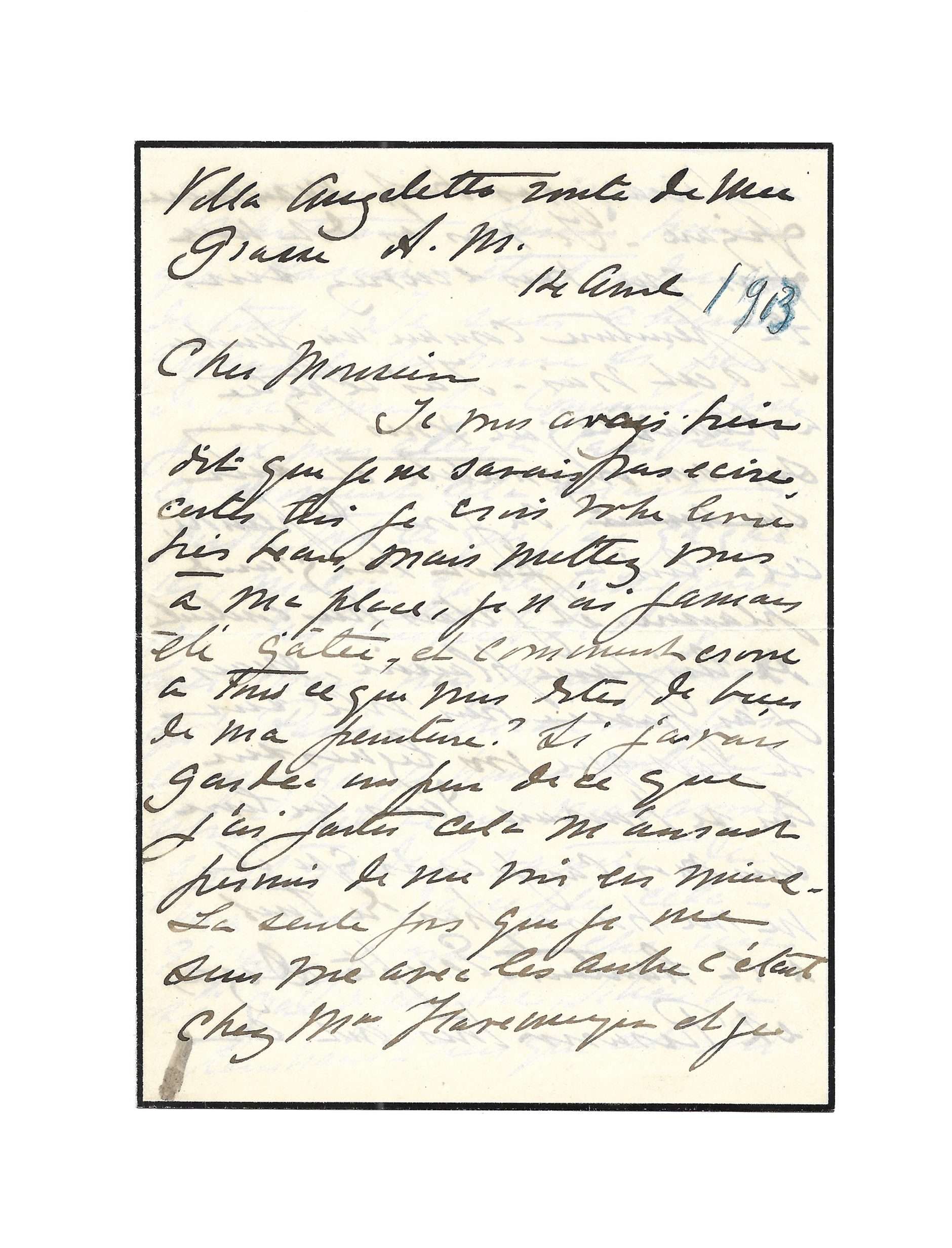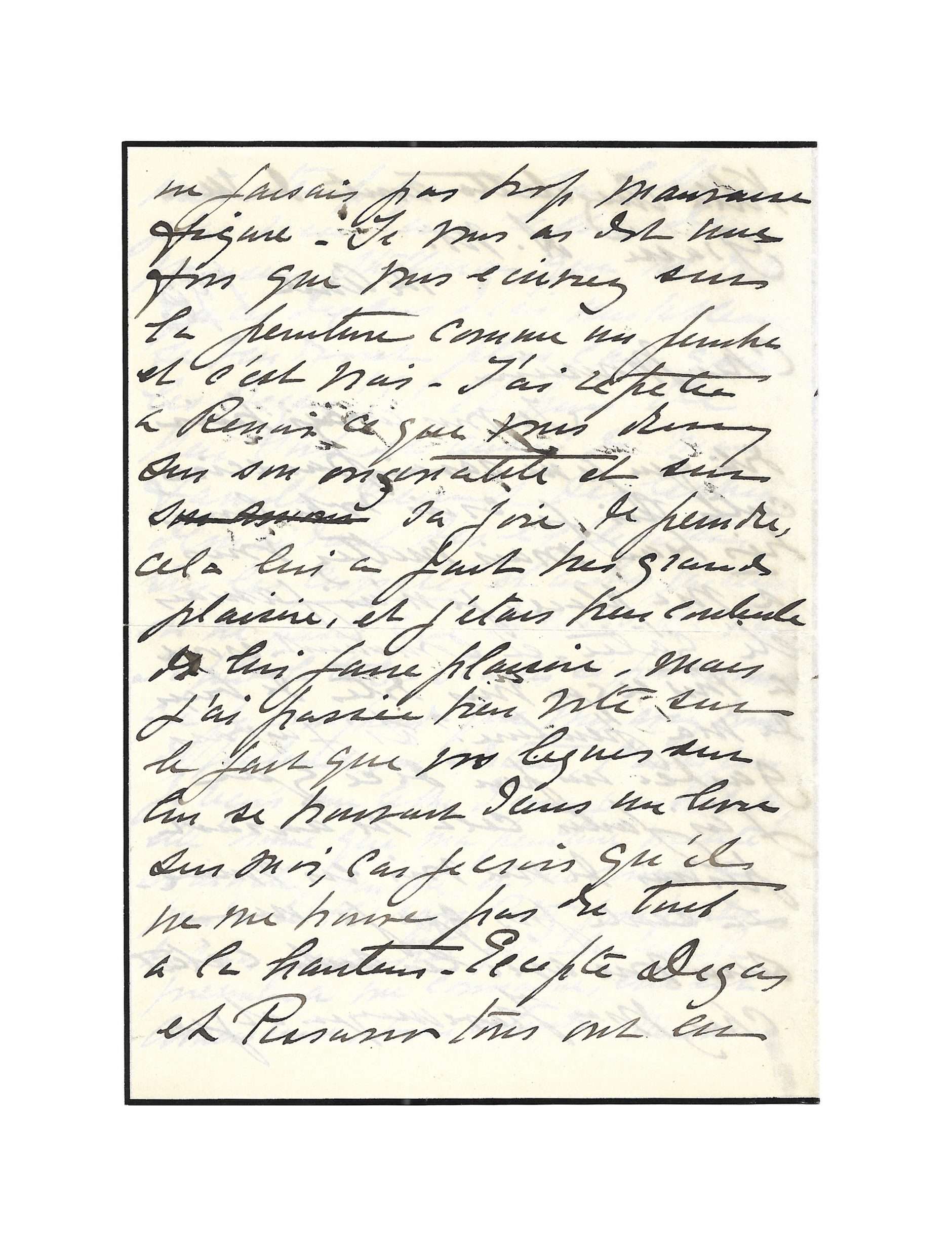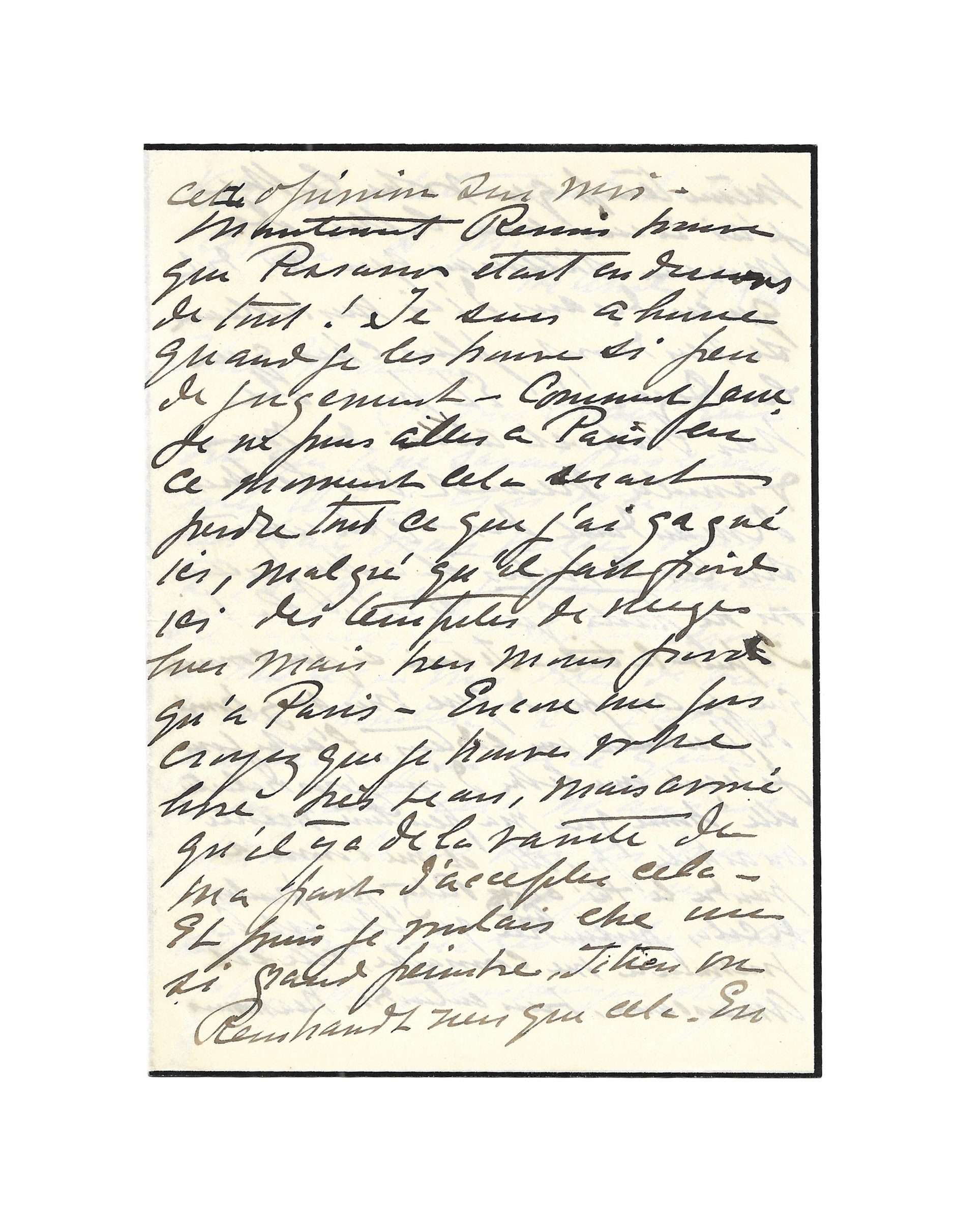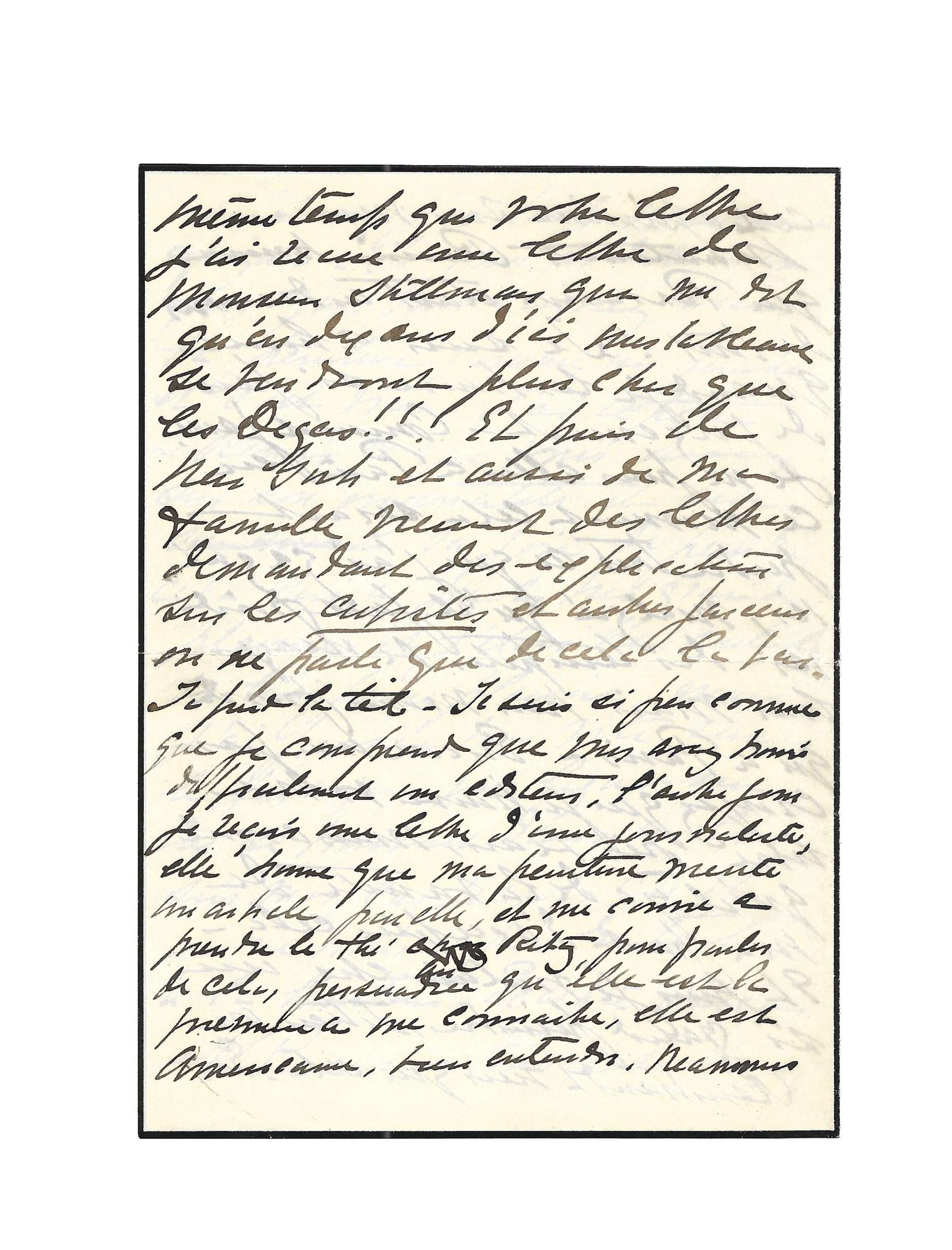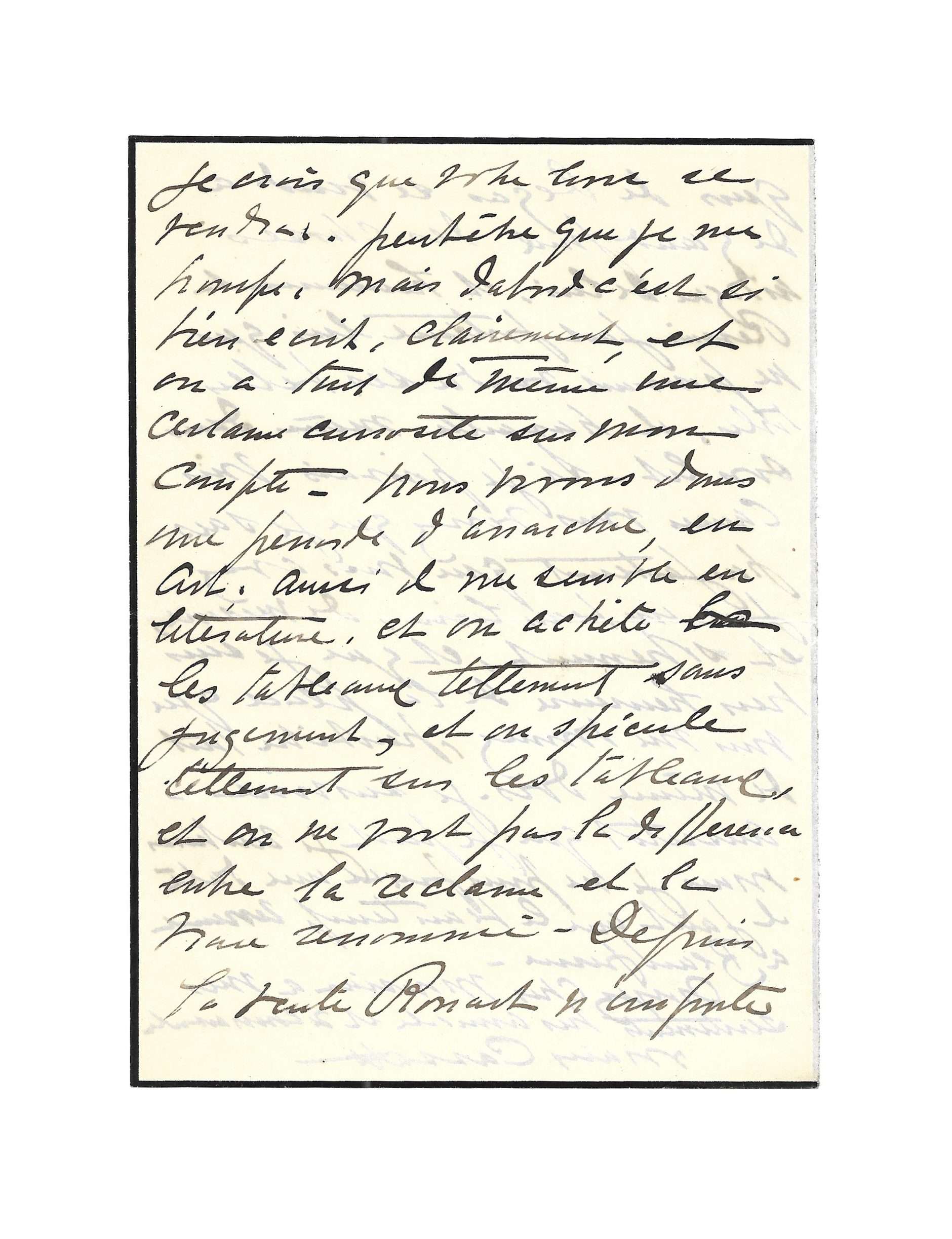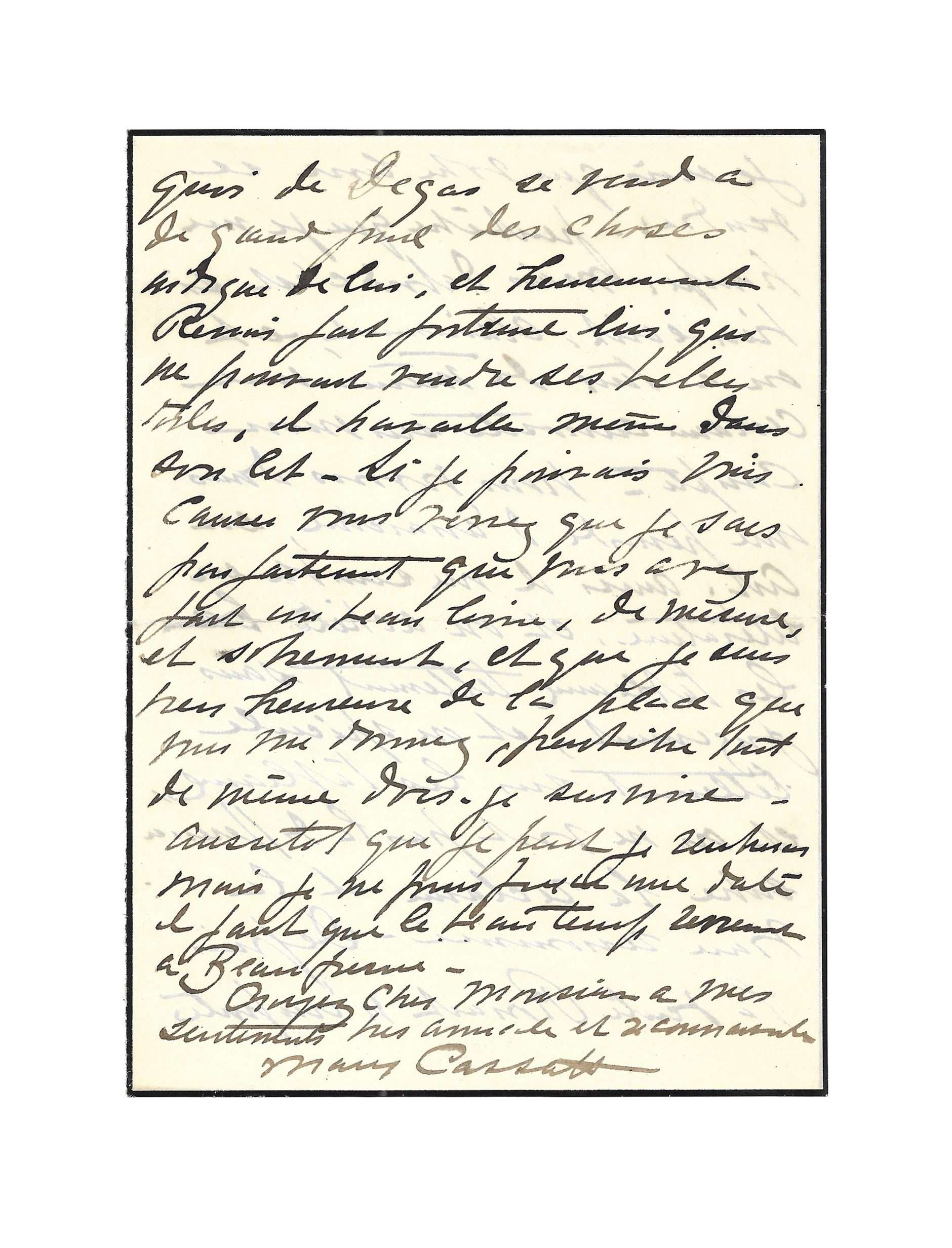 Fact sheet
CASSATT, Mary (1844-1926)
Autograph letter signed « Mary Cassatt » to Achille Segard
Villa Angeletto – Grasse, 14th April [1913], 6 p. in-8° on mourning paper
Moving and precious letter from the American artist looking back on her entire career, her successes and regrets, in the light of the book dedicated to her – her first biography – that the art critic, Achille Segard, is about to publish
---
« Cher Monsieur, Je vous avais bien dit que je ne savais pas écrire. Certes oui je crois votre livre* très beau mais mettez-vous à ma place, je n'ai jamais été gâtée, et comment croire à tout ce que vous dites de bien de ma peinture ? Si j'avais gardé un peu de ce que j'ai fait, cela m'aurait permis de me voir en mieux. La seule fois que je me suis vue avec les autres, c'était chez Mme Havemeyer** et je ne faisais pas trop mauvaise figure. Je vous ai dit une fois que vous écriviez sur la peinture comme un peintre et c'est vrai. J'ai répété à Renoir ce que vous disiez sur son originalité et sur sa joie de peindre, cela lui a fait très grand plaisir, et j'étais bien contente de lui faire plaisire [sic], mais j'ai passée [sic] bien vite sur le fait que vos lignes sur lui se trouvai[en]t dans un livre sur moi, car je crois qu'il ne me trouve pas du tout à la hauteur.
Excepté Degas et Pissarro, tous ont eu cette opinion sur moi. Maintenant, Renoir trouve que Pissarro était en-dessous de tout ! Je suis ahurie quand je les trouve [sic] si peu de jugement – Comment faire. Je ne puis plus aller à Paris en ce moment cela serait perdre tout ce que j'ai gagné ici, malgré qu'il fait froid ici des tempêtes de neiges hier, mais bien moins froid qu'à Paris – Encore une fois, croyez que je trouve votre livre très beau, mais avoué [sic] qu'il y a de la vanité de ma part d'accepter cela. Et puis je voulais être un si grand peintre, Titien ou Rembrandt, rien que cela.
En même temps que votre lettre, j'ai reçue [sic] une lettre de monsieur Stillman*** qui me dit qu'en dix ans d'ici mes tableaux se vendront plus cher que les Degas !!! Et puis de New York et aussi de ma famille viennent des lettres demandant des explications sur les cubistes et autres farceurs, on ne parle que de cela là-bas. Je fais la tête – Je suis si peu connue que je comprends que vous avez trouvé difficilement un éditeur. L'autre jour, je reçois une lettre d'une journaliste, elle trouve que ma peinture mérite un article pour elle, et me convie à prendre le thé au Ritz, pour parler de cela, persuadée qu'elle est la première à me connaître, elle est américaine, bien entendu.
Néanmoins, je crois que votre livre se vendra. Peut-être que je me trompe, mais d'abord c'est si bien écrit, clairement, et on a tout de même une certaine curiosité sur mon compte. Nous vivons dans une période d'anarchie, en art ; aussi, il me semble en littérature, et on achète les tableaux tellement sans jugement, et on spécule tellement sur les tableaux, et on ne voit pas la différence entre la réclame et la vraie renommée – Depuis la vente Rouart**** n'importe quoi de Degas se vend à de grands prix, des choses indignes de lui, et heureusement Renoir fait fortune, lui qui ne pouvait vendre ses belles toiles, il travaille même dans son lit.
Si je pouvais vous causer, vous verrez que je sais parfaitement que vous avez fait un beau livre, de mesure, et sobrement, et que je suis très heureuse de la place que vous me donnez, peut-être tout de même dois-je survivre – Aussitôt que je peux je rentrerais mais je ne puis fixer une date il faut que le beau temps revienne à Beaufresnes*****. Croyez cher Monsieur à mes sentiments très amicals [sic] et reconnaissants. Mary Cassatt. »
---
Summoning the memory of her friends Renoir, Degas and Pissarro, Mary Cassatt returns over these lines with an open heart on her painting, her creative work, on the impressionists and this emerging art that she does not understand: Cubism
Spotted by Degas at the Salon of 1874, Cassatt – a rare female figure of Impressionism – was considered during her lifetime as the greatest American artist. The letter presented here, with testamentary accents, testifies to the creative twilight of the artist. Indeed, at the dawn of the year 1914, struck by cataracts, Cassatt had to give up painting definitively.
Reading the book that Segard dedicated to her, Cassatt was honored and humble: "How can I believe in all that you say well about my painting?" and evokes with disdain the emergence of the cubist current led by Picasso: "… Letters come asking for explanations about cubists and other pranksters. " and his misunderstanding of the cultural artistic world: "We live in a period of anarchy, in art; Also, it seems to me in literature. »
Like an overview of a life, the final inventory of an existence devoted to beauty, the American artist testifies with emotion to his place in the history of art: "And then I wanted to be such a great painter, Titian or Rembrandt, just that."
Mary Cassatt is one of the Three Great Ladies of Impressionism (according to the formula of Gustave Geoffroy) alongside Berthe Morisot and Marie Bracquemond.
* Un Peintre des enfants et des mères. Mary Cassatt. A. Segard. Ollendorff. Mai 1913
** Louisine Waldron, wife of the American industrialist Henry Havemeyer, who had begun with him one of the most important art collections in the world, and who from about 1889 had recourse to the advice of Mary Cassatt.
*** The American banker James A. Stillman, who, retired in Paris in 1909, asked Mary Cassatt to advise him on the enrichment of his art collection.
**** The collection of paintings and drawings by Henri Rouart was dispersed in two sales, on 16-18 December 1912 and 21-22 April 1913.
***** The Château de Beaufresnes, located in the commune of Mesnil-Théribus, was acquired by Mary Cassatt in March 1894.