CHATEAUBRIAND (de), François-René (1768-1848)
Autograph letter signed « Chateaubriand » to Laure de Cottens
Paris, 27 December 1832, 4 pp. in-4°
« I hoped to work in peace to my memories and never see again a homeland that is no longer one for me »
SOLD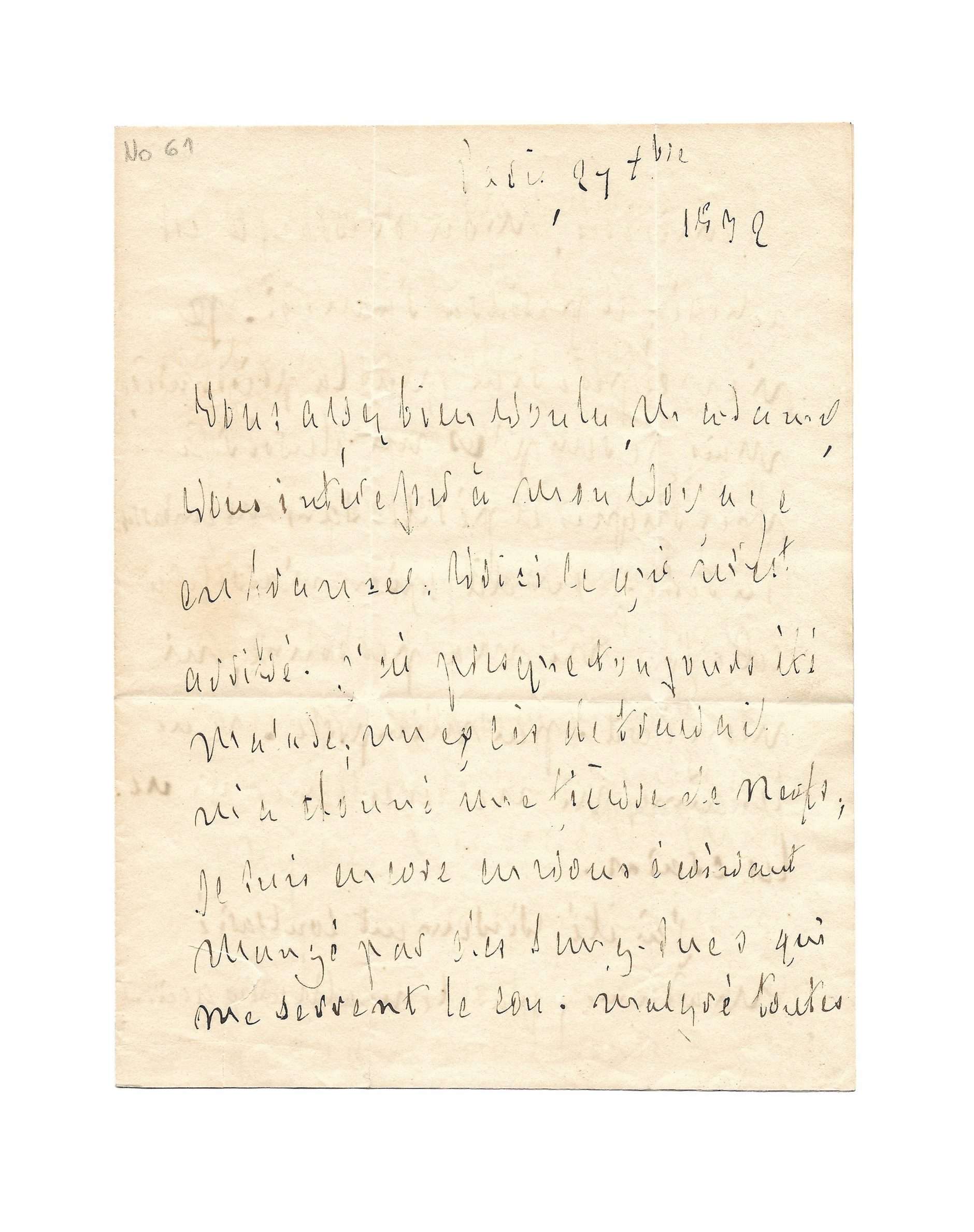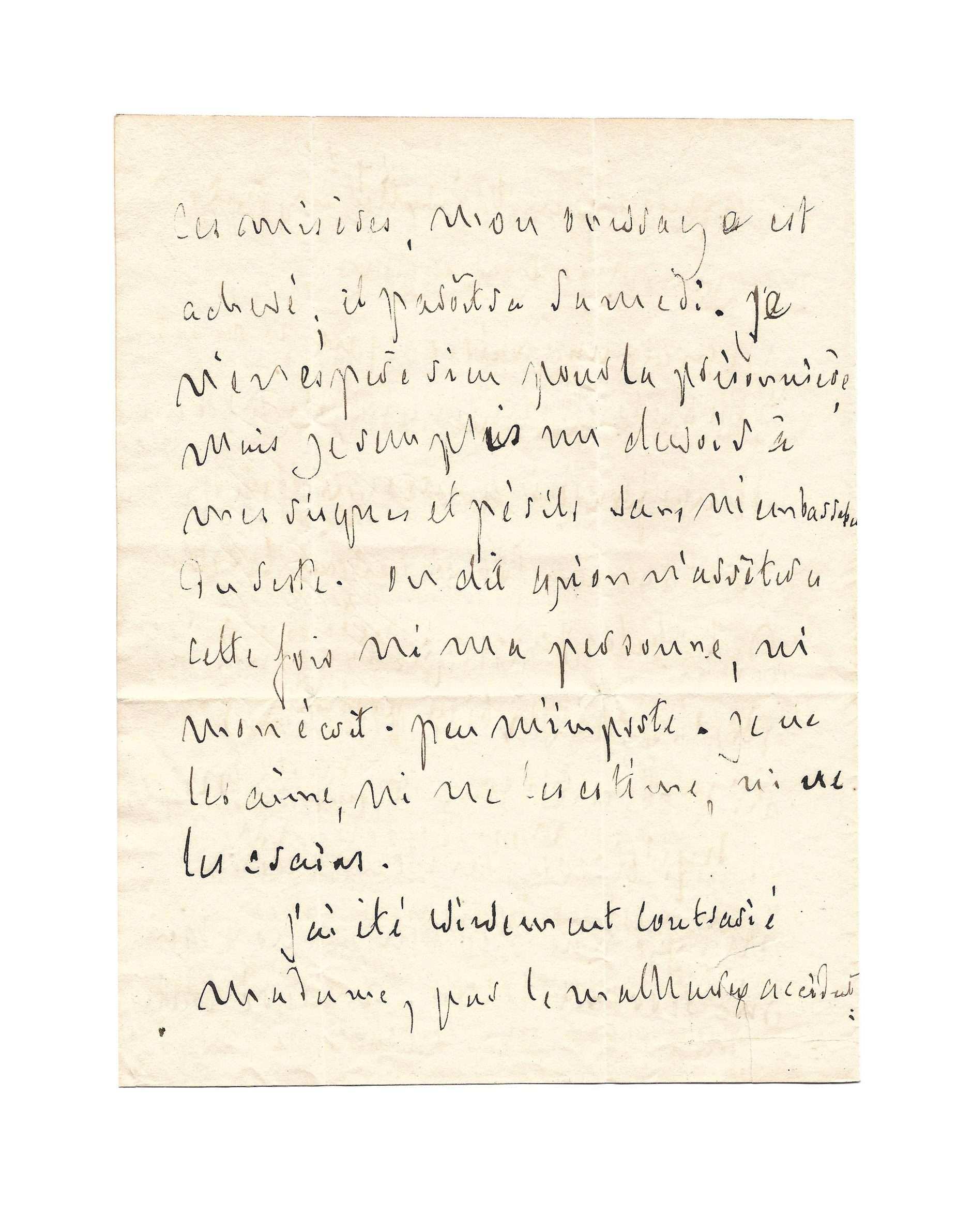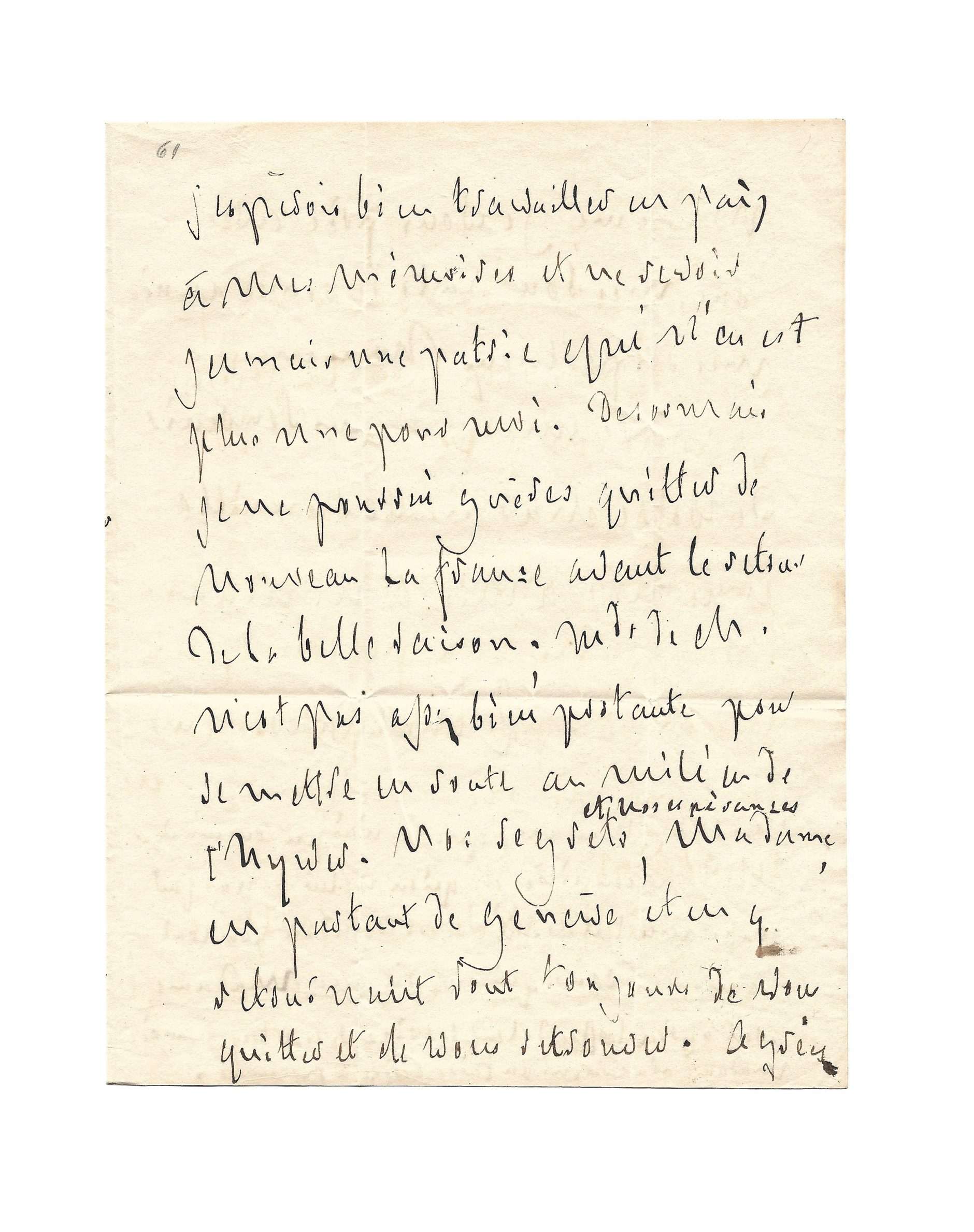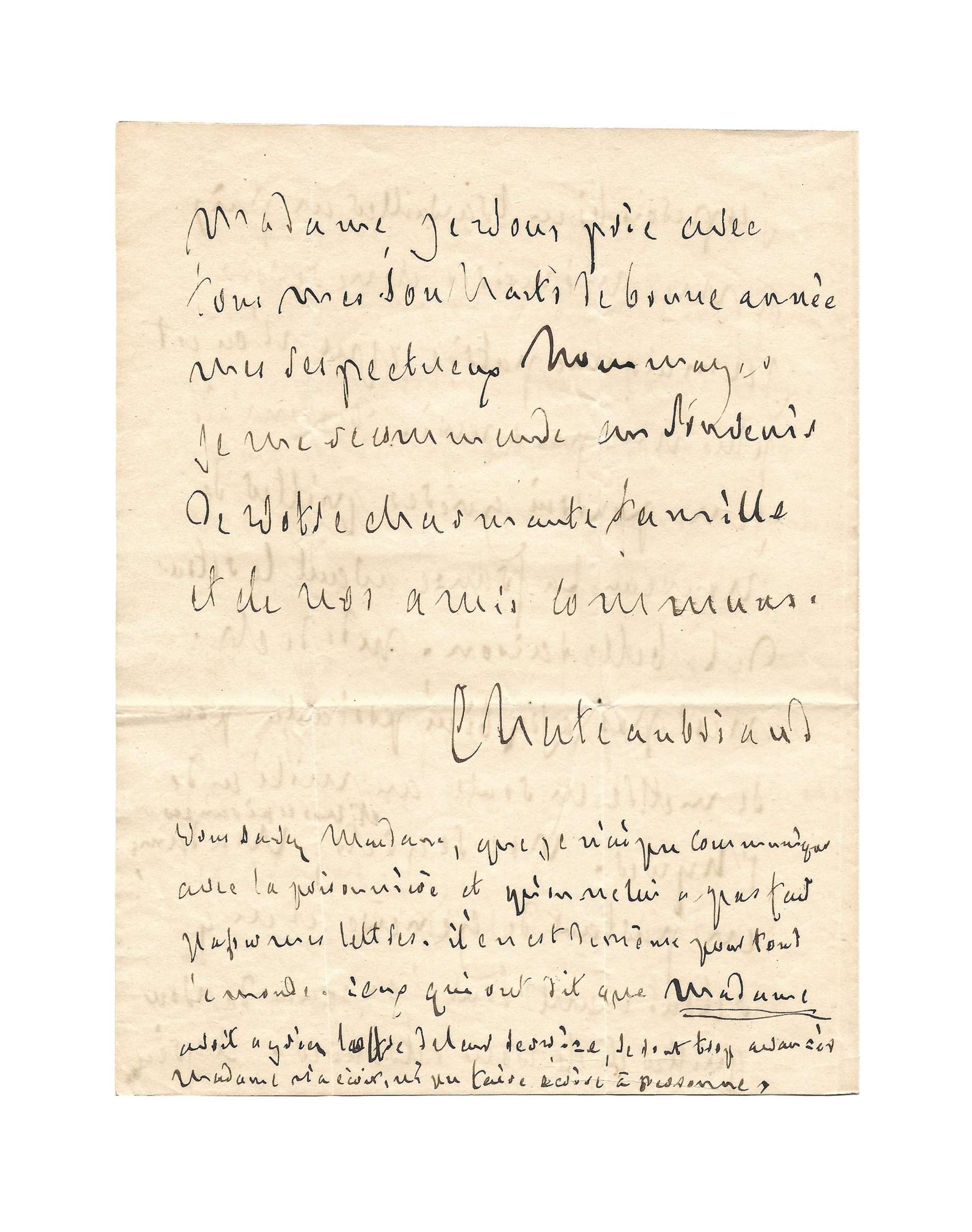 Fact sheet
CHATEAUBRIAND (de), François-René (1768-1848)
Autograph letter signed « Chateaubriand » to Laure de Cottens
Paris, 27 December 1832, 4 pp. in-4°
Tear on lower margin
Superb and long letter from Chateaubriand, with a disillusioned tone, evoking his famous Memoirs and the publication of his Mémoire sur la captivité de la Duchesse de Berry
---
Vous avez bien voulu, Madame, vous intéresser à mon voyage en France. Voici ce qui m'est arrivé. J'ai presque toujours été malade ; un excès de travail m'a donné une fièvre de nerfs ; je suis encore, en vous écrivant, mangé par des sangsues qui me serrent le cou. Malgré toutes ces misères, mon ouvrage est achevé ; il paraîtra samedi [29 décembre 1832]. Je n'en espère rien pour la prisonnière [Marie Caroline de Bourbon-Siciles, duchesse de Berry], mais je remplis un devoir à mes risques et périls sans m'embarrasser du reste. On dit qu'on n'arrêtera cette fois, ni ma personne, ni mon écrit. Peu m'importe. Je ne les aime, ni ne les estime, ni ne les crains.
J'ai été vivement contrarié, Madame, par le malheureux accident : J'espérais bien travailler en paix à mes mémoires et ne revoir jamais une patrie qui n'en est plus une pour moi. Désormais, je ne pourrai guères quitter de nouveau la France avant le retour de la belle saison. M[a]d[am]e de Chateaubriand n'est pas assez bien portante pour se mettre en route au milieu de l'hyver. Nos regrets et nos espérances, Madame, en partant de Genève, et en y retournant, sont toujours de vous quitter et de vous retrouver. Agréez, Madame je vous prie, avec tous mes souhaits de bonne année, mes respectueux hommages. Je me recommande au souvenir de votre charmante famille et de nos amis communs.
Chateaubriand
Vous savez, madame, que je n'ai pu communiquer avec la prisonnière et qu'on ne lui a pas fait passer mes lettres. Il en est de même pour tout le monde. Ceux qui ont dit que Madame avait agréé l'offre de leur service se sont trop avancés. Madame n'a écrit ni pu faire écrire à personne.
---
The adventurous Duchess of Berry: Marie-Caroline of Bourbon-Siciles, daughter of the King of the Two Sicilies François Ier Xavier and Marie-Clémentine of Austria, married in 1816 the Duke of Berry Charles-Ferdinand (assassinated by the Bonapartist Louvel in 1820), son of Charles X, by whom she had a son, Henri d'Artois (Henri V). Exiled to the July Revolution (1830), she returned to France in April 1832 and tried unsuccessfully to raise the people in Provence, Vendée and Brittany, with the aim of a legitimist restoration: arrested in Nantes in November 1832, she was imprisoned in Blaye, and released only in 1833.
Chateaubriand, one of the brilliant personalities of legitimism: although personally solicited by the Duchess of Berry, he initially disapproved her, but was arrested on suspicion of participation in the plot for a coup and held prisoner from 16 to 30 June 1832. After the Capture of the Duchess, he nevertheless worked to help her, publishing at the end of December 1832 (printed on the date of 1833) a resounding Mémoire sur la captivité de Madame la Duchesse de Berry (partly discussed in this letter), which in turn earned him a lawsuit. He was acquitted on 27 February.
Chateaubriand's friend, Laure de Cottens, had almost married her distant cousin Benjamin Constant. She lived in Lausanne and was the daughter of the Swiss writer Constance Constant d'Hermenches, whose father had been a general in the service of France and who was befriended by the Lameths, the Duchess of Biron, Madame de Genlis, or the General of Montesquiou. In his Mémoires d'outre-tombe, Chateaubriand briefly evokes Madame de Cottens, "an affectionate, spiritual and unfortunate woman."
References:
Corr. générale, éd. Gallimard – Nrf –  vol. IX – p. 215-216, n° 294