[CHATEAUBRIAND] STAËL (de), Germaine (1766-1817)
Letter signed « Necker de Staël » to Claire de Duras
[Paris] Sunday 11th May [1817], 3 pp. in-8°
« I have, thank God, never harmed anyone with whom I have had dealings »

EUR 1.500,-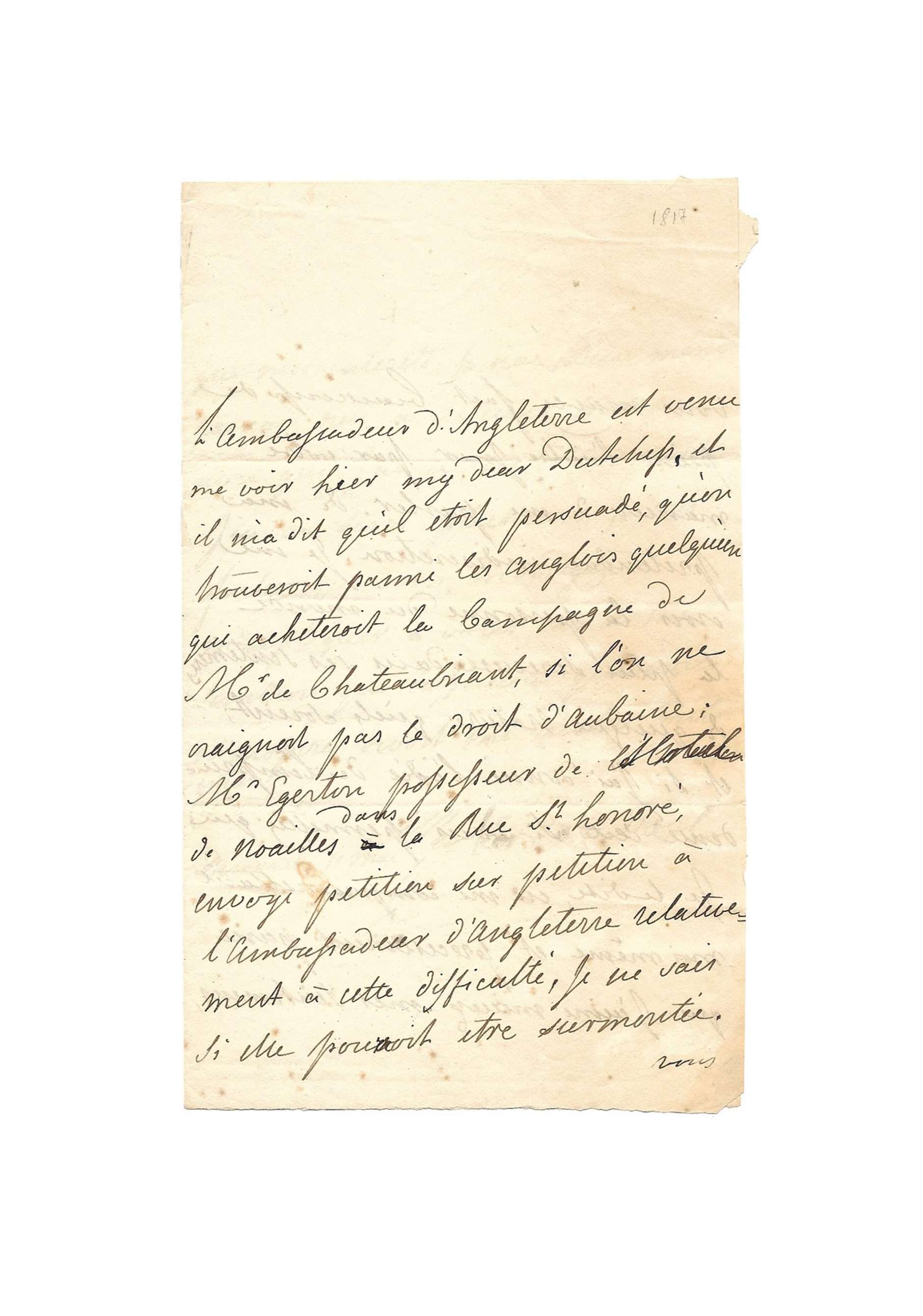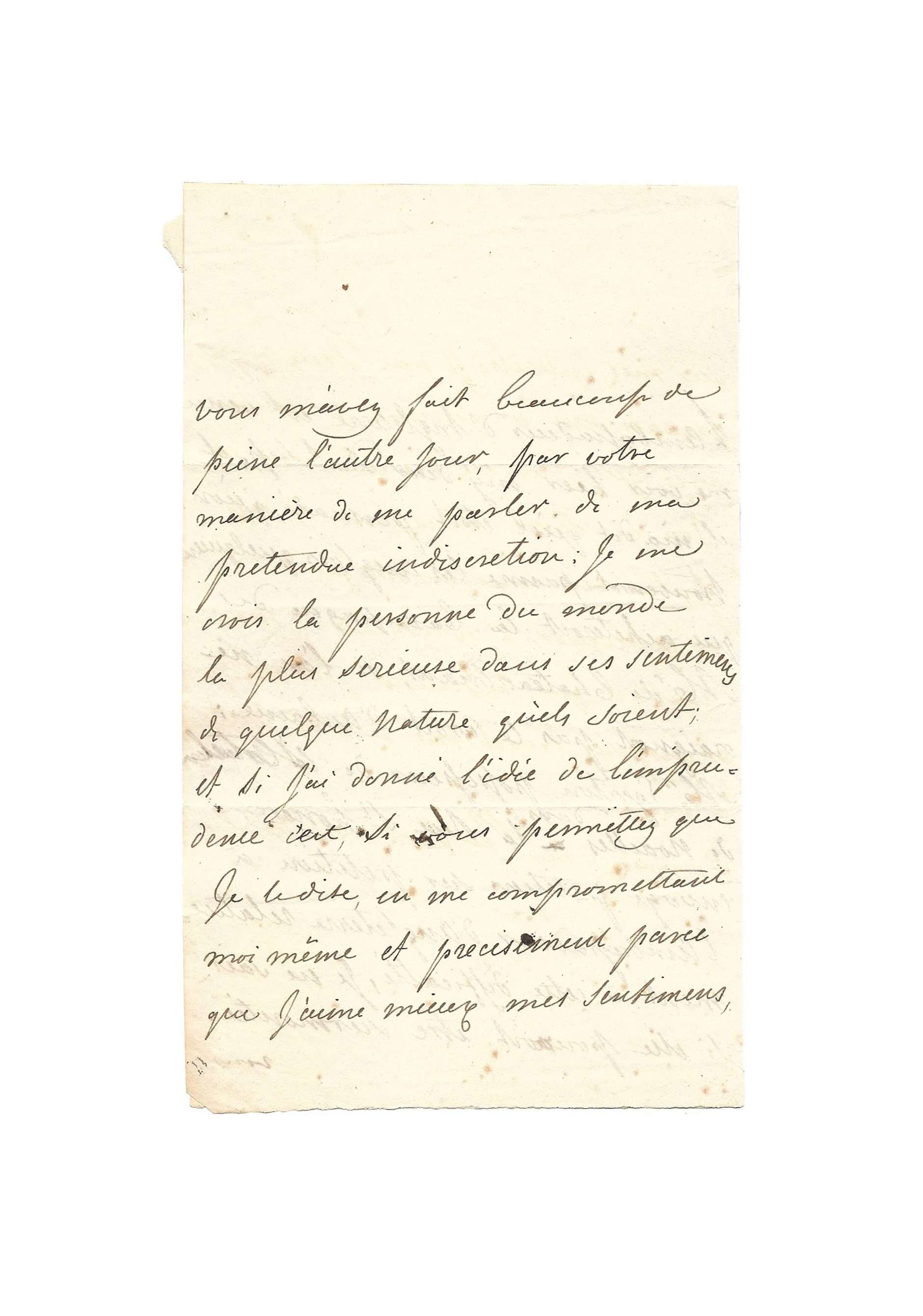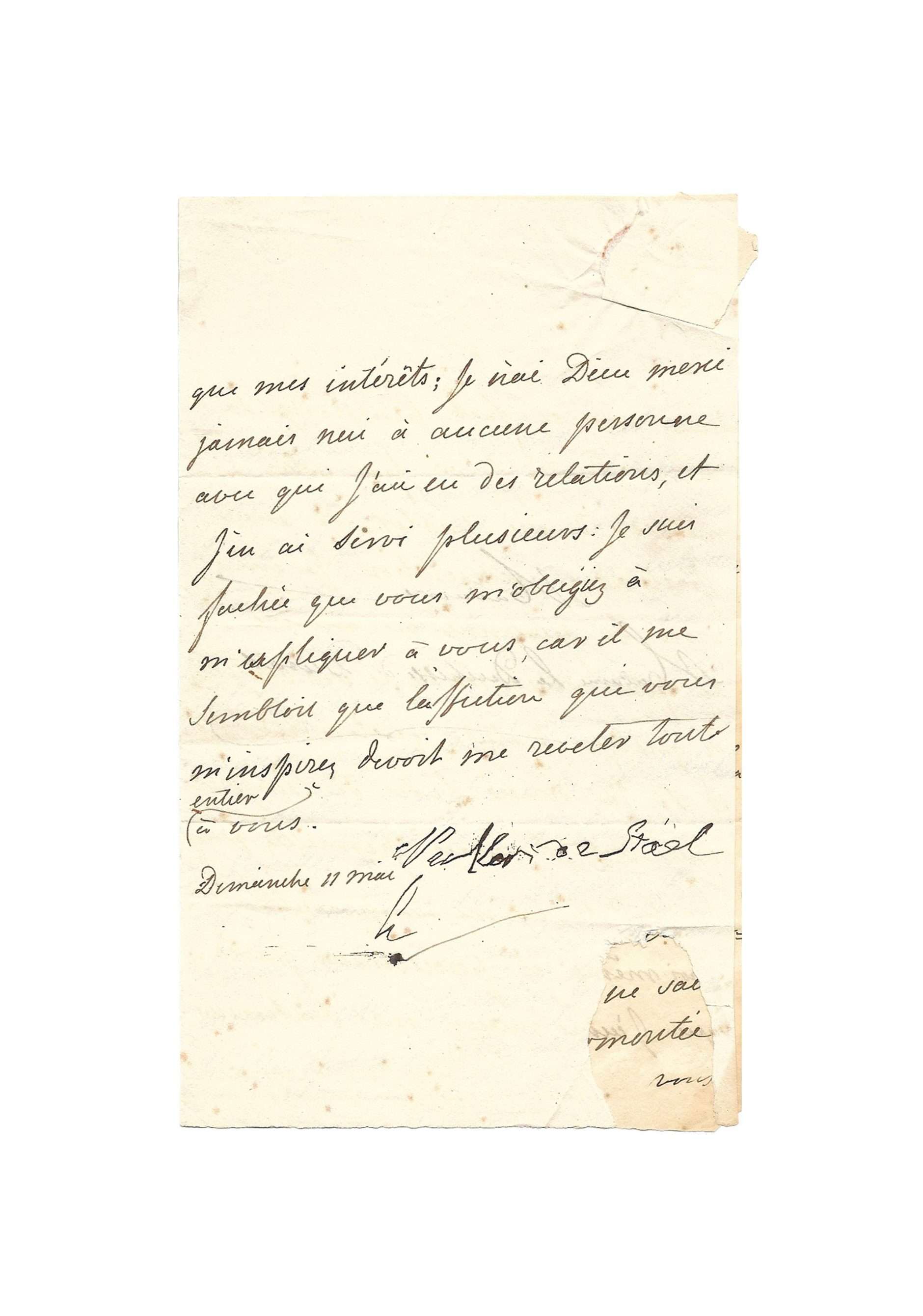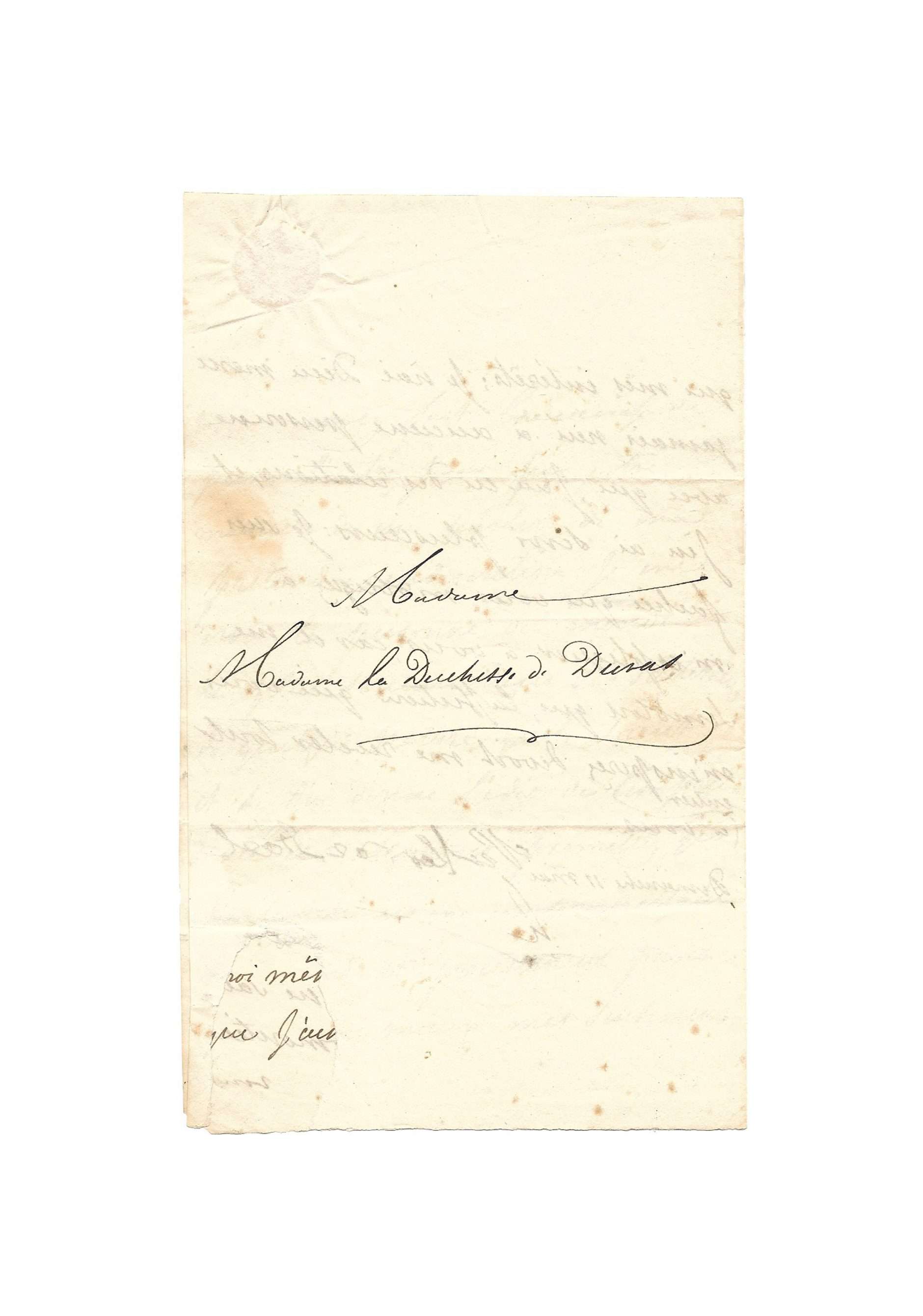 Fact sheet
[CHATEAUBRIAND] STAËL (de), Germaine (1766-1817)
Letter signed « Necker de Staël » to Claire de Duras
[Paris] Sunday 11th May [1817], 3 pp. in-8°
Address on fourth page
Broken was seal (fragment conserved), some browning spots (see scans)
One of Germaine Staël's very last letters
The Baroness evokes her friend Chateaubriand's Vallée-aux-Loups, from which he wished to part with at the time – Then she takes the opportunity to make a stern clarification with her correspondent
---
« L'ambassadeur d'Angleterre est venu me voir hier, my dear dutchess, et il m'a dit qu'il était persuadé qu'on trouverait parmi les Anglais quelqu'un qui achèterait la campagne de M. de Chateaubriant [sic] si l'on ne craignait pas le droit d'aubaine ; M. Egerton, possesseur de l'hôtel de Noailles dans la rue Saint-Honoré envoie pétition sur pétition à l'ambassadeur d'Angleterre relativement à cette difficulté, je ne vois si elle pourrait être surmontée.
Vous m'avez fait beaucoup de peine l'autre jour par votre manière de me parler de ma prétendue indiscrétion. Je me crois la personne du monde la plus sérieuse dans ses sentiments de quelque nature qu'ils soient ; et si j'ai donné l'idée de l'imprudence c'est si vous permettez que je le dise en me compromettant moi-même et précisément parce que j'aime mieux mes sentiments que mes intérêts ; je n'ai, Dieu merci, jamais nui à aucune personne avec qui j'ai eu des relations, et j'en ai servi plusieurs : je suis fâchée que vous m'obligiez à m'expliquer à vous, car il me semblait que l'affection que vous m'inspirez devait me révéler tout entier à vous.
Dimanche 11 mai
Necker de Staël »
---
It was in February 1817 that Germaine de Staël was stricken with paralysis when she arrived at a ball at the home of the Duke Decazes. This paralysis of renal origin deprived him of the use of almost all his limbs. However, she remains fully conscious and receives her guests at home. The Baroness's letters written from this period until her death six months later were mostly dictated to her son.
Madame de Staël having spent the winter and spring of 1817 in Paris, she and her friend Claire de Duras exchanged only notes. In this letter, she replies to a reproach addressed to her by the Duchesse de Duras, which she considers unjust. She doesn't accept it and responds rather sharply. This quarrel between the two friends soon subsided. Indeed, this was not the time to get angry with Madame de Staël. It was coming to an end and everyone knew it.
Claire de Duras (1777-1828) is best known for her novel Ourika (1823), which analysed issues of racial and sexual equality. She is considered today as a precursor of feminism.
From their correspondence, there is no doubt that Madame de Staël often turned her thoughts to this young friend. Claire de Duras was thus to represent for her one of the soothing figures of her last moments.
Madame de Staël expired a few weeks after signing this letter, on July 14, 1817. The Duchesse de Duras survived her by 11 years.
Bibliography:
Baronne de Staël et la Duchesse de Duras, éd. Comte d'Haussonville, Imp. du Figaro, 1910, p. 46
Provenance:
De Durfort, by descent