FLAUBERT, Gustave (1821-1880)
Autograph letter to his mistress Louise Colet
[Rouen], Wednesday, 2 pm [2nd December 1846], 3 p. in-8°
« I'm not made for happiness, maybe not even for love »
EUR 20.000,-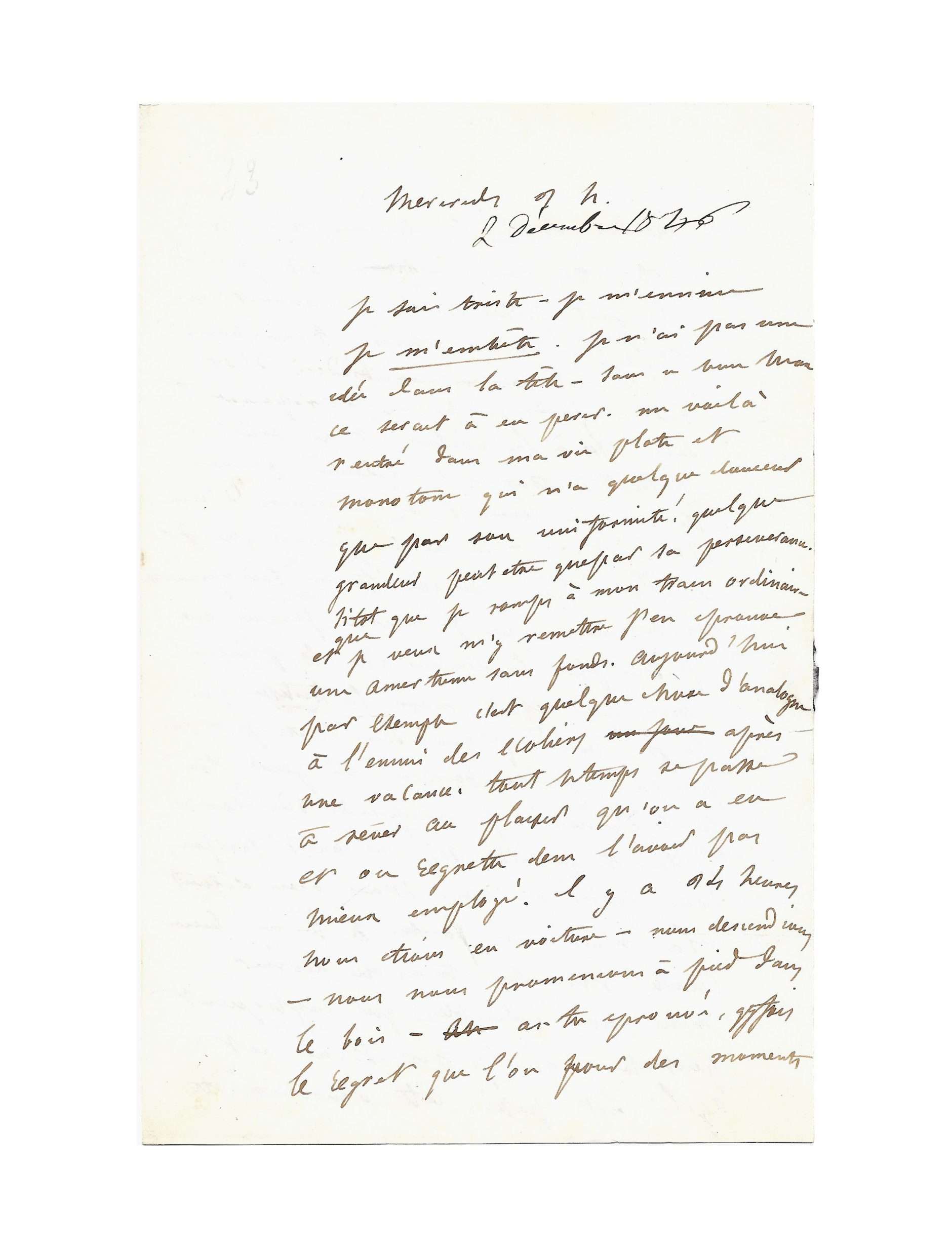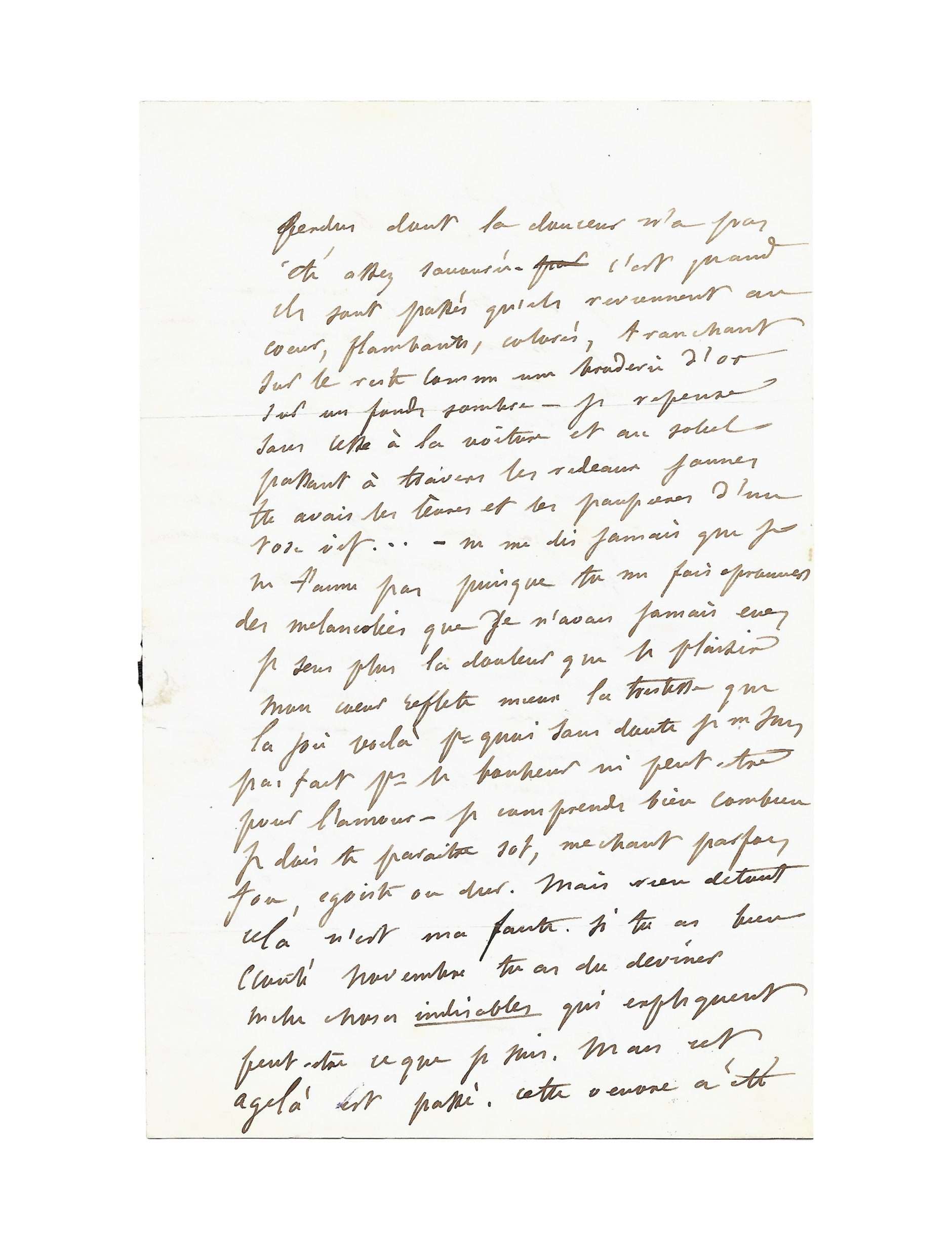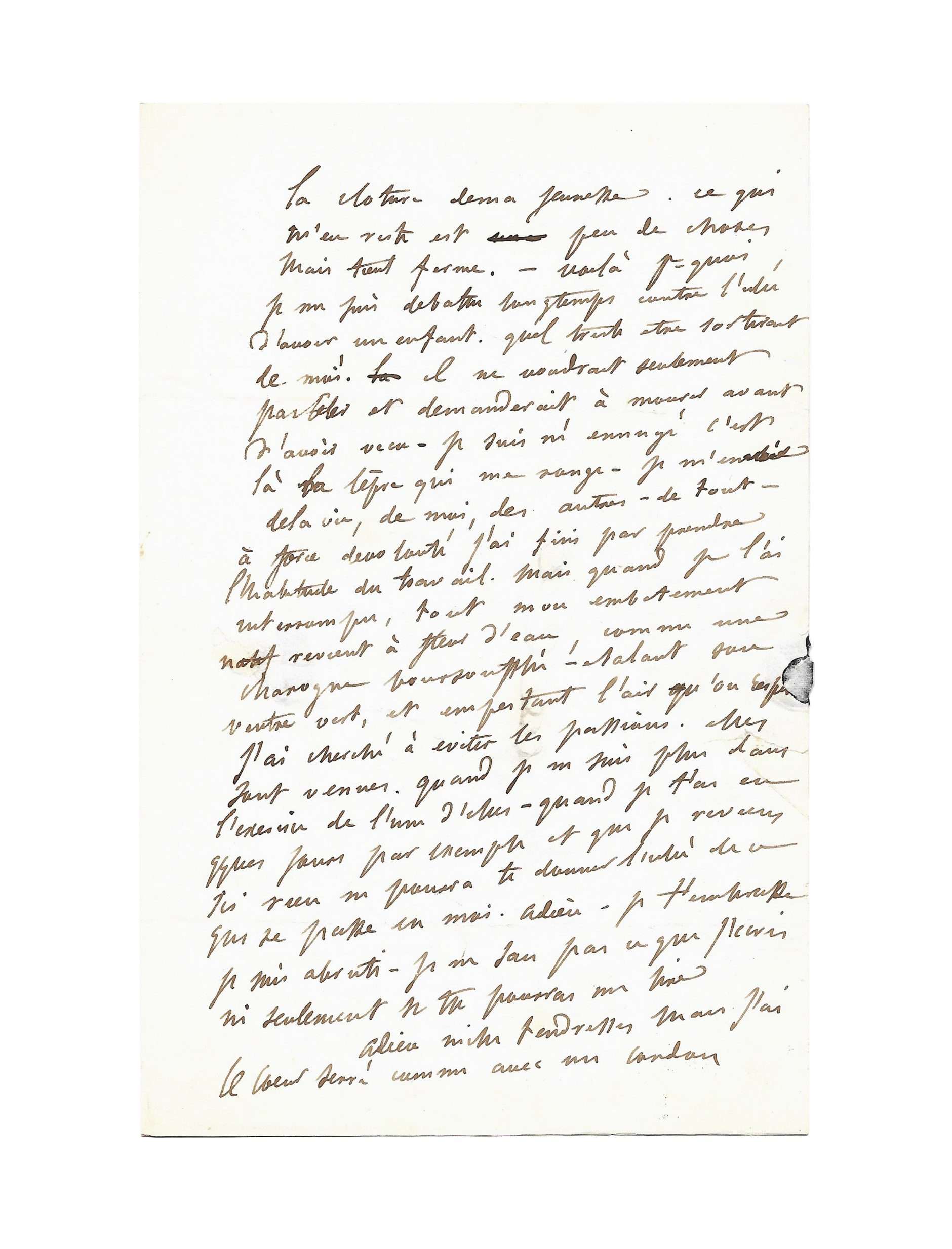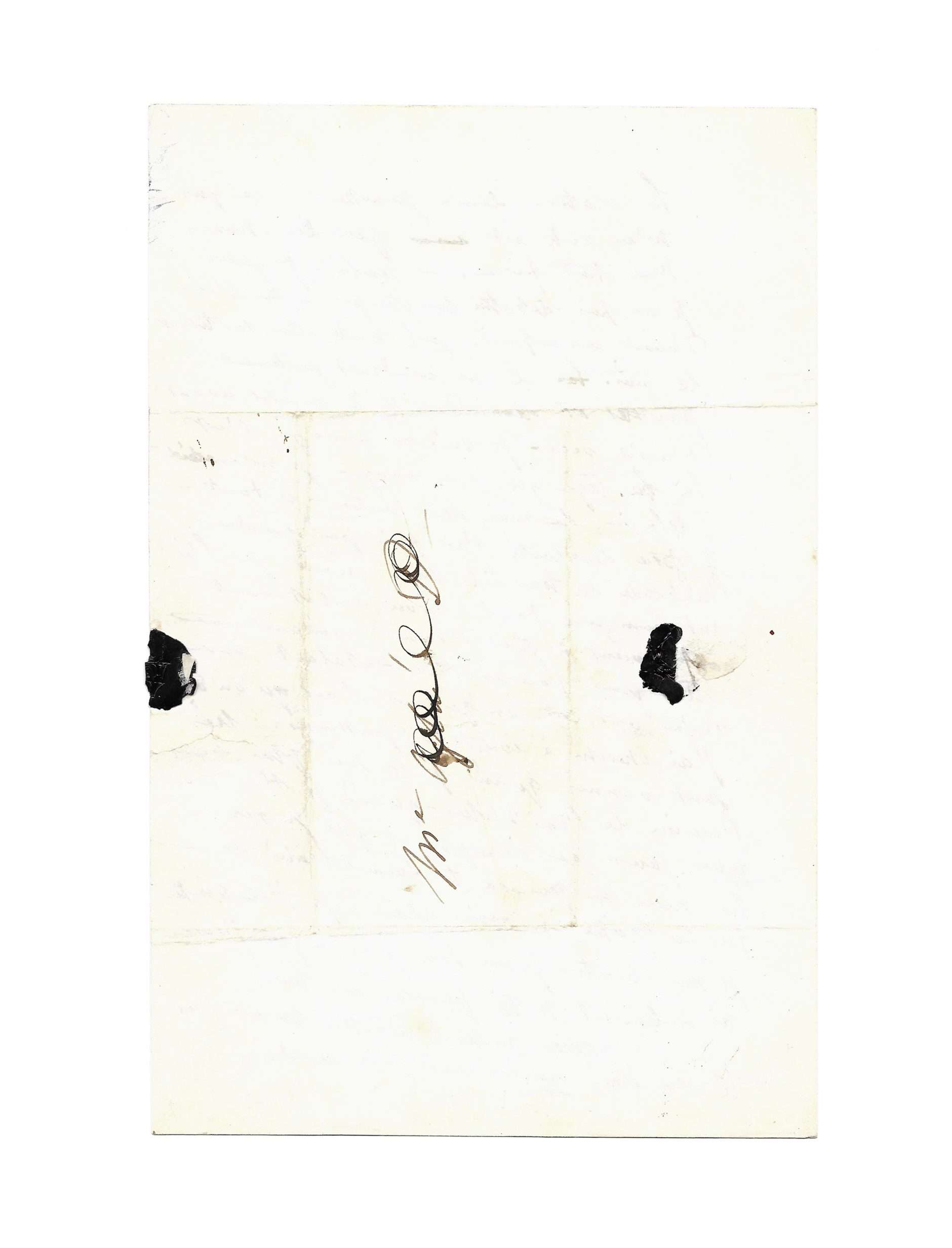 Fact sheet
FLAUBERT, Gustave (1821-1880)
Autograph letter to his mistress Louise Colet
[Rouen], Wednesday, 2 pm [« 2 décembre 1846 » by Louise Colet's hand], 3 p. in-8°
Autograph address on 4th folio « Me Aglaé D. », crossed off by Louise Colet [Aglaé Didier was an intimate friend of Louise Colet], broken wax seal
Magnificent love letter with terrible confidences in which the young writer draws his moral portrait: portrait that will define him all his life and that he will transpose into his literary work
One of Flaubert's most moving letters
---
« Je suis triste, je m'ennuie, je m'embête ; je n'ai pas une idée dans la tête. Sans ce bon Max[ime Du Camp, qui était revenu à Croisset avec les Flaubert], ce serait à en périr. Me voilà rentré dans ma vie plate et monotone qui n'a quelque douceur que par son uniformité, quelque grandeur peut-être que par sa persévérance. Sitôt que je romps à mon train ordinaire et que je veux m'y remettre, j'en éprouve une amertume sans fond. Aujourd'hui, par exemple, c'est quelque chose d'analogue à l'ennui des écoliers un jour après une vacance. Tout le temps se passe à rêver au plaisir qu'on a eu et on regrette de ne l'avoir pas mieux employé. Il y a 24 heures, nous étions en voiture, nous descendions, nous nous promenions à pied dans le bois. En As-tu éprouvé quelquefois le regret que l'on [a] pour des moments perdus, dont la douceur n'a pas été assez savourée. Pour C'est quand ils sont passés qu'ils reviennent au cœur, flambants, colorés, tranchant sur le reste comme une broderie d'or sur un fond sombre.
Je repense sans cesse à la voiture, et au soleil passant à travers les rideaux jaunes. Tu avais les lèvres et les paupières d'un rose vif…
Ne me dis jamais que je ne t'aime pas, puisque tu me fais éprouver des mélancolies que je n'avais jamais eues. Je sens plus la douleur que le plaisir ; mon cœur reflète mieux la tristesse que la joie. Voilà pourquoi, sans doute, je ne suis pas fait pour le bonheur, ni peut-être pour l'amour.
Je comprends bien combien je dois te paraître sot, méchant parfois, fou, égoïste ou dur ; mais rien de tout cela n'est ma faute. Si tu as bien écouté Novembre, tu as dû deviner mille choses indisables qui expliquent peut-être ce que je suis. Mais cet âge-là est passé, cette œuvre a été la clôture de ma jeunesse. Ce qui m'en reste est un peu de chose mais tient ferme. – Voilà pourquoi je me suis débattu longtemps contre l'idée d'avoir un enfant. Quel triste être sortirait de moi ! la Il voudrait seulement parler et demanderait à mourir avant d'avoir vécu.
Je suis né ennuyé ; c'est là la lèpre qui me ronge. Je m'ennuie de la vie, de moi, des autres, de tout. À force de volonté, j'ai fini par prendre l'habitude du travail ; mais quand je l'ai interrompu, tout mon embêtement revient à fleur d'eau, comme une charogne boursouflée étalant son ventre vert et empestant l'air qu'on respire.
J'ai cherché à éviter les passions ; elles sont venues. Quand je ne suis plus dans l'exercice de l'une d'elles, quand je t'ai eue quelques jours, par exemple, et que je reviens ici, rien ne pourra te donner l'idée de ce qui se passe en moi.
Adieu, je t'embrasse, je suis abruti. Je ne sais pas ce que j'écris ni seulement si tu pourras le lire.
Adieu, mille tendresses ; mais j'ai le cœur serré comme avec un cordon »
---
This letter, written the year he met Louise Colet, reveals Flaubert's dark image of his relationship with happiness, although he does not hide his feelings for his mistress:
"Don't tell me I don't love you, because you make me feel melancholy that I never had. I feel pain more than pleasure; my heart reflects sadness better than joy", feelings that express a terror of what love is and its destructive form. We detect here a conception of love as a feeling vector of sadness, which is reminiscent of the eponymous heroine of his most famous novel: Madame Bovary.
Settles between them – to the great despair of Louise Colet – a little more than a geographical distance (she is in Paris, he in Croisset near Rouen), objects represent her and end up replacing her, so to speak. This conception is largely illustrated in L'Education sentimentale, where Rosanette and Mme Dambreuse replace Mme Arnoux when Frédéric moans with desire or gnaws at himself with spite.
As the years passed, Flaubert soon feared, then rejected, Louise Colet's devouring love. The novelist shows a real haunting of the destructive woman. Thus, Emma seduces Rodolphe, the notary Guillaumin, Léon, and her husband was no more than a "puppet" that she corrupts even beyond the tomb.
As for the idea of having a child, Flaubert's aversion to the family in general is well known: inveterate single, the writer has always refused the social straitjacket of marriage and the very possibility of being a father.
***
"If you listened carefully to Novembre, you must have guessed a thousand unspeakable things that perhaps explain who I am. But that age has passed, this work has been the end of my youth"
The hero of November "died, but slowly, little by little, by the force of thought alone, without any organ being sick, as one dies of sadness …". (Œuvres de jeunesse vol. II, Pléiade, p. 256)
Novembre is a short story by Gustave Flaubert written in the autumn of 1842, published posthumously. This work, starting autobiographically, where the author exalts the pathos of a young man, similar to the Sufferings of the young Werther de Goethe, is today considered one of the first successes of his literary youth, although Flaubert denied it during his lifetime.
References:
Correspondance vol. I, Pléiade, p. 411
Correspondance de Gustave Flaubert vol. I, Conard, p. 409-410 (partiellement transcrite)
La conception flaubertienne de l'amour – A. Verlhac – Études Normandes, 1992
Provenance:
Collection Jacques Lambert