FLAUBERT, Gustave (1821-1880)
Autograph letter signed « Gve Flaubert » to Paul Meurice
[Paris, late April 1857], 1 page in-8 on double sheet laid paper, black ink
"A novel which I'm asking you to to send to Mr Hugo"
EUR 19.000,-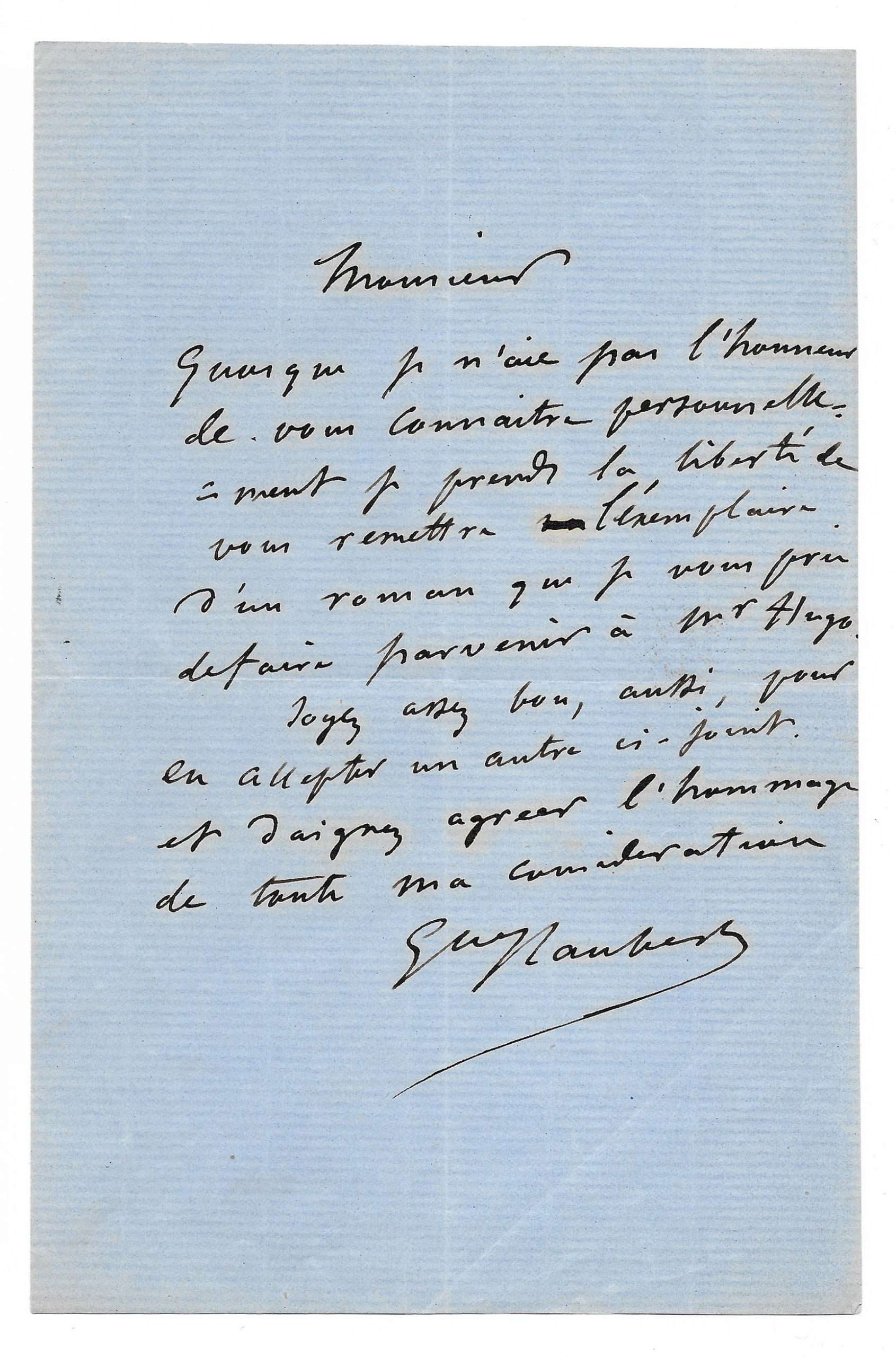 Fact sheet
FLAUBERT, Gustave (1821-1880)
Autograph letter signed « Gve Flaubert » to Paul Meurice
[Paris, late April 1857], 1 page in-8 on double sheet laid paper, black ink.
Fold marks
Important Flaubert's letter which accompanied Madame Bovary, dedicated to Victor Hugo
---
"Monsieur, Quoique je n'aie pas l'honneur de vous connaitre personnellement je prends la liberté de vous remettre l'exemplaire d'un roman [Madame Bovary] que je vous prie de faire parvenir à Mr Hugo. Soyez assez bon, aussi, pour en accepter un autre ci-joint et daignez agréer l'hommage de toute ma considération. Gve Flaubert"
---
In this letter, Flaubert asks Paul Meurice to send Victor Hugo – then on exile on Guernesey island – an example of his masterpiece Madame Bovary, one of very few printed on wove paper, the only luxury print, following the publication at Michel Lévy.
The complicity between Meurice and Hugo was deep. In 1848, Hugo made him the editor-in-chief of the newspaper L'Événement, which he had just founded and caused his imprisonment in 1851. During Victor Hugo's twenty years of exile, Meurice was in charge of the financial and literary interests of the outlawed writer.
Flaubert and Hugo first met in 1843. Hugo deeply marked Flaubert's youth, whom became more critical over time but not without admiration, as evidenced by the numerous correspondences with his relatives.
Flaubert wanted to ensure in a letter to Ernest Feydau of 5 August 1857, that his volume had reached its destination:
"When you see Paul Meurice, ask him if he sent my volume to Father Hugo."
On August 30, 1857, Hugo answered Flaubert:
"You've made a beautiful book, sir, and I'm happy to tell you. There is a bond between you and me that ties me to your successes."
From this letter accompanying the sending of one of one of the greatest novels of the 19th century from Flaubert to Hugo, nothing could be simpler, yet more prestigious.
Provenance :
– Paul Meurice
– Famille Clemenceau-Meurice by descendance
– Annette Langlois-Berthelot (born Clemenceau) by descendance
Référence :
Corr. Pléiade vol. 2 p. 708