GAUGUIN, Paul (1848-1903)
Autograph letter signed « Paul Gauguin » to Daniel de Monfreid
[Tahiti], November 1895, 3 p. 1/4 p. in-4°
« Every night frenzied girls invade my bed; yesterday I had three to function »

EUR 55.000,-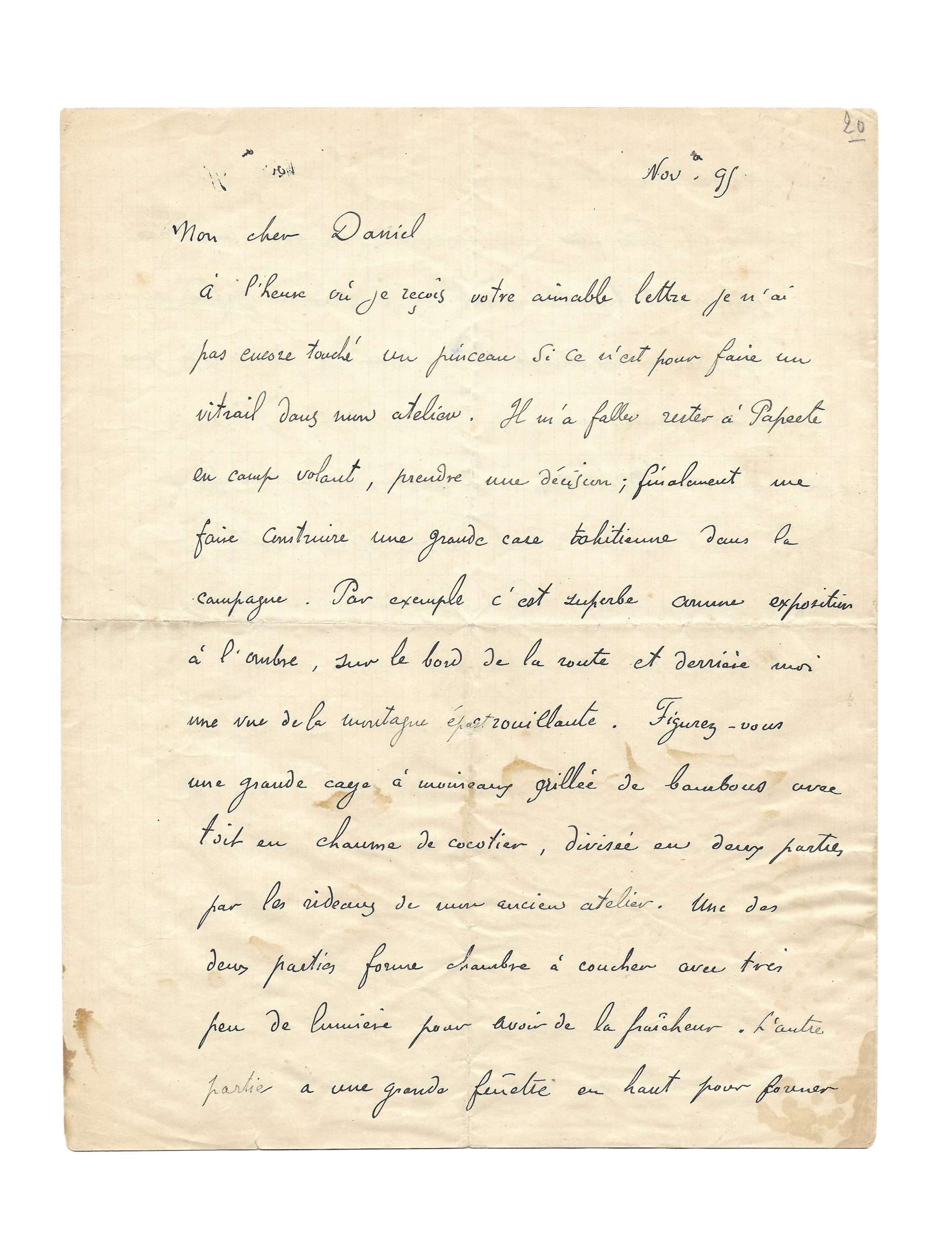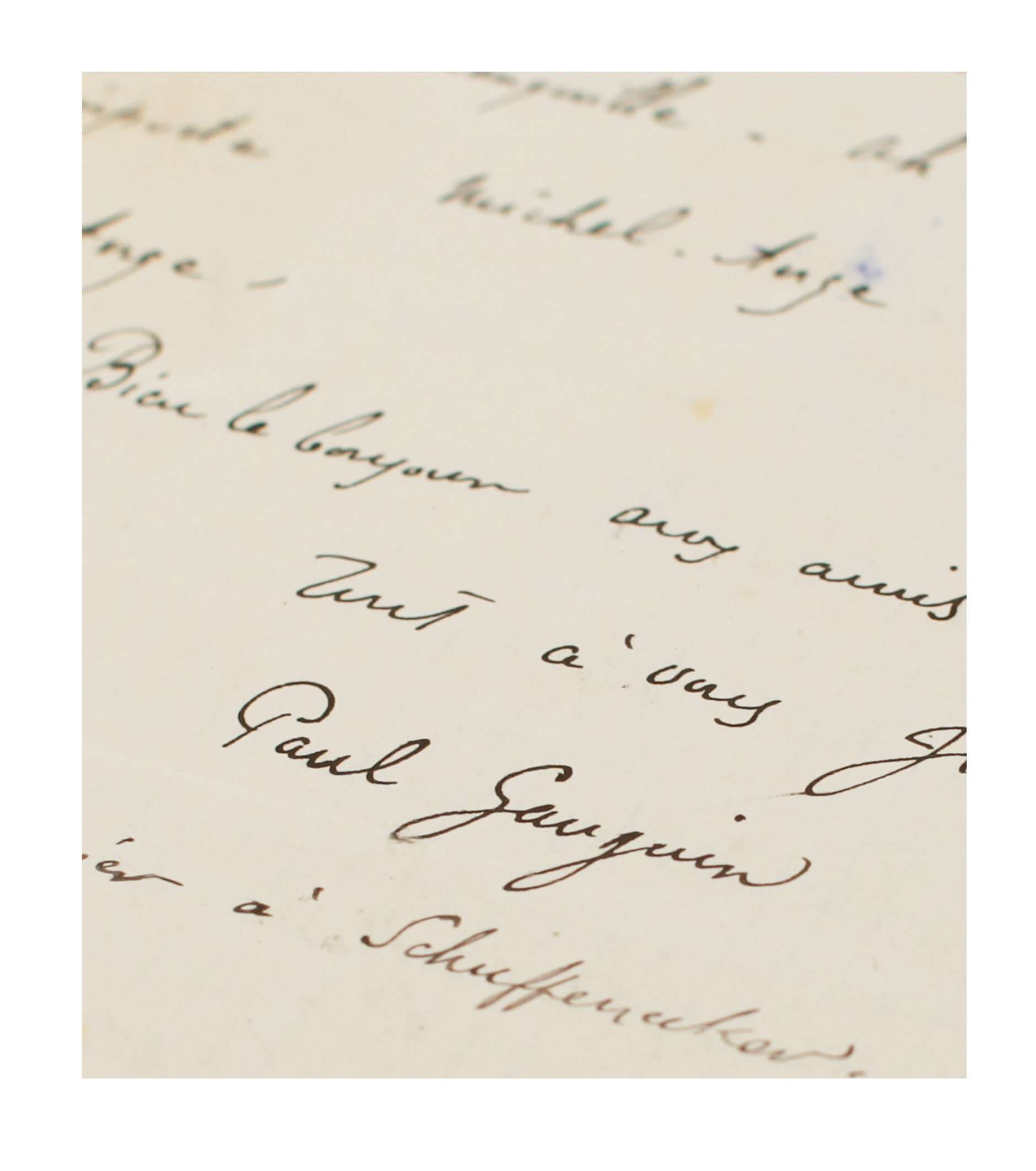 Fact sheet
GAUGUIN, Paul (1848-1903)
Autograph letter signed « Paul Gauguin » to Daniel de Monfreid
[Tahiti], November 1895, 3 p. 1/4 p. in-4°
Tears on folds, some spots and browning
Fascinating letter opening the last chapter of his life: his second trip to Polynesia
Gauguin evokes his settlement in Tahiti, his life of sexual and financial debauchery, his desires for painting and his family, who remained in Europe
---
« Mon cher Daniel
À l'heure où je reçois votre aimable lettre je n'ai pas encore touché un pinceau si ce n'est pour faire un vitrail dans mon atelier. Il m'a fallu rester à Papeete en camp volant, prendre une décision ; finalement me faire construire une grande case tahitienne dans la campagne. Par exemple c'est superbe comme exposition à l'ombre, sur le bord de la route et derrière moi une vue de la montagne épastrouillante. Figurez-vous une grande cage à moineaux grillée de bambous avec toit en chaume de cocotier, divisée en deux parties par les rideaux de mon ancien atelier. Une des deux parties forme chambre à coucher avec très peu de lumière pour avoir de la fraîcheur. L'autre partie a une grande fenêtre en haut pour former atelier. Par terre des nattes et mon ancien tapis persan. Le tout décoré avec étoffes, bibelots et dessins.
Vous voyez que je ne suis pas trop à plaindre pour le moment.
Toutes les nuits des gamines endiablées envahissent mon lit ; j'en avais hier trois pour fonctionner. Je vais cesser cette vie de patachon pour prendre une femme sérieuse à la maison et travailler d'arrache-pied, d'autant plus que je me sens en verve et je crois que je vais faire des travaux meilleurs qu'autrefois.
Mon ancienne femme [Teha'amana] s'est mariée en mon absence et j'ai été obligé de cocufier son mari, mais elle ne peut habiter avec moi, malgré une fugue de 8 jours qu'elle a faite.
Voilà l'endroit de la médaille ; l'envers est moins rassurant. Comme toujours quand je me sens de l'argent dans la poche et des espérances je dépense sans compter, me fiant à l'avenir et à mon talent, puis j'arrive vite au bout du rouleau. Ma maison payée, il va me rester 900 F et je ne reçois de France aucune nouvelle ce qui me fait un peu peur […]
Au reçu de ma lettre voyez Lévy rue St Lazare 57 et dites-lui que je suis très inquiet et de mon argent et de mes affaires de tableaux chez lui.
Si vous êtes à Londres, écrivez à Mollard.
On me dira : Pourquoi allez-vous si loin – Mais quand je suis absent tout près comme en Bretagne par exemple c'est la même chose. […]
Je vois dans votre lettre que vous avez été dans le midi et que vous vous êtes occupé de divorce. Mais vous ne me dites pas comment cette affaire s'est terminée. Que d'ennuis on se crée fatalement avec le mariage cette stupide institution. […]
Voyez ce que j'ai fait du ménage : j'ai filé sans prévenir. Que ma famille se démerde toute seule car s'il n'y a que moi pour l'aider !!!
Je compte bien finir mon existence ici dans ma case parfaitement tranquille. Ah oui, je suis un grand criminel qu'importe. Michel-Ange aussi et je ne suis pas Michel-Ange.
Bien le bonjour à vos amis et à Annette
Tout à vous grandement
Paul Gauguin
J'écris par ce courrier à Schuffenecker »
---
From the port of Marseille, Gauguin embarked on L'Australien, a steamboat, to arrive in Tahiti on September 9, 1895. Disappointed by the transformations of the small town occupied by more and more foreigners between his first stay (1891) and the new one, he decided to move 13 kilometers away from the capital to settle as close as possible to nature, in Punaauia. It is here that his new traditional Tahitian hut made of bamboo and palm leaves was built with the help of the locals, and which he describes here in detail.
He also evokes, without naming her, Teha'amana, a very young girl whom he married during his first stay (she was then 13 years old), but meanwhile the painter's absence, between 1893 and 1895, married another man, Ma'ari. When he arrived in the autumn of 1895, Gauguin waved at her, she became his vahinée again. The romance lasted only a week, during which Gauguin boasted of having "cuckolded" the said Ma'ari: "My former wife married in my absence and I was forced to cuckold her husband."
The painter refrains to say that Teha'amana was horrified by the syphilitic wounds covering her legs. She ran away and returned to her Ma'ari.
From then on, Gauguin enjoyed more than ever the pleasures of the flesh, spent without counting and multiplied the adventures with "wild girls".
The painter is already at a loss barely two months after his installation: "As always when I feel money in my pocket and hopes, I spend without counting, relying on the future and my talent, then I quickly become broke".
He married Pau'Ura a few months later to get out of this "life of couch potato to take a serious woman at home", as he writes.
If the first Tahitian period (1891-1893) reflects a discovery of culture, it opens with the second on a new approach: "I feel in verve and I believe that I will do better work than before". Gauguin paints a mythical world where Eastern, Western and Oceanian religious traditions, past and present, merge. His paintings are reflections of a world he believes in, an ideal world that he stages.
Gauguin is finally very direct with his correspondent, then in the throes of a conflictual divorce: "See what I did with the household, I spun without warning. Let my family go crazy on their own because there is only me to help them!!! »
Despite the violent remarks he makes towards his family, it is obvious that the thought of his children has never left Gauguin. The premature death of his favorite daughter, Aline, in 1897, will put him in deep of sorrow.
References:
Lettres de Gauguin à Daniel de Monfreid, Crès. 1918, lettre XX
Gauguin à Tahiti et aux îles Marquises, Bengt Danielsson, éd. du Pacifique
Gauguin. David Haziot, Editions Fayard. 2017, p. 620-622