GONCOURT (de), Edmond (1822-1896)
Autograph letter signed « Edmond de Goncourt » to a lady
Saint Gratien, 21 7bre [September] [18]90, 2 p. in-8
« I don't know anything except that Mrs Strauss does sports and turf in the water towns »
SOLD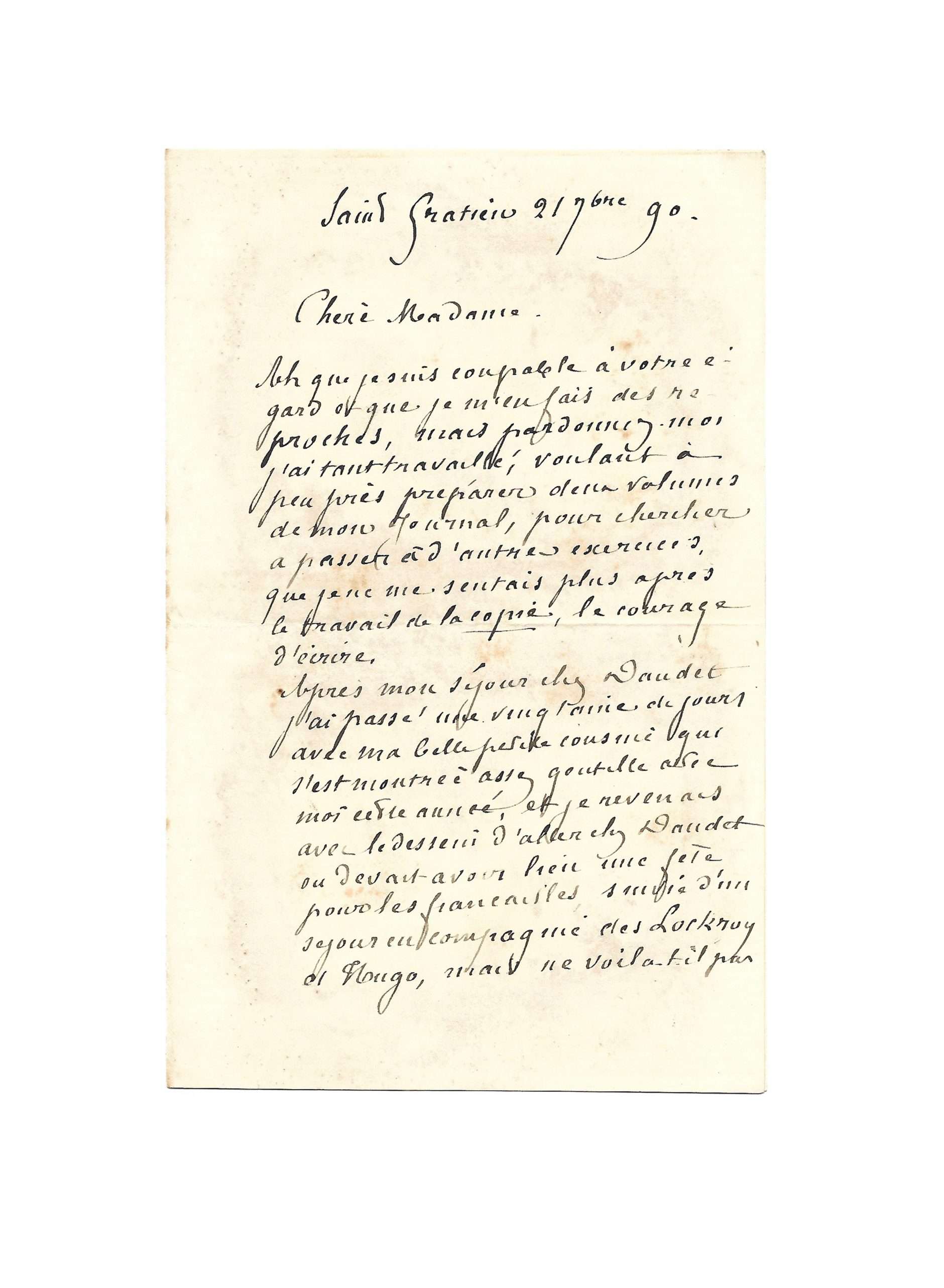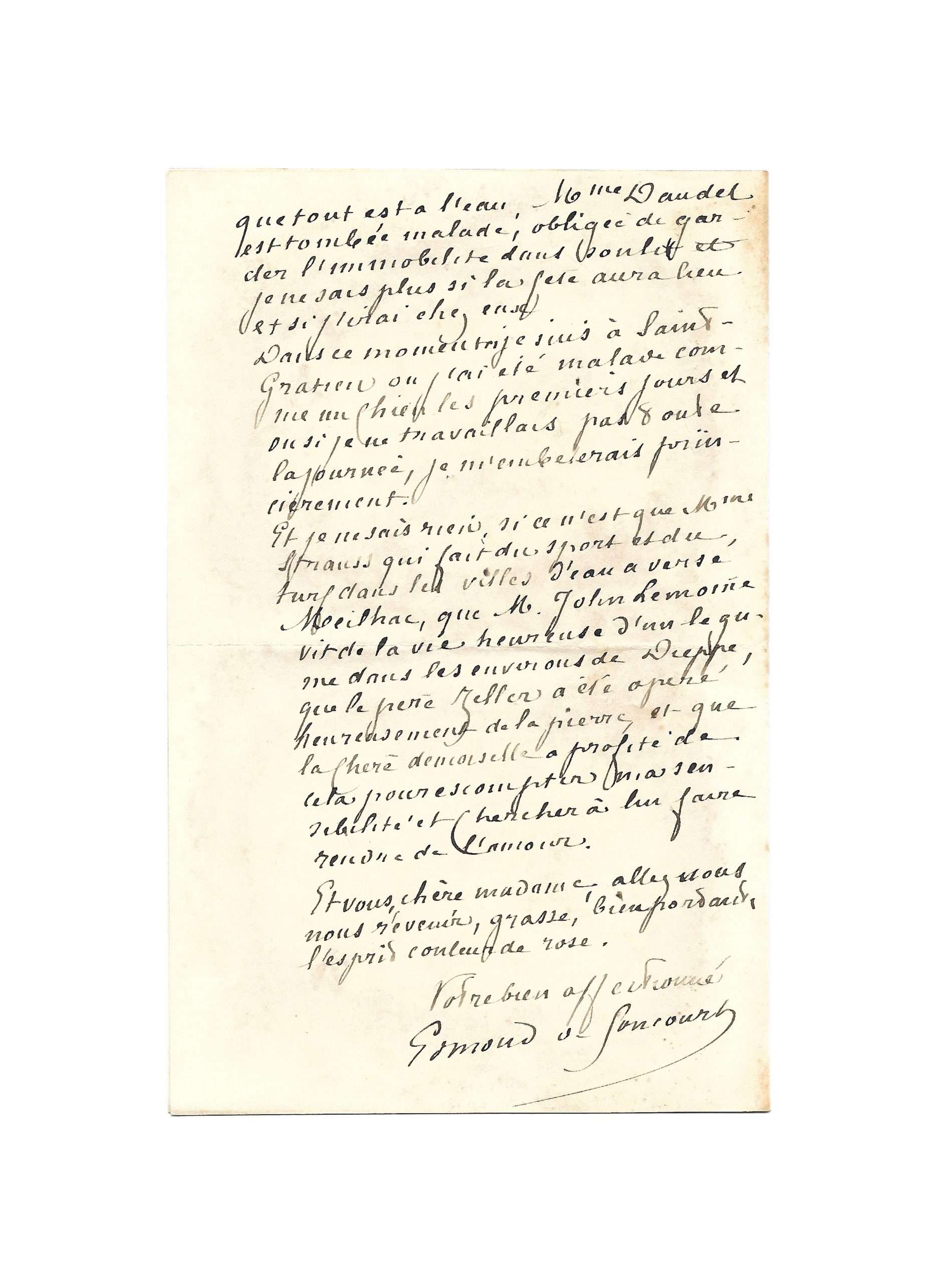 Fact sheet
GONCOURT (de), Edmond (1822-1896)
Autograph letter signed « Edmond de Goncourt » to a lady
Saint Gratien, 21 7bre [September] [18]90, 2 p. in-8
Fold and wet marks
Goncourt gives news of his literary circle
---
« Chère Madame,
Ah que je suis coupable à votre égard et que je m'en fais des reproches, mais pardonnez-moi j'ai tant travaillé, voulant à peu près préparer deux volumes de mon Journal, pour chercher à passer à d'autres exercices, que je ne me sentais plus après le travail de la copie, le courage d'écrire.
Après mon séjour chez [Alphonse] Daudet, j'ai passé une vingtaine de jours avec ma belle petite cousine que s'est montrée assez gentille avec moi cette année, et je revenais avec le dessein d'aller chez Daudet où devait avoir lieu une fête pour les fiançailles des Lockroy et Hugo, mais ne voilà-t-il pas que tout est à l'eau. Mme [Julia] Daudet est tombée malade, obligée de garder l'immobilité dans son lit et je ne sais plus si la fête aura lieu et si j'irai chez eux.
Dans ce moment je suis à Saint-Gratien où j'ai été malade comme un chien les premiers jours et où si je ne travaillais pas toute la journée, je m'embêterais princièrement.
Et je ne sais rien, si ce n'est que Mme Strauss [sic] qui fait du sport et du turf dans les villes d'eau a [tra]versé Meilhac, que M. John Lemoine vit de la vie heureuse d'un légume dans les environs de Dieppe, que le père [Jules] Zeller a été apuré heureusement de la pierre, et que la chère demoiselle a profité de cela pour escompter ma sensibilité et chercher à lui faire rendre de l'amour.
Et vous chère madame, allez-vous nous revenir, grasse, bien portante, l'esprit couleur de rose.
Votre bien affectionné
Edmond de Goncourt »
---
The Journal of the Goncourt brothers remains an interesting testimony on the second part of the nineteenth century. Until his death in 1870, Jules was the main author of the Journal, then continued by Edmond after Jules's passing in 1870. Subtitled Mémoires de la vie littéraire, it consists of a set of notes, usually brief, taken on a day-to-day basis.
Close friends of Alphonse Daudet (and the naturalist circle), the two writers met regularly throughout their lives. It was at Daudet's home in Draveil when Goncourt died on 16 July 1896.
Geneviève Halévy (1849-1926), known as Madame Straus, who first married to composer Georges Bizet and subsequently lawyer Emile Straus, is a French salonnière, also known for having been one of the models of the character of the Duchess of Guermantes in the novel In Search of Lost Time by Marcel Proust.