HUGO, Victor (1802-1885)
Autograph letter signed « Victor Hugo » [to Edgar Quinet ?]
H.H., 7th July, 1 p. in-8° on blue laid paper
« I see it in England, alas, narrow and intolerant, and profoundly hostile to progress »

EUR 1.600,-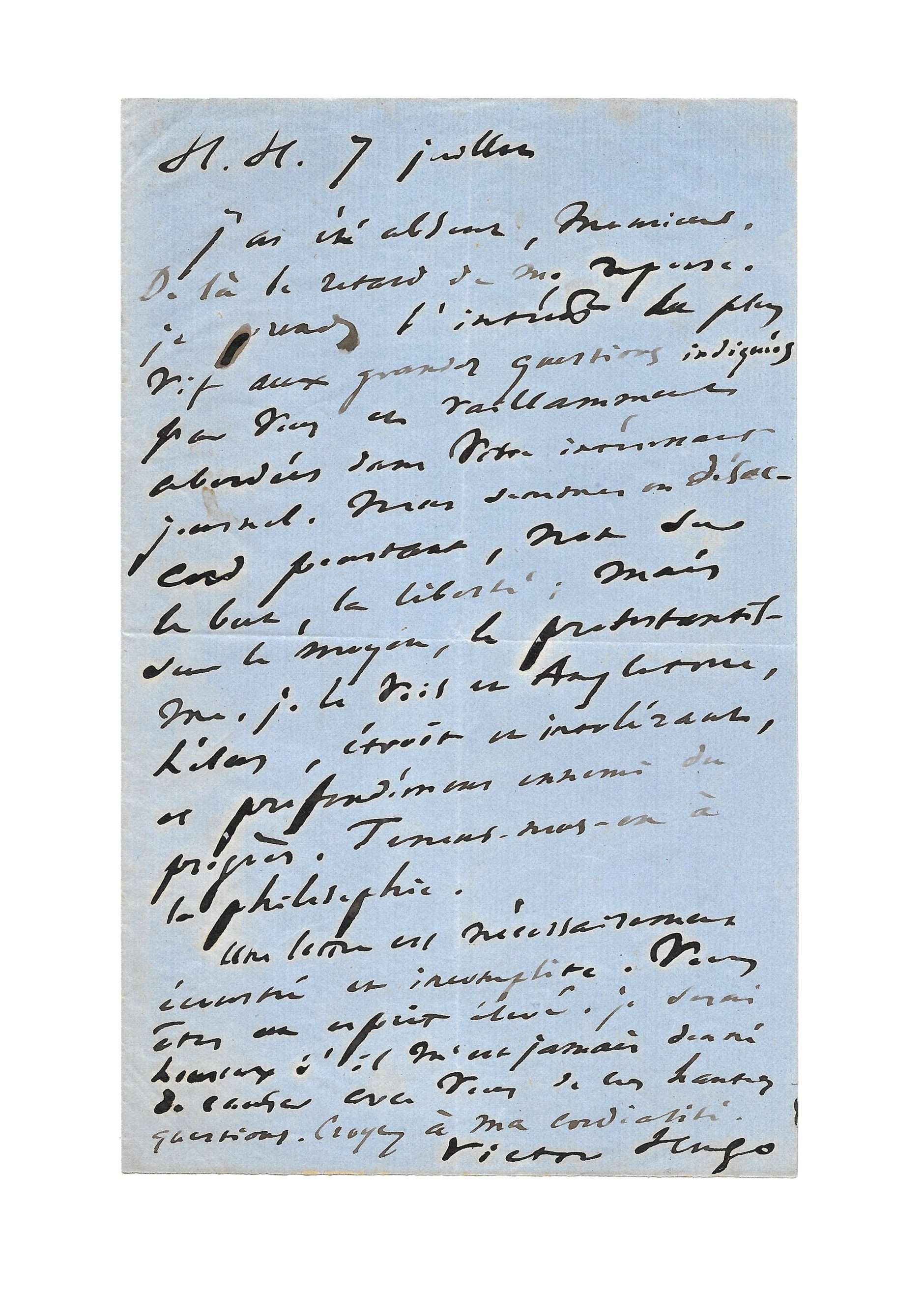 Fact sheet
HUGO, Victor (1802-1885)
Autograph letter signed « Victor Hugo » [to Edgar Quinet ?]
H.H. [Hauteville-House, Guernsey], 7th July [1858 ?], 1 p. in-8° on blue bi-folio
Period fold marks, slight transparent stain on fourth folio, tiny ink corrosion on two words
Hugo vehemently proclaims his opposition to Protestantism, a symbol of narrowness and intolerance in England
---
« J'ai été absent, Monsieur. 
De là le retard de ma réponse. 
Je prends l'intérêt le plus vif aux grandes questions indiquées par vous si vaillamment abordées dans votre intéressant journal. Nous sommes en désaccord partout, non sur la base, la liberté, mais sur le moyen, le protestantisme. Je le vois en Angleterre, hélas, étroit et intolérant, et profondément ennemi du progrès. Tenons-nous-en à la philosophie. 
Une lettre est nécessairement écourtée et incomplète. Vous êtes un esprit élevé. Je serai heureux s'il m'est jamais donné de causer avec vous de ces hautes questions. Croyez à ma cordialité. 
Victor Hugo »

Translation:
"I have been absent, sir. 
Hence the delay in my answer. 
I take the keenest interest in the great questions indicated by you so valiantly addressed in your interesting journal. We disagree everywhere, not on the basis, freedom, but on the means, Protestantism. I see it in England, alas, narrow and intolerant, and profoundly hostile to progress. Let us stick to philosophy. 
A letter is necessarily shortened and incomplete. You are a high spirit. I will be happy if I ever have the opportunity to discuss these lofty questions with you. Believe in my cordiality. 
Victor Hugo"
---
This letter could be addressed to Edgar Quinet. In 1858 he published an autobiographical work, Histoire de mes idées, in which he associated the idea of Protestantism with the idea of progress. Victor Hugo since 1851 denounced on the contrary the conservative role of the Protestant religion, taking the example of England. The two men, convinced republicans, lived in exile far from the imperial France.