HUGO, Victor (1802-1885)
Autograph letter signed "Victor Hugo" to a critic
28 January [1870], H[auteville] H[ouse], [Guernesey], 1 p. in-4
"I dedicate, like Aeschylus, my works to time"

EUR 6.000,-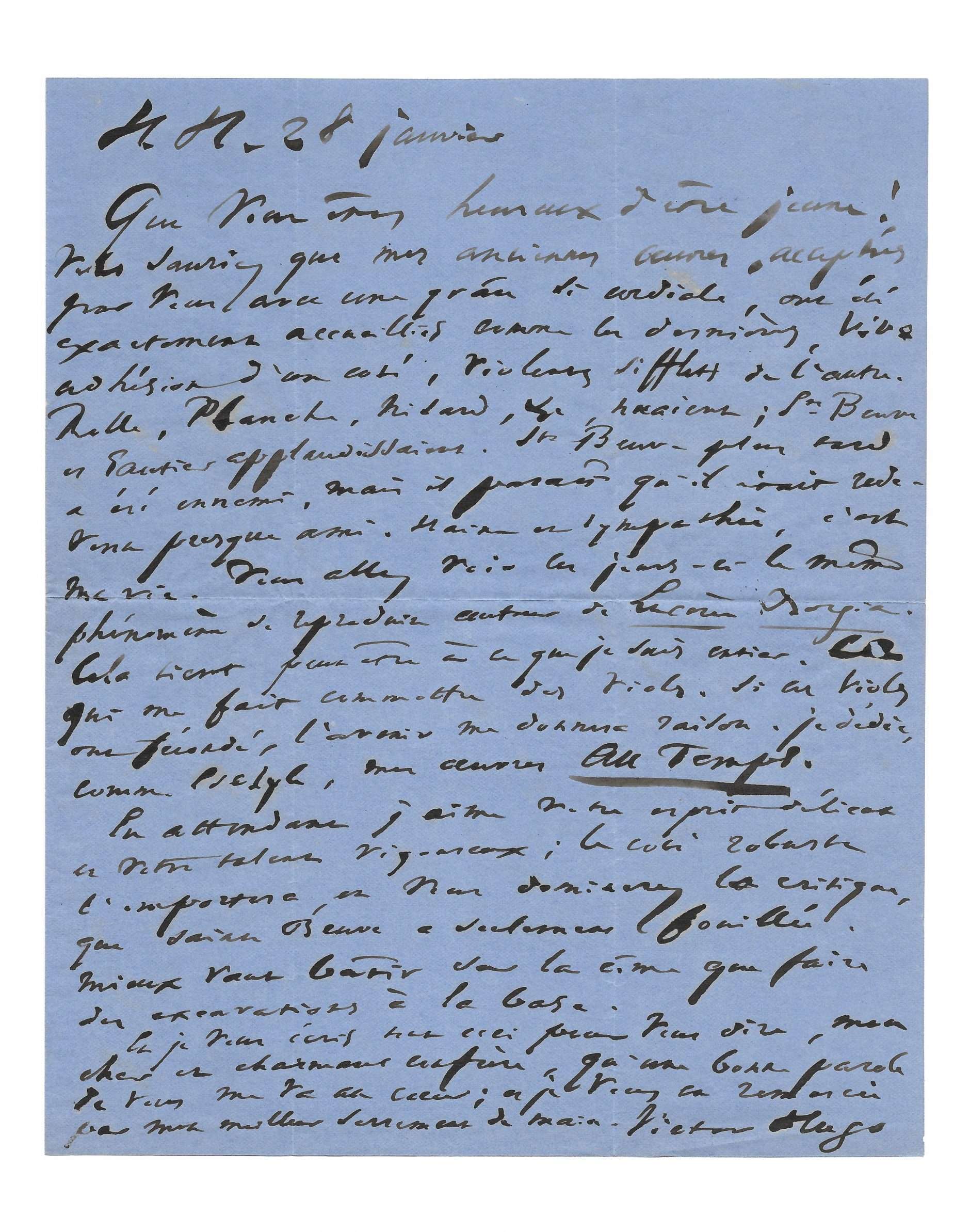 Fact sheet
HUGO, Victor (1802-1885)
Autograph letter signed "Victor Hugo" to a critic
28 January [1870], H[auteville] H[ouse], [Guernesey], 1 p. in-4
Slight tear on fold mark by right hand margin
Extraordinary unpublished letter on the critical reception of his works and how he composes them
---
"Que vous êtes heureux d'être jeune !
Vous sauriez que mes anciennes œuvres, acceptées par vous avec une grâce si cordiale, ont été exactement accueillies comme les dernières, vive adhésion d'un côté, violents sifflets de l'autre. [Hippolyte] Rolle, [Gustave] Planche, [Charles] Nisard etc. huaient ; Ste-Beuve et [Théophile] Gautier applaudissaient. Ste-Beuve plus tard a été ennemi, mais il paraît qu'il irait redevenir presque ami.
Haine et sympathie, c'est ma vie. Vous allez voir ces jours-ci le même phénomène se reproduire autour de Lucrèce Borgia.
Cela tient peut-être à ce que je suis entier. Ce qui me fait commettre des viols. Si ces viols ont fécondé, l'avenir me donnera raison.
Je dédie, comme Eschyle, mes œuvres au Temps.
En attendant, j'aime votre esprit délicat et votre talent vigoureux ; le côté robuste l'emportera, et vous dominerez la critique, que Sainte-Beuve a seulement fouillée. Mieux vaut bâtir sur la cime que faire des excavations à la base. Et je vous écris tout ceci pour vous dire, mon cher et charmant confrère, qu'une bonne parole de vous me va au cœur ; et je vous en remercie par mon meilleur serrement de main…
Victor Hugo"
---
Lucretia Borgia is a play written by Victor Hugo in 1832 and performed at the Porte-Saint-Martin theater on February 2, 1833. The show was so successful that Donizetti made an opera of it that same year. During a private reading for his acquaintances, the playwright meets Juliette Drouet for the first time. Lucretia Borgia will be, as Hugo points out in this letter, replayed on February 2, 1870, still at the Porte-Saint-Martin theater.
Hugo spoke at length about Sainte-Beuve because he, a prominent literary critic and representative of Romanticism (note that the two men had a relationship marked by admiration and resentment), was to die three months earlier, on October 13, 1869.
Aeschylus' dedication to Time is a quotation from the preface to the Burgraves (a historical drama by Victor Hugo, first performed at the French Comedy on March 7, 1843).