LACLOS (de), Pierre Choderlos (1741-1803)
Autograph letter signed « P. Choderlos Laclos » to Condorcet
Paris, 16th June 1793, 2e [an 2] de la République, 1 p 1/4 in-4°
« The long habit of being slandered »
EUR 15.000,-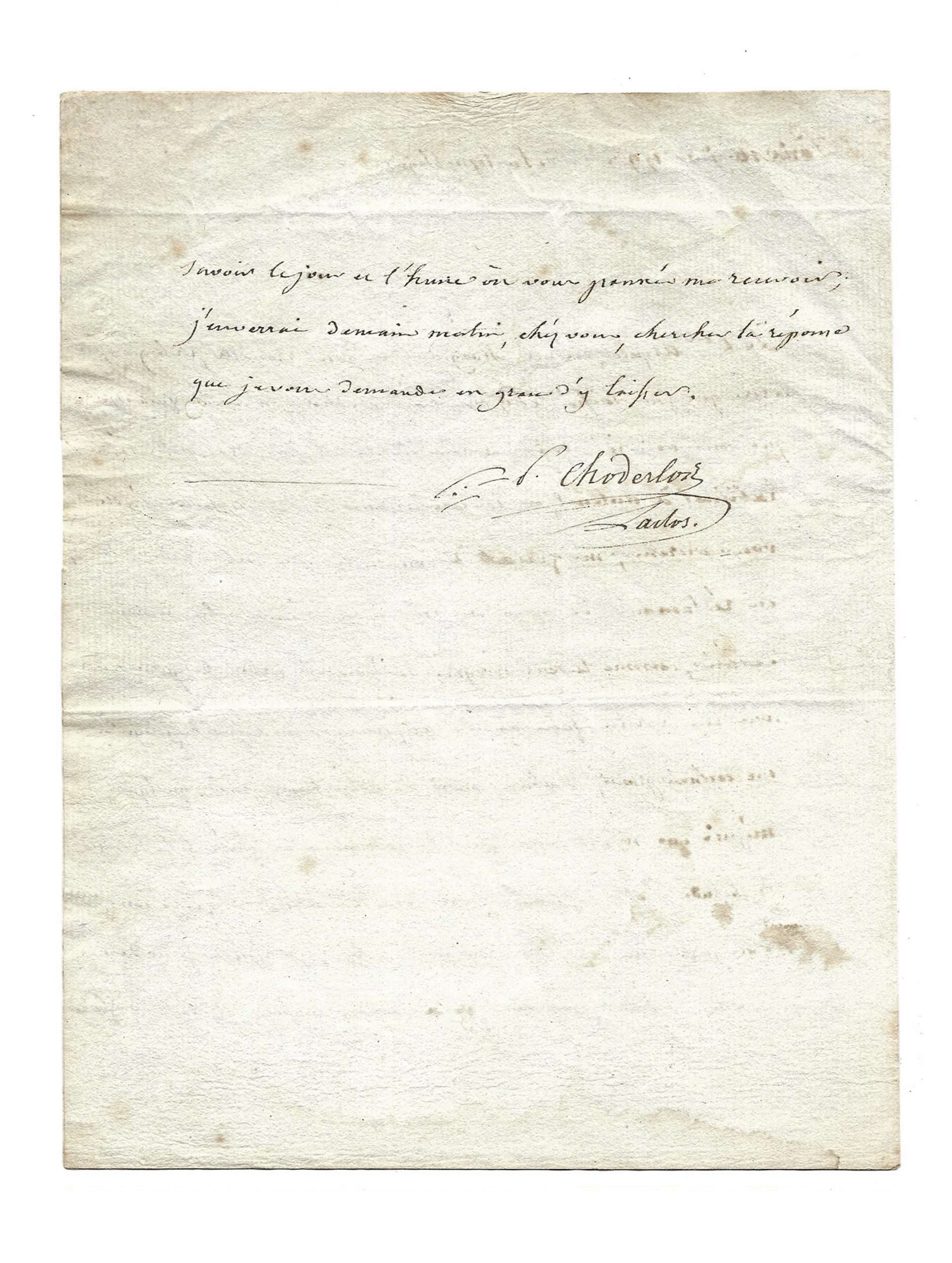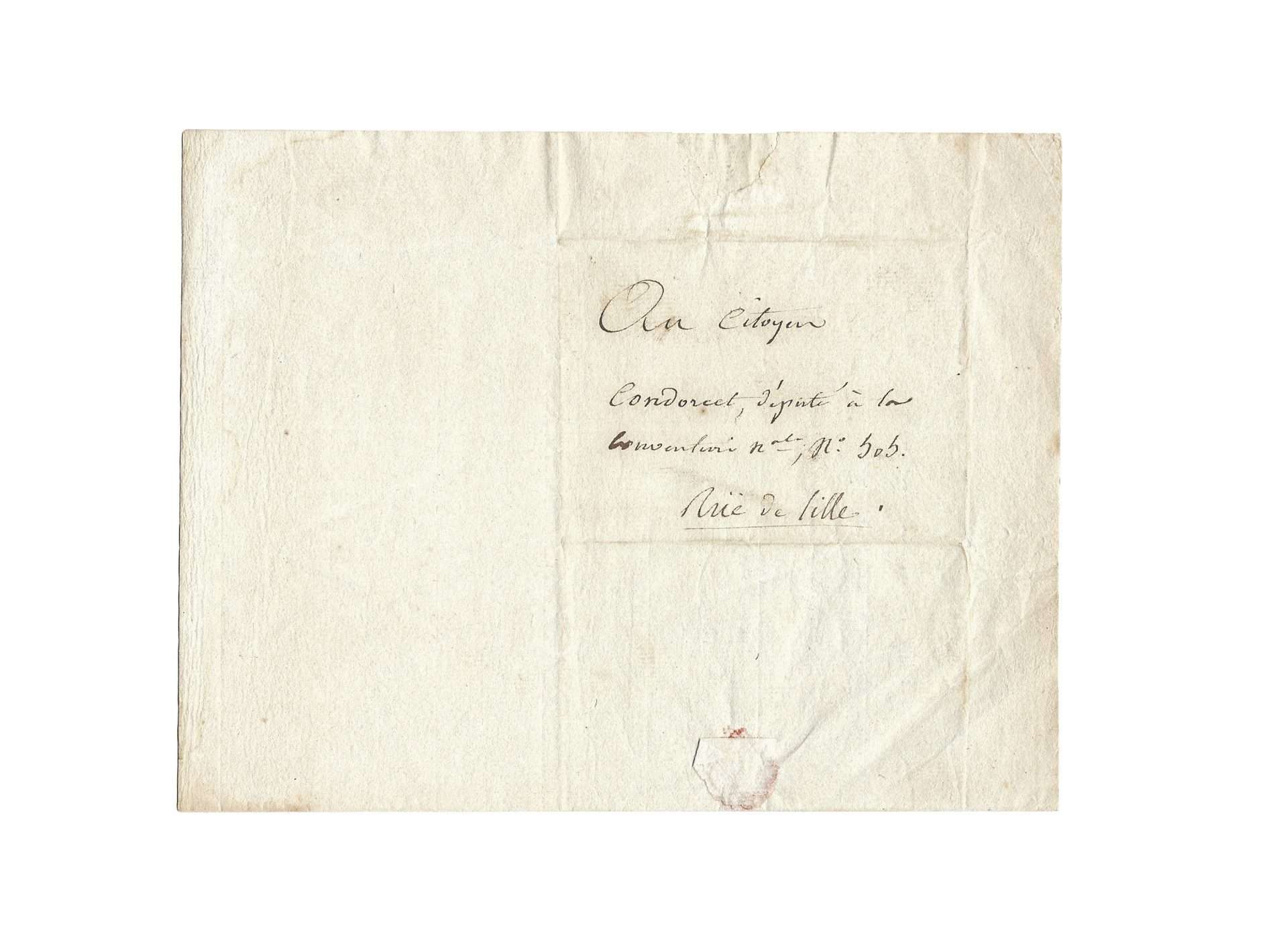 Fact sheet
LACLOS (de), Pierre Choderlos (1741-1803)
Autograph letter signed « P. Choderlos Laclos » to Nicolas de Condorcet
Paris, 16th June 1793, 2e [an 2] de la République, 1 p 1/4 in-4°
Autograph address on fourth page
Some stains, old wetting marks, brownings
In the midst of the Revolutionary tumult, the author of Dangerous Liaisons requests a meeting with Condorcet in order to deny a slander against him
---
« Le citoyen Alquier, en me chargeant de vous remettre, Citoyen, la lettre que j'ai laissée chez vous aujourd'hui, m'avait fait espérer que vous voudriez bien me recevoir et m'entendre. Votre séjour habituel à Auteuil, où les circonstances m'empêchent d'aller vous chercher, me force de commettre une sorte d'indiscrétion, en réclamant de vous un rendez-vous dans votre maison de Paris, comme le seul moyen, de tenir la promesse que vous avez bien voulu faire au Citoyen Alquier. Je me reproche, jusqu'à un certain point, d'abuser ainsi de votre temps ; mais quelque mépris que m'ait donné pour les calomnies, en général, la longue habitude d'être calomnié, vous concevrez aisément que je cesse d'en juger ainsi quand on parvient à les faire répéter par des personnes telles que vous. Je vous prie instamment de me faire savoir le jour et l'heure où vous pensez me recevoir ; j'enverrai demain matin, chez vous, chercher la réponse que je vous demande en grâce d'y laisser.
P. Choderlos Laclos »
---
We attach:
The autograph letter signed by Charles Alquier to Condorcet (sent the day before), offering his intermediary to establish an appointment between the two interested parties
S.l, « Ce 15 » [June 1793], 1 p. grand in-8°
« Je pars pour Versailles, mon cher collègue […] j'ai à mon tour un bon office à vous demander, et vous êtes vous-même intéressé à ne pas refuser, puisque je vous offre l'occasion de réparer une erreur, et que vous n'êtes pas destiné à en commettre. Je vous ai parlé de Mr de Laclos qui est mon ami depuis quinze ans, je ne lui ai pas caché que vous aviez quelques préventions contre lui, et comme je m'y attendois, il offre de les détruire : je vous prie donc de recevoir et d'entendre Mr de Laclos, et je vous remercie d'avance du bonheur que j'aurai à vous entendre dire du bien de mon ami lorsque vous l'aurez connu. Ce 15. Alquier »
---
Interned on 2 April 1793 in the prison de l'Abbaye on arrest warrant from the Comité de sûreté because suspected of being Orleanist, Laclos obtained a relative release (he will undergo his captivity at his home) on 10th of May. This release seems to have been thanks to the intervention of his friend Alquier, a member of the Committee.
The relationship between Laclos and Condorcet, both from from Picardie (north of France), goes back to 1785, but especially since 1789 at the Club des Jacobins. Their relations, however, remained purely formal, as our letter shows. It was following "slanders" against him, unspecified but which Condorcet had seemed to approve, that Laclos, through his friend Alquier, requested an appointment with the mathematician.
Having only a day parole, Laclos could not go to Auteuil. It can be assumed that the interview took place between the two men – which remains conjectural – and had no other consequence, because both were suspicious and threatened.
Autograph letters signed from Laclos are exceedingly rare
Bibliography:
Christianisme et lumières, n°34, Presses universitaires de France, 2002
Provenance :
Private collection