MISHIMA, Yukio (1925-1970)
Autograph letter signed « Yukio Mishima » to Dominique Aury
N.p, 28th March1970, 2 p. in-4to oblong, in English
« My novel can reach the highest tension when I feel my inner bomb and the outside bomb as a critical balance »

EUR 14.000,-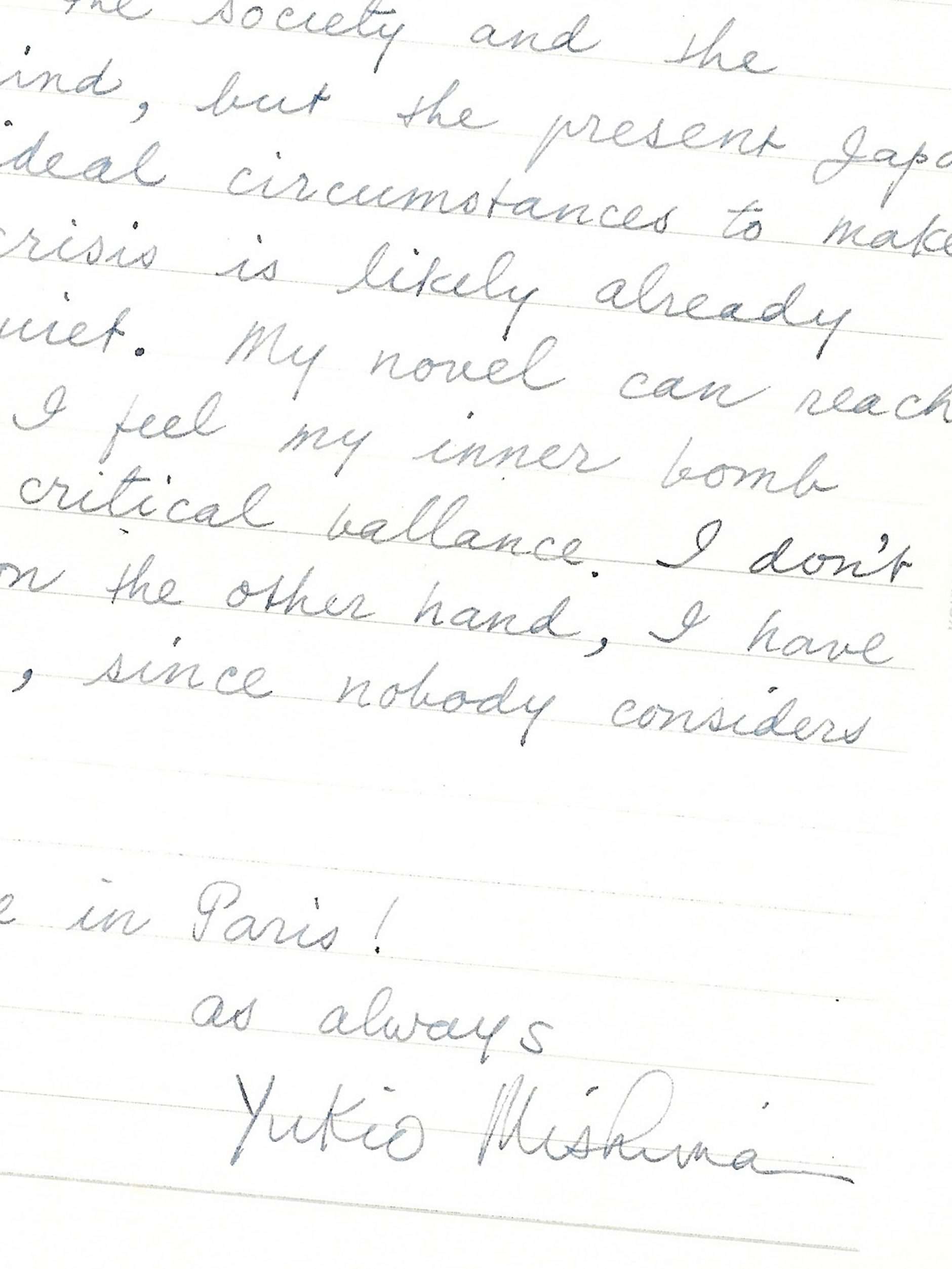 Fact sheet
MISHIMA, Yukio (1925-1970)
Autograph letter signed « Yukio Mishima » to Dominique Aury
N.p, 28th March1970, 2 p. in-4to oblong, in English
Period fold marks
A disturbing letter from Mishima, written less than a year before his suicide by seppuku. He is delighted with the good critical reception of his novel Patriotism in France and wishes to inquire in particular about André Malraux's opinion. He then speaks of his past and upcoming novels and develops on the explosive balance he seeks to inspire his mind. He ends with an equivocal allusion about his dark fate.
---
"Dear Madame Dominique Aury
Your letter gave me a delightful news that your son M. Philippe d'Argila is coming to Japan soon. Please let me know about his itinerary as soon as possible so that I can arrange everthing [sic] he would like beforehand.
I am really looking forwards to meeting him.
I am delighted to know your beautiful translation of "Patriotism" is well received by your friends. Particularly I would like to know about Monsieur André Malreaux's (maybe wrong spelling) reaction to it, besides if it is possible, also about his reaction to its film version. At your private screening, I am sure French ladies must be too sophisticated to be fainted away by looking at it.
I am now going to start the last (fourth) volume of my long novel. For writing, I always need some balance between the critical moment of the society and the essential uneasiness in my mind, but the present Japan seem to me not likely in a ideal circumstances to make me write, since the social crisis is likely already solved and becoming too quiet. My novel can reach the highest tension when I feel my inner bomb and the outside bomb as a critical balance. I don't intend to assassinate anybody, on the other hand, I have no possibility to be assassinated, since nobody considers me worthy to be assassinated!
Have a nice, bright spring-time in Paris,
As always
Yukio Mishima"
---
Patriotism is a short story by Yukio Mishima published in 1961 in Japan. The story tells of the suicide by seppuku (suicide with a sword) of a Japanese lieutenant and his wife after the failure of the coup fomented by a nationalist military group on February 26, 1936.
An eponymous film adaptation of the book directed by the author himself was released in 1965. The film, believed to be a critique of the bloody seppuku ritual, is in reality only the premonitory staging of the writer's suicide on November 25, 1970, at the headquarters of the Japanese Self-Defense Forces in Tokyo.
The Sea of Fertility is a fictional tetralogy by Yukio Mishima, often presented as his "literary testament". The four novels in the cycle were written between 1965 and 1970. On November 25, 1970, just after putting this manuscript in an envelope on behalf of the publisher, Mishima led the brilliant action at headquarters.
All of Mishima is summed up and concentrated in this letter: his sensitivity, his tortured mind, his ego, his way of writing and his contemporary view of Japanese society. Written the same year as his suicide, it is all the more important and precious.
---
Yukio Mishima's letters are of the highest rarity