MONTIJO (de), Impératrice Eugénie (1826-1920)
Autograph letter signed « Eugénie » to Marie-Thérèse Bartholoni
Camden Place, Chislehurst [January 1873], 8 p. in-8°, mourning paper
« The Emperor's rapid death has, so to speak, awakened the public conscience. »

SOLD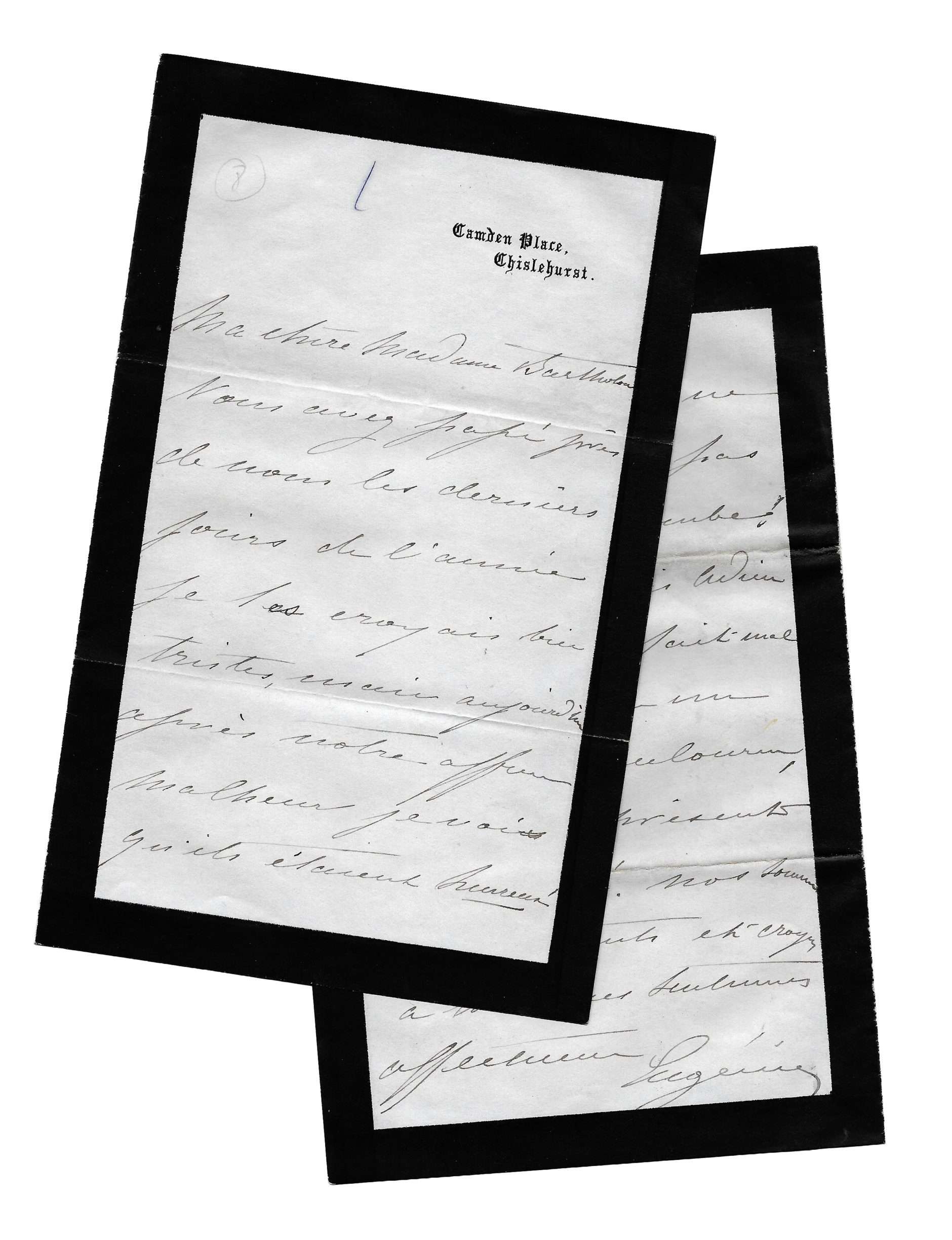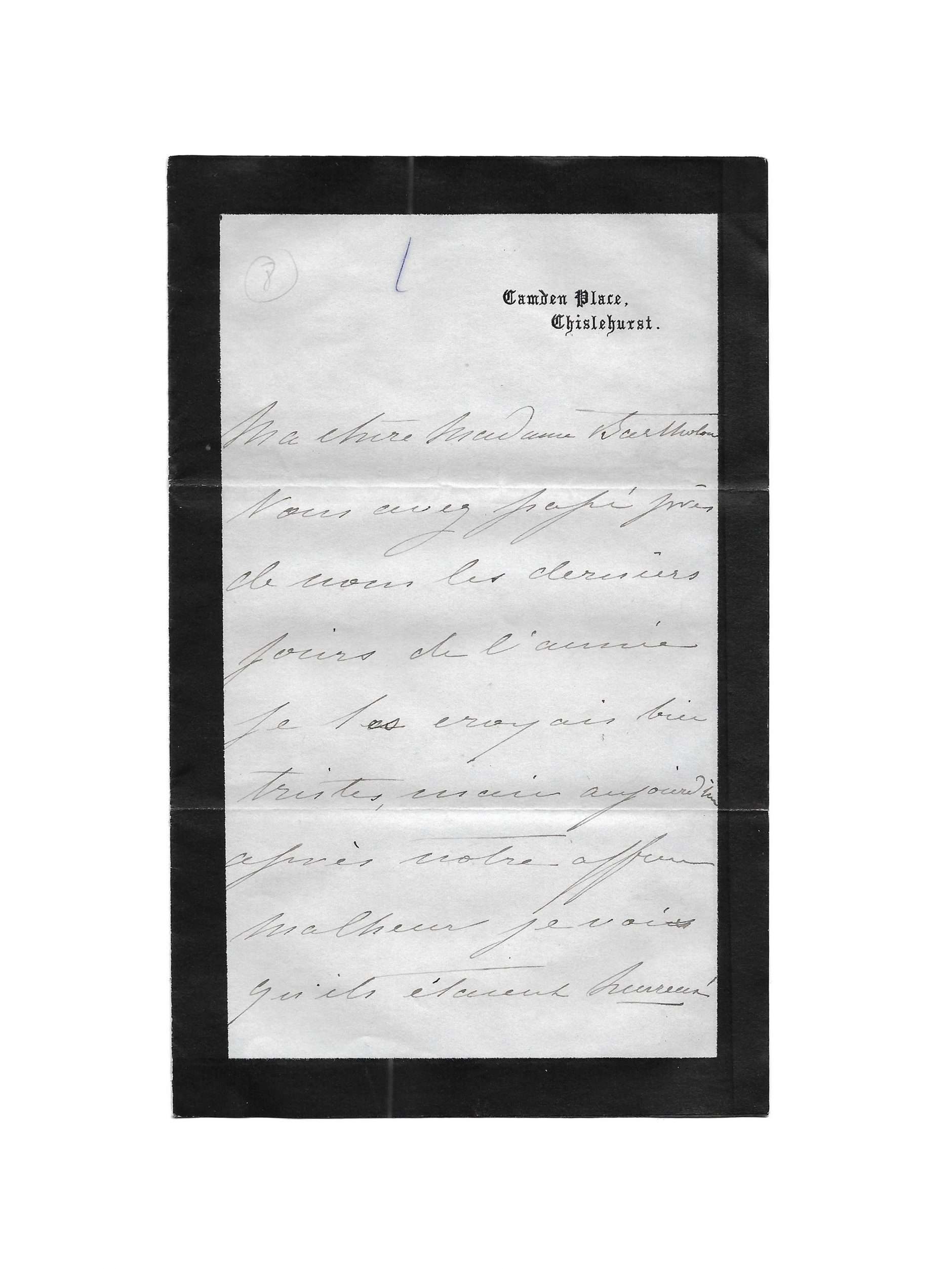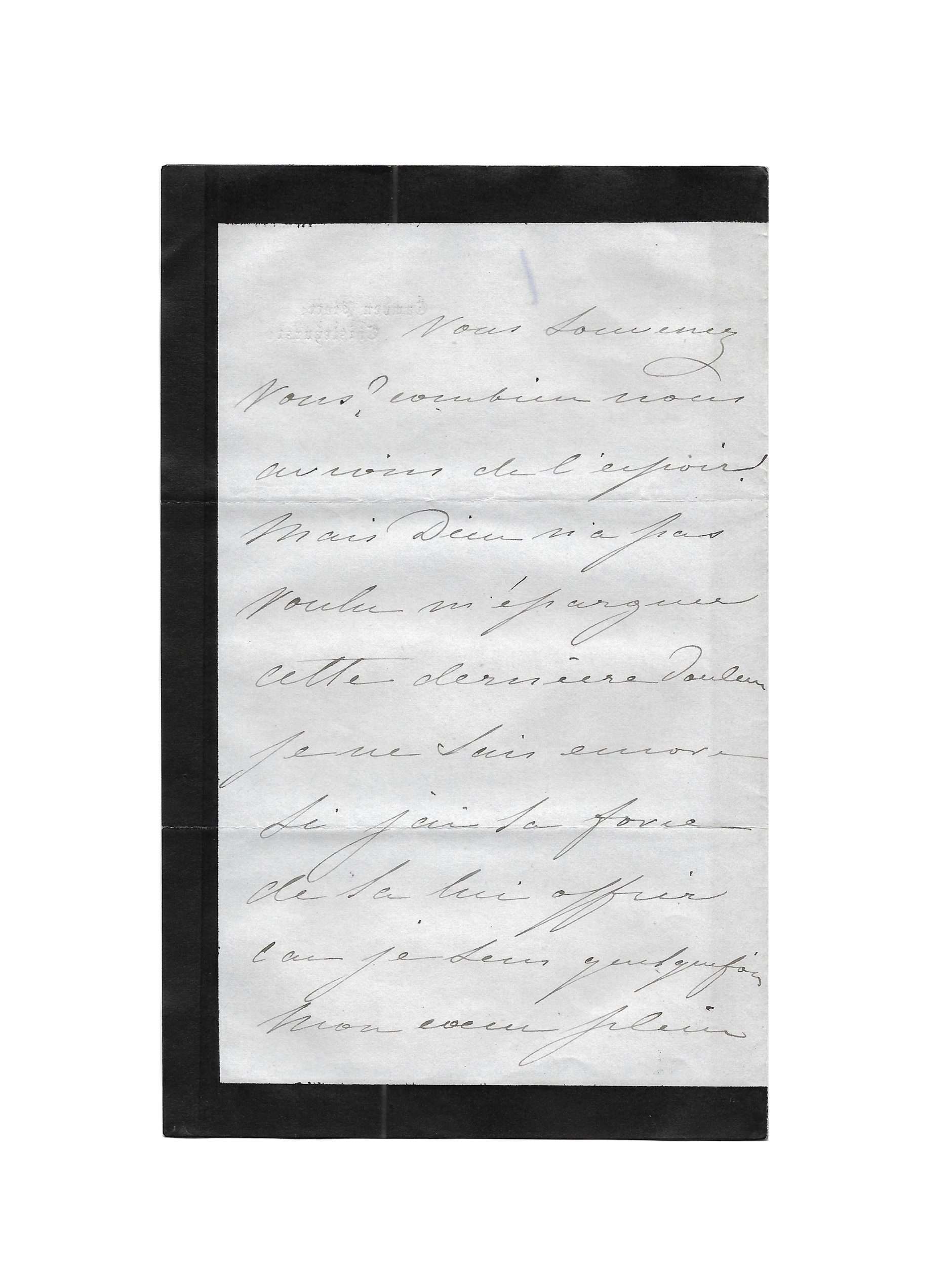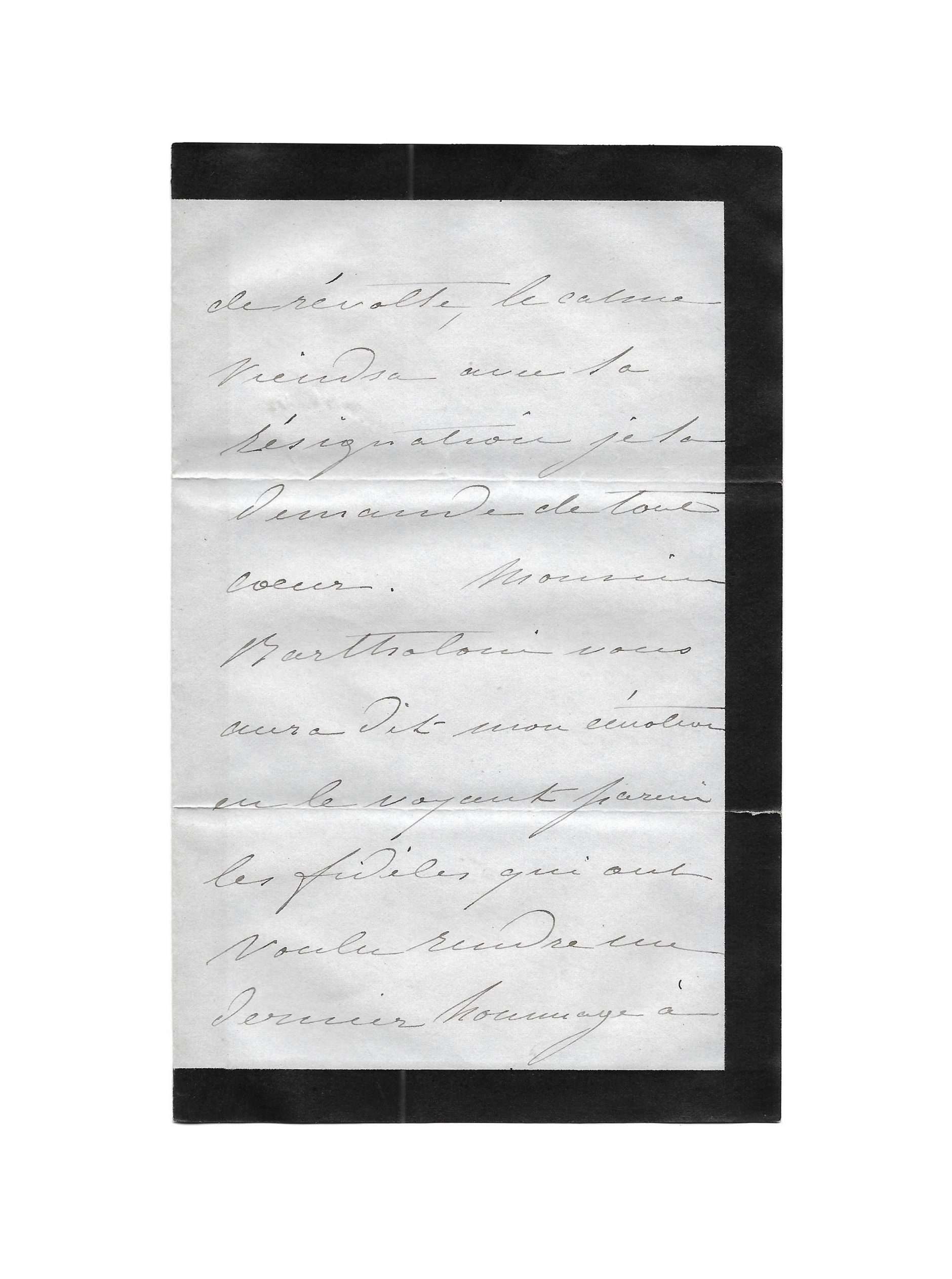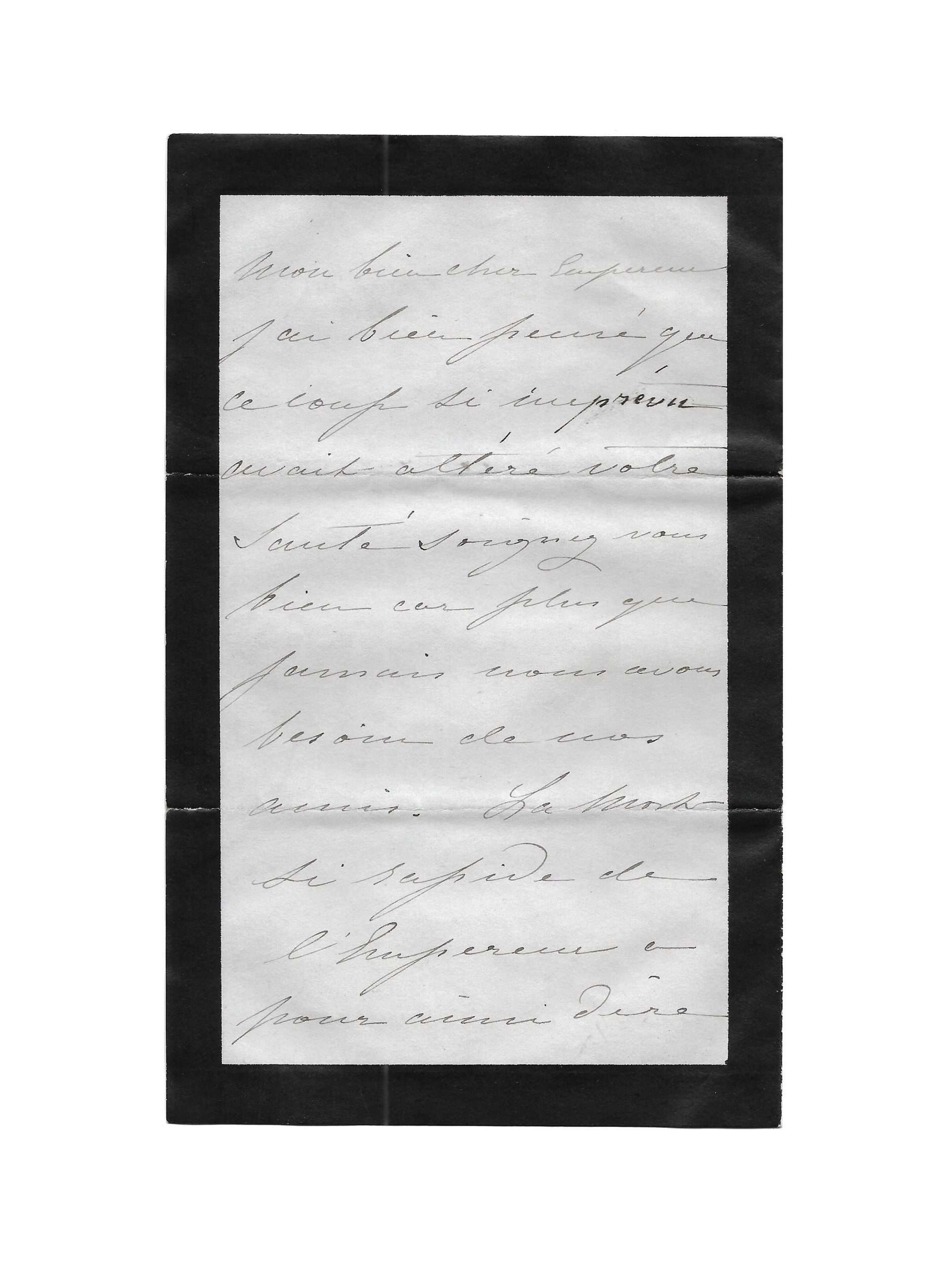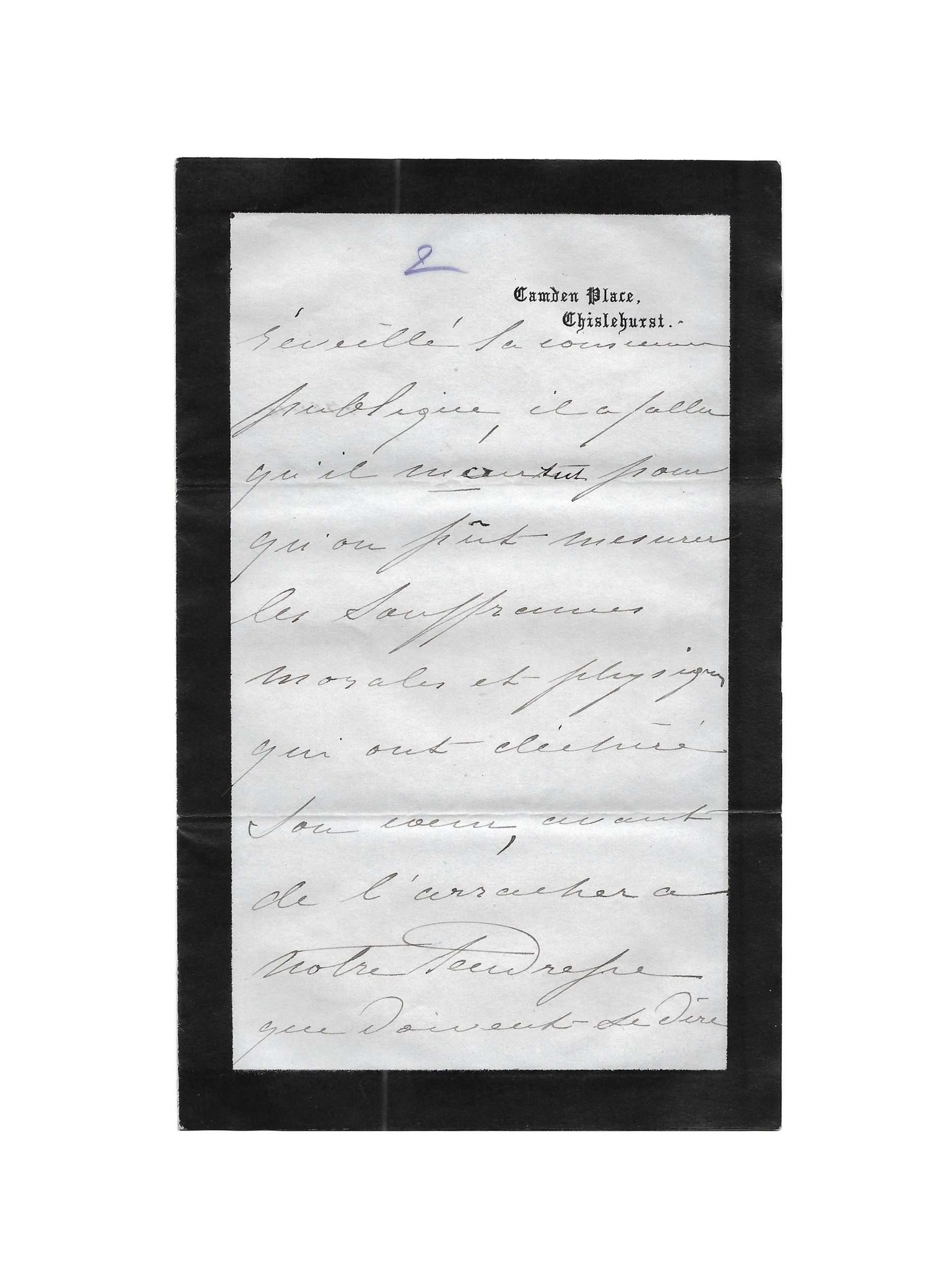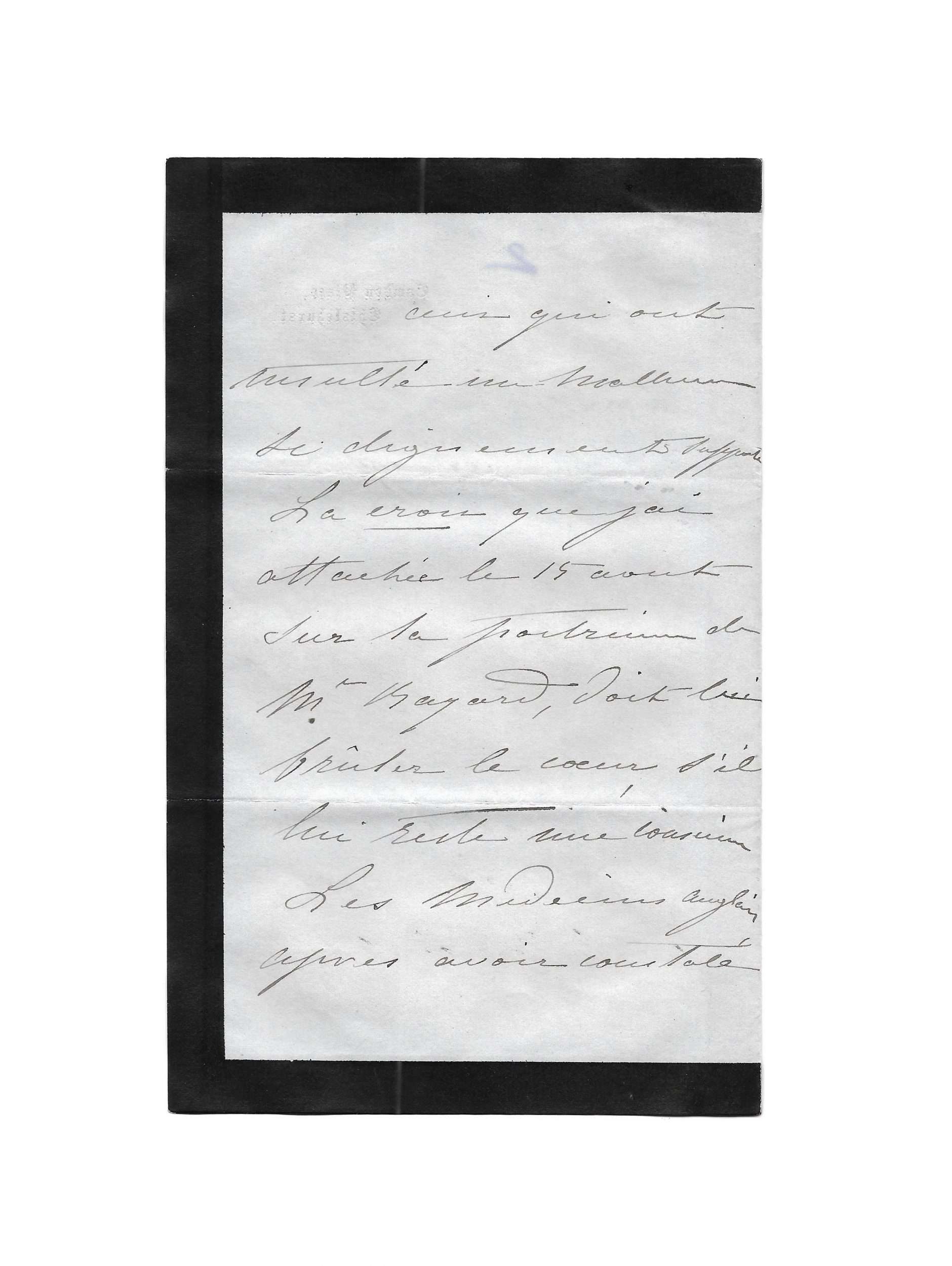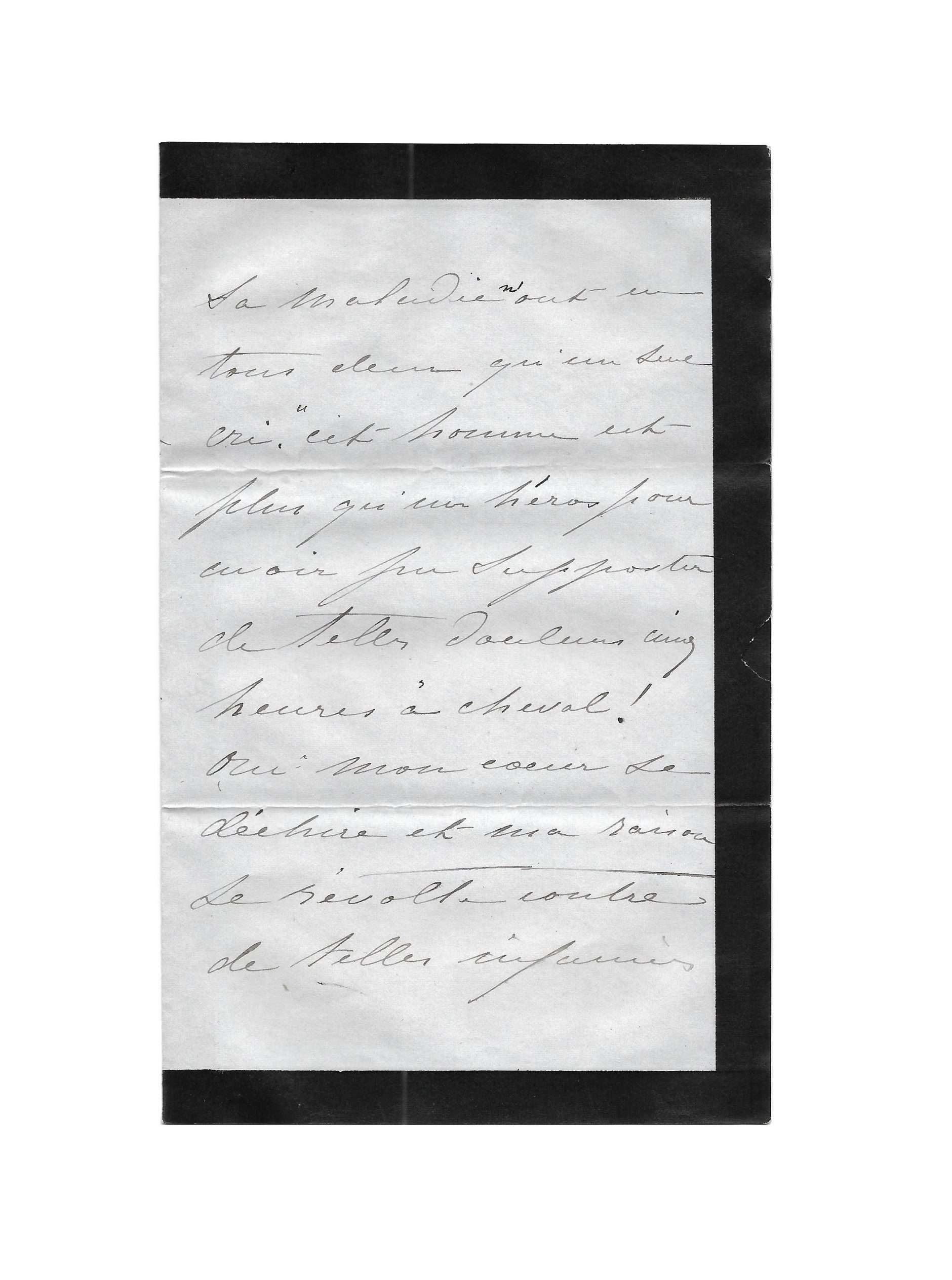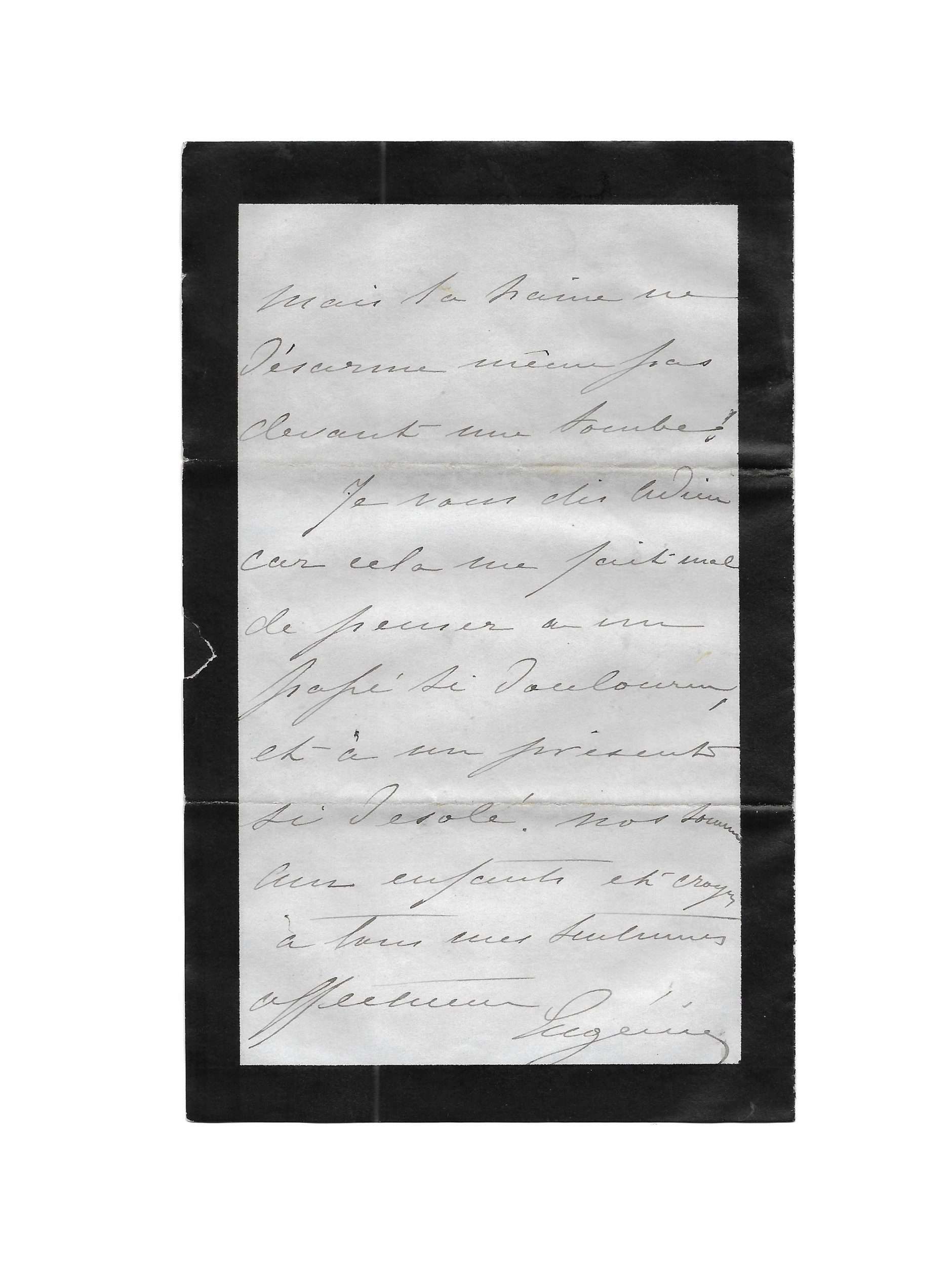 Fact sheet
MONTIJO (de), Impératrice Eugénie (1826-1920)
Autograph letter signed « Eugénie » to Marie-Thérèse Bartholoni
Camden Place, Chislehurst [January 1873], 8 p. in-8°, mourning paper
"1" and "2" inscribed on top of page one and page five, slight missing bit on last page (without affecting the text)
Long and moving letter from the Empress, written only a few days after the death of Napoleon III
Devastated by her loss, Eugenie remains full of resentment towards those who have ostensibly turned their backs on the emperor since the defeat of Sedan
---
« Ma chère Madame Bartholoni,
Vous avez passé près de nous les derniers jours de l'année.
Je les croyais bien tristes, mais aujourd'hui après notre affreux malheur, je vois qu'ils étaient heureux ! Vous souvenez-vous ? combien nous avions de l'espoir ! Mais Dieu n'a pas voulu m'épargner cette dernière douleur.
Je ne sais encore si j'ai la force de la lui offrir car je sens quelque fois mon cœur plein de révolte. Le calme viendra avec la résignation ; je la demande de tout cœur.
Monsieur Bartholoni vous aura dit mon émotion en le voyant parmi les fidèles qui ont voulu rendre un dernier hommage à mon bien cher Empereur.
J'ai bien pensé que ce coup si imprévu avait altéré votre santé. Soignez-vous bien car plus que jamais nous avons besoin de nos amis.
La mort si rapide de l'Empereur a, pour ainsi dire, réveillé la conscience publique car il a fallu qu'il mourut pour qu'on pût mesurer les souffrances morales et physiques qui ont déchiré son cœur, avant de l'arracher à notre tendresse. Que doivent se dire ceux qui ont insulté un malheur si dignement supporté.
La croix que j'ai attachée le 15 août sur la poitrine de M. Bayard doit lui brûler le cœur, s'il lui reste une conscience.
Les médecins anglais, après avoir constaté sa maladie, n'ont eu tous deux qu'un seul cri : « cet homme est plus qu'un héros pour avoir supporté de telles douleurs cinq heures à cheval ! ».
Oui mon cœur se déchire et ma raison se révolte contre de telles infamies, mais la haine ne désarme même pas devant une tombe !
Je vous dis adieu car cela me fait mal de penser à un passé si douloureux et à un présent si désolé !
Nos souvenirs aux enfants et croyez à tous mes sentiments affectueux.
Eugénie »
---
On January 9, 1873, at 10:45 a.m., Napoleon III died at the age of 64 at his residence in Camden Place. Nearly 60,000 people, one-tenth of them French, including a delegation of workers led by Jules Amigues, gathered in front of the body and participated in the burial on 15 January 1873 in Chislehurst. Subsequently, his widow Eugenie de Montijo built a mausoleum for him at St. Michael's Abbey, which she had founded in 1881, and where he has since been resting alongside his wife and their only son, Imperial Prince Louis-Napoleon, who was killed at the age of 23 during a patrol during the Anglo-Zulu War.
Goddaughter of Chateaubriand and lady-in-waiting at the Tuileries of Princess Julie Bonaparte, Madame Bartholoni (1833-1910) was, by her beauty, one of the ornaments of the Court of the Second Empire. Born Marie-Thérèse Frisell (1833-1910), she was the wife of Anatole Bartholoni (1822-1902).
Madame Bartholoni held a brilliant salon, which inspired Marcel Proust. The writer actively frequented it in the years 1897-1899. Proust courted, for a time, one of Madame Bartholoni's three daughters, Louise known as "Kiki" (1857-1933), goddaughter of Empress Eugenie.