MONTIJO (de), Impératrice Eugénie (1826-1920)
Autograph letter signed « Eugénie » to Marie-Thérèse Bartholoni
Prince's gate SW [London], 26 November [1881], 5 p. in-8 on mourning paper
« The widow of Napoleon III remains and will remain close to those who died in exile »

SOLD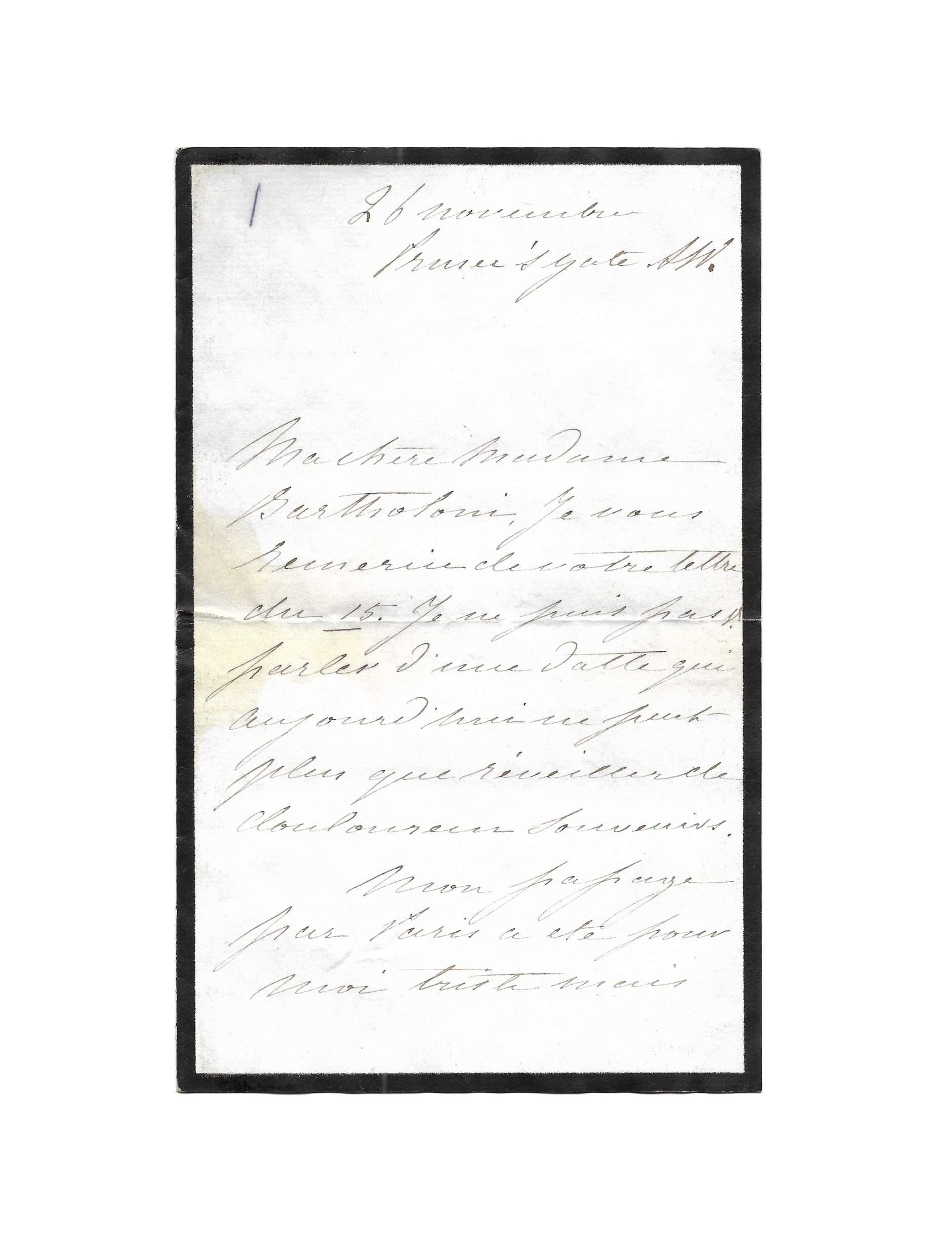 Fact sheet
MONTIJO (de), Impératrice Eugénie (1826-1920)
Autograph letter signed « Eugénie » to Marie-Thérèse Bartholoni
Prince's gate SW [London], 26 November [1881], 5 p. in-8 on mourning paper
Numeration on two folios from another hand, slight stain on left margin, usual fold marks
Exceptional and magnificent letter from Empress Eugenie, making the moving story of her return to Paris after the disaster of 1870, exile and mourning – The shadows of a glorious past punctuate the melancholic journey, mingling with the inconsolable memory, with the tragedy of a present without a future
---
« Ma chère Madame Bartholoni,
Je vous remercie de votre lettre du 15. Je ne puis pas vous parler d'une date qui aujourd'hui ne peut plus que réveiller de douloureux souvenirs.
Mon passage par Paris a été pour moi triste mais il m'a procuré l'occasion de revoir quelques personnes que leur état de santé empêche de venir me voir.
J'ai aussi visité Fontainebleau, Les Invalides, Notre-Dame, St-Cloud et N.D. des victoires, recherchant partout la trace d'un souvenir.
J'ai passé aussi devant les Tuileries. J'ai vu les fenêtres de la chambre où mon fils est né !! et après un séjour de deux jours auprès de ma nièce de Mouchy, je suis repartie pour l'Angleterre.
Je n'ai voulu voir personne en dehors de ceux que j'étais venue voir et je n'ai prévenu pas même ceux-là qui ont été surpris de me voir arriver.
Le Figaro dit aujourd'hui que cédant à la nostalgie de Paris, je vais rentrer bourgeoisement dans cette ville. Je n'ai et ne puis avoir d'autre nostalgie que celle de cette patrie inconnue où l'on réjouit ceux qu'on a aimés. Jamais je ne consentirai à rentrer bourgeoisement là où les cendres des miens sont proscrites.
Si d'autres Princes de vieille race oublient ce qu'ils sont pour pouvoir jouir des plaisirs de Paris, je considère notre illustration trop récente pour en avoir perdu la mémoire et la dignité. La veuve de Napoléon III reste et restera près de ceux qui sont morts en exil.
Si l'auteur de l'article me connaissait, elle n'aurait jamais donné cette nouvelle, fort peu intéressante, du reste, pour tout le monde, car je dois être oubliée à présent, même dans la ville que j'ai tant habitée et tant aimée.
Mes souvenirs aux enfants et croyez à mes sentiments affectueux.
Eugénie »
---
In mid-October 1881, no longer representing a danger to the republican regime, whose base had been considerably strengthened after the tragic death of the Imperial Prince on 1 June 1879, Empress Eugenie asked the Government for permission to return to Paris. A strong desire to find the imprint of this prestigious and radiant past, but also the ghostly silhouettes of the beings and places that were dear to her, inspired this approach. Grief, powerful and violent emotions were to accompany her.
Goddaughter of Chateaubriand and lady-in-waiting at the Tuileries of Princess Julie Bonaparte, Madame Bartholoni (1833-1910) was, by her beauty, one of the ornaments of the Court of the Second Empire. Born Marie-Thérèse Frisell (1833-1910), she was the wife of Anatole Bartholoni (1822-1902).
Madame Bartholoni held a brilliant salon, which inspired Marcel Proust. The writer actively frequented it in the years 1897-1899, and was also the host of the castle of Coudrée, which the Bartholoni owned on the shores of Lake Geneva, between Thonon and Geneva. The spiritual conversation of the former "beauty of the Empire" seems to have strongly inspired him.
Marcel Proust courted, for a time, one of Madame Bartholoni's three daughters, Louise known as "Kiki" (1857-1933), goddaughter of Empress Eugenie.